Dragon Age: The Stolen Throne Novel
by Adam Dileva




If you've played Dragon Age: Origins before you will instantly recognize how much effort and talent has gone into the writing aspect into the game world and dialogue which is what made it so engrossing on top of the superb gameplay. Depending on how far into the game you got you will realize how much history and has gone into making the nation of Ferelden a very in depth and robust one fully lush with a completely engrossing back story .


Here we have a hefty 400 page novel scripted by David Gaider himself who was the lead writer for the game itself and offers a greatly detailed prequel to the events that happened in Origins with new and familiar faces.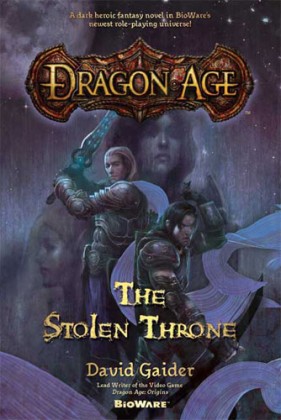 The title of the book is The Stolen Throne and from the first sentence on the first page you are thrust into the story instantly with action happening all around. Moira the Rebel Queen is betrayed and murdered and some how her son Maric somehow survives and escapes capture.


While evading capture, Maric makes it into the woods to hide from being seen. Eventually he stumbles upon a camp he encounters Loghain which is a well known name to anyone that's played the game. Maric is distressed knowing he's about to be found and lies about who he is to get Loghain and his outlaws to help him escape. Maric has no choice but to take their help and they eventually lead him through the dangerous and unknown Korcari Woods.


In these woods is where they meet the secretive Witch of the Wilds (who we come to know as Morigan's mother Flemeth in Origins) who allows them to pass through the woods unharmed but only after she makes Maric keep a promise to her; the secret of which remains unknown.


Eventually Maric and Loghain are found by a long time friend of Maric named Rowan who turns out to be the Arl of Redcliffe's daughter (who subsequently has been 'promised' to him as a child) and bring him back to the village.


I don't wish to spoil anymore of the story as it's quite a compelling read and quite interesting to see the back story of these characters and how history plays out before Origins begins. It's a fascinating story about Maric's purpose of vengeance and really shows the history of the relationship between him, Rowan, and Loghain.


There is so much information you find out about characters in the novel that simply aren't embellished (or at all) in the game that it really does add to the game itself when you play and understand certain characters history and motivation. A major note for me was learning how Maric and Rowan have their son Cailan (whom you know from playing Origins) and how later on Maric has an illegitimate son with someone else whom is named Alistair. While it won't touch on every main character from the game, if you pay enough attention you will gain small snippets of information of what may have came before them.


The book has much fighting and shows the many struggles of Maric trying to defend himself and the land but the book really excels at the characters and their personal relationship developments. Quite a few times while reading certain parts I could imagine playing this section in the game with the many different dialogue options in front of me. This goes a long way to show how consistent the writing is by the same author and doesn't make it a daunting experience to read like many other game-novels do.


This book single handedly completely changed how I felt towards Loghain while playing the game and on my next play through of Origins I will make completely different choices simply based on this read. If there was this much history of Loghain brought to me in the game I might have not have hated him nearly as much (if at all) and this novel does an excellent job and showing his troubles and motives for his actions that play out in Dragon Age: Origins.


If you enjoyed Dragon Age: Origins for its lore, history, and dialogue then you will want to pick this up just to further enhance your next playthrough in the land of Ferelden and it may even change how you view some characters the next time. It is a great precursor to explain the events before the game and since it's the same writer it's very easy to swallow and has the same writing style as the game which is very easy to swallow and a delight to read between playthroughs.