COD:MW2 Stimulus Package DLC
by Ken Laffrenier





Have you ever found yourself struggling to make a decision? I don't mean the day to day stuff like when you go to bed and you realize you've forgotten to let the cat back in and you're torn as to whether or not to get out of your warm, cozy bed or like when you can't tell if the propane barbeque is lit and you're torn as to whether or not to just throw in another match (after the propane's been running for a couple minutes). I mean the important stuff...the stuff that actually keeps you awake at night....the stuff that doesn't require your eyebrows to grow back.


Well that's exactly the situation I'm in right now. It would seem that someone (Kamshaft) in their infinite wisdom, thought I would be an ideal candidate for reviewing the new downloadable content for COD:MW2. Infinity Ward has released its new add-on in the form of the 'Stimulus Package' (or in non-gamer speak 'Call of Duty: Modern Warfare2; Stimulus Package'). For the uniformed this has nothing to do with the current woes facing the COD franchise (...so no, Variation this is not the buyout package received by certain studio 'employees').
Let's see if I can properly break this down for our loyal readers...as stated on the Infinity Ward website COD:MW2 Stimulus Package "delivers 5 additional action-packed multiplayer maps". So far this sounds interesting but what are the maps?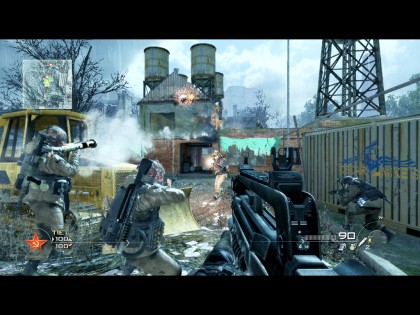 Three brand new maps....


'Bailout'-A lurkers paradise....set in an apartment block filled with the destruction of recent combat. This can be a sniper's showcase, but for 'campers' (AKA lazy, scared, pieces of %#@!*) the balconies offer a new form of low.


'Storm'-This one favors no one. The formidable warehouse/loading dock setting caters to every style of fps player but the sound and visuals of the storm (see what they did there...they named the level after the weather...using this logic we should soon see levels named sunshine and cloudy) really amp up the anticipation level.


'Salvage'-Everyone enjoys getting their hands dirty and in this narrow corridor environment you'd better be up on your knifing skills. Set in a salvage yard (I'm beginning to see a pattern in there level naming) moving around some of these corners will often have you face to face with the bad guys (no offence Nato King).


And two updated maps from Call Of Duty Modern Warfare...


'Crash'-Another setting where we are clearly not the first to arrive. This war ravaged urban area features a bisected helicopter dropped in the center. This map is great for the run & gun players as there are no clear hiding areas (you're a fool if you think the helicopter shell is a good spot) and the sniper positions are relatively easy to spot.


'Overgrown'-This classic features hiding places in plain view. It is the more patient gamer that will find glory in this setting. Controlled movements and careful review of your surroundings still ensures a high kill/death ratio.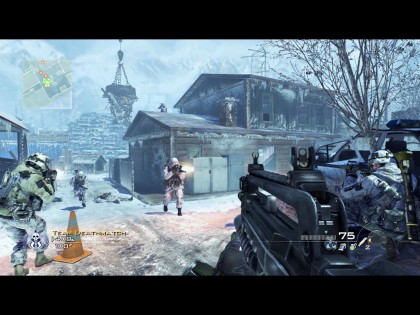 The visuals and atmosphere of the maps are more of what we've come to expect from the COD franchise; cleaver, engaging and they really can level the playing field for different gameplay styles. Based on the information so far the review rating should easily come in at the high 80's to low 90's.


There are a few glaring issues however that really detract from the score and have me torn on how to rate this title. Let me first say that the cost of 1200 Microsoft Points (roughly $15.00) is a little high but for many of the fans of the series this is a small price to pay to extend the experience. This DLC unfortunately, does not extend the experience.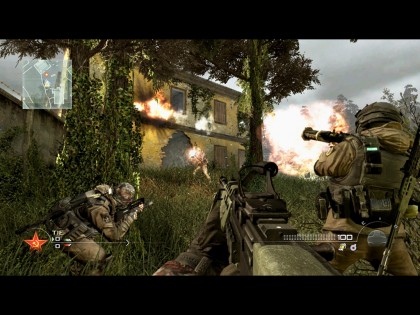 As an initial DLC offering I was expecting some additional spec-op, a chance to expand my achievement points or even a couple of new cutscenes would have been nice (think of how fanboys would have reacted for an additional 20 seconds of story development from the end of COD:MW2). The maps do offer two methods of play 'Stimulus' and 'Hardcore Stimulus' but the fact that gamers can't pick the gameplay mode is disheartening (if you are a fan of Team Deathmatch you are not going to like being constantly forced into sitting through the random capture/defend modes).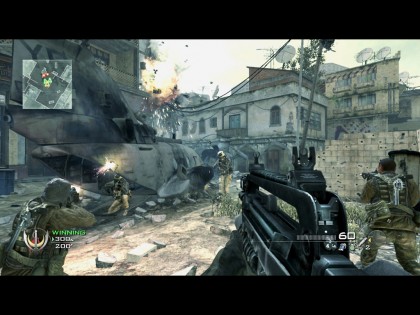 All in all you won't be disappointed if you decide to download this from Xbox Live but I don't imagine any but the more dedicated gamers will be inclined to throw their Live points to DLC that only offers a fraction of what it could....and in 2010, ultimately, should offer.