Pinball FX2 Marvel Civil War Table DLC
by Brent Roberts




Throughout history opposing forces of power have often violently disagreed with one another in order to sway favor and viewpoints to their side. This unfortunate certainty has even become a shatter point in the Marvel Universe and thankfully Pinball FX2 has finally unleashed their pinball version of the Marvel Civil War. Already known for providing the premier pinball experience, Pinball FX2 has prided itself by following up their already stellar content with equally high quality DLC, and Marvel Civil War is no exception. Got your quarter ready? Game on.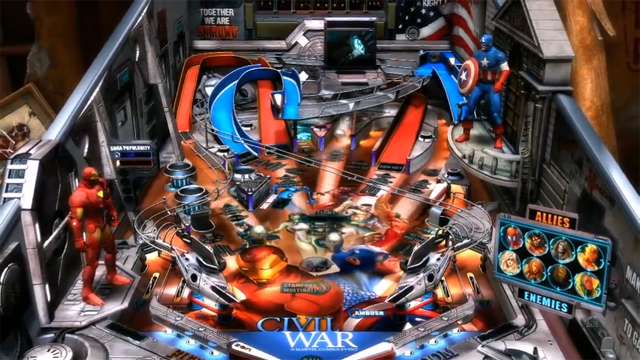 From the beginning you will notice how the table itself is divided between Captain America and Iron Man where both sides fight for control over the shape of the future for both humans, and super heroes alike. There are plenty of ramps mixed in throughout the board and some of them are even equipped with flippers to extend both your score and turn the tide of war. There are multiple challenges that you will have to contend with while you also try to sway other heroes to join your side. These obstacles range from hacking various intelligence installations to fighting Marvel villains who decide to use this moment of unbalance to strike for their own personal gain. To accomplish these missions and shift the war to your side, you will need to make sure you bring your "A" game to the table because some of these shots are on a wing and a prayer.


All of this pinball greatness comes packaged in what could arguably be called the best looking table on Pinball FX2. Both character models of Captain America and Iron Man are done to the brilliant level of detail that we all have come to expect now from the makers at ZEN Studios, but that is just the tip of the iceberg. The whole table is divided essentially between red and blue, however, when the battle goes on, the lights go out and all the color comes alive against a darkened backdrop and that's when the fun really begins. These amazing moments though don't come without faults, in fact there is one that stands out as a big annoyance and that comes with the transition into these electrifying moments. Let me explain. The sound for the table is decent to good, but not pretty good to great. The news reports that come flashing in verbally provide a great backdrop to the story, but when the ball is flying around the table and hitting many objects, ramps, and targets, a lot of what is being said can't be heard because it will skip to the next piece, leaving you always wondering "what was he going to say next?" This is where we get to the fault I talked about earlier. When the ball locks and it goes to transition into this beautiful electrified experience there is a horrendous clicking sound of what can only be described as a ball bearing inside a blender. This sound doesn't last for long thankfully; however, the transition period is a few seconds, which seem like an eternity while it happens.


While the table isn't perfect in every way, it does shine through on multiple levels and in multiple areas. The artwork is top notch, the table design is both challenging yet massively entertaining, and it's only 240 MS points! We are talking now about content for an arcade game that is so brilliantly done that it can literally mesmerize you for hours upon days at a time. ZEN Studios has translated the iconic Marvel Civil War into a pinball masterpiece. If you are a pinball fan, this is a must have. If you are a Marvel fan, this is a must have. Given everything about this highly addictive DLC and the price point of 240 MS points, this is the bargain of the year.