Halo: The Thursday War Review (Novel)
by Adam Dileva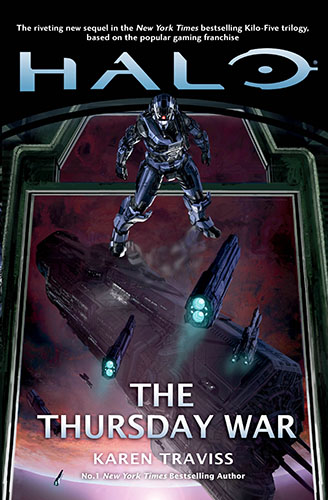 Being the Halo fan that I am, I really enjoy when a new Halo novel gets released. I get to curl up on the couch and read more backstory and delve deeper into the Halo lore than any self-respecting Halo fan should know. Sure, I may not be playing as Master Chief and battling against the Covenant like when I'm playing the games, or even reading about Chief's spoils or war directly, but after reading a few of the novels and figuring out where and when they happen in relation to the games we've all become enthralled with, it makes the Halo universe seem that much more rich and believable.



Halo: The Thursday War is the second chapter in Karen Traviss' Kilo-Five trilogy, taking place directly after the events of her previous Halo novel; Glasslands. For those that have not read Glasslands yet, before starting The Thursday War, make sure you actually start with Eric Nylund's Halo: Ghosts of Onyx, as Glasslands was essentially a sequel to that novel and turns of events and will make some of the larger ideas and events make much more sense. I enjoyed Glasslands for its multiple narratives and introduction of new characters and The Thursday War continues on with these characters moving forward, written in the same style of multiple storylines taking place at the same time. I also highly suggest you read Glasslands before diving into The Thursday War, simply because it's a continuation and while there's a brief recap of what's already transpired, you won't know all the inner working of each character and not much detail is given to what's already transpired. For those wondering about its canon in relation to the Halo games, The Thursday War takes place just before Halo 4 and helps explain a few things that had me wondering when I was playing through the game myself.



The main characters return in The Thursday War and you'll once again follow Serin Osman, the team of ODST's, Evan Phillips, BB, Naomi, and yes, Admiral Parangosky will still be touting her hatred towards Dr. Halsey. The story begins with Phillips still stranded on Sanghelios just as a chaotic civil war is breaking out between the Sangheili (Elites). Paragonsky then travels to the newly built UNSC Infinity, the largest ship in the whole fleet. For those that have played Halo 4, you'll know what importance this plays in the grand scheme of things. Jul 'Mdama is a prisoner of the humans, trapped in a prison where the Onyx Dyson's sphere was previously and then the story will bounce around to the ODST team and a plan to rescue Phillips amongst a civil war that was intentionally started. Jul learns of Requiem and an ancient evil that he wants to awaken, the Didact. Again, if you've played Halo 4 and want to know even more back story, simply reading for these parts is well worth the purchase alone.



As was the case in Glasslands, the story of The Thursday War is told from many different perspectives which can be a little confusing to some hoping to simply jump straight in without a sharp memory for all the lesser characters. With a very diverse cast and with each chapter being a different viewpoint, The Thursday War suffers from the same issue I also had with Glasslands; It can become confusing with the story constantly bouncing around and I really wish I could somehow just read one 'part' of the story before moving onto the next. I understand that wouldn't make sense for the plots timeline but there were a few times I almost wanted to skip ahead just to see what was going to happen with a character I really enjoy rather than waiting a few chapters to find out.



One subject that keeps returning is this prosecution against Dr. Halsey from Parangosky. Mind you, this is the woman that is planning to destroy a whole race, yet she's constantly complaining and disgusted by the actions of Dr. Halsey every chance she gets. For those that aren't up to snuff on their Halo lore, Dr. Halsey was the one responsible for the Spartan program and who essentially "created" Master Chief and all of the other Spartans. This was tremendously controversial and without a doubt morally wrong, as to become a Spartan, children were kidnapped and replaced with clones so that they could undergo a lifetime of training and artificial implants to become the super weapons they are today. Sure it's not the "right" thing to do, but in return humanity was saved many times over (not only because of Master Chief, but other Spartans as well) from extinction. Sometimes to do good, you have to do a little necessary evil.



Once again I quite enjoyed BB's mannerisms and his humor, almost making an AI more human-like. Some more insight is given with how an AI can experience pain and hurt without actually having a body and I wish he would get a little more attention and 'page time', as he's quickly become my favorite in the Kilo-Five trilogy. There's the odd line here and there that will make you chuckle, as I still smile whenever I read a Sangheili mispronouncing "Phillips" as "Phyllis" and just imagine that coming out of a hulking Elite. The overall pacing of The Thursday War felt much quicker compared to Glasslands, as the stage has already been set and characters introduced. Those of you that have not read the Forerunner Saga novels by Greg Bear in addition, you're going to be a little confused with a lot of the terminology and much of the backstory, which may make for a chaotic read.



For the Halo game fans that simply want to know how this relates to Master Chief and Halo 4 directly, there is some backstory here that is relevant for you as well. Most notably, many chapters take place on the Infinity which will tie in directly with the Spartan Ops episodes most of us are really enjoying. For those that really enjoyed the Forward Unto Dawn series, you'll be happy to know that The Thursday War even relates to that, as Lasky makes an appearance as well. You learn just how reliant humanity has become on Huragoks (known to humans as Engineers), essentially biological supercomputers created by the Forerunners with their technology and how much they had a hand (tentacle?) in helping fabricate and improving the Infinity to be the shining star of the UNSC fleet. You'll learn about Requiem and the Didact, so even the Halo fans that only know the games will have something relevant for them to read within.



I really did enjoy the read and I'm glad the second novel progressed in a quicker pace compared to Glasslands. While it may not center around the major characters we know from the games, it's a great read to get some more intimate knowledge about the Halo universe, though with a big caveat; to get the most of Halo: The Thursday War, I truly suggest you first read The Ghost of Onyx, Glasslands, Cryptum, and Primordium. Without prior knowledge of these novels, quite a lot will go over your head as a casual or game-only Halo fan. For those wanting to delve deeper into the Halo universe and a better understanding of many events leading up to Halo 4, The Thursday War will offer you many "ohhh, that's what happened" moments when things fall into place and suddenly make sense.