Razer Ouroboros Gaming Mouse Review
by Adam Dileva




The Ouroboros is an ancient symbol that shows a serpent eating its own tail. The symbol represents self-sustaining, recreation, and could even stand for infinity. Pronounced oo-roh-boh-ros, Razer has released its newest mouse to take the top spot in the customizable and ambidextrous mice line of their products. In 2009, Razer started designing the Ouroboros with some ambitious goals in mind. They wanted a top of the line gaming mouse that was a hybrid of wired and wireless, ambidextrous, and completely customizable. Three years later and Razer finally released the Ouroboros which was met with some quick sell outs from most store shelves.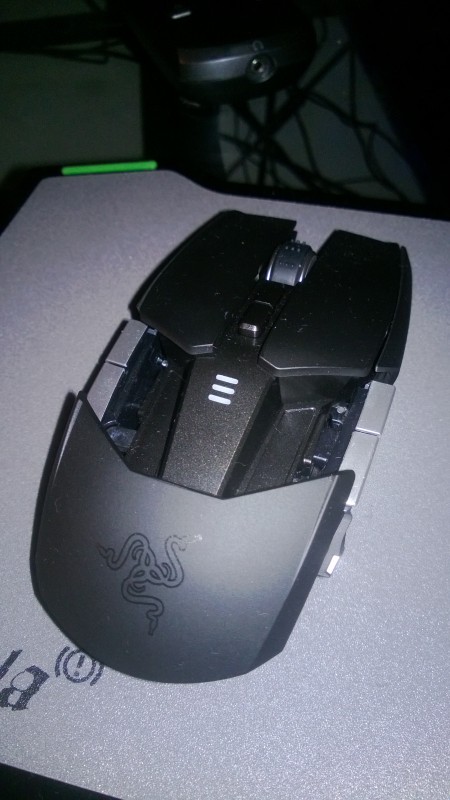 Like some of the previous Razer mice, the Ouroboros is a hybrid mouse that works wirelessly or via cable to charge when the battery is low. The inspiration for the design actually came from high end cars like the Lamborghini Reventon and the Bat mobile; and it shows, as it has sleek and sexy lines and curves that actually gives your hand a comfortable fit. The mouse customization comes from changeable side panels to fit your style and type of grip, the palm rest being able to be raised or lowered, and even the length of the mouse can be adjusted to fit your hand and grip style perfectly.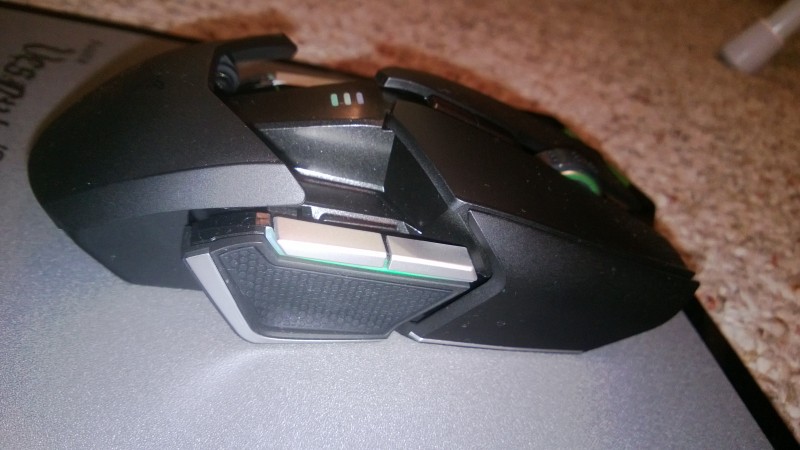 I mention grip types because you may not even think about it, but people hold mice is slightly different way from one another. Razer determined there were three main categories for types of grips. The Palm style of grip has more than half of your hand touching the mouse and you generally like a steep arch. The Claw grip users tend to have roughly a quarter of their hand and fingertips actually on the house and those people generally like a medium arch. Lastly there are the Fingertip users that barely have any of their hand on the mouse at a time and they generally like flat arches. It's said that Claw and Fingertip users generally favor narrower mice and this is exactly where the adjustable back tilt for the palm rest comes into play. The same goes for the side profiles, as people with Palm grips tend to like something to rest their ring fingers and pinkies on where the other types of mice grips like something narrower and textured so they can lift the mouse easier. Until I read up on all of this, I generally assumed everyone held a mouse in generally the same way. Clearly not, as proven by the customization options offered on the Ouroboros. With its customizable body, it will take some playing around with, but you'll eventually find the perfect feel for your grip style.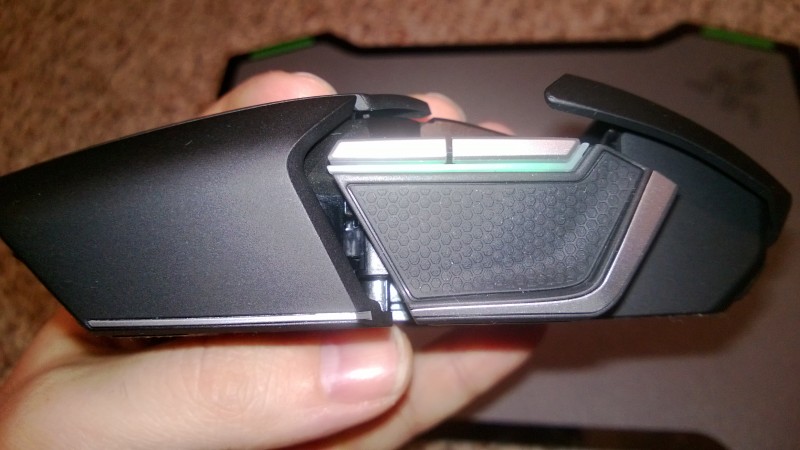 Before I get into each section of the mouse individually, let's quickly go over all of the specs and features for those that just want to know the raw numbers and details.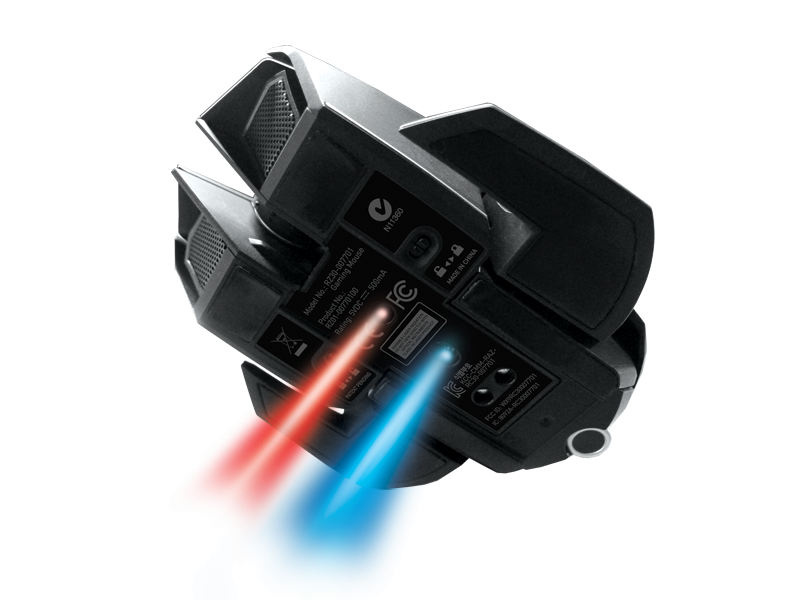 Customizable ergonomics to fit all hand sizes and grip-styles.
8200dpi 4G Dual Sensor System.
Gaming-grade wireless technology with dock.
Razer Synapse 2.0 enabled.
11 programmable Hyperesponse buttons.
1000Hz Ultrapolling / 1ms response time.
Up to 200 inches per second / 50g acceleration.
Approximate Size: 122 mm to 137 mm / 4.80" to 5.39" (Length) x 71 mm / 2.80" (Width) x 42 mm / 1.65" (Height).
Approximate Weight: 115 g / 0.25 lbs. (without battery) to 135 g / 0.29 lbs. (with battery).
Battery life: (Approx) 12 hrs (continuous gaming).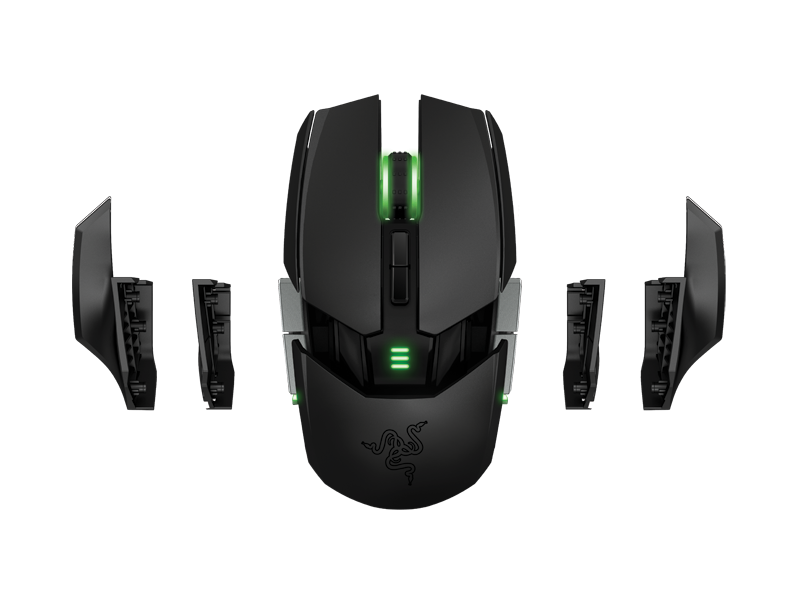 The main feature about the Ouroboros is its ambidextrous ergonomic customization in three core sections: Mouse length, back arch of the mouse, and the side grips. The Ouroboros is a gaming mouse that will have no problem to conform to your preferences, hand form, and grip style. Adjusting the length of the mouse is simply done by pressing in a button on the bottom of the mouse and adjusting it to the length you desire. If you're a Palm grip user, you'll generally prefer the longer mouse as opposed to the much shorter option. It takes some playing around with to find the perfect length to conform to your own hand, but once you do it will feel just right.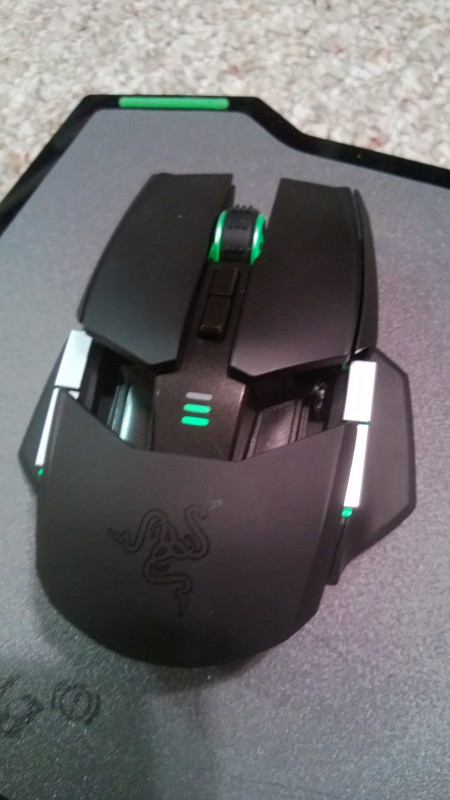 At the bottom and back of the Ouroboros there's a metal dial that will raise or lower the back arch of the mouse to fit exactly how you want. You're able to have a raised or flat arch depending on your hand and grip style. Again, this isn't something I really thought of before using the Ouroboros, but now that I am able to change the back arch to exactly the way I want it, my older mice feel quite odd.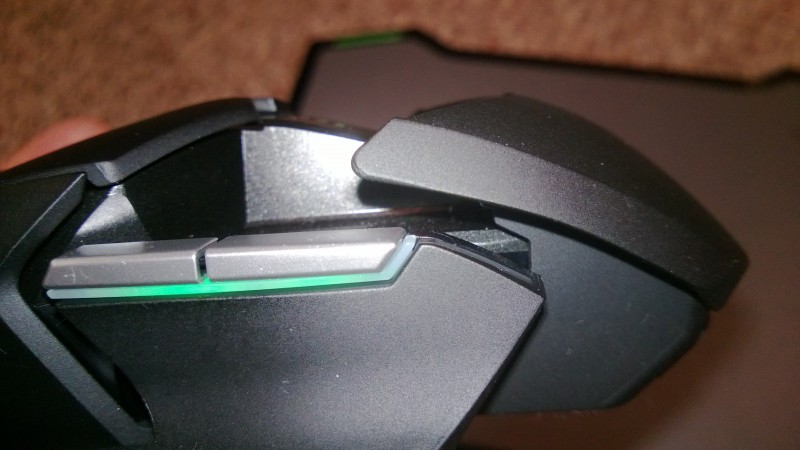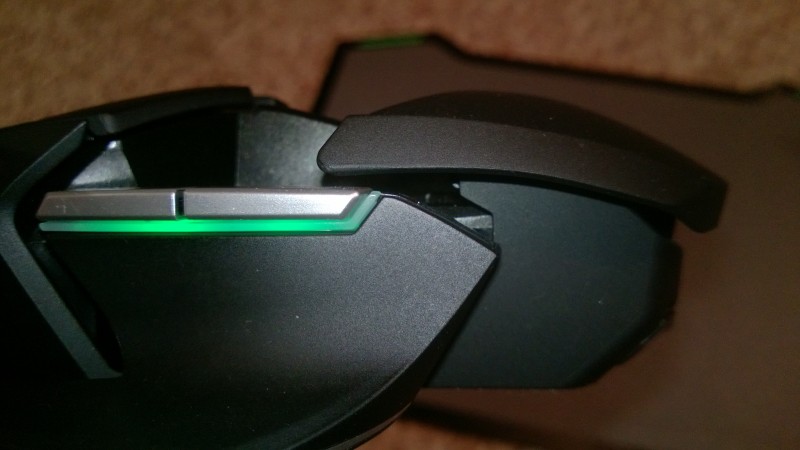 The last portion of the Ouroboros you can customize is the interchangeable side panels. The mouse comes with two separate styles of side panels for you to choose from. One set of the panels are a flush and gripped panel that Fingertip and Claw users will generally prefer. The second set of side panels are a much cooler looking wing style of siding. There is a small wing that you can place your pinkie and ring finger on that Palm users tend to enjoy. Honestly, I thought the wing panels were going to be more of a gimmick than anything else, but with myself being in between a Palm and a Claw grip, I absolutely fell in love with the wing panels. I'm sure the coolness look factor has something to do with it, but I really like having just a little more resistance from the wings touching the mouse pad and my fingers rest on them perfectly.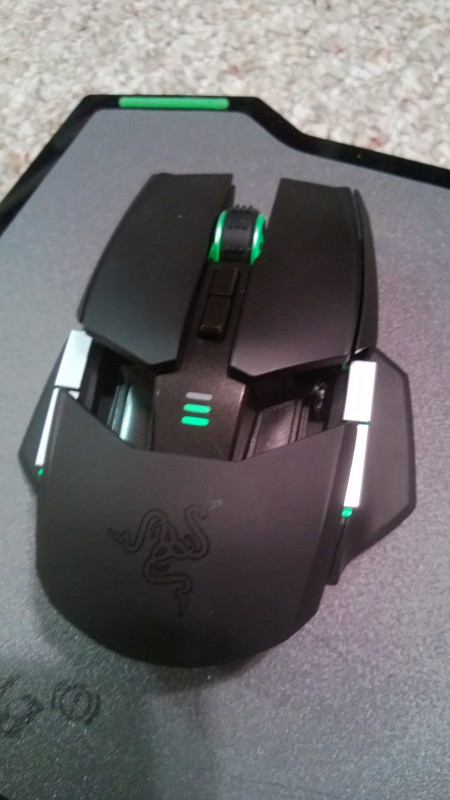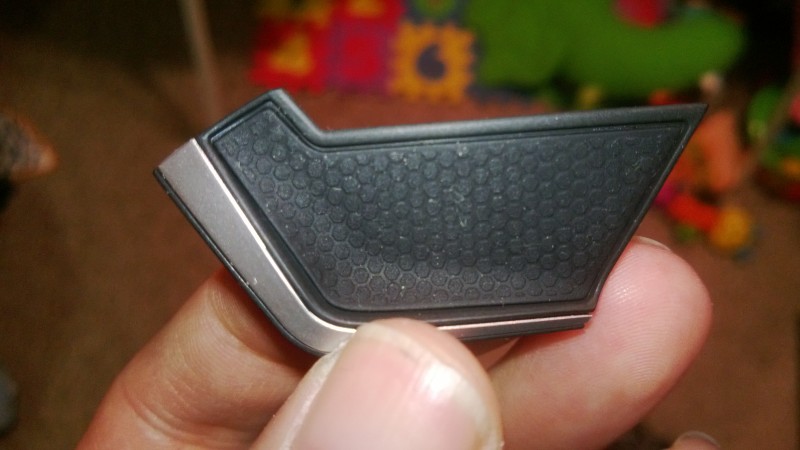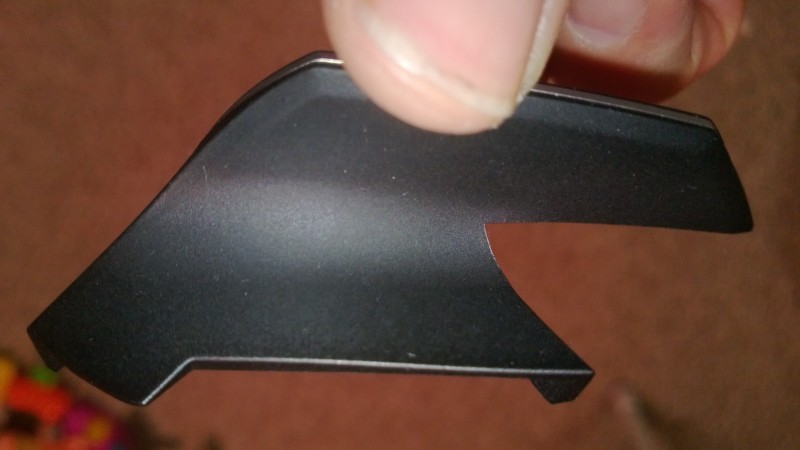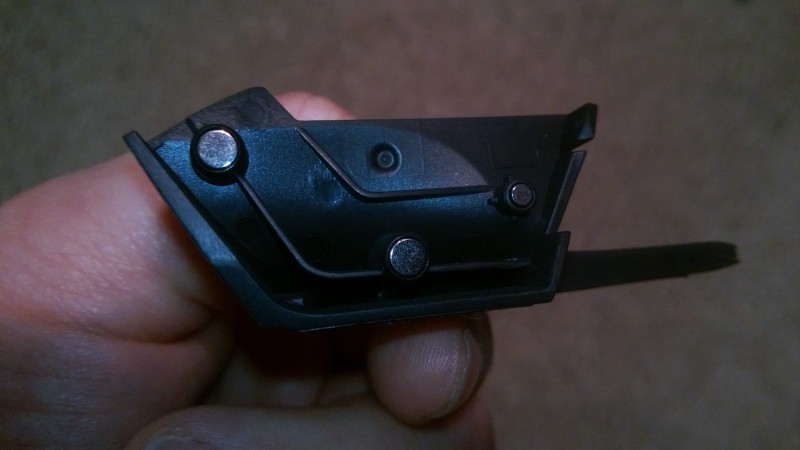 With those three core features making up the customization aspects of the Ouroboros, let's delve into the heart and specs of the mouse itself. The mouse contains a 4G Dual Sensor System that allows the mouse to automatically calibrate itself to virtually any surface for accurate and precision tracking. With a staggering 8200DPI, you'll certainly find the perfect DPI to meet your gaming needs for any game. Paired with Razer Synapse 2.0 software, you'll even be able to adjust the liftoff tracking distance and set exactly what mouse pad you have for optimal usage. If you've had a Razer Imperator or Mamba you'll know how accurate the 4G Sensor is, but the difference is that the Ouroboros can go all the way up to 8200DPI. With maximum DPI set I was able to go from one corner on my first screen to the bottom of the second screen by barely moving my wrist or fingers. Why you would realistically need to have it that sensitive I'm not sure, but you have the optional available to you If you desire.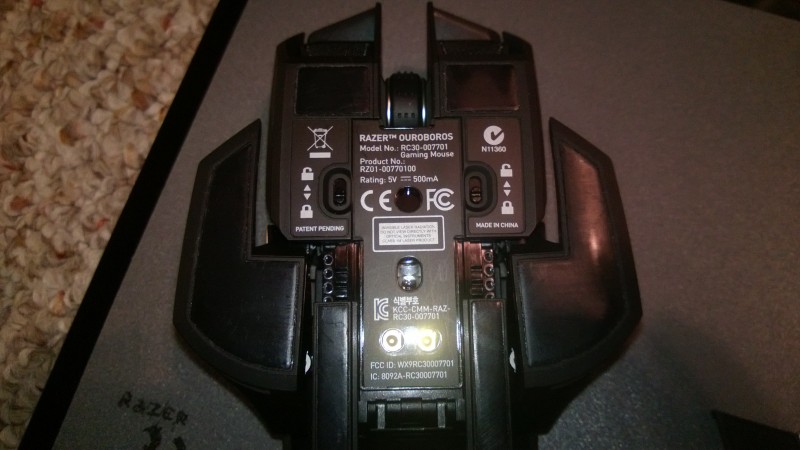 The Ouroboros also contains a dedicated DPI clutch trigger. The main buttons on the top of the mouse allows you to switch the DPI to your set preferences, the sides where you customize the side panels are actually buttons if you press them inward with some pressure. These by default are toggles for your DPI so that you can quickly and temporarily increase or decrease your DPI for extreme precision for when it's needed. Hold it down, take your sniper head shot, and then release and you're back to shooting and gaming like normal. It's a great idea, but if you're like me and tend to squeeze your mouse hard on the sides while moving it across the pad, you'll be constantly toggling the DPI when you don't intend to. Luckily Razer was smart enough to think of this and on the bottom of the mouse you can actually lock the side buttons so that you don't have to worry about toggling your DPI by accident. Just like any other button though, you can change these buttons to whatever button, command, or macro you desire.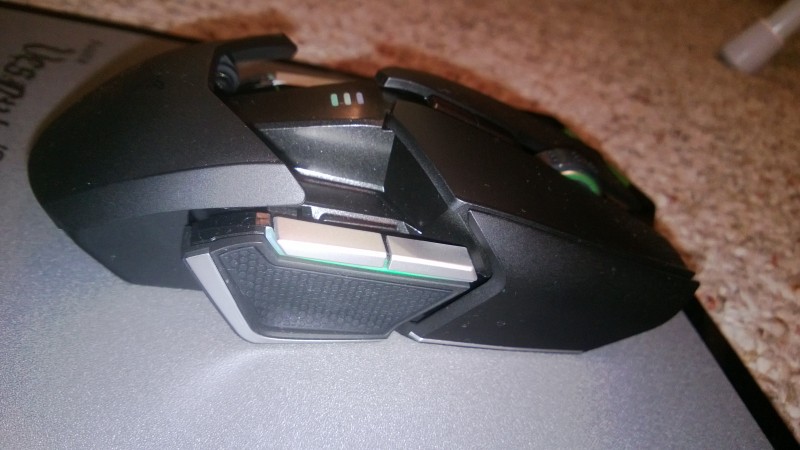 With gaming grade wireless technology, you'll get a 1ms response rate so that you have no excuses about your gaming skills based on your hardware. It used to be that wireless mice weren't always the best or most reliable, especially for gaming, but the technology has advanced so far that it's no longer an issue. Being a hybrid mouse, you can easily plug in the cable to play while it's charging and not notice any difference in your gameplay. Having a mouse that performs just as well wireless as it does when it's corded means you will have total freedom to allow your skills to shine through without having to worry about any lag.


With a single AA battery you'll get about 12 hours of continuous gaming (I'm finding it to be more about 8 realistically, but it will depend on many of your settings in the Synapse 2.0 driver software). In the box there is a rechargeable NiMH battery, but you can use any standard AA battery for those times when you really need a quick swap (or don't have access to the charge cable). This shouldn't really be an issue though, as you can simply plug in your mouse and use it in wired mode and not have to worry about it.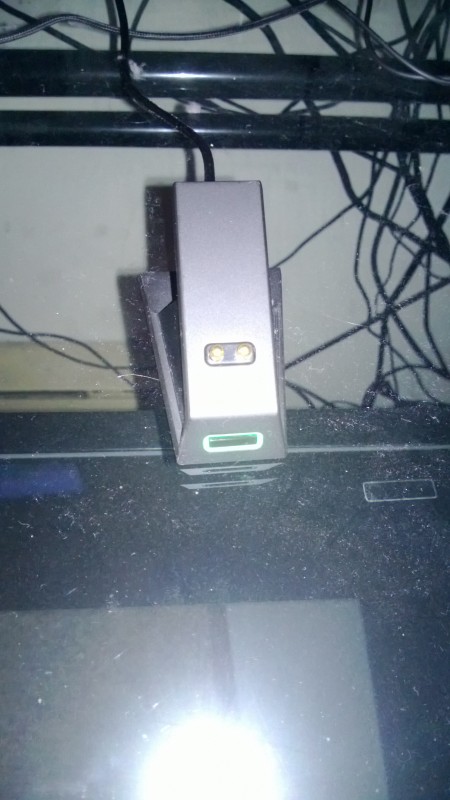 The last item in the box is the combined wireless receiver and charging dock. The dock is much smaller than the Mamba counterpart and it has a matte finish to match the mouse itself. The dock itself is actually quite small and I'm not sure what type of material is being used as the footing for the dock itself, but it simply won't move without you purposely trying to do so. This is a great feature as you don't want the dock moving when you're trying to attach the mouse to the charger. With two small contact points to mount the mouse to, it will take a little practice to get the hang of placing the mouse on the dock on the first try to line up, but when it's docked and at an angle with the lights pulsing, it simply looks cool on your gaming desk. Again, I don't know how Razer did it or what it's made out of, but the material they use to keep the dock 'stuck' on your desk is impressive.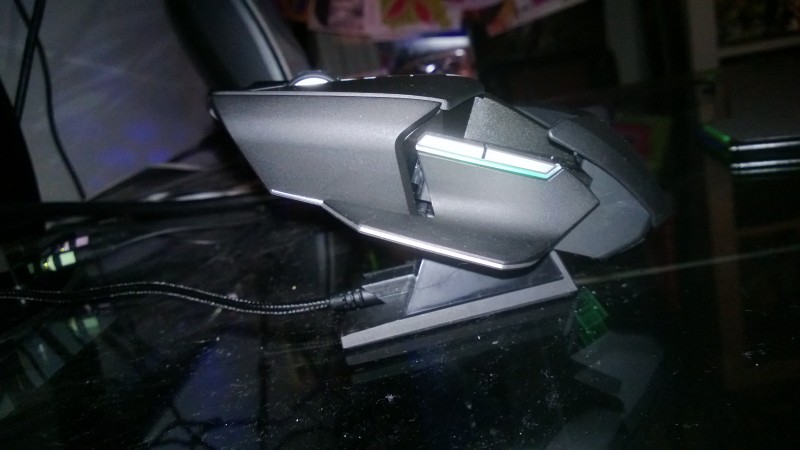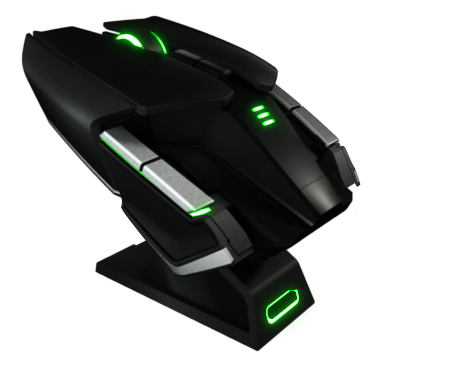 Lastly is the Razer Synapse 2.0 driver software that will serve as your Ouroboros' brain. With this software you can customize your profiles, macros, download the newest firmware and drivers while saving everything to the cloud (which is fantastic after a reformat). Synapse allows you to customize the brightness of the green lights on the mouse, the liftoff distance cut off, and even specifically chose what mouse pad you use to have the most accurate control for your new gaming peripheral.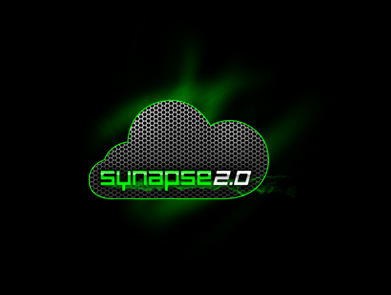 Some people prefer simpler designs and don't care about the flashy lights and extreme designs, but the Ouroboros is an attention getter. You may not like the design, but it will still catch your eye and make you take notice. It's simply a very cool and sleek looking mouse with an extreme design that has the right amount of lighting and accents to make you want to look at it more. The mouse feels solid and just the right weight. The full customization in terms of ergonomics and button commands makes the Ouroboros a solid choice for someone looking for a mouse to fit their hand and grip style unlike no other. The battery life is acceptable and the option of making the mouse wired makes it a complete non-issue any longer.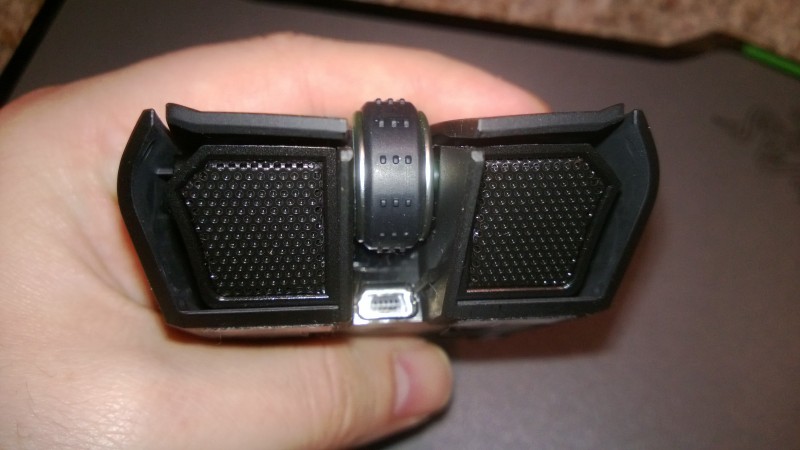 If you're looking for a high end customizable mouse with great response time and a completely unique look, the Ouroboros is a solid choice. I love that the mouse wheel is textured and slicks as you scroll, as I'm not a fan of the smooth scrolling wheels on most mice. With two sets of side panels, you can choose whatever suits your grip style best, but if you're skeptical about the wing panels like I was, give them a chance, as I use both and rest my fingers on them without any issue. Being able to adjust the length and palm height of the mouse is really unique and it will take some time to find that 'perfect feel', but once you do you'll be surprised how comfortable an ambidextrous mouse can really feel.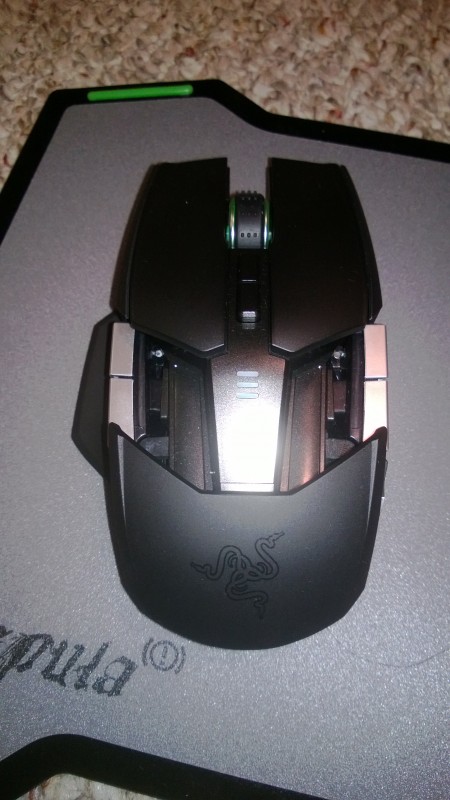 I really only had two issues with the mouse and they aren't a deal breaker by any means. Firstly, I really wish the side clutch buttons were instead a width adjuster for the mouse itself. The mouse feels fine just the way it is width wise but since I had to lock the clutch panels anyways, I don't make use of them even for extra buttons. Secondly, the Ouroboros only glows green. Sure you can change the brightness of it, but there are no other color choices to match your gaming setup unfortunately.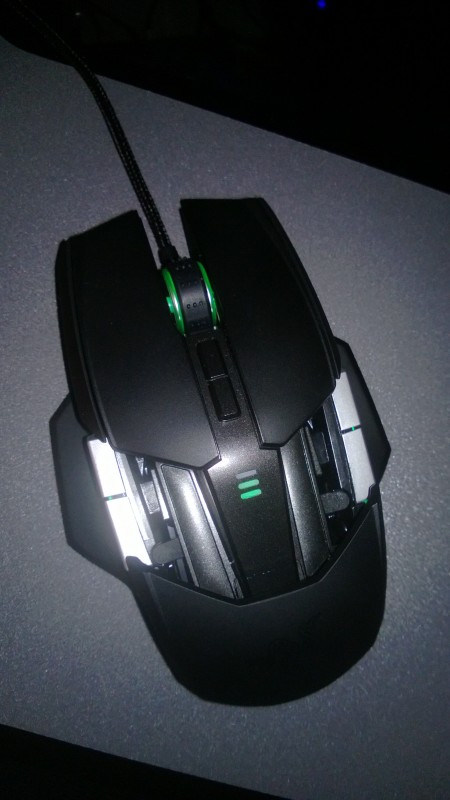 Looking at the Ouroboros from the front, especially with the wing panels attached, it definitely looks like a high end car and not something you'd expect from a mouse. If you're in the market for a high end gaming mouse and have the money to spare, you're going to truly enjoy the Razer Ouroboros and how unique and sleek it looks. I've actually retired my Razer DeathAdder finally because I've found the perfect fit for my hand and grip style with the Ouroboros.