Freedom Cry (Black Flag DLC)
by Adam Dileva




Assassin's Creed IV: Black Flag was one of my favorite games of 2013, not only because I'm a huge fan of the series in general, but because it was the best of the series yet, plus, who doesn't like pirates? Ubisoft's first offering of single player DLC is finally here, titled Freedom Cry. Let it be known though, that this review does elude to a few small spoilers from the single player campaign of Black Flag itself, so if you've yet to find out the outcome of Edward, proceed with slight caution.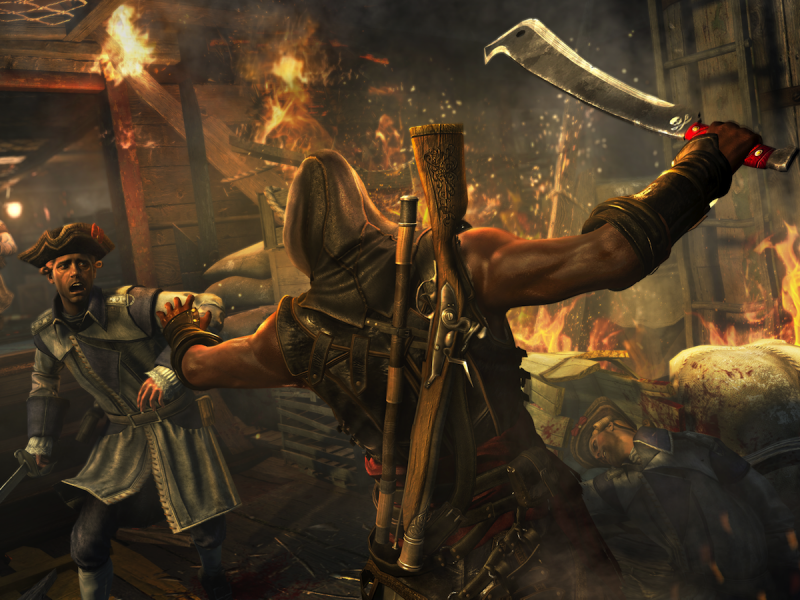 Freedom Cry is a completely self-contained campaign of nine missions that will give you around 4 hours or so of gameplay, though many more if you choose to do all the side missions and exploration. Freedom Cry actually stars Adewale, Edward Kenway's quartermaster from the legendary Jackdaw. The story itself actually takes place 15 years after the events of Black Flag, as Adewale is now not only still a pirate, but a captain of his own ship and also a full member of the assassin brotherhood.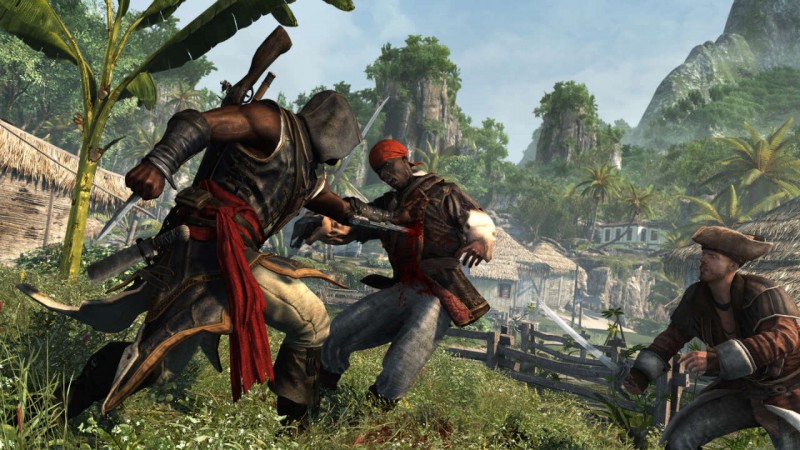 Freedom Cry wastes no time putting you right into the action of controlling Adewale's ship, just how you played Edward within minutes of starting Black Flag, so things start off quickly and full of action. As I don't want to spoil much of the story, given its only four-ish hours in length, Adewale finds himself stranded in the small town of Port-au-Prince, controlled by the French. As soon as you awaken here, you'll quickly learn what the main overlaying topic of Freedom Cry is all about, if you didn't discern it from the title itself.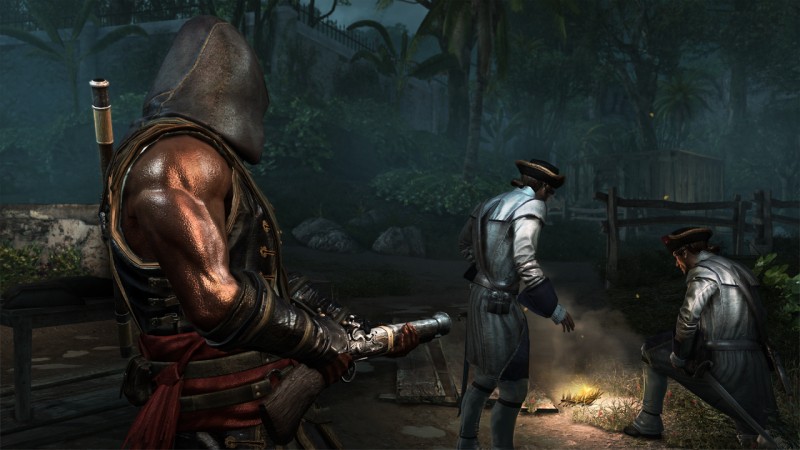 Port-au-Prince is popular for slavery, as there are multiple plantations, slave auctions, and many other racially charged and historic events that happened during this time frame. Having been a former slave himself, Adewale feels compelled to intervene, not only for his own conscience, but because of the brotherhood he now represents as well. The staple Assassins vs Templars sub-plot does exist in this DLC, but it's overshadowed, rightfully so, by the grave importance of Adewale needing to free hundreds of slaves. What I enjoyed most of Adewale's fight, was that he had a real moral and meaningful purpose, unlike Edward (whom I love) who mostly dreamed of simply become rich. It felt much more personal, obviously helped by the fact that Adewale has this personal connection and seeing it going on all around him.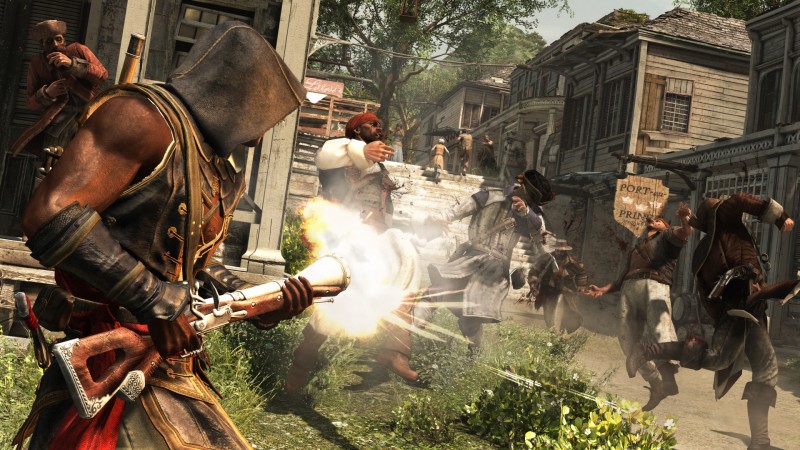 As I mentioned above, you're thrown right into the mix with a massive ship battle from the get-go, and this is very important to mention, because if you've not played far into the campaign of Black Flag (shame on you), then you aren't really going to know what's going on, or the proper ship mechanics to win and do some of the basic ship and combat maneuvers. The same goes for Adewale, whereas if you're not far into Black Flag's campaign, you'll be wondering who he is and why he's so important (as he only mentions his Jackdaw escapades once during the story.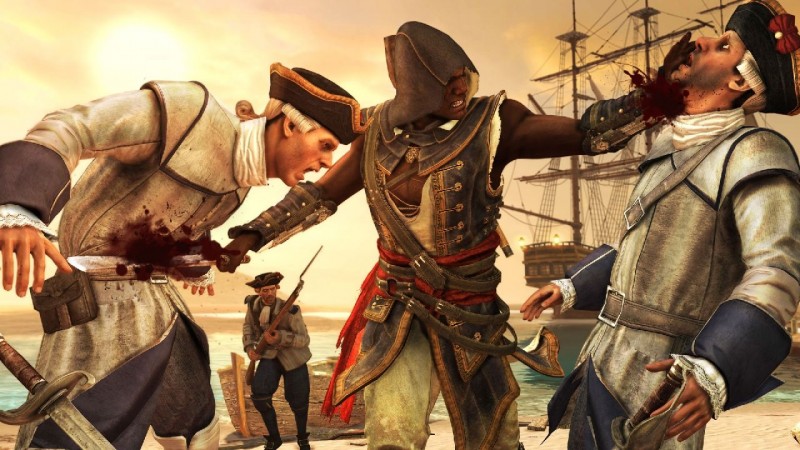 Port-au-Prince may be a small town, but there's plenty for Adewale to do to help his fellow brothers. You can help and free slaves in numerous ways, such as unlocking cells (once you pickpocket the guards key), stop a slave auction, stop a pursuer chasing a runaway slave, find and save slave ships, or even clear out an entire plantation of the enemies. The more slaves you free the more that will join your cause which nets you other bonuses like gear and upgrades for your ship. The stealthier and quicker you help the captured slaves, the more that will survive to join you. Plantations for example has a certain amount of working slaves, and if you can take out all of the guards without being detected, the more slaves will survive. Try and clear a plantation without stealth though, and possibly none will survive, as guards will start to attack the nearby slaves.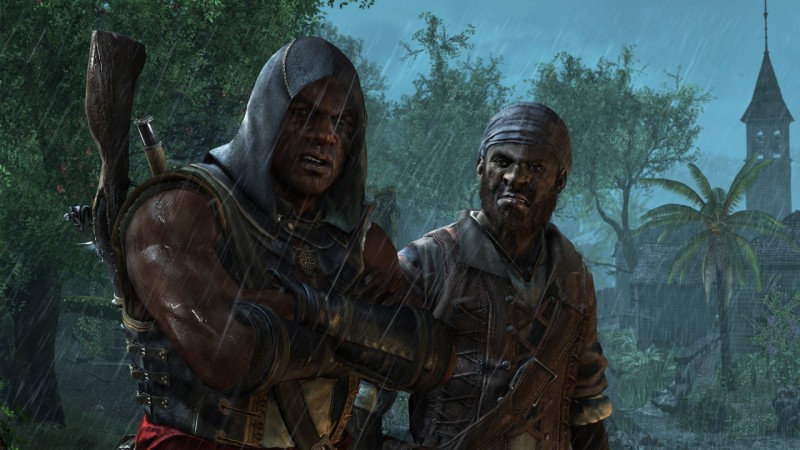 While Adewale controls generally the same as Edward of the core mechanics, he does have a few different tricks and his own way of doing things, as he's a completely different man with vastly different motives. Some of his combos are longer animations, so timing in combat did take a little getting used to after knowing exactly how Edward moves for so long. Adewale also doesn't use a fine sword and muskets, but instead a rusty machete and a blunderbuss (essentially a shotgun) that can take out four guards at once (and a first for the series).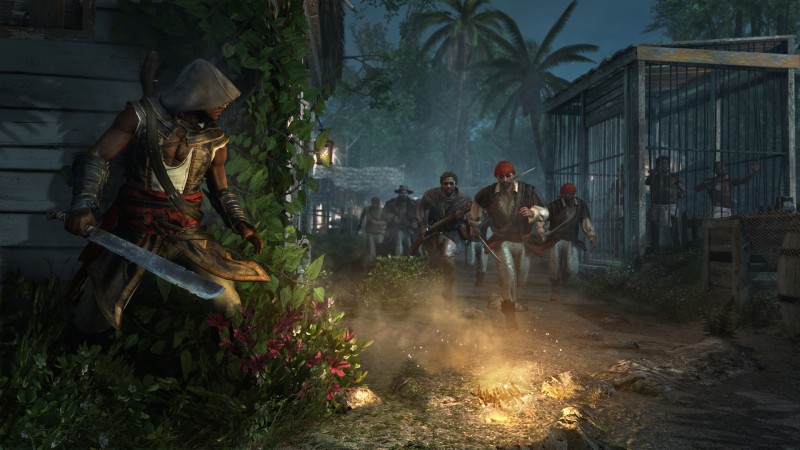 Just like Black Flag, Adewale has the ability to sail around, though the area is different, as Freedom Cry is set in the West-Indies Sea. While the entire map may be only a quarter of the size of Black Flag's, it still feels vast and quite large, even with only a fraction of the places and islands to visit. The open seas is where you'll find the slave ships, and where one of the more emotional scenes of the game takes place. Slave ships are meant to be boarded so that they can be freed and rescued, but to do so you'll first have to defeat the convoy that is escorting it on the seas. What makes taking on these escort ships quite a challenge is that they can only be sunk and not boarded (which in Black Flag repairs your ship by doing so). This means you'll need to sink all three (or more) ships before you can liberate the slave ship itself. I don't want to give away what exactly happens on the slave ships, but just know you'll have to make decisions, and not everyone can always live.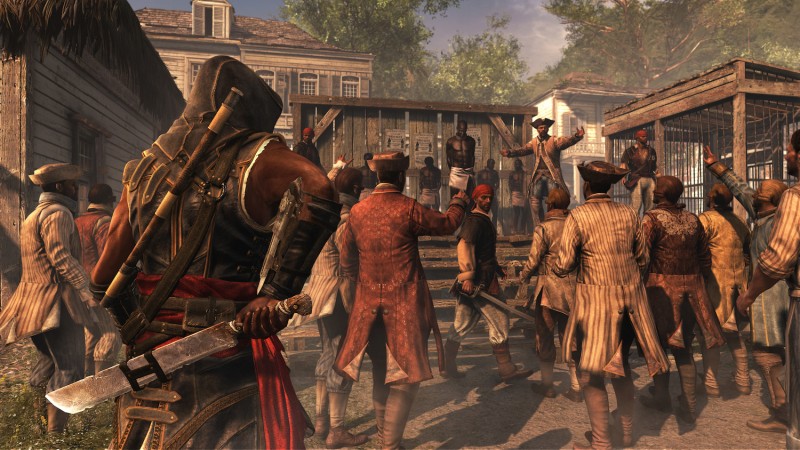 Just like Black Flag and previous games in the series had, so too does Freedom Cry have the incredibly annoying and frustrating eavesdrop missions where you need to stay in the vicinity of your target without being spotted. You'll also have a few missions where you can't be spotted or else the mission is failed and you'll need to start again. Be happy to know that unlike the Tyranny of King Washington DLC for Assassin's Creed III, Freedom Cry is one single outing with a beginning, middle, and end, and there's also no silly super power powers that Adewale inherits like Connor did in his DLC.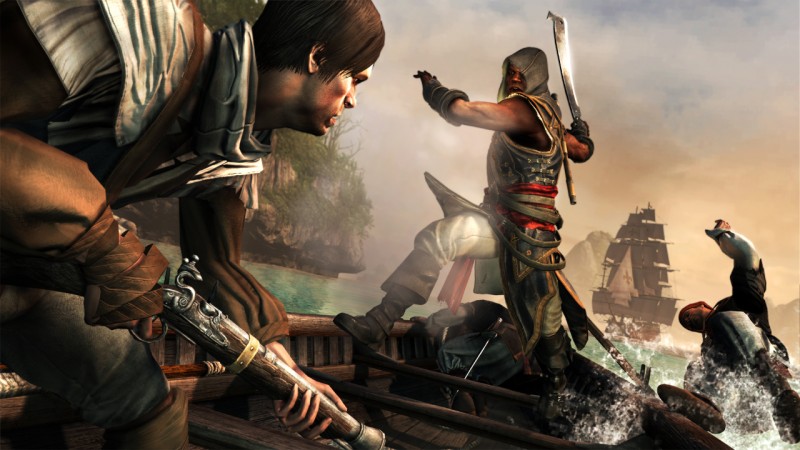 One thing that I need to mention though is two bugs that I kept running into every time I loaded up Freedom Cry to play. First is the fact that the game itself would kind of hang when the DLC was being loaded and initialized. The system wasn't frozen, as the loading/saving icon was still moving, and I could still use the Home button and quit the game, but every time I wanted to load up Freedom Cry from the main menu, it took two or three tries for it to load the Freedom Cry menu once it finally loaded. Second, I found quite a few spots where Adewale kept having issues using his parkour abilities to go up a spot that was climbable. A few of these spots were actually the synchronization viewpoints to unlock the map on top of some of the windmills. No matter what angle I tried he just wouldn't climb up something he could easily go up if he wanted to.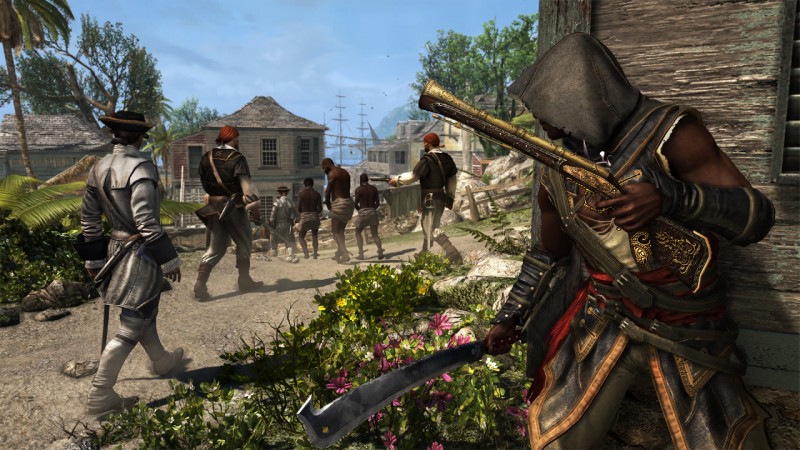 While the score story may only take three or four hours (depending on how quickly you can free slaves), it can be played for considerably longer if you choose to find all of the secrets, do side missions, and sail every place in the sea. Freedom Cry still felt and played like Black Flag, which is what I was hoping it was going to do, as I was worried it was going to go the route the did with Assassin's Creed III episodic DLC. Freedom Cry is more than just a reskinned character with a new chapter as well. Adewale is a great character and the whole setting is very dark and a touchy subject to some. Slavery is going to touch on some people's emotions, and I believe that is some of the intent here, and not in a malicious way at all. My moral obligation was constantly making me feel compelled and obliged to stop and help any and all of the slaves I came across, even if I was mid-mission. If I didn't intervene, no one else would, and I believe that is the feeling that Ubisoft set out to convey with this DLC.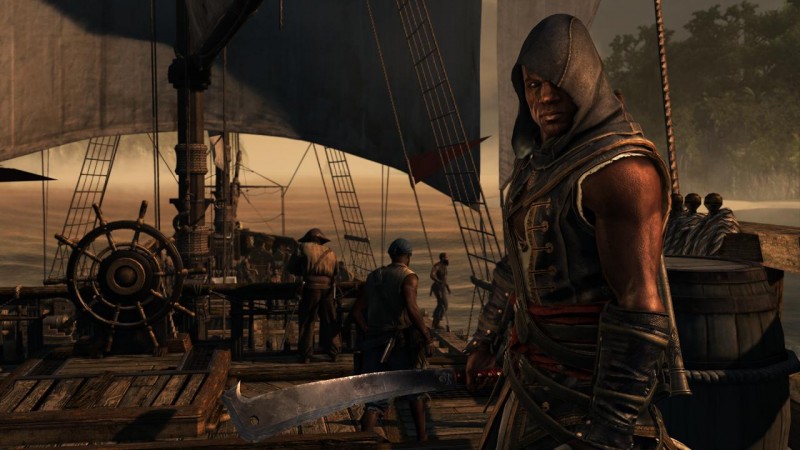 With such a sensitive subject matter, I believe it was done very tastefully yet didn't hide from the sheer brutality. Once you complete the story, there's little reason to continue playing the DLC unless you're a completionist, but I still recommend it even if it's just for Adewale's tale and the serious take on the overlying topic placed in front of you.