The Walking Dead - Pinball FX 2 Table Review
by Adam Dileva




To my knowledge, I don't think there's a good zombie pinball game out there. Granted, I never thought the two would mix in any meaningful way, but Zen has managed to do so by teaming up with Telltale, the creators behind the amazing The Walking Dead games. The Walking Dead: Season 1 was actually my personal Game of the Year that year, so when I heard that Zen was going to be making a pinball table for Pinball FX 2 based on it, I was more than excited, though curious just how they were going to portray everything that made that game great in pinball form.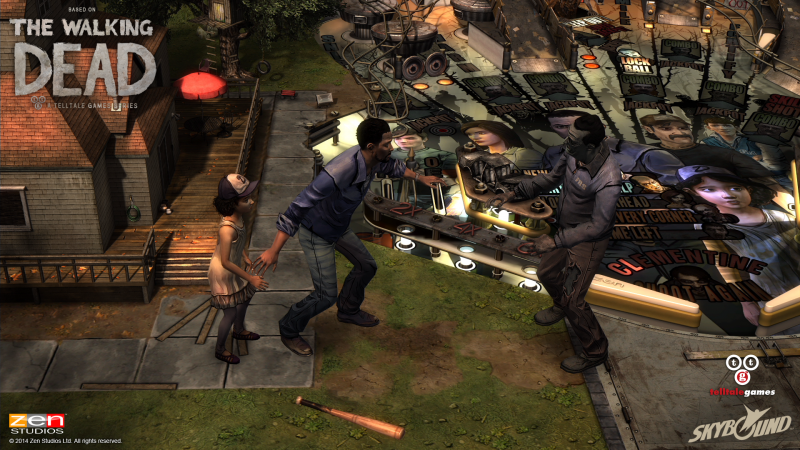 Zen could have easily used the license and made a mediocre table and I would have still probably enjoyed it, but you can tell that they worked closely with Telltale and have made his table right, not only for their quality of Pinball FX 2, but to live up to The Walking Dead brand as well. Every design choice seems to be intentional, all the way from table design, character models, voice acting, and fan service. You'll notice iconic areas from Season 1's game such as the train, Clementine's treehouse, the Everett pharmacy in Macon, the bell tower, the motel, and more. Being the massive The Walking Dead fan that I am, these little touches really made me smile to see that so much detail and care went into make the table something the fans would truly appreciate. It has not gone unnoticed Zen and this is easily one of my favorite tables for Pinball FX 2.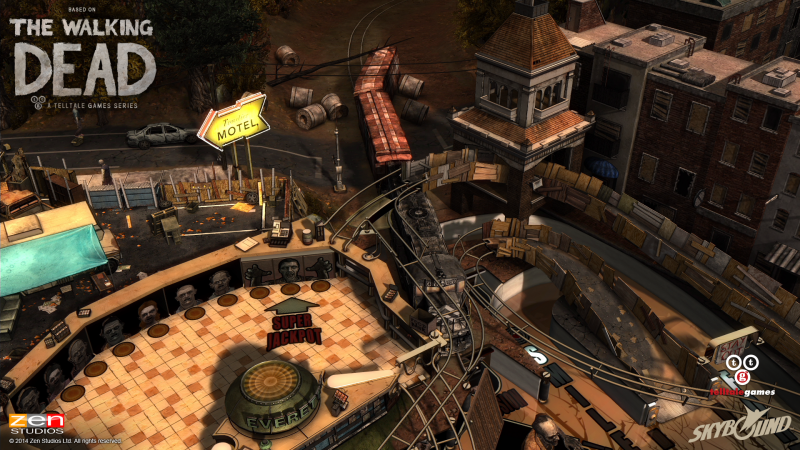 If you're unfamiliar with Pinball FX 2, it's a pinball game that brings true pinball physic simulation but with tables created specifically that wouldn't be possible in a real pinball table. Sure some might not see this as authentic pinball for those of us old enough to remember playing them in arcades, but Zen does a fantastic job of creating exciting tables, many of which are based on some of your favorite franchises like Marvel, Star Wars, and now, The Walking Dead.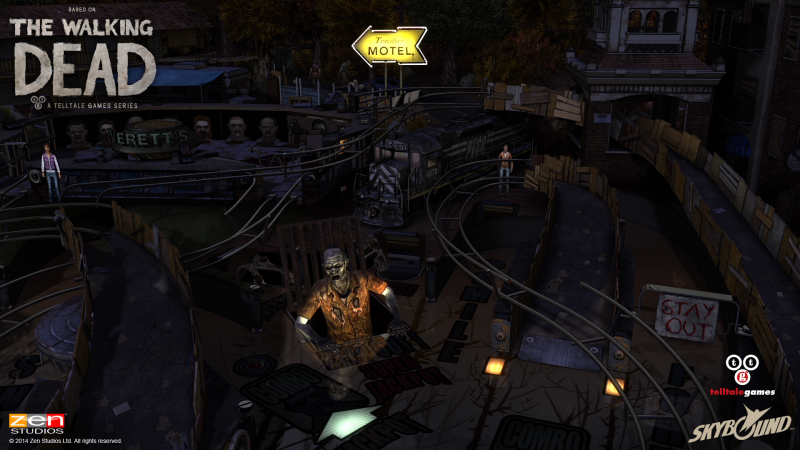 The Walking Dead game is a player choice-driven adventure that has you making impossible decisions, usually on the fly without much time to think, and Zen has tried to recreate that same feeling here from each of Season One's five episodes. You'll have to make decisions on who to save, keeping morale up, finding supplies, and more. Obviously in the context on pinball, it's not going to trigger the same emotions that the game itself did, but the fact that the options are there is a great nod to the source material.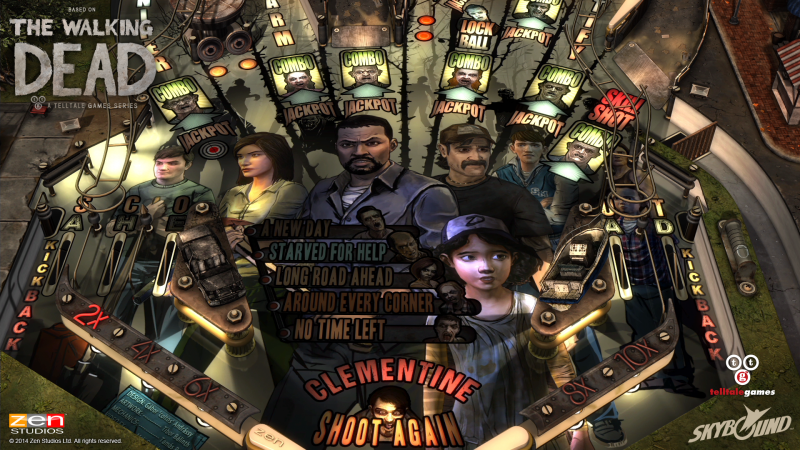 The table is very dark and brown, much like the game's tone and colors which suits the setting well. You'll notice a constant zombie near the middle of the table trying to reach out and grab your ball as it whizzes by. Hit him a few times and you'll drive him back into his hole, allowing you to attempt to shoot your ball in there to initiate the quests and choosing which episode you want to play (you don't have to play episode one to five in order) and are named the same as they were in the game itself.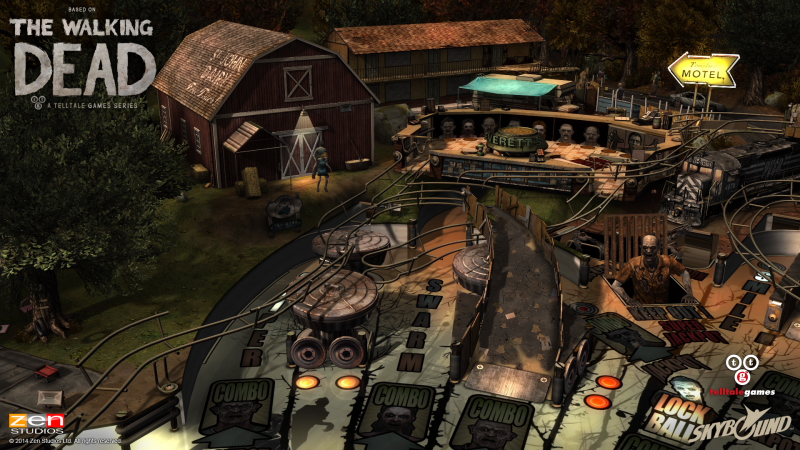 The quests you get are taken directly from the Telltale game, and if you've played Season One before, many of the choices you're given will bring back memories, such as deciding to save Doug or Carley. If you've not played the game this table is based on, all of these decisions will be arbitrary for you and have no meaning. Not that it will deter from the enjoyment of this table, but this really was made for the fans. You're going to wonder who each of the characters are or why stealing supplies is a bad thing, lessoning the moral decisions to be made if you've not played it as well. I'm not sure how you can cram all of those situations leading up to these decisions in the context of a pinball game but if you have played Season One, you're going to know exactly what the dilemma in these choices are.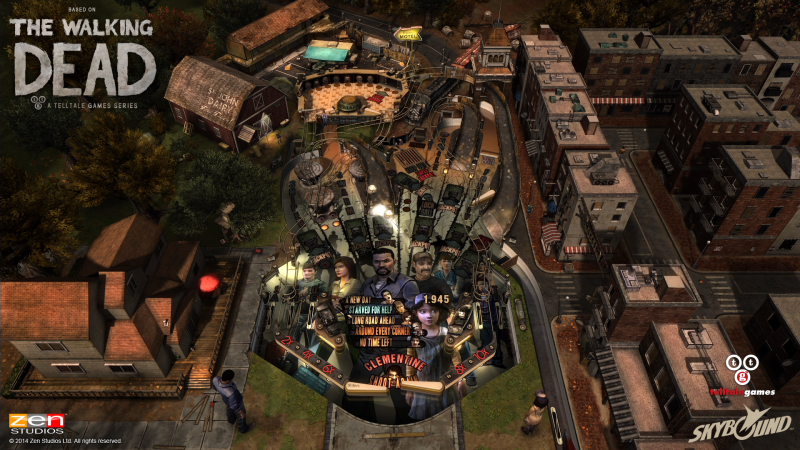 There are numerous ramps, all at different angles, some of which are very challenging to hit on a consistent basis. The ramp that leads up to the Everett pharmacy for example, a mini table up above, is rare to hit successively, but that's because this is where you'll rack up potential massive points and even the rare multiball. The ramp that eventually leads to a Sniper minigame is quite fun and will have you using the triggers to move your cursor left or right as you try and shoot the zombies with the ball launch button. Again, fans of the game will know exactly what this is referring to. There's even a way you can get Lee and Clem to start kicking a soccer ball around, with specific ramps initiating the ball passes (and points).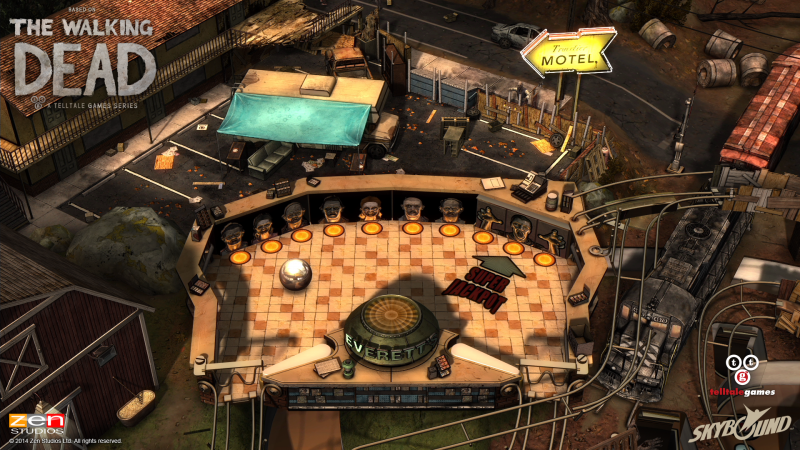 As you play the table for the first time, take the time to enjoy the virtual tour around the table's elements, as it will give you a close-up of all the effort that's been taken to give this table the fan service it deserves. There are a lot of great small touches that really make this table stand out, not only for the fans of the game, but for pinball enthusiasts as well. The plunger is Lee's large red axe, Lee and Clem are constantly standing on the table just near your flippers, your ball sometimes turns into a soccer ball when you're playing the specified minigame noted above, and more. All of the art, sound, and models looks like it was directly ripped from the original Telltale game, making it feel truly authentic. Even Dave Fennoy (Lee Everett) and Melissa Hutchison (Clementine) recorded some new lines specifically for this table; that's how much fan service has been included in this pinball table.


The table itself can be quite challenging at times, as hitting certain ramps with not enough speed will cause a close call either right down the middle or the furthest lanes. The same goes for certain episodes, as they'll begin quite quickly and you won't be ready for it until you play it a few times and become accustomed to it. Even beginners will have fun on this table, as it's easy to rack up points by hitting multiple ramps or zombies. If you're a Telltale Walking Dead fan, this table is an absolute must and you'll really appreciate the hard work that's gone into making this table feel authentic and worthy of the brand. While it may not make you emotional playing pinball itself, it definitely brought back some of those feelings I got while playing the source material it's based on; what other pinball tables out there can tout that?


Overall: 9/ 10
Gameplay: 9/ 10
Visuals: 9/ 10
Sound: 8.5/ 10