Skylanders Imaginators Preview - Create Your Own Skylanders
by Kirby Yablonski








A few weeks ago we got to sit down with "Lou", the Associate Producer for Skylanders, and take an extended look at the next iteration of Activision's toys to life franchise. Set to release later this year, Skylanders Imaginators is developed by Toys for Bob, the dev-team that started this whole genre of taking toys and bringing them to life. Their first game in the Skylanders franchise was Spyro's Adventure, and they are once again taking the reins of the newest game. This year the goal was to fulfill a dream that the dev-team has had since the first game was released. Lou told us that since the first game, fans have sent in "...hundreds upon hundreds of drawings" of Skylanders they wanted to play as. So with that in mind, the team at Toys for Bob wanted to put that power in the hands of the fans for the very first time, hence Skylanders Imaginators was born. With the power of the 'Creation Crystal', which is what you'll be putting on the portal this year, fans get to create their very own Skylander in this year's game.

The reasoning for creating your own skylanders, story wise, is that Kaos is doing the same. Yes, that dastardly nemesis of the Skylanders troop is back with plans to rule the world of Skylands...again. He has found the power of mind magic and he is creating an army of his own Skylanders called doomlanders. It is up to you, with your self-created skylanders, called Imaginators, to defeat Kaos and his doomlanders. Phew, that was quite the lesson in everything "landers" related.

The amount of customization is amazing and anyone can create their dream Skylander. You start off with your element and battle class. The latter is your fighting style (e.g. ninja, knight, bowslinger, smasher and more). With 10 different elements and 10 different fighting styles there are already 100 starting points to choose from. Yep, you do the math, it's true. After you choose these two characteristics, there is so much you can do with the look (visually speaking) of your skylander. From hair, to eyes, to ears to even tails, and of course size, you can make your skylander your own. Lou said that one of the goals was to keep within the realm of the "skylander silly" and they have passed that tool over to the user. The devs want gamers to have the ability to create as well as they have created in the past. As you choose your parts the game shows your creation in real-time and what your choices look like so you know what you're going to get before you move on.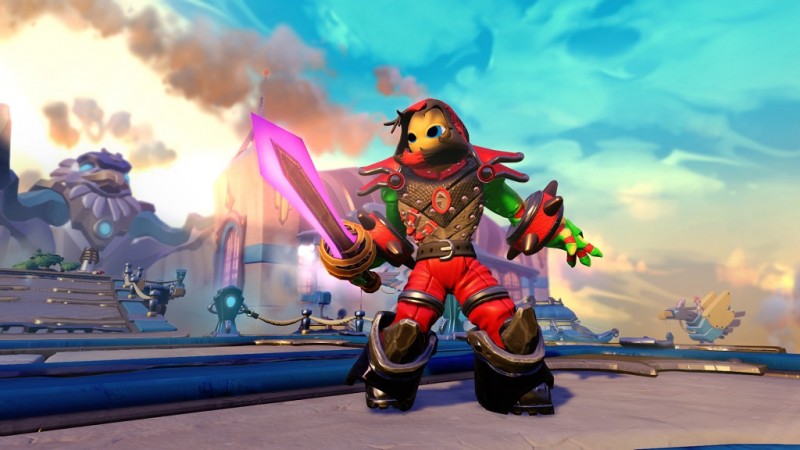 Once you get your body to your liking it's time to hit up the gear, which is what you do battle with. It is more customizable as each piece has stats assigned to it, and as Lou said, it has been blown out to a full armour set. You'll see things like +5 armour or +5 luck for example. You'll equip such things as shoulder guards, backpacks, leg armour, etc. that allows you to have certain 'spiffs' for your character. This adds a bit of strategy, but not too deep to keep the younger ones out of the loop.

For those that are really detail oriented, Lou stated that the amount of visual control you have over your creation is pretty much unlimited, as you can use pre-set options, basic customization options, or head on into the advanced options to colour every little detail you are allowed to in order to make it even something more special looking. Toys for Bob didn't want to take away the experience for the young one's either, so the different levels of customization have something for everyone making the experience quite comprehensive for all levels.

Your powers are basically where your "...elements meet your battle class". You can have different attacks that are tied to your battle class, and you chose what they are. As a bowslinger you choose what kind of primary attack you'll do. During the demo we were shown a choice between a powerful single arrow attack or a weaker but multi-arrow spread attack. You can then assign your element attack (e.g. special attack), we were shown either an explosive vines attack or a 'sheep' stealth attack where you become a sheep and can sneak up and attack your foe. You can unlock more of these primary and special attacks as you play too.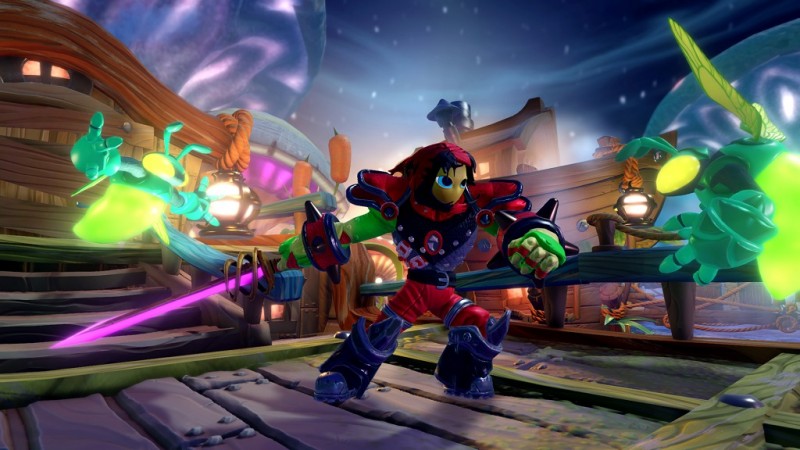 Finally, and as any skylander fan knows, each skylander has their own unique personality, and in Skylanders Imaginators you can create your own personality to your liking, including some great choices of sayings from a fairly extensive library of such. You take various sayings and chain them up to create a 'tag-line' of your making. Of course you can also name your character and create a voice from the menu of options. In terms of the latter, there are choices of voice sound (e.g. heroine, angelic, scientist, soldier, and more) and you can add effects to it (e.g. werberler, robotic, squeaky, or even BIG). And as with your attacks, you can of course find even more during your adventure. You can also assign your character a specific theme song (e.g. funk) as well as assign you weapon their own sound too (e.g. cartoony, magical, and even an 8-bit video game like sound).

You'll get treasure chests in the game by finding them in secret spots, beating mini-games, and beating mini-bosses. The contents of the treasure chests are generally random, so don't expect to get items or gear, specific to your character that you are using, all the time. You'll find that the 'loot' is quite varied and it encourages people to play more often in that effort to get that one specific customization option that they might be hoping to get for a specific character.

Throughout the game Toys for Bob have brought back some of the more favourite Skylanders that have been around in the franchise and they have incorporated them into the story mode for fans to enjoy. For example, in the demo, Eruptor was one of the characters we came across and he mentioned that Stealth Elf was in the story too.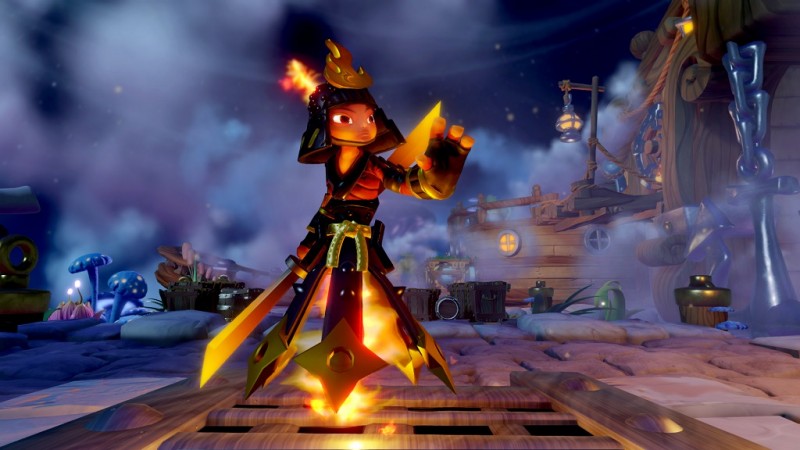 Along with the ability to create custom Skylanders there are the new Sensei Characters, considered the masters, and they each represent one of the 10 battle classes. We saw Ember, who represents the Sentinel battle class (double edged sword). By bringing a Sensei onto the portal fans get a training bonus by upping one's custom character level cap, and they also provide Imaginators of the same battle class with a new technique for their customization options to add or try out. There will be 31 different Sensei characters for this years game. When using a Sensei character a new on-screen meter shows up that represents the Sensei's Tai-Chi super move, which only they have. This super-move fills as you dispatch enemies and you must figure out when the best times to use it are. We also got to see a former baddie from Trap Team that has been rehabilitated and become a Sensei Character, Wolfgang, who is now of the bowslinger battle class. He has some crazy music themed bow and arrow attacks and he can also lay down amps that do damage over time with their music.

Lou showed us one of his advanced characters, a Fire Knight, with some great equipment and options. He brought out this created, and levelled up, character to show us a battle with one of Kaos' doomlanders. These are the bigger bosses in the game. Kaos' doomlanders have their own catch phrase, move set, custom gear, and abilities. As you fight them you knock off their armour, and doing so, it gets added to your collection. As the battle progressed, Kaos gave his Doomlander a special technique to use against Lou and his Fire Knight. During the third and final phase of the fight, Kaos brought elements of the level into the fight, and you'll find that a lot of the doomlander battles incorporate this. In the demo, a wrecking ball would swing across the level, and you could use it against your enemy to hurt or eventually destroy him. Upon defeating the boss, you get more of their gear (e.g. in this demo an Epic Level Blade) and personality items (e.g. catch phrase and music).

At this juncture we have to say that by adding the ability to create your own Skylander, Toys for Bob has injected some new life into the series. It's not just about putting pre-made characters onto a portal anymore, as fans get to make their own special set of Skylanders and have them look, sound, and play like they want. It's a great way to get the fans involved and it should be a treat for all to play. We here at XBA are looking forward to playing the final retail version this October.

Scroll on down for a few more early screenshots of the game: