Happy Dungeons - Dungeon Crawling At Its Happiest
by Adam Dileva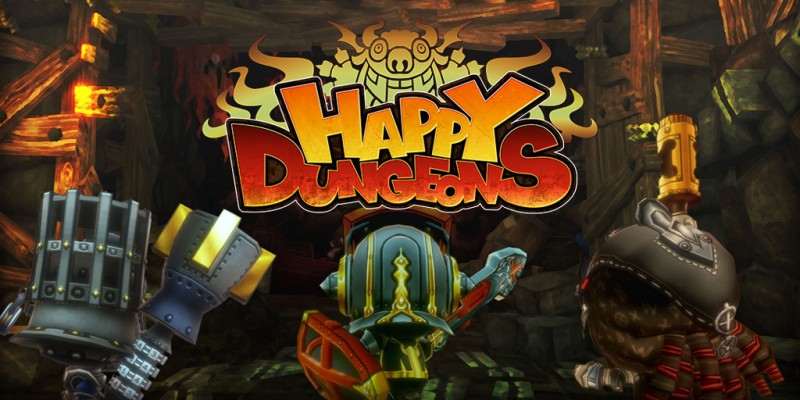 Happy Wars was a free to play game on Xbox 360 and turned out to be a surprise hit. While none of my friends played it religiously, a good portion have at least tried it at some point. It was cute, funny, and had decent gameplay elements. Myself, I never got too invested into it, for numerous reasons, but the few times I did play, I enjoyed my time with it. Here we are a handful of years later, and Toylogic is bringing the followup to Xbox One with its sequel, Happy Dungeons.

Just like their previous hit, Happy Dungeons is a free to play action game that instead this time focuses on dungeon crawling, loot, and customization. While it's not officially released yet, it is in the Xbox Game Preview program, so you're able to download and play it now and see what all the fuss is about. Since this is a work in progress, this isn't a fully-fledged review, but instead, meant to give you an idea what to expect, regardless if you played Happy Wars previously or not.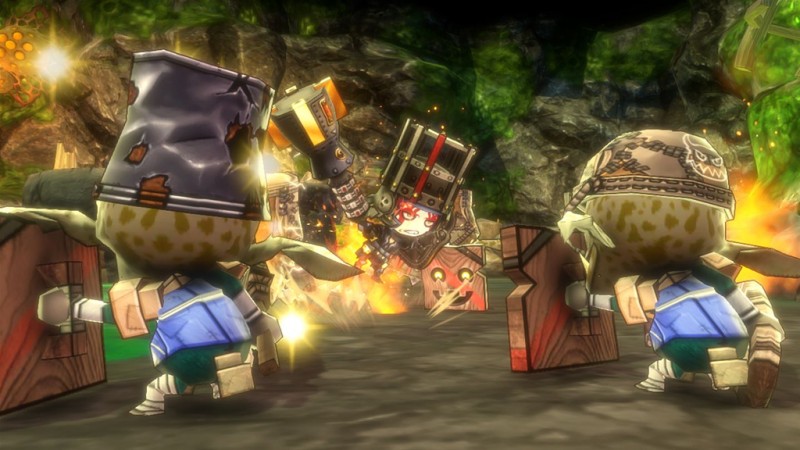 Happy Wars, and now Dungeons, is known for its cute visuals, funny storyline, and a seemingly endless closet of accessories, armor, and weapons to dress your characters uniquely. It's multiplayer button mashing fun, and even though we're only getting a small slice currently of what's to come, it's already looking to be a polished and fun experience with promise.

I found Happy Wars to be a little confusing, as it throws a lot at you without explaining much. Luckily that's not the case here with Happy Dungeons. Sure Happy Dungeons has a simpler premise, as you're progressing from area to area, killing dozens of minions and bosses in caverns, caves, and any other underground setting you can think of. It's a linear experience but its cute visuals and personality make you forget its basic gameplay.

The opening cutscene shows how both Happy games are tied together, with you falling from the island in the sky, only to crash land on a whole different world beneath that no one knew existed. You're then recruited to be a part of the Order of the White Dragon when you witness the princess being kidnapped. Now it's your duty to save her by defeating a huge goblin boss. Sure it's not an original tale, but there is humor abound and much loot to be had.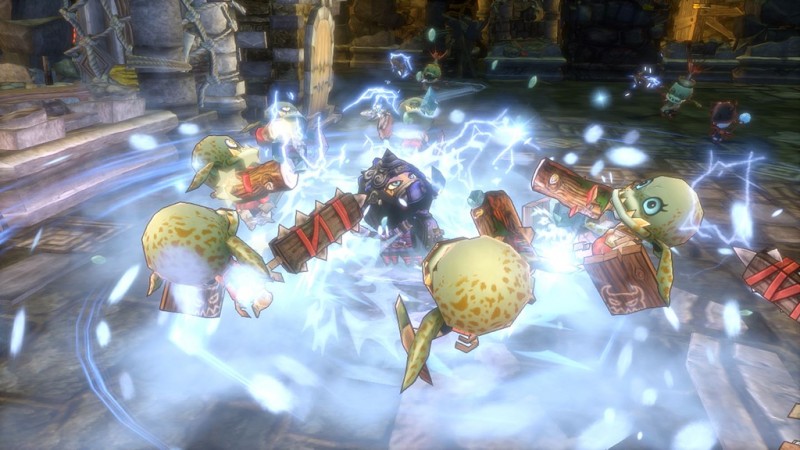 Just like Happy Wars, you're able to choose a class you want your character to be while also being able to swap them whenever you like when not exploring a dungeon. You can choose from Warrior, Cleric, and Mage, each of which has its own playstyle and unique abilities. As you level up and earn experience you unlock new spells and abilities, making you even more powerful and useful in a group setting. You can even upgrade your abilities in many different ways, so there's plenty of character progression for you to focus on aside from gear upgrades.

Speaking of gear upgrades, that's where the most fun from Happy Dungeons comes from. Just like how an upgraded piece of gear from Diablo would get you excited, it's the same here, though many items will be coveted for their looks and not simply their stats alone. Being that Happy Dungeons is a silly and kid-friendly looking game, many items within follow suit. Instead of an awesome looking sword of greatest, you might come across one that looks like fish bones, or a hat that looks like a silly animal. Small details like this that gives the game a lot of charm, and there's even a mechanic that allows you to change your best items to look like other items instead, for a cost of course.

Combat starts out basic, allowing you to attack and dodge, plus any special abilities you possess based on your current class. Eventually you'll be choosing what skills to load on your next journey and having to manage your mana to defeat waves of enemies, goblins, aliens, and more. As you venture further into higher levels, enemies will become more difficult, so your skills and strategy better adapt and improve as well. Eventually it does feel at times that the game wants to simply throw as much as it can at you at once as a form of difficulty increasing. One of my minor complaints is that attacks don't seem to have much weight behind them. Sure you do more damage as you upgrade and improve your weapons, but the most damage will come from your abilities as you wait for them to refresh from their cooldown periods.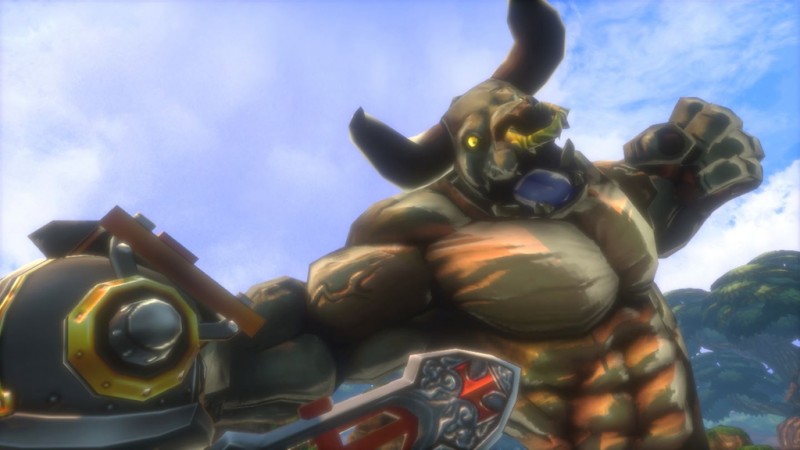 Each dungeon is broken into a handful of smaller stages, usually requiring you to simply clear the area before being granted access to the next. There's an overall time limit that you have to finish the dungeon, but I've never come close to running out of time. There are a few sections that require you to find the exit where the level is broken into multiple smaller sections, forcing you to venture out from room to room, much like how classic Legend of Zelda dungeon rooms were connected. It breaks up the pace but doesn't add much to the overall package.

Lastly, every dungeon will have a boss at the end that needs to be defeated before granting you the coveted treasure chest at the end, and hopefully an upgrade. Each dungeon usually only lasts about 15 minutes which allows for quick bite-sized gameplay, a welcome addition, but almost all dungeons feel the same after you've done a dozen or so. While the bosses do possess different abilities, none really require much strategy aside from running up to them and whacking them repeatedly.

Happy Dungeons is in Game Preview, so things can change drastically from now until its full release, and developer Toylogic has promised to continue improving and adding content as time goes on, which is very welcome. New items will surely be added as time goes on, most of which I would expect to be in the store, which brings us to an important point. If you played Happy Wars, you already know that the game had a heavy pay-to-win element to it. Sure you can play for free without ever spending a dime, but you will fall behind quite quickly if you don't drop a few bucks here and there unless you dedicate an inordinate amount of time to grinding.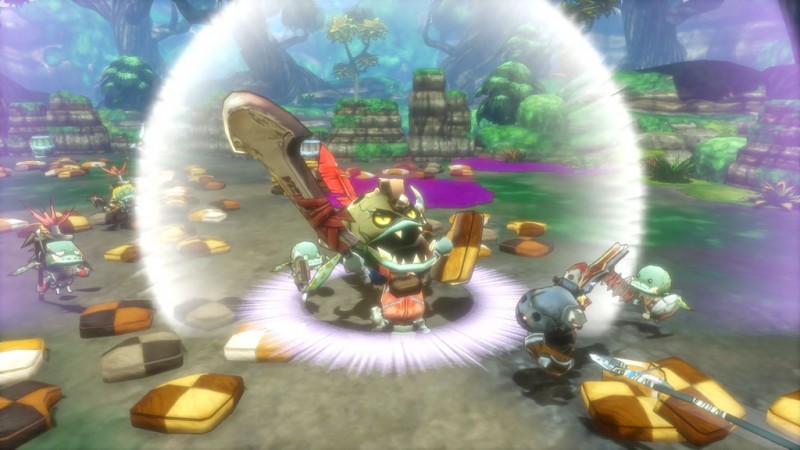 For full disclosure, I was provided a package that gave me a certain amount of Gems, the currency you can purchase with real money to spend on the in-game store; not a crazy amount, but enough to afford a very good set of gear for my character. I played a few dungeons before redeeming the code and then afterwards; it was night and day. My bought gear was immensely more powerful than anything I had earned on my own up until that point. I understand that microtransactions is how Toylogic will be successful with Happy Dungeons, but just be aware that you'll have to spend a crazy amount of time to accumulate the gear that someone else can purchase in moments if they decide to open their wallet.

There are visual customization items that can be purchased too, and you are given bonuses for logging in each day, and more, but it's so much simpler to drop a few bucks here and there, especially if you want to keep up with your friends. Speaking of, you're fully able to play online with your friends as a group, and I wish I could elaborate more, but I've had issues connecting with other people in lobbies for some reason. Given that it's still in Game Preview, I fully expect this to get fixed and fleshed out, but just something worth noting.

Happy Dungeons won't be everyone's cup of tea per-se, but those that like RPG elements, tons of loot, silly visuals, and dungeon crawling might want to check it out. It's completely free, and while not complete or fully released yet, it's still charming, fun, and adorable. I'm excited to see what gets improved and added from now until its release later this year. Now if you'll excuse me, I have another dungeon to grind through, happily of course.