Dishonored: The Corroded Man (Novel)
by Brent Roberts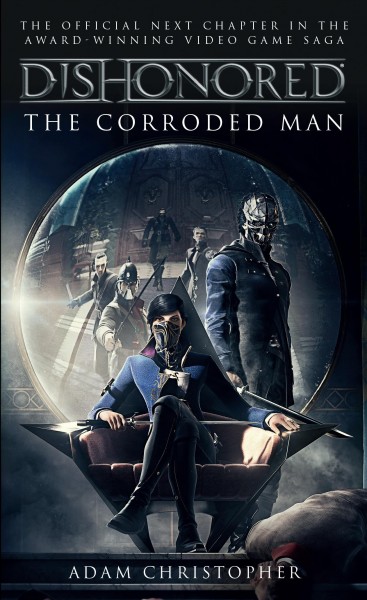 Normally I don't take well to video games that become adapted into the realm of novels. Usually I find a sense of disappointment as plot lines tend to skew the fictional reality that we as gamers already have imprinted in our minds. I have to admit up front that I'm a very big Dishonored fan and loved working my way through a non-lethal playthrough which was incredibly challenging yet fun. Lately, the most recent novel that came across my fictional desk is called Dishonored: The Corroded Man. Now Dishonored 2 is but a mere stone's throw away, so is this book a must read to enjoy the upcoming game, or should you leave it on the shelf?

If you haven't played the first Dishonored, then shame on you. It's a quality story and experience that shouldn't be missed by anyone. It tells the story of Corvo who was framed for the murder of an Empress, and throughout the game you're tasked with uncovering the mystery and bringing justice to those that deserve it, all while learning about Emily who is now the new Empress, however she is still a child and your actions will shape her development. Now onto the book.

You're not going to start off in some distant future, but you could consider The Corroded Man about half way between Dishonored 1 and 2. Corvo is still around and actually is the protector of Emily like he was with her mother. The premise behind the book is that a man known as Zhukov has arrived in the city and wields a power not seen since a great evil that was discovered in the first game, leaving it up to Emily and Corvo to figure out what is going on. From the beginning you can see how a young woman Empress, Emily, has been training in secret with Corvo to hone her assassination skills while trying to also balance the diplomatic scales to keep society running smoothly. While I understand that writing something with that tried and true backbone, it leaves little in terms of originality.


The story though isn't told from one point of view though, as we naturally see the story unfold through Emily and Corvo, and even the lead villain. This helps as the novel tends to develop an almost comical relationship between Emily and Corvo. Instead of a serious relationship such as an apprenticeship, this becomes more of a psychological cat and mouse game that they play on each other. Examples would be where Emily would sneak out at night and Corvo would follow and observe, but Emily knew that Corvo would follow her, and Corvo knew that Emily would know that he would follow, so on and so forth. This relationship development becomes paramount, and in familiar settings, should help readers who are familiar with the game pick right up as to what is going on.


However, I did find a few things a little troubling. There are of course familiar locations described, but sadly there weren't very many new backdrops, and the main difference is that in the game you are free to explore, whereas here you're on a predetermined path set by the author. This is one of the biggest gripes I have about games being transitioned into novels. When you remove one of the greatest qualities that make a gaming experience what it is, you have a big hole to fill, and I didn't find that the case here. Another thing is that Dishonored allows you to focus on stealth and non-lethal action to achieve goals, however in this book, it seems like combat is about as constant as the north star. This is because the author is trying to explain about certain powers and how they are used. So think of it like a drawn out training session that would be normally over in the first 5 minutes of the game, but instead gets discussed all throughout the book.


Ultimately this book is going to boil down to one question: Are you a fan of Dishonored? If you are then you will find enjoyment with The Corroded Man. Dishonored lore and a crafty villain, coupled with Emily growing into a woman and her relationship with Corvo will make for an interesting and enjoyable read despite the setbacks. If, however, you're not a fan of Dishonored or you have never even played it, you will want to pass on this book considering you also find out "what happens to whom" from the original game, so if you're not looking for spoilers or you didn't care for them the first time, this book isn't for you.