Fusion Xbox One Wired Controller
by Kirby Yablonski








Last year Microsoft unveiled, and eventually offered up, their Xbox One Elite Controller, a high-quality controller with swappable analog sticks and removable paddles. It offers gamers a custom gameplay experience with many different changeable features. The price of entry to date is still somewhat pricey ($189.99 Cdn) but many have seen the benefits of the controller given its large slate of customizable features and its quality build materials. Not everyone can afford it though...so enter 3rd party hardware company PowerA. They have been supporting Sony, Nintendo and Microsoft consoles with various products for quite a few years and they have recently launched a new take on their Fusion Controller for the Xbox One.

The Fusion controller is an officially licensed Xbox One controller that aims to sell gamers a smaller scope of customizability but for a much cheaper price (around $59.99 Cdn). So, what are you getting for the lower price? Well, the first notable feature is that the controller is not wireless. It comes with a braided 9-foot cable that plugs in to any of the Xbox One's USB ports. The high-quality cable is a break away cable too, so if someone walks in front of you and trips over the cable, it is more than likely to break away from the Xbox One then pull the console onto the floor. It has dual rumble motors, all the input buttons of an Xbox One controller, and a 3.5mm Headphone Jack.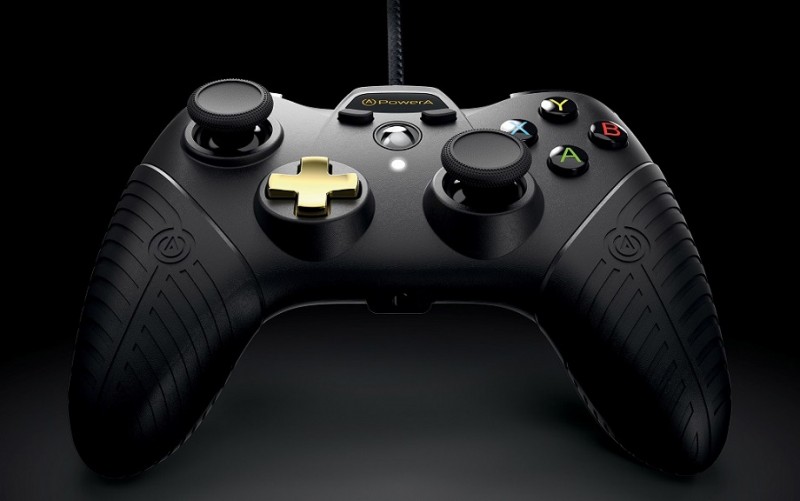 The controller mimics the basic shape of the Xbox One controller quite well, and when you plug it in and turn on your Xbox One a PowerA logo lights up, as does the home button. The controller itself is black with gold highlights and the bottom side has honeycomb/carbon fiber look to it which is a nice contrast. Personally, I am not a fan of the gold "bling" and wish it was either all black or had a subtler colour where the gold highlights are featured (e.g. the triggers and d-pad). The controller grips are textured, and my 10-year-old son praised that aspect. For me, the texture pattern was ok, but nothing particularly ground breaking or special. The Fusion controller looks good in most areas, and that is part of what counts.

There are three sets of plastic analog sticks that are interchangeable. Unlike the magnetic sticks of the Elite Controller, the Fusion's sticks snap in and out. It's not a weak click either, as you'll have to apply a bit of force to remove and put in different ones. The 'snap' as each stick clicks in though is satisfying and you know they are not going anywhere. The three sets of interchangeable analog sticks each offer some different feel to the controller. There is a traditional Xbox One type analog stick and another set that is shorter but offers up a larger thumb pad for you to use, and both are somewhat concave in nature. These sets of analog sticks feel a bit more plastically than then the analog sticks on the first party controller, but it's nothing that won't stop you from gaming, just something I noticed. The third set of analog sticks are reminiscent of the PS3 as they are convex in style and offer fans of this type of analog stick a chance to use something like it. You can swap any of these sticks to make up any combination that suits your gaming needs.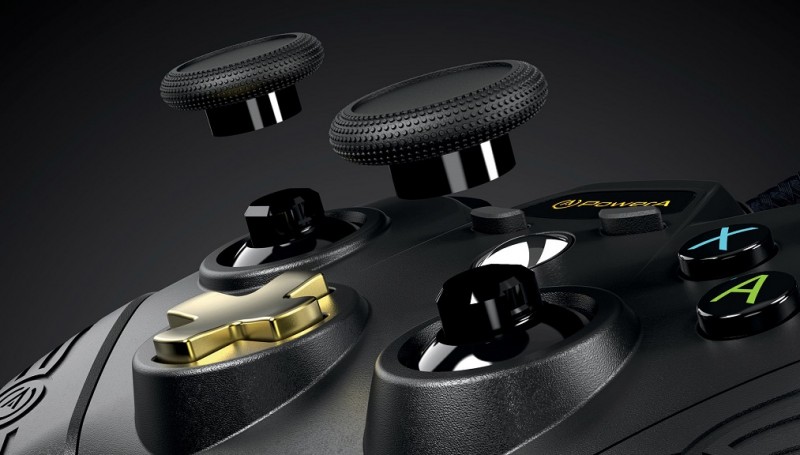 I found that the controller performed solidly through various gameplay sessions. Be it Destiny, Forza Horizon 3, moving through the Xbox One's home menu, or scrolling through the Xbox One store, this controller was up to the task. I was partial to the analog sticks that were already on the Fusion controller in the box, as there was no need to change things up. The sticks are smooth and the push down feature for both (e.g. when running in Destiny) worked well. My experience with some 3rd party controllers has been that they felt cheap and didn't come close to the 'first party' feel, but with the Fusion this never crossed my mind. What I did note however was the lightness of the controller, given that there is no need for batteries. The fact that it is so light makes you kind of wonder what is holding it together.

PowerA's Fusion Controller also offers up trigger locks for those gamers looking to use the triggers in a quick fashion. These are very useful in any FPS game with guns that require multiple presses of the trigger (e.g. Destiny's hand guns or scout rifles) and the travel from when you start to push the trigger to when it registers is about half of what it is normally. You only need to 'flick' a small switch under each trigger to turn the trigger lock on or off. It was easy to use and the trigger lock was an overall feature that I enjoyed (as I do on my Elite Controller).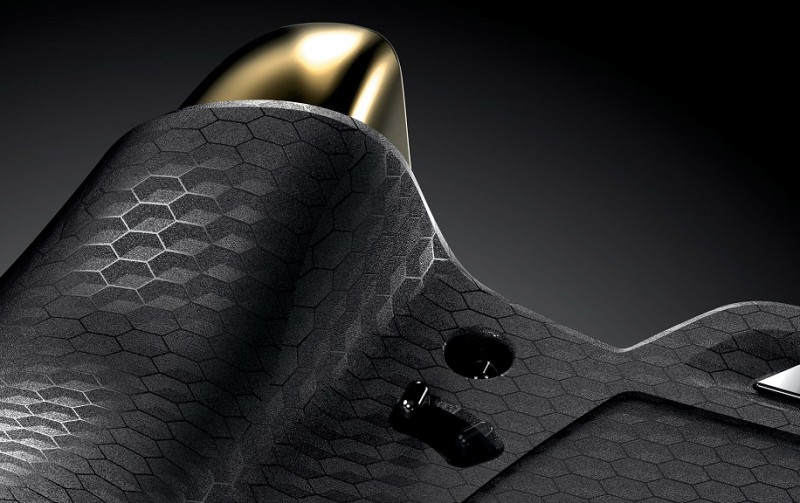 One of the key features that the Fusion Controller has is that there are two programmable buttons on the bottom called "pro-gaming buttons". Consider them to be alternatives to the paddles that Microsoft's own Elite Controller offers. They are actual buttons that click when you use them. To program them there is no need for go into an app on the Xbox One, again, as you do with the Elite Controller. On the Fusion Controller, you simply press a button on the back of the controller and program which button on the top of the controller (e.g. A, B, X, or Y) you want to assign to one of the bottom buttons. It's as simple as that.

Some may prefer the two-button approach over the 2 - 4 paddle approach of the Elite Controller because you don't have to worry about holding the controller much differently than a regular controller. With the Elite Controller, you must adjust to the fact that you have actual paddles and it can be hard to hold the controller with the paddles active. Yes, you can turn the paddles off on the Elite Controller; however, with the Fusion Controller you don't have to worry about the buttons being accidently hit as they require an actual click that is not that hard to do, but you don't do it accidently.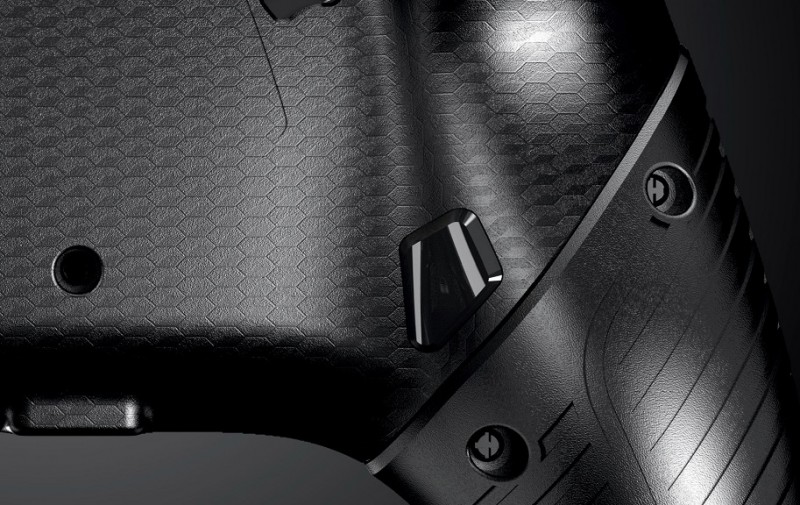 Personally, I didn't have any issues using these buttons, and it was nice to assign other functions to them which were useful and allowed me to keep my other fingers on other buttons, such as when sliding in Destiny or using the horn of my car in Forza Horizon 3. Although I had no issues I think some people may have troubles at first being able to push the buttons down to activate their use, be it because they have smaller hands or just not used to them. It comes down to using them more though, as you do they become somewhat second nature.

One of the things I also concern myself with regarding a review like this is playing online. I have a group of friends that I play online with, and when I logged in and started playing Destiny with my regular headset plugged into the Fusion controller they all asked what the heck was going on with my voice. Simply put, I sounded like a robot as my voice sounded synthesized. I recorded a voice message and played it back, and boy was it weird sounding. I contacted PowerA's PR and they let me know that this was quite strange as it hadn't been reported before. They sent another Fusion controller and there was no such problem this time around. My voice sounded clear and when I recorded a message to listen too, it was as normal as I have heard in the past. It must have been something wrong with the initial review unit, so that was good to know (the occasional electronic item does fail you know!). If you do plan to use this headset when playing online, and use the included 3.5mm jack, you'll control your settings for chat mixing, headset volume, and mic monitoring in the Xbox One settings. Bottomline, the Fusion controller is good to use for online gaming and chatting with your friends over Xbox Live.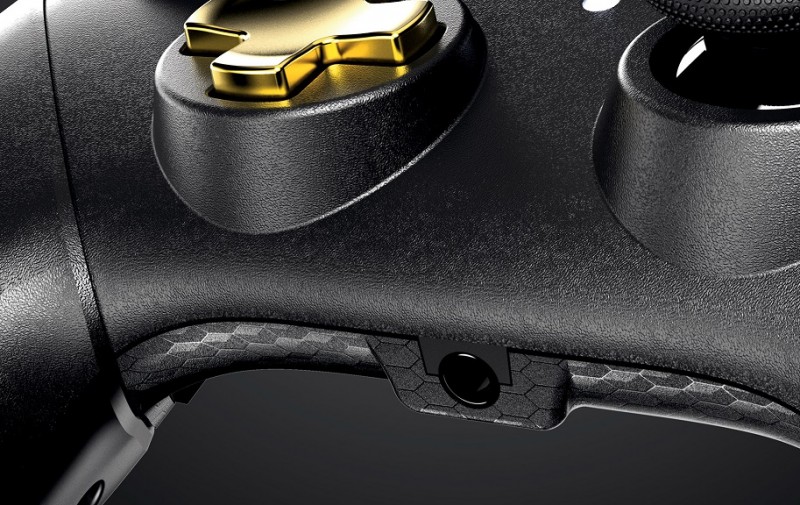 I actually enjoyed my time with the Fusion Controller, even with the hiccup that occurred with my voice communication. When looking at PowerA's Fusion Controller for the Xbox One there are so many positives that make this a great secondary controller, and it is definitely a controller that will let gamers see if the whole "customizing" one's gameplay experience, with things like interchangeable analog sticks, quick trigger locks, and assignable buttons, is for them. It also doesn't require batteries. However, we cannot kid one another, Microsoft's Elite Controller is on a whole different level given its premium price and build components, but that doesn't make the Fusion a bad controller at all. I have to say that after my time with it PowerA's customizable controller it is definitely worth a close look if not just for the fact it truly gives you a taste of what a customizable controller can do, but at a much lower admission price.



OVERALL SCORE: 8.4 / 10