6" Halo Vinyl Designer Figure by J!NX
by Adam Dileva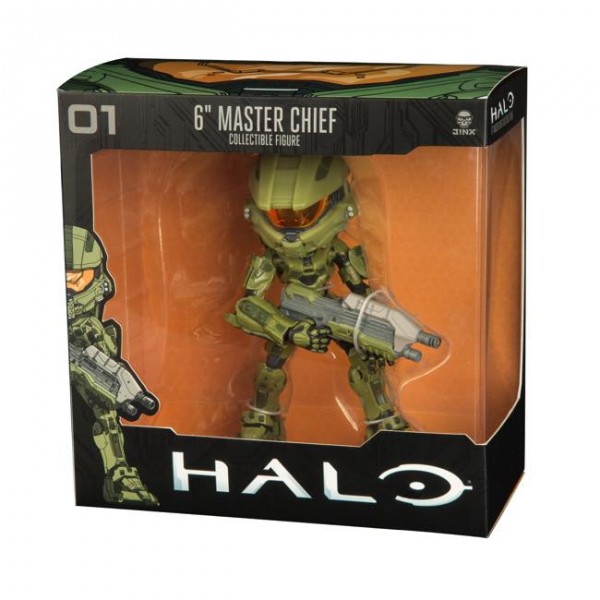 While we here at Xbox Addict are a group of passionate gamers, some of us also dabble into the toy side of the Xbox brand as well. Take myself for example, if it's Halo related, I want it. The amount of Master Chief related toys I have is borderline obscene, and I'm the perfect customer for J!NX, who is releasing a set of new 6" Halo vinyl designer figures based on Halo 5: Guardians. Naturally I jumped on the chance to check out this new series of Halo related toys, as I have a comprehensive Halo collection to compare it to.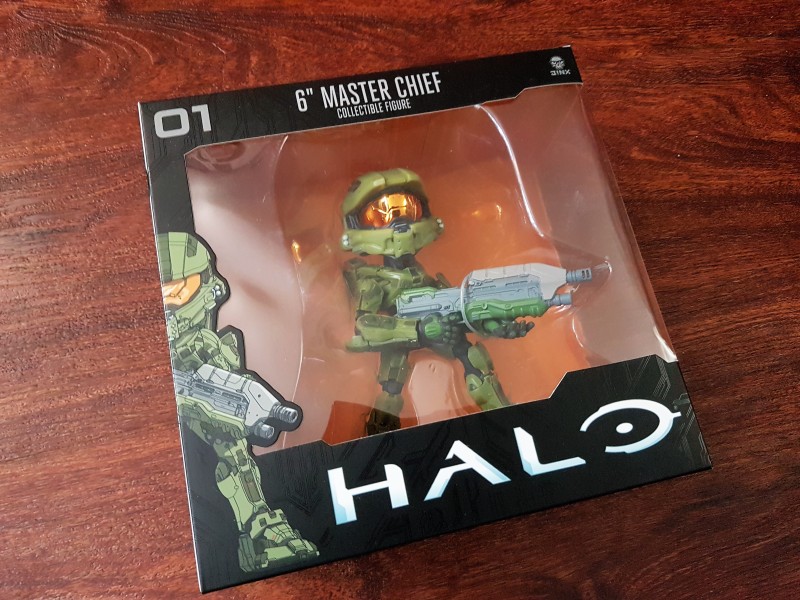 It's been a year since Halo 5: Guardians was released, but that doesn't mean the hardcore fans have stopped desiring new products that relate to their favorite game. J!NX is releasing a figure for titular hero Master Chief and one for Spartan Locke, the newest hero addition to the epic saga. There are two standard figures, and apparently specific retailers will have a special variant version as well. We were sent the standard Master Chief figure, so let's see how good this Spartan looks for its $24.99 price tag.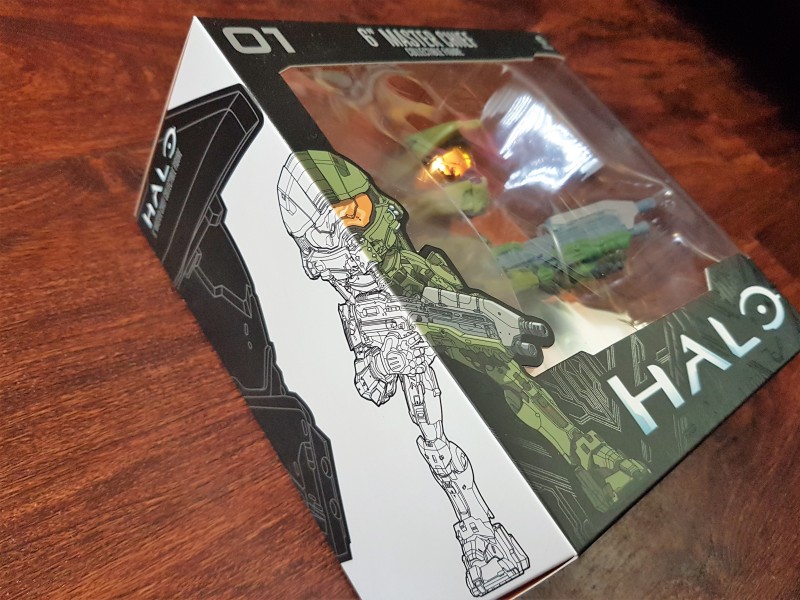 First you'll notice that the box is very stylized, clean, and totally suits the Halo theme and setting. You'll immediately note that Spartan 117 looks almost like a caricature of himself. His head is slightly oversized and waist overly small. The front of the box is colored while the attached side shows the other half of Chief simply drawn. It's catchy to the eye and there even seems to be very small and subtle foil or embossing on the box to add to the visual style. The top of the box even has a drawn close-up of Chief's iconic visor, making it instantly recognizable, even from only that angle. The inside of the box may simply look Halo orange from the outside, but once you open the box to take him out, you'll notice that there's a lot of detail, with a pattern subtly painted underneath the color, mimicking his visor as well.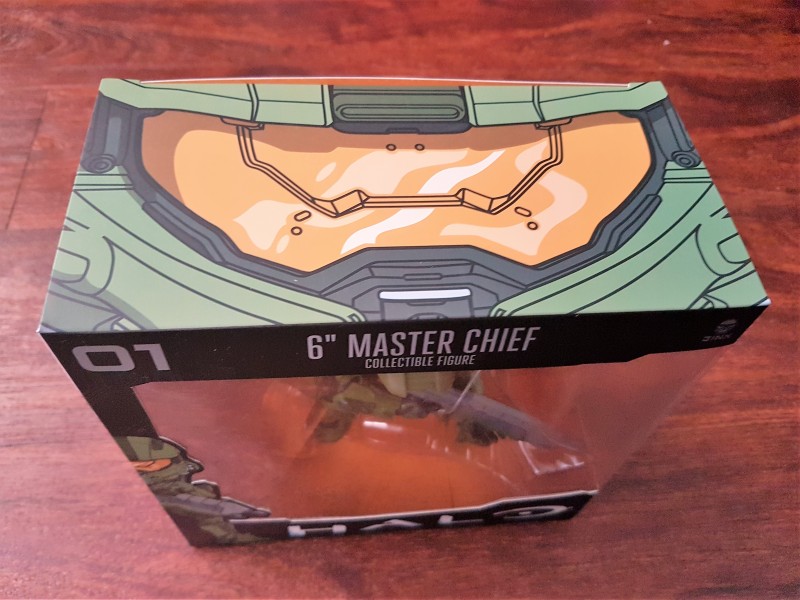 Once you open up the box you'll need to undo 3 twist ties that keep Chief in place before starting to play and pose him however you like. Even though it's made of plastic, it does feel like it has some slight weight to it, and doesn't feel cheap like many toys these days. I would have loved if it was a premium metal, or accented with it somehow, but for what it is, it's quite well done.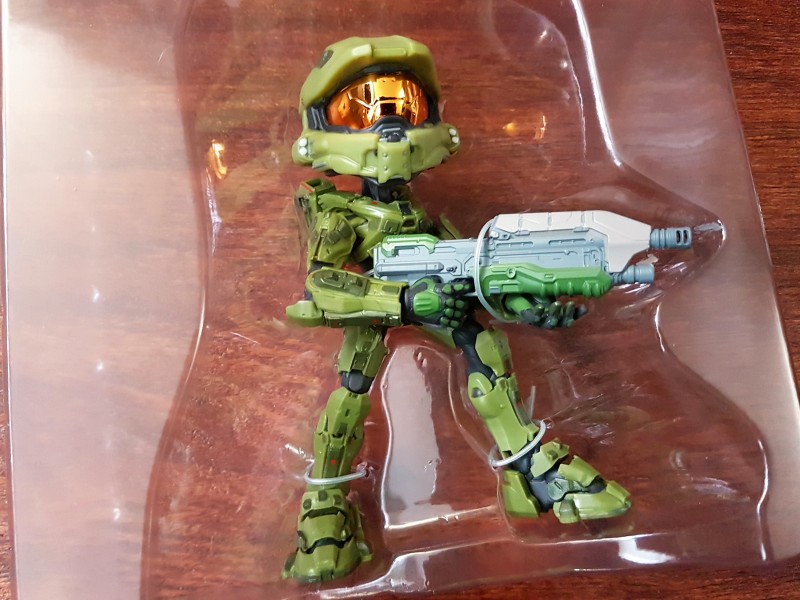 Standing at 6" tall, his left side and torso are unable to move. This may seem silly, but if you've ever tried displaying figures like I do, you'll know that you can't always pose them how you want due to them falling over when trying to stand them upright. So while you can't move his legs or body, this means that he won't ever fall over either, which is a great bonus for those wanting to display him in their collection or on their desk. The arms move and hands rotate, but only in certain directions. So, while it's not fully articulating, it's enough to somewhat pose him how you'd like, though he's clearly meant to be holding his Assault Rifle just like how you see him in the box. Even the bottom of his feet are detailed, unlike 99% of toys, so you know a lot of effort went into making this authentic as possible for the fans (minus the caricature style).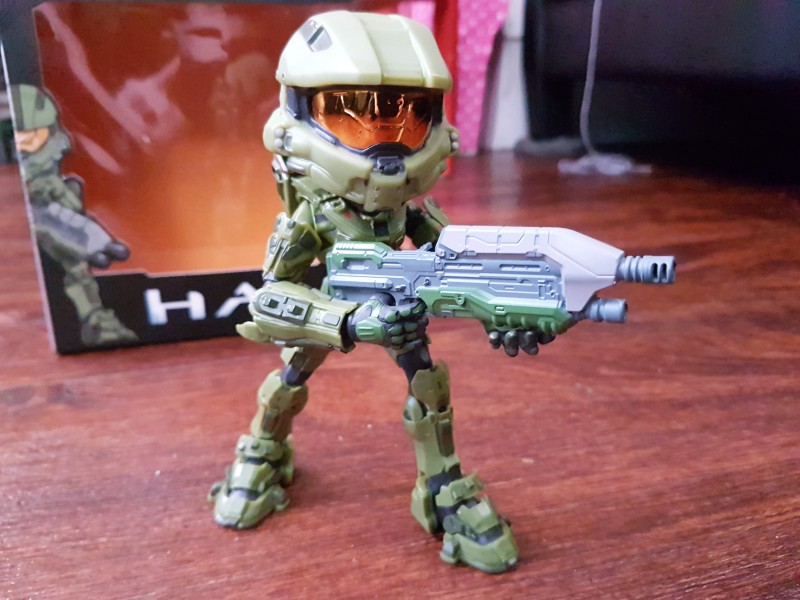 If you're a Halo fan, you'll appreciate the detail that's gone into showing his Mjolnir Armor and how the Assault Rifle looks like it's been taken straight from the game itself. It's not uncommon for toys like these to be mass produced, and when doing so there's usually a lot of mistakes, especially in the painting process. I'm happy to report that the the paint job of our review figure was completely flawless. Sure he's primarily the iconic green, but where the grey and orange are distinct there's no paint bleeding or overlapping.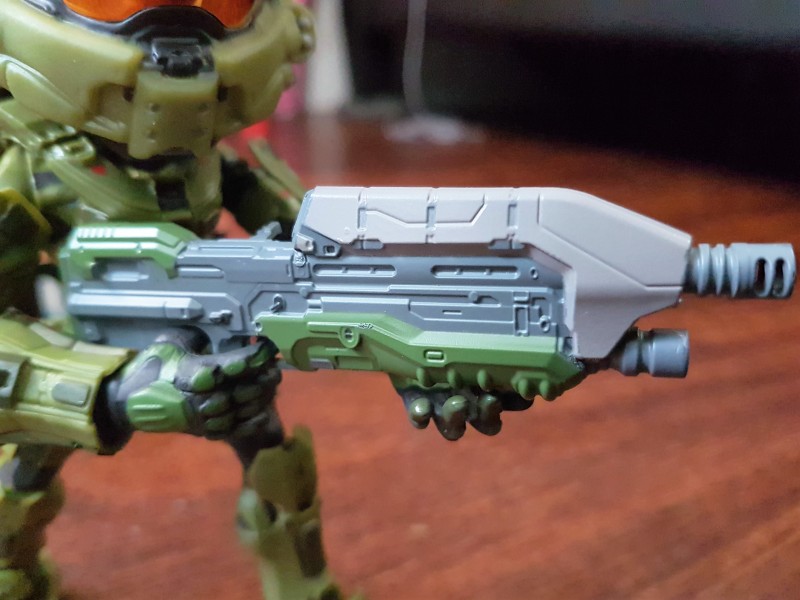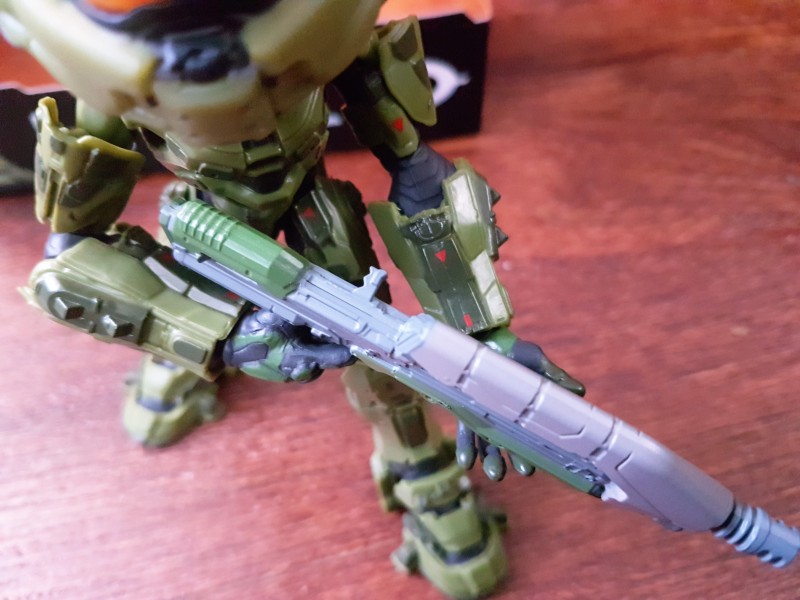 I'm a huge Master Chief fan, and must say, while I really like this standard version of John (and Locke from press releases), the variants of both figures are much cooler and desired, namely because Spartan 117 comes with a Covenant Energy Sword and Pistol, whereas Locke's variant comes with a Needler. I will for sure be on the lookout for those now that I know J!NX can make some good quality figures.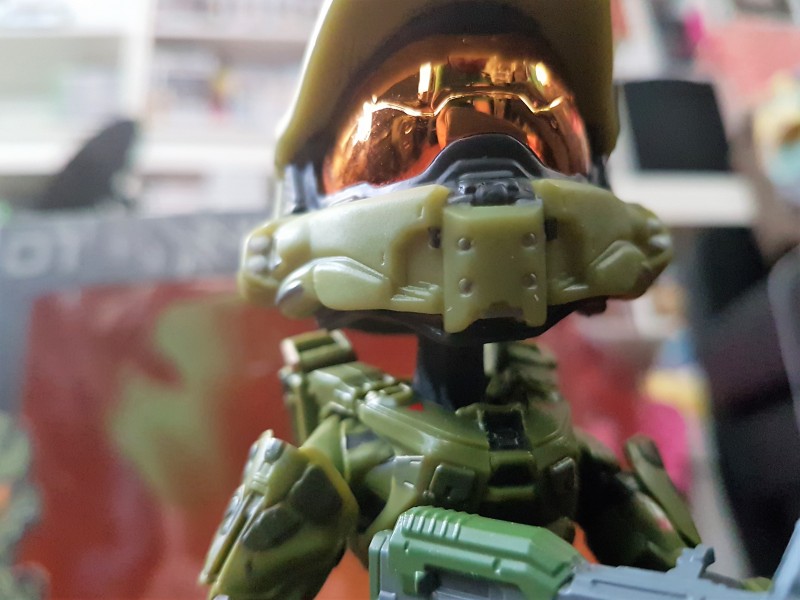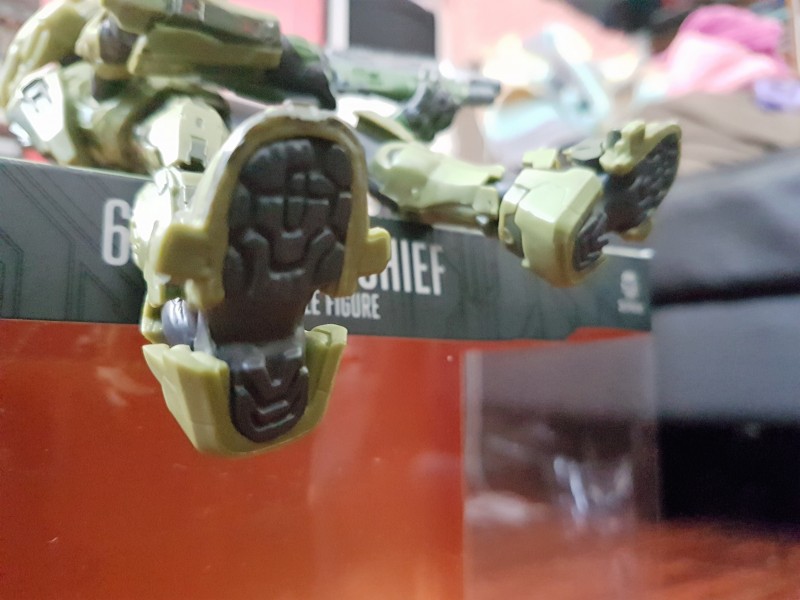 I hope that J!NX is testing the waters with this line and will bring us more Xbox related toys and figures in the future, as I'm pleasantly content with their version of a Master Chief figure sitting on my desk. I'm a man child, I don't try and hide it, and figures like this make for an awesome gift for someone, or oneself, if they're a massive Halo fan. While the $24.99 price tag may seem a little pricey to some, the figure itself is very high quality and I do admit, it has already found a permanent home in my collection on display.