Turtle Beach Stealth 420X+ Gaming Headset
by Kirby Yablonski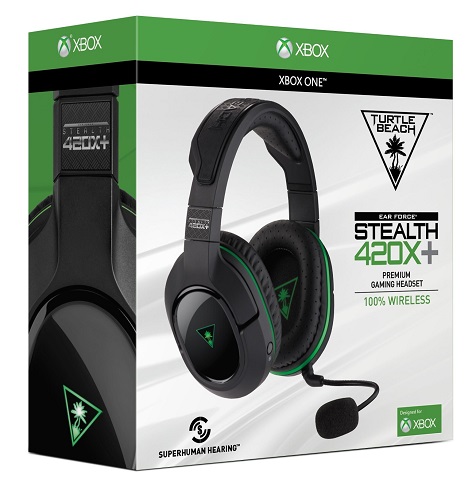 Features:

- Price: $149.99 USD ($189.99 Cdn)
- Superhuman Hearing Technology
- Four Audio Presets
- Mic-Monitoring
- Separate Game and Chat Audio Controls
- Built In Rechargeable Battery (15 hours use time)
- Audible Voice Prompts
- Mobile Chat Capable

Over the past few weeks I have had the opportunity to put Turtle Beach's newest wireless gaming headphones for the Xbox One, the Stealth 420X+, through its paces. The timing was great as I had my Extra Life fundraiser during this time, so to say that the headset got a gaming workout is an understatement. The Stealth 420X+ is a 'sequel' of sorts to the Stealth 420X, and I have to say that although not perfect, they are a pretty good headset that Xbox One gamers may just want to consider.

Inside the box you'll find the headset itself along with a charging cable, a mobile cable, removeable boom microphone, a USB transmitter and a quick start guide. The headset is already paired to the USB transmitter, so all you need do is plug in the transmitter into one of the USB ports on your Xbox One and you're pretty much good to go.

Although the over-the-ear headphones are pretty much all plastic they are fairly good looking. They are black and the earcups have perforated faux leather covered memory foam. You'll find a couple of neon green highlights around the earcups and a neon green Turtle Beach logo emblazoned inside each earcup as well. On the top of the headband is the 'font' logo for Turtle Beach and underneath it it has the same perforated faux leather with foam inside making the top of the headset comfy. On the right earcup are separate controls for balancing game volume and chat volume as well as a button to cycle through the EQ presets and a chat mute button. The mobile cable, should you use this headset with a portable device or cell phone, connects to the right earcup too. Your boom microphone connects to the left earcup. When you turn the headset on there are Turtle Beach logos that light up on the outside of the earcups, which look fairly sharp and not tacky like some other headsets with external lighting out there. The Turtle Beach logo on the outside of the right earcup also controls the Superhuman Hearing function, which I will discuss later.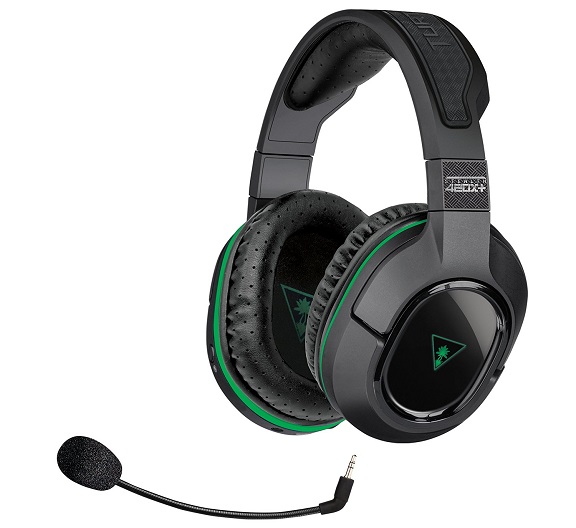 All in all, there are a lot of features on the headset and they are all at your fingertips. I won't lie, it took me awhile to become accustomed to the game and chat volume dials as I didn't always find them at first, but like any new tech, once I got used to them it wasn't a problem. Finding the right volume for those times when I was just gaming alone, or when I was playing online and needed to hear my teammates, was easy to balance out. In terms of comfort, the Stealth 420X+ is not a heavy headset and it has a pretty tight grip on one's noggin too. Now, this is where I have a bit of a complaint. I have a fairly large head, and I wear glasses, and during extended play periods the headset would become noticeable, not for its weight, but for the pressure I felt on my glasses. I would say that anything over 60-90 minutes became noticeable, for me at least. It was also somewhat noticeable when I wanted to adjust my glasses, as the headset applies pressure against the frames. That being said, it wasn't that it hurt, or was really uncomfortable, it was just noticeable. I kind of wish they used the Glasses Relief System they use on their Elite Pro headset as that feature looks like it can help this area.

A key feature to this headset is that they are 100% wireless, including when using them to play online and chat with your friends. This is a great feature as there are no cables needed. The USB transmitter handles all the sound and voice chat duties and you are free to just game and enjoy the sound with no need for any wires. The only problem you may run into is that you may not have any open USB ports, and if that is the case, get creative and unplug something you may not use, or plug other things into a USB 3.0 adapter.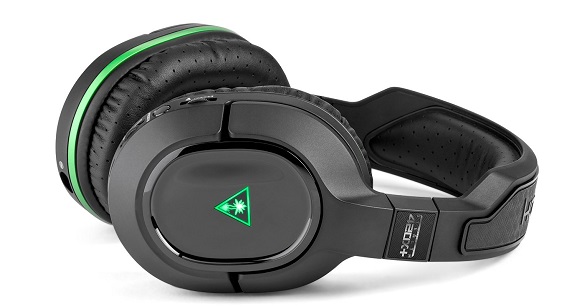 One of the neatest things about the Stealth 420X+ that is not related to the sound quality, is that almost everything you do, from changing the EQ settings, activating the Superhuman Hearing, to turning the headset on and off, has an audible voice cue. Change the EQ from 'Natural' to 'Bass Boost' and you actually hear what setting you're changing it too. This is one feature I wish that other headsets used. Being able to know exactly what you are doing with a voice prompt when you press a button is terrific. To literally hear a voice tell me that I turned the mic off, changed the EQ, or activated the Superhuman Hearing is a great feature as opposed to just hearing a beep and wondering if I actually did what I intended to do.

So. how do they sound you ask? Well, I have to say they are a very crisp and very clear sounding headset. As anyone who reads any of my headset reviews knows that I tend to play a lot of Destiny. For this review, I also played Forza Horizon 3, Gears of War 4, Halo 5 and Call of Duty: Modern Warfare Remastered. A lot of my time was also online with friends, especially during the Extra Life weekend when I played games for 25 hours straight (it was during the weekend we had to change our clocks an hour back).

For me the most noticeable thing was how clear and concise the sound was with the Stealth 420X+. Everything that was in game was transferred to the headset's speakers without any difficulty. From the sounds of weapons, the varying music of all the games, to the distinct screeching of tires in Forza Horizon 3. As this is a stereo headset the only sound directionality you get is from left to right, as there is no surround sound settings. You should take this into consideration when playing FPS games in an adversarial setting as you may not know when someone is truly behind you or just to the left/right of you. That being said, you'll still be impressed with how solid this headset can sound when gaming across a wide range of game genres.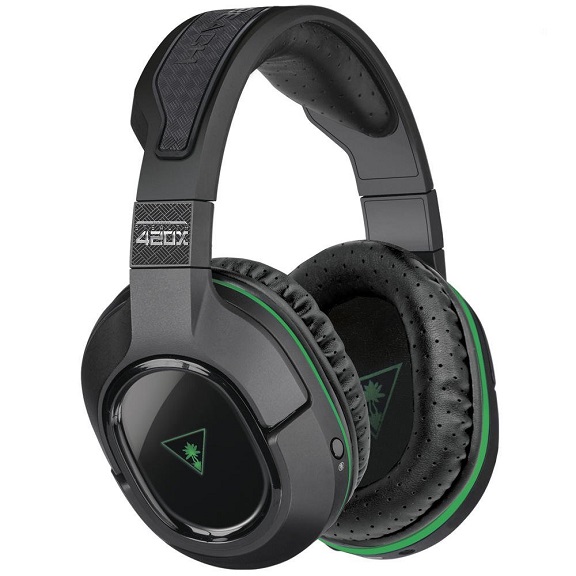 The four EQ settings that are included with the headset are Natural, Bass Boost, Bass & Vocal Boost, and Vocal Boost. They all sounded different, but I tended to stay with Natural. Bass boost managed to boost the lower frequency sounds, but not enough to make me stay with it. That leads me to my next minor complaint with the headset; the low frequencies were not as deep as other headsets I have reviewed. That is not to say that they weren't prevalent, but they didn't have the deep 'boom', especially when compared to another headset that I use on a regular basis. Is this a deal breaker? Not really, as you still get some bass, just not as much that you might expect to. And yes, I went back and forth numerous times with the Stealth 420X+ and the other headset in question.

Turtle Beach has included a feature on the 420X+, that they have developed, called Superhuman Hearing. The best way I can explain it is that it takes in-game sounds that may be subtle and puts them into a sound field where they are louder and more prevalent than if you have the Superhuman Hearing turned off. Turtle Beach states that this is a key advantage when hearing things like footsteps approaching, weapons reloading, and vehicles in the distance that may be coming towards you. After using it I can say that it does its job. A few times I heard footsteps from the left/right come at me that would not have been as loud if the mode was not activated, and as I turned, low and behold there was an enemy. But there is a tradeoff, as every sound in the game seems to be at an equal volume, and you lose some spatiality and the overall sound field effects that the game was encoded to do. Sure, you get that slight advantage, but with the 420X+ you should remember that the headset is stereo, and not surround sound, so you don't get that true advantage of hearing from any direction in the game. Regardless, the technology is neat and it's something that you'll want to play around with for sure.

One area I was a little concerned about prior to using the Stealth 420X+ was that the USB transmitter would affect my gaming when playing online with friends. My initial thought was that people might not hear me clearly or that I may sound 'soft', but that was far from the truth. Everyone I played with online said that I sounded loud and clear and they were impressed that I was using a totally wireless headset that was connected by a USB transmitter. So, if you are planning to head online with this headset don't worry, you'll sound pretty good.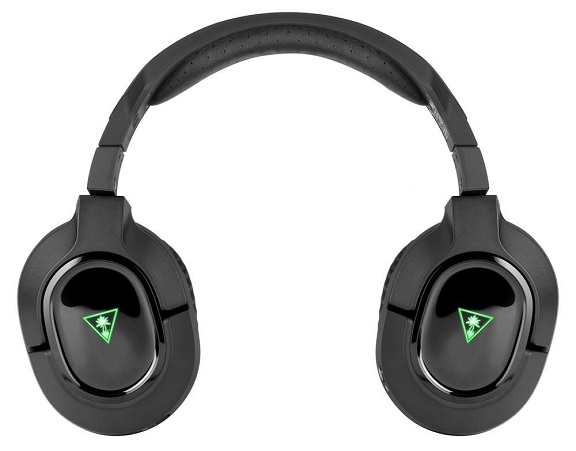 Although I used this headset for mostly gaming on my Xbox One, I did check out a bit of music including some heavy electronica, top-40, a bit of classic rock, and some other music that I have in my 'Albums' section on my Groove account. Just like when I was gaming, the music was crisp and clean, but again it seemed to lack a bit of the lower end bass. I had to make sure that my impressions were 'informed', so I activated the bass boost and then compared it to my other headset that I like to use, and yes, the bass difference was still noticeable. Is it bad? No, it is just that I have been using the other headset so much that it was noticable. This may not be an issue for you though as it still sounds good and all the music comes through loud and clear and manages to keep your head bouncing as you listen to the music through the Stealth 420X+.

Finally, I think it's worth commenting on the rechargeable battery. Turtle Beach states that the battery can deliver 15 hours of gaming, and out of all honesty I would have to say that this is a fair estimate since I have had them I have only charged them 2-3 times over the past few weeks, and used them quite heavily. At no time did I feel they didn't last long enough and the battery power use was never an issue for me.

At the end of the day Turtle Beach does know how to make a good sounding headset, and the Stealth 420X+ is yet another example of what they can do. Although they are not a perfect set of gaming headphones, the ability to cut all wires when gaming on your Xbox One is very enticing and the clear and crisp sound that comes through the earcup's speakers is pretty good too. Sure, I found a bit of the low-end bass to be lacking, but that didn't affect my overall gaming experience. If you are in the market for a truly wire free set of gaming headphones that sound good, and look good, you will definitely want consider Turtle Beach's Stealth 420X+.

OVERALL SCORE: 8.0 / 10