HyperX Cloud Stinger Gaming Headset
by Kirby Yablonski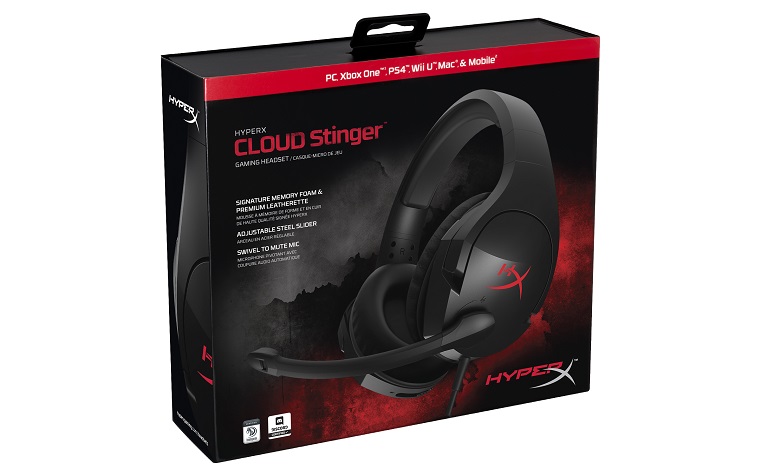 Features:

- 50mm Directional Drivers
- Volume Slider on Headset Ear Cup
- 90 Degree Rotating Ear Cups
- Noise Cancelling Microphone
- Frequency Response: 18Hz - 23,000Hz
- Input Power: Rated 30mW
- 3.5mm Cable
- Dual 3.5mm Cable (PC)

I won't lie, when I was given the opportunity to review the HyperX Cloud Stinger Gaming Headset I had somewhat lowered expectations, given that this is a budget priced headset. You can pick it up for $49.99 usd ($69.99 cdn) which is a very cheap price for a stereo gaming headset, and most people are under the impression that with budget prices come budget sound. Well, I am here to say that with the HyperX Cloud Stinger this is not the case, as it is one of the best sounding headsets in this price bracket, and even better than some headsets in higher priced brackets, that I have used. Yep, consider this reviewer pleasantly surprised.

Inside the box you'll find the headset, with the microphone attached, packed in some soft protective foam along with a "Congrats" card for purchasing the headset. Underneath the foam are two cables, a 1.3m long 3.5mm cable (for consoles, mobile, and anything else requiring one jack) and a 1.7m long dual 3.5mm cable (for PC gaming). That is all you get in the box people, and I can't say that I am surprised, as the headset sells for cheap and doesn't require much hardware to use.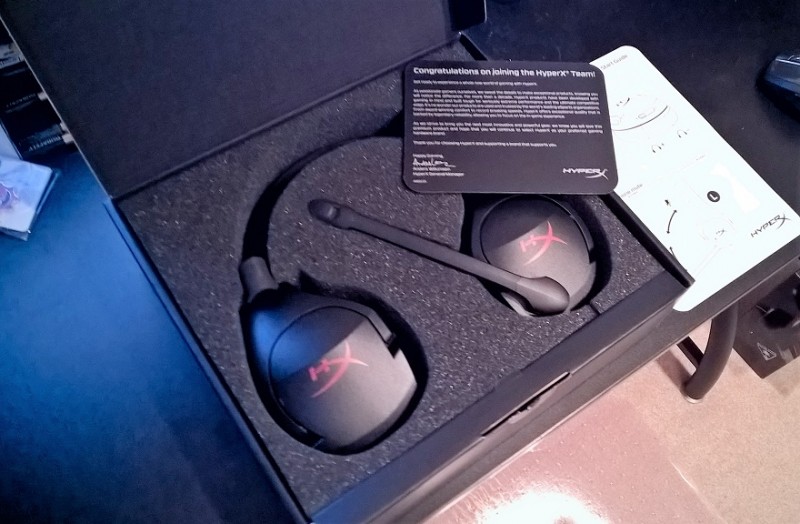 I was using the headset with my Xbox One Elite Controller, which has a 3.5mm jack built in, but if you don't have a 3.5mm jack you will require the use of an Xbox One Chat Adapter. If you use a controller with the 3.5mm jack built in you no doubt know the frustration you face when trying to get the right game/chat volume balance. You have to go into the menu to do this, especially when playing a game online with others, and you will have to do this when using the HyperX Cloud Stinger.

The headset itself if made of plastic, but there are adjustable steel sliders for getting the right fit for one's head. The headset is solid black with the red HyperX logo emblazoned on each ear cup. There is a faux leather material (HyperX calls it leatherette) that wraps the memory foam that surrounds the over-the-ear ear cups. The HyperX text logo is on top of the headband which has some breathable cloth covered foam on the bottom side making the headset feel comfortable enough for extended play. On the left ear cup is the "swivel-to-mute" noise cancellation microphone (permanently attached) and on the bottom of the right ear cup is a sliding volume control. Overall, it's not a bad looking headset at all.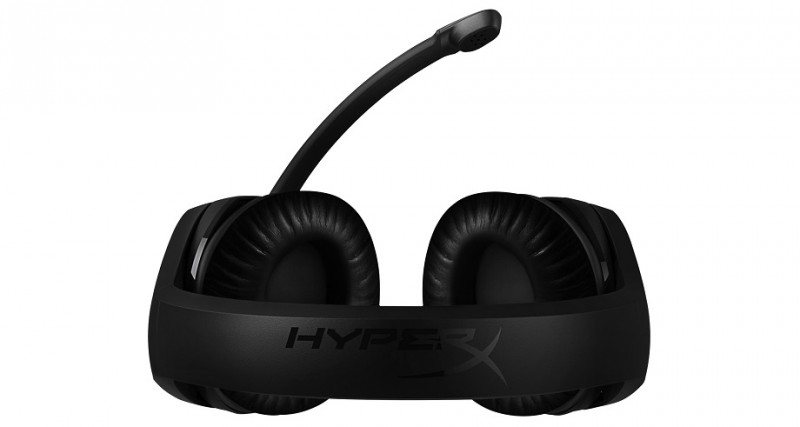 The headset is quite comfortable. Right from the first time I put it on I noticed it wasn't overly heavy and the over-the-ear ear cups felt pretty good. The weight of the headset is 275 grams, and it really doesn't become an issue when playing games for an extended period. As everyone who reads my reviews of any headset knows, I have a fairly big noggin' and I have to say that the HyperX Clould Stinger was fairly comfortable, and it didn't feel like it was squeezing my head too much and it never felt like it was going to fall off. The ability for the ear cups to swivel made the headset fit quite nicely. It's worth noting that I wear glasses, and at no time did I feel any pressure on the temples that was an annoyance. Pretty good stuff for a 'budget' headset.

So, the headset feels good, and looks good, but the big question is how the heck does it sound? This is the area where I found myself somewhat flabbergasted. In a nutshell, the headset is an very solid sounding headset, especially when you take into consideration how much, or should I say how little, it costs. Given we are an Xbox centric website, I kept to a stable of games that I have been playing on my Xbox One lately. This includes Forza Horizon 3, COD: Infinite Warfare, Destiny, and a few others such as Shadow Complex Remastered and ReCore.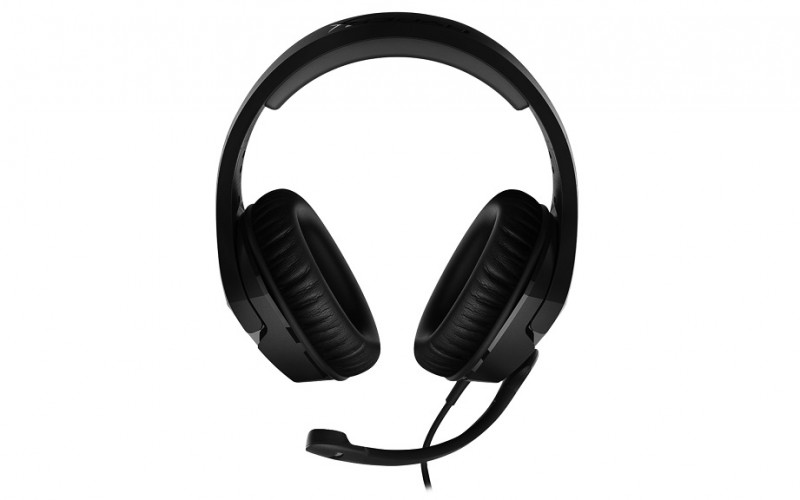 The biggest thing I noticed was how everything sounds balanced. It wasn't like there was an overabundance of one tone over another (e.g. highs vs. mids vs. lows) and the headset managed to convey all the sound that was thrown at it in an audio pleasing way. From the various radio beats of Forza Horizon 3 while cruising across the Australian Outback in my Nissan GT-R to running and gunning towards Set-Def forces in Infinite Warfare to making my way across the Plaguelands in Destiny, I found that no matter what game I played it sounded pretty darn good. Weapon sounds, vehicles sounds, voice acting (cutscenes or in-game) to in-game music and environmental sounds, the HyperX Cloud Stinger is a headset that can handle it all with pretty clear sound and deep bass (e.g. explosions). You'll find that you can become fully immersed when using a good headset, and this headset manages to do this. Given that this is a stereo headset, you'll find that the only sound separation is from left to right, and vice versa, so don't expect to hear surround sound effects.

I had a chance to play online with some friends, and except for having to adjust the game/chat volume in the dashboard, all was well. My online friends said I sounded clear, and if there was any noise in my home office (hey, I have two kids that run around the house) they didn't notice much, if any of it. If I had to mute my chat mic it was as simple as pushing it up and it automatically turned off. The volume was easy to adjust with the slider under the right ear cup as well. If there was any complaint in this area, it was that the ear cups didn't stop much noise from the outside from getting in, but it did dampen the volume of such. All in all it is a fairly good headset to use online.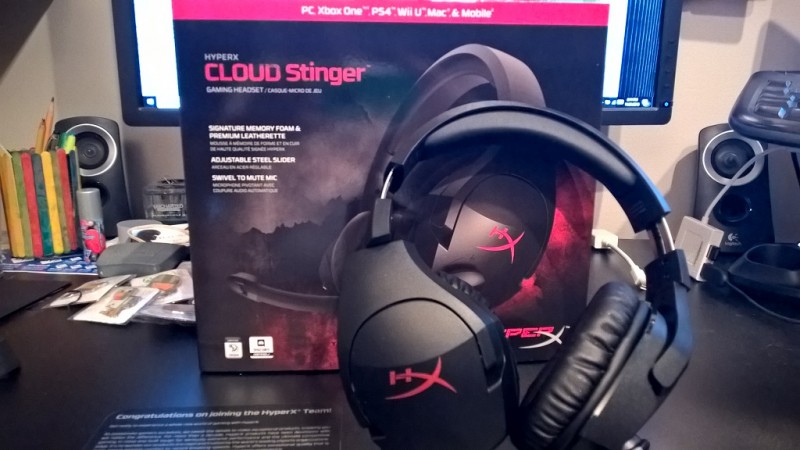 I didn't listen to any movies but I had the chance to listen to various albums that I have on Groove for the Xbox One. I found that just like when I was gaming I was very content with the sound across all genres of music. I listened to some electronica, classic rock, some top 40 and even some instrumental music (e.g. Video Games Live) and all of it sounded solid. From reproducing the solid bass and electronic sounds found from artists like Deadmau5 or Skrillex, the orchestral music of various video game scores found in Video Games Live or the original soundtrack to Halo 4 to the rap and lyrics of Eminem and Snoop Dog or the classic sounds of Rush, Dire Straits or ZZ Top. All the music I listened to sounded full and pleasant-sounding, and at louder than normal volumes the HyperX Cloud Stinger managed to pump out the beats quite clearly.

I must say that this entry level headset from HyperX doesn't sound entry level. With such an affordable price of admission people will no doubt be weary of what kind of quality they will get at its' low price point, but I can honestly say that after putting the HyperX Cloud Stinger through its paces over the past week or so, the low price does not reflect its solid audio performance. The ability to recreate the sound of games, music, and no doubt movies, will have you using this headset more often than not. And to add a bit more incentive, although we here at Xbox Addict used it for Xbox One gaming and music, and a bit of Skype chatting, you can use it on other consoles, your PC, and even mobile devices, so there that bonus too. At the end of the day more expensive headsets offer a lot more bells and whistles, but if you're looking for a real affordable headset to meet your gaming needs, and one that won't come close to breaking the bank, take a serious look at HyperX's Cloud Stinger Gaming Headset, as you really can't go wrong paying so little for something that sounds as good as it does.

Overall Score: 8.3 / 10

***HyperX sent XBA a review unit for the purposes of this review article***