Elite Pro Headset and Elite Pro Tactical Audio Controller - A Great Surround Sound One-Two Punch
by Kirby Yablonski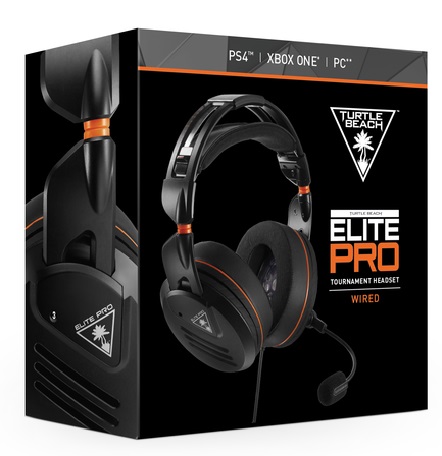 Headset Features

- Earcup Design: Over the Ear
- ProSpecs Glasses Relief System
- Speakers: 50mm NanoClear
- Speaker Frequency: 12Hz - 22kHz
- Adjustable Tension on Headband
- Weight (Headphones): 390g
- Compatible with Xbox One, PS4, PC (and legacy consoles)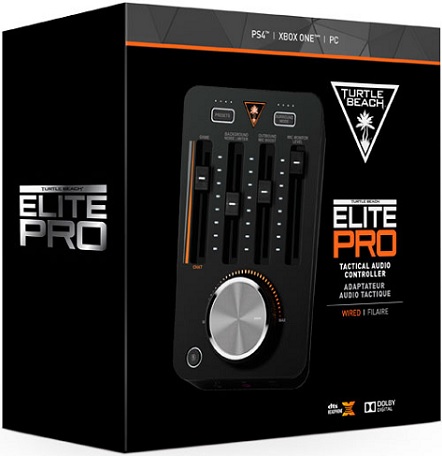 Tactical Audio Controller (TAC) Features

- DTS Headphone: X 7.1 Surround Sound
- Multiple Sound Modes
- Stream Output
- Superhuman Hearing
- External USB Sound Card

Over the past couple of weeks, I have had the chance to put some of Turtle Beach's Elite Pro audio/gaming gear through its paces. The Elite Pro series headset, and other audio gear, is meant for serious gaming on an eSports level. Turtle Beach sent the Elite Pro Tournament Headset along with the Elite Pro Tacticial Audio Controller (TAC). The TAC is meant to provide some true surround sound technology along with fine tuning your online gaming experience. I'll say this right off the get-go, this headset, along with the TAC, has provided some of the best surround sound audio in gaming, using a headset, that I have ever experienced.

The first thing that you need to know is that this is a wired headset, so you should be relatively close to your Xbox One. I am sure that this might annoy people, especially since wires can clutter up a gaming space, but given the tech that for the headset and TAC combo there is a need for wires as there is ZERO latency in the sound and everything has an uninterrupted signal. So, if you are looking for a wire-free experience then you might want to move along.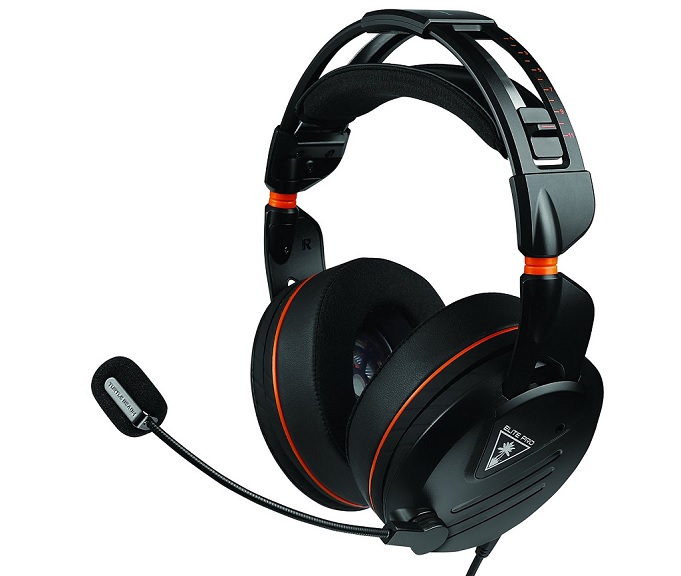 Turtle Beach includes everything in the box and given that they sent the Elite Pro Headset and the Elite Pro Tactical Audio Controller, there were two boxes to open. In the headset box, you'll find the Elite Pro Headset, an Elite Pro Microphone and the Elite Pro 1.3m Audio Cable. You can't just use any 3.5mm audio cable as the Elite Pro cable has a special plug for the headset itself. In the Tactical Audio Controller box, you get quite the collection of stuff, including the audio controller, a power cable (USB to USB mini), a digital optical cable, an Xbox One chat cable (also doubles as an AUX/Stream cable) and a programming cable (USB to USB micro). To get the full benefit out of everything, there are a lot of cables to hook up, but I will say it's worth it if you aren't too far away from your Xbox One.

The over the ear headset is a slick looking headset. It's black with orange accents throughout. The headband and earcups both incorporate spandex and leather covered gel 'infused' memory foam. The headband has orange numbers on each side of it. These numbers are actually useful as there are sliders on the left and right top sides which assist you in finding the perfect tension for your headset wearing needs. Move the sliders toward the earcups and you'll find that it gets a little tighter the more you go, but not too tight. This is a first for me as no other headset I have used has had an adjustment like this.

I must say that I was thoroughly surprised by the comfort of the headset. It's one of the heavier headsets that I have used (390g/13.75oz) but it never really became a problem. The first time I put it on I noticed the weight, but as I gamed for long sessions it became a moot point given its comfort. You can of adjust the earcups up or down, and there are the tension sliders that I spoke of above, so to say that you should have no problem finding a good fit is an understatement. I found that with a few easy adjustments I had a comfort level that only one other headset I have used has ever come this close to, but the Elite Pro Headset ups it with the tension sliders. The memory foam provided a lot of comfort when wearing the headset. I was a bit worried given the leather would result in it being overly warm during long play sessions; however, there it was no issue at all. I was reviewing Dead Rising 4 during my time with the Elite Pro set-up and I put long hours at a time playing, all with relative comfort, heat wise, for my ears.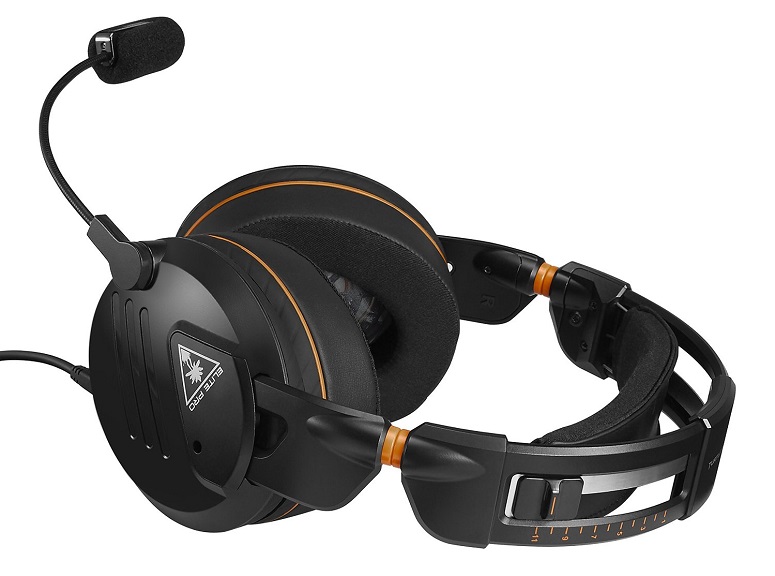 People who read my reviews of headsets should know I wear glasses, and this headset does wonders for this fact. Turtle Beach employs what they call the ProSpecs Glasses Relief System. It is something that is so simple to use, but so effective. You basically take the memory foam off (with a simple twist) and there are small tabs on the back that you can adjust. As you pull the tab for each earcup a slight indentation becomes visible where your glasses' arms will fit better. If you run your finger along the memory foam you can feel where the indentation will form even before you adjust it. I found that I didn't really need to adjust the memory foam, but when I did experiment with it using different pairs of glasses I have, it worked well, and there was even less pressure than before. For those wondering, I adjusted it to the 3rd hole in the tab and kept it there, and there are more holes after that. This is an amazing system for those with prescription glasses, or when you want to use some Gunnar gaming glasses.

A final note in this area is that the earcups are amazing at keeping the game sound inside and the outside noise out. There were many times that I was gaming and my wife tried to get my attention and I didn't hear her. I don't know if this is a good thing for my relationship, but having nothing from the outside come in is great. You'll clearly hear game sounds that emanates from the 50mm speakers while the outside noise stays, for the most part, outside of the headset.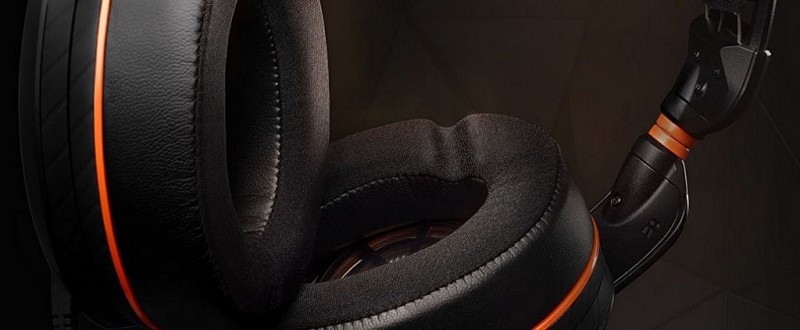 So, there is no doubt that this is a comfortable headset, with lots of ways to adjust it, but how does it sound? In a nutshell, it is quite impressive. I did a lot of gaming during my time with the Elite Pro Headset and TAC playing many different games. A huge amount of time was spent in the city of Willamette battling zombies in Dead Rising 4, and I managed to play some of the others too, including some time in the monthly Iron Banner event for Destiny. For reference, along with Dead Rising 4 and Destiny I managed to play Forza Horizon 3, Call of Duty: Infinite Warfare and ReCore.

You can use the Elite Pro Headset as a stereo headset and plug it directly into an Xbox One controller's 3.5mm jack. If you don't have one of the controllers with the jack built in you will have use the original Xbox One Chat Adapter that came out quite a while ago. As a stereo headset, the Elite Pro Headset is solid, with good stereo sound, ample lows, mids, and highs, and you can control your headset volume (chat/game mixed) with the dial on the cord. So, sure, you can use this as a stereo headset, but once you add the Tactical Audio Controller (TAC) you turn the headset into one of the best surround sound headsets that is currently on the market.

The TAC wires into the Xbox One with a fiber optic cable for sound (it has a fiber optic pass through as well should you wish to go to an external source (e.g. home theater amplifier) and it is powered by plugging into one of the Xbox One's USB port using a USB to USB mini cable. I have a 4 port USB 3.0 hub that is connected to the USB port on the front of my Xbox One S, and the USB for the TAC is plugged into it for power. Both the fiber optic cable and the USB power cord are 3 meters in length (5-6 feet), so there is a bit of flexibility for placement; however, the headphone cable that you plug into the TAC is only 1.3 meters, and the chat cable (plugged in when chatting online with friends) seems to be about 1 meter long. You will be required to be close to the TAC due to the shorter headset and chat cable, which makes sense given that you control many facets of the sound field and headphone options that via the TAC itself.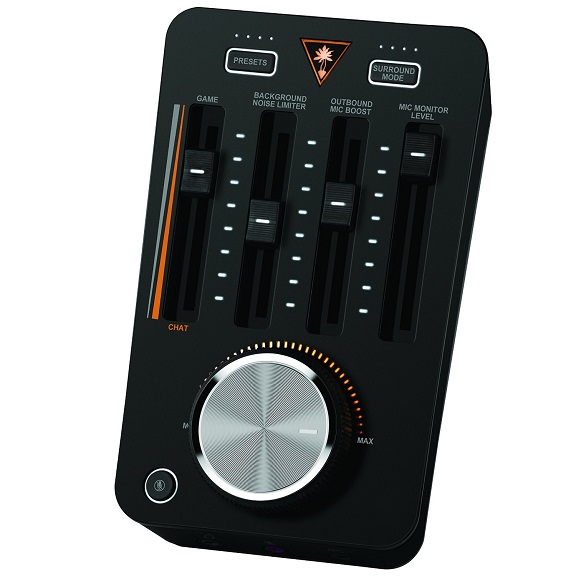 The TAC uses DTS Headphone:X 7.1 Surround Sound technology, and it is some of the best virtual surround sound that I have used in a headset when gaming. The sound fields that are reproduced are detailed, full, and sound bigger than those you'd expect to be coming out of a headset. There are 4 different surround sound settings: Game Mode, Movie Mode, Music Mode and Surround Off. For each of these settings there are 4 different audio presets within each one. In Game Mode there is Signature Sound, Shooter mode, Superhuman Hearing mode and Footstep Focus mode. In Movie Mode there is Signature Sound, Action mode, Horror mode and Drama mode. Switch over to Music Mode and you'll find Signature Sound, Stadium mode, Acoustic mode, and Dance mode. Finally, if you choose to go into Surround Off mode you'll find Natural Sound, Bass Booster, Bass & Treble Booster and Vocal Booster. The Surround Off Modes are very reminiscent of the modes that are available on the Stealth 420X+. There are a lot of surround modes to choose from, as well as pre-set equalizer settings, but to tell you the truth I stayed within the Game Mode, and within that I stayed withing the Signature model as it was well balanced and sounded great. It is worth noting if you are looking for some 'edge' when gaming online, you can use the Superhuman hearing mode, which pumps up the volume of minor details (e.g. footsteps, guns reloading) and it makes it easier to determine where your opponent may be.

When playing games, something I did the most, the surround sound was pretty much pinpoint accurate and the all the lows, mids and highs were, in my opinion, perfectly balanced. Such things as my footsteps in the snow when venturing across the SIVA infected Plaguelands, the thumping bass of the "Bass Arena" radio station while my Ford GT's engine growled as it pushed my car along the virtual Australian coastline, passing all traffic in front of me at over 200 mph in Forza Horizon 3, to the sound of my jetpack on my spacesuit and the chatter I had with my AI teammate as we made our way through an asteroid field COD: Infinite Warfare to plant an an EMP device on an enemy ship, or the sound of countless numbers of zombies meandering along the city streets of Willamette while I explored every shop and room for the secrets of Dead Rising 4.

The accuracy of the surround sound is quite amazing. One such example was in Dead Rising 4, as I was searching for hidden cell phones that helped tell more of the story of what happened to people prior to, and during the zombie outbreak. I could hear a faint buzzing of one such phone, and by slowly turning my character in various directions, and honing in on the sound in the headset, I led myself to one of these phones that I would have missed had I just been playing on my TV/monitor. Another great example of the surround sound was during an online match in Destiny. We were playing Rift (like CTF), which was the Iron Banner game type for the week. The opposing team had grabbed the spark (like the flag) and many of my teammates asked where they went. I could hear the spark runner (they have a buzz like sound as there is an aura around them) in my left earcup but they didn't sound directly the left. I told my team that our opponents went in a direction left of our base and I made my way back through a building where I found the spark runner hiding hoping his team would take us out. It was because of the accuracy of the surround sound that I could find where he and his team were. These are just two examples of how well the DTS Headphone:X 7.1 Surround Sound works using the TAC.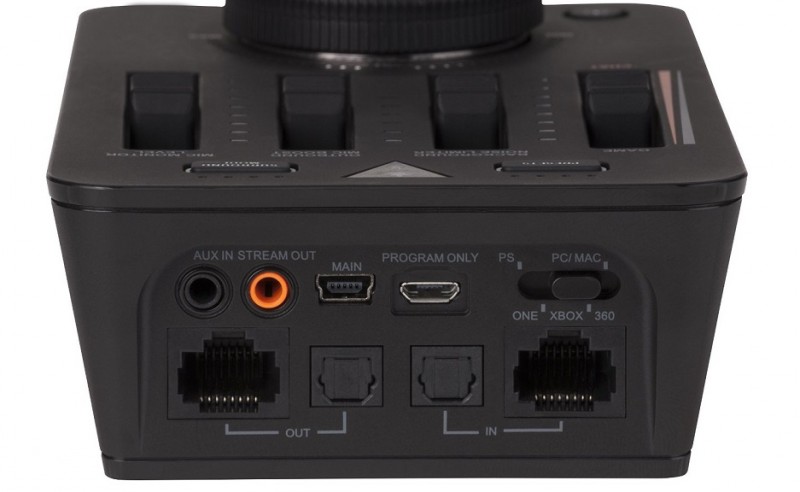 Along with a plethora of surround sound modes, the TAC also offers up a high level of control for your online gaming experience. A simple look at the TAC itself and you can see the options that are available with a simple adjustment of the sliders. You can adjust everything while playing and this includes the game volume & chat volume mix, the amount of background noise that is filtered through your microphone, the volume level that your online friends can hear you at, and most importantly, you can adjust your mic monitoring. All of these options are useful and work well. During a few online play sessions I was able to drown out my daughter in the background who was yelling at her brother, and I was also able to adjust my own voice and ask if there was a difference, and everyone online noticed the increase/decrease in volume as I played with the slider. One of the strongest statements I had though was from a friend of mine who lives in Seattle, and I see on a regular basis. He said that my voice sounded like my actual voice, as almost being there in person, which is a testament to the voice quality when playing online. You can also mute everything by pushing down on the volume dial on the TAC or you can just mute your voice chat with a press of a small button in the lower left hand corner.

For the record, and in relation to seeing what the Elite Pro Headset and TAC could do, I listened to a bit of music on the Xbox One's Groove service. I went through a wide range of music genres. I listened to the Japanese inspired soundtrack from Kudo and the Two Strings, the orchestra driven music from Video Games Live: Level 5 to music from Deadmau5, Skrillex, ZZ Top, Dire Straits and Madonna. Switching through the various Music mode presets I found myself staying on Signature Mode for most of the music while switching to Dance mode for some of the bass heavy electronica to see what it sounded like. The Surround Sound Off mode sounded great and...well, natural. When listening in various pre-set equalizer settings I felt like I was in the middle of the music. Heavy bass notes managed to roll off naturally while highs and mids were not overly loud or too bright and they seemed to be balanced with the bass, becoming noticeable when they needed too. Turn up the volume to that bordering on almost too loud and bass manages to sound deep without becoming muddy and distorted. There was the odd electronica track with heavy bass that managed to push the 50mm drivers to their limit, but to tell you the truth that was at full volume, which was pretty much something you shouldn't be doing anyhow.

Turtle Beach really flexes its' audio knowledge and knowhow with the Elite Pro Tournament Headset and Elite Pro Tactical Audio Controller. After playing various games, and listening to some of my favorite music, I must say that this combo of Elite Pro branded equipment is now my go-to surround sound headest and gear for gaming at this time. Heck, even listening to music is a treat and is right up there with only one other headset that I prefer for doing such when using my Xbox One. The TAC adds such a wide selection of surround modes and pre-set equalizers, and the DTS Headset:X 7.1 Surround Sound is some of the best surround sound I have used in a headset... Period (and yes I know it's virtual). I can only think of two downfalls for this set-up. The first is that it's wired, so some may be limited by placement if they can or cannot use it. The other downfall is that you have to pay a pretty penny for this combo, as the headset and TAC each retail for $199.99(USD), so you'll have to pony up $400 in total. That being said, and I can't believe I am about to say this, but it's an expensive treat that, and if you can afford it, it is money well spent for the diehard gamer out there, as it really is that good.

OVERALL SCORE 9.3 / 10

***Turtle Beach provided a Elite Pro Tournament Headset and Elite Pro Tactical Audio Controller for review purposes***