Turtle Beach Ear Force Recon Chat Headset Review
by Kirby Yablonski









Features:

- 40mm Speaker
- Over the Ear Design
- Glasses Friendly
- In-line Volume & Mute Controls
- Reversible Design

In this day and age, when sound has become so important in games, and we are graced with many excellent headsets to use when gaming, there are still those gamers out there who choose to use their TV speakers or play in a home theater room. So, when they play online they need a chat headset to talk to their friends while participating in some multiplayer mayhem. This is an area I honestly think goes overlooked. The base chat headset that is included with the Xbox One is ok, but let's not kid ourselves, it could be better. Enter the likes of Turtle Beach, and their recently released Ear Force Recon Chat, a chat headset with a few features that make it worth looking at.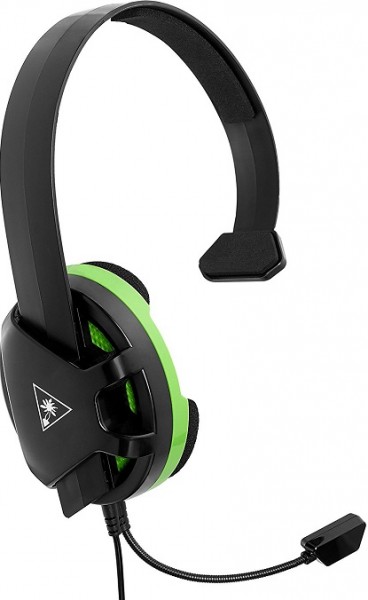 First off, I have to say that for what you get, the box is very misleading in size given how small it is. That is because when you open it you'll find the earcup and headband are separate, and with a quick "insert here" and "pushdown there" you'll have your Recon Chat headset ready to go. I should warn those that are still using a first-generation Xbox One controller without a 3.5mm headset plug, you'll need the headset adapter, just a heads up for those that maybe in this group.

Given that the Recon Chat headset retails for under $20 on Turtle Beaches website, it is not a plush and fancy looking headset, but yet it doesn't look bad. It is an all plastic affair, so don't expect any fancy metal or leather. The 40-mm speaker is housed in an over the ear set-up rather than those that sit on your ear. It is black and green with the Turtle Beach logo emblazoned on the earcup. The headband that slides into the slot in the earcup is what enables you to adjust the size of the headset for what you deem to be comfortable. Now, with all headset reviews I do I always note that I have a pretty big head, as it's just a fact of life. Once I found my size in the adjustment of the headband there was still lots of room to make it bigger, or smaller, so this chat headset will fit a lot of gamers with different sized heads.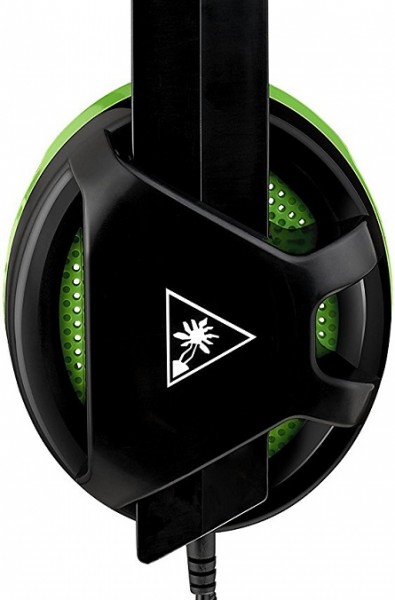 The headset is also an open ear-cup design with some plush padding around the earcup. I find the open ear-cup design useful, as it allows you to hear the game sounds coming from your TV or speakers in both of your ears so you can get full stereo or surround sound effects when gaming. An on the ear ear-cup approach can muffle the sound outside of a chat headset, so this is a feature that many should appreciate. Turtle Beach has also made this headset glasses friendly, which for me is a huge plus. Using an adaption of their SpecFit feature from the Elite Series of equipment, there is a slot in the ear cushion that allows for no pressure to be put on one's glasses. My only complaint about this feature is the slot is quite large and some may find it is not useful to them, especially those without glasses.

Comfort wise, for me at least, was a mixed bag, especially when compared to last year's Recon Chat headset. I found that the headset felt a little 'harder' as it was more noticeable when I had it on when compared to last year's model. It was not uncomfortable though, and it can be worn for long periods of time without issue. It is also configured so that you can use it with either ear. The over the ear ear-cup was great sounding, as the 40-mm driver was loud and clear. People on the other end of the online experience said that I sounded loud and clear and that there were no issues hearing me. Heck, there was even a time or two that I was asked to turn the volume of my monitor down (A GAEMS M240) as people could hear it over my microphone.







Another plus is the fact that the chat headset has an in-line mute and volume control, so no having to go into the Xbox One menu to adjust while playing. This is an important factor as you can game uninterrupted without needing to go into any other menus to adjust the sound.


Something that is also positive is that given the 40mm driver, if you are forced to mute the sound of your gaming (e.g. wife says volume is too loud) you can direct the sound of the game through the single driver without much compromise except that of the sound being in one ear. Yes, it's not the best scenario, but hey, if there is that rare time you need to keep the sound out of the room, and you don't have a set of full gaming headphones, then you can use the Recon Chat headset to do so and it doesn't sound too bad, even given the fact that you are in mono-sound.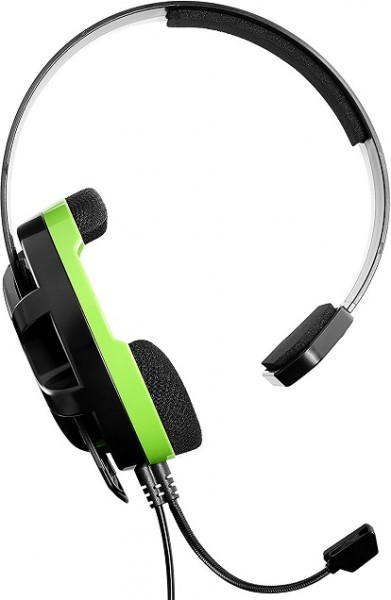 So, what's the final verdict you ask. Well, I have to say that Turtle Beach have designed a very functional chat headset while adding a few features that gamers should find very beneficial. The fact that Ear Force Ghost Recon headset is glasses friendly, it has a 40mm speaker in the ear-cup, it has an open-air design to let all the sound of your TV and/or speakers in, and it has in-line volume and mute controls on the cable, all these features make this a handy chat headset to use, and for the cheap price of $19.95 (USD), about $24 to $29 Canadian, you definitely can't go wrong.

OVERALL SCORE: 8.0 / 10