Forza Horizon 3: Hot Wheels Expansion Review
by Kirby Yablonski








I am a racing game fan, there is no doubt about it. I really enjoy all forms of racing games, from off-road, street, simulation or arcade. I have been playing Forza Horizon 3 since its release, and the mix of simulation physics with arcade-like action has had me hooked since last year. With a large roster of vehicles and a variety of terrain in a virtual Australia, I just keep on playing. A few months ago, the first expansion, Blizzard Mountain, was released, and it provided some fun and crazy action in the snow. Well, not to be outdone, Playground Games has recently released their second expansion, Hot Wheels. Yes, if you've been living under a rock, Forza Horizon 3 has a Hot Wheels expansion, and it is more than I could have ever expected.

When you think of Hot Wheels you think of those bright orange plastic tracks that you put together with plastic tongues. You make them go up walls, down stairs, form jumps or loop-the-loops, and of course add boost pads for even more speed. In Forza Horizon 3: Hot Wheels, they take those ideas, make them life size and put the tracks on a series of Australian islands, and you have the new expansion pack. If you've ever wanted to experience what it would be to race on real Hot Wheels tracks, this is as close as you'll ever get.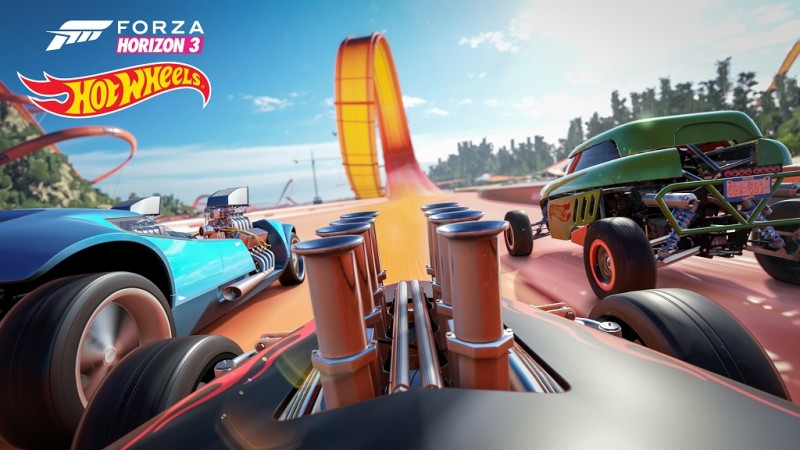 The events you complete within the Hot Wheels world rewards you with Hot Wheels medals. You can earn one medal from completing the event, another one for winning it (should it be race based) and a third medal for meeting a specific goal (e.g. complete a lap in a certain time or earn so many stunt points). Of course other medals are rewarded for drift zones, speed traps and danger jumps, not to mention bucket list challenges too. Your goal is to get to the final race, called The Goliath Race, which if you win, you are crowned you the Hot Wheels Champion. But it's not all over after that race, as once you complete it you'll get the chance to participate in regular championships scattered throughout the new DLC world to continue your racing experience.

We cannot forget there are other bonuses of the Hot Wheels expansion either. Of course you'll get new vehicles to race, including four new Hot Wheels themed cars. They include the 1968 Hot Wheels Twin Mill, the 2005 Hot Wheels Ford Mustang, the 2011 Hot Wheels Bone Shaker and finally the 2012 Hot Wheels Rip Rod. The other cars include such rides as the 2016 Jeep Trailcat, 2010 Pagani Zonda R and a 1972 Chrysler VH Valiant Charger R/T E49. Yep, there are some nice additions. Along with the new cars are new reward boards, which gives you even more XP to add to your record, and you'll get to discover a new barn find as well. And the biggest addition is the new area itself.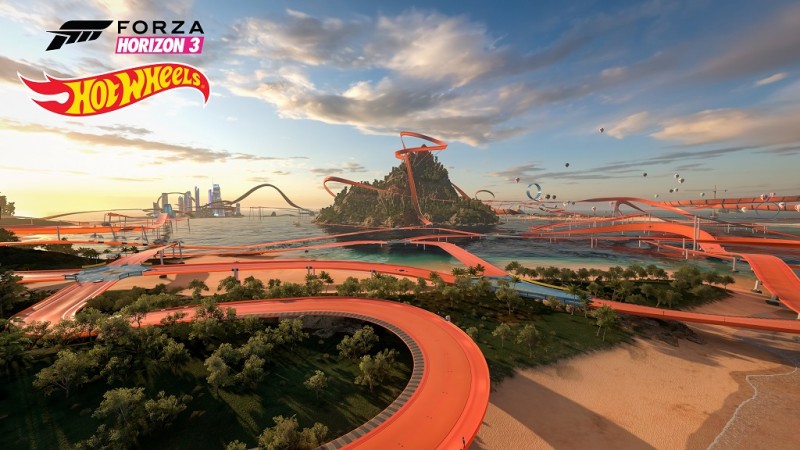 The islands that the tracks connect are found within a beautiful Australian setting. Although I was expecting quality visuals from Playground Games once again, I was not expecting to be particularly wowed as much as I was by giant Hot Wheels tracks stretching from island to island. From crystal blue water surrounding the area, a city center found at one of the junctions to the lush tropical forests that include a couple of animatronic dinosaurs, the visuals are not only impressive, but provide a lot of fun. Coming out of a corner that hugs the water and then screaming down a straightaway only to suddenly be greeted by a giant robotic t-rex is not something you usually find in a Forza game, even Forza Horizon. Oh, and did I mention that the full day/night cycle is also found in this DLC. You have to see the orange and blue tracks lit up at night as they stretch far into the distance while the sun sets below the horizon in the distance. You've never envisioned racing like this, until now.

The amount of detail is further evident when you look at all the various stunt areas, or head off track to see the all the Hot Wheels tracks from below. You'll see the plastic tongues that hold the tracks together, the boost pads that are powered by engines spewing fire and smoke, and see how different elevations are made with support poles. There are even giant cranes that have various pieces of track that look as though they are still be inserted into various areas mid construction. As for the track surfaces themselves, you'll notice the sheen of the plastic, slight ridges that look like they formed when they were in the plastic mold, and you'll be able to mark them up with well-timed burnouts or e-brake turns.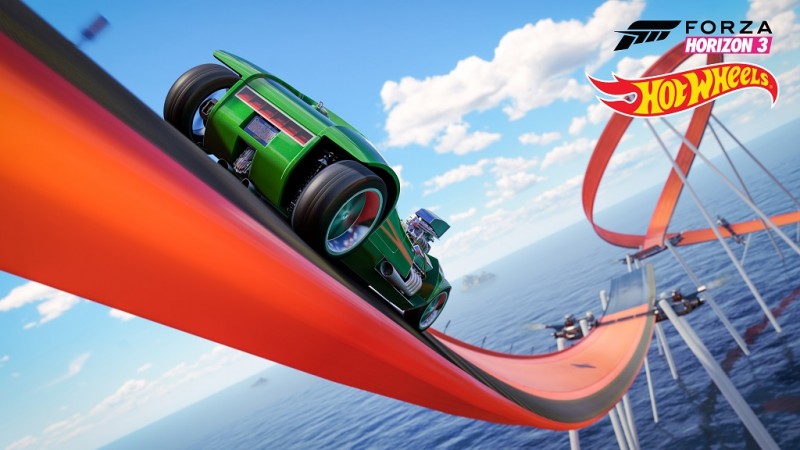 As for racing, you'll find the simulation aspect of the Forza engine still exists, so depending on what assists you use, or don't use, it will dictate the level of difficulty you'll feel when racing. Personally, I race with what assists are available in today's cars, so my racing is a bit more forgiving then those who turn everything off. But let me tell you, there is nothing crazier then turning every assist off and then trying to race in the rain on any one of these virtual plastic tracks. The Twin Mill, which is a real-life car producing over 1400 HP, is a beast of a car to drive with assists on, try it without and you'll see some craziness.

If I have one complaint with the new environment, it's that you cannot short cut the routes very easily, if at all, as you can't get off the tracks very easy and you'll find that you have to travel the full route to get to your next event. It's a minor quibble, but something that those with no patience will find may annoy them more often than not.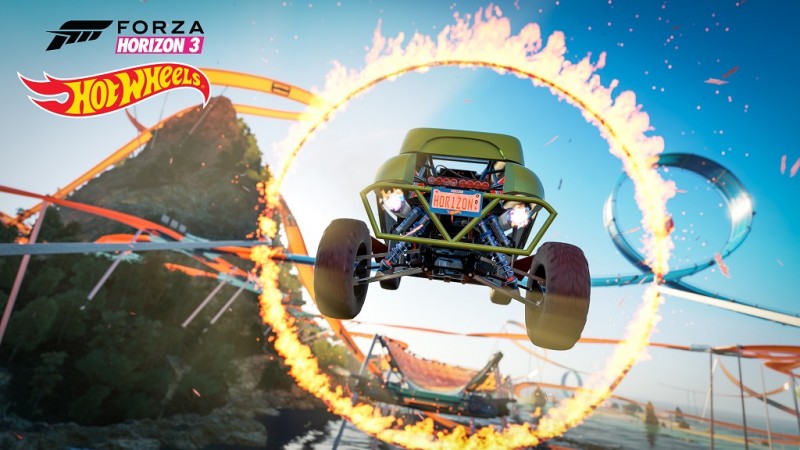 The racing is as competitive as ever, as you jockey for space on the mostly closed off tracks, fight for the perfect line in a corkscrew section, or try to get that perfect entry point into the loop-the-loop so you exit with the most speed. You'll find yourself competing in regular point to point races as well as mutli-lap races that have been offered before. I won't lie, there were a few times that I put my competitor AI levels down a notch or two, just to finish up the tracks to get a whole sense of what is offered. Even then a few times I barely snuck out a win, so there is challenge to be found. The Hot Wheels expansion can be played online with others too, be it in online cooperative campaign or free roam, and much silliness and mayhem will follow you online, and of course competitiveness.

If you've ever wanted to experience what it would be like to race on a Hot Wheels track, well now you can with the Forza Horizon 3: Hot Wheels Expansion. This new DLC brings with it new cars, approximately 70 KM of virtual Hot Wheels tracks, some new islands to explore off track, and some new racing experiences that you have not had in any Forza branded game before. The visuals are just beautiful and the racing is as enjoyable as ever, including when racing online with your friends. I really tried to find something wrong with this DLC that seems to think "out-of-the-box", but I could not find anything to really dislike. For $25.99 ($19.99 USD) you get a whole lot of content and a whole lot of fun.

Overall Score: 9.3 out of 10

Check out a few more pics below: