Astro A10 Headset Review
by Kirby Yablonski








Features:

- Wired Headset
- Stereo Sound
- 40mm Drivers
- Frequency Response: 20Hz - 20khz
- 3.5mm plug

Astro has long been thought of as one of the "high-end" makers of gaming headsets. Look at their website and you will see their top of the line headset, the New A50, is $400 (Cdn), and the next tier down, the A40 TR & Mixamp, is $330 (Cdn). Definitely not cheap. While at E3 a few weeks ago I had the chance to sit down with the Community Manager of Astro, his name is Thadeous. He told me an interesting story of how Astro, as a company, surveyed 65,000 of their fans and discovered that 60% of those who were questioned did not own a set of Astro headphones. They thought this was quite strange given they have a strong following through their own social channels and their community, yet not everyone owned an Astro branded headset. With that in mind, they sought a way to get more people into the world of Astro but without having to pay a premium price, hence the idea of the Astro A10 was born.

The A10 is an entry level headset. It sells for $80 (Cdn) and includes very little in terms of extras. You can buy a bundle that comes with the A10 and a MixAmp M60, for game voice balance and EQ modes, but that adds another $60 (Cdn) for a total of $140 (Cdn). The A10 is a stereo headset that comes in a box that is very Astro-like; however, open that box and the contents are bare, as you'll find the headset, the 3.5mm cable, and a bit of documentation on the headset. That it is it, simple and to the point. All in all, if you are expecting a premium packing experience like you may have seen, or experienced, with the New A50s or A40 TRs, you will be somewhat disappointed.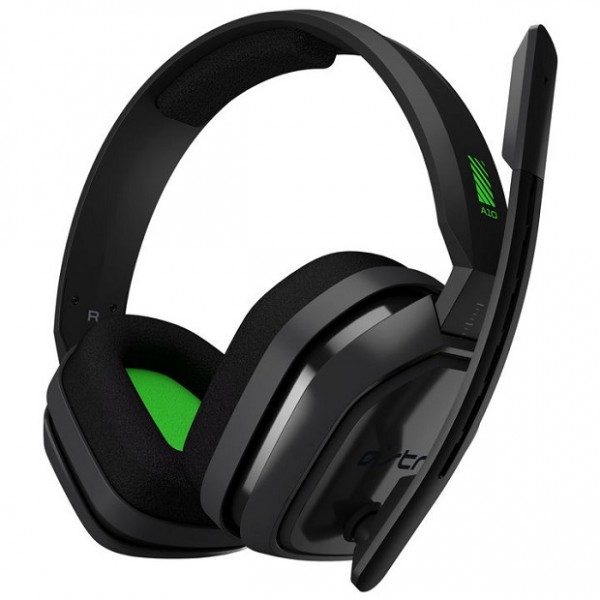 Although the A10 is an entry level headset, that doesn't mean it should feel entry level. The headset itself has a bit of heft to it, although it's not overly heavy, and it feels like a quality built headset. The headset is black, but you'll find the Xbox green colour for certain details, like the material covering the drivers inside the headset and the lettering on the earcups and headband. There are even Xbox green accents on the microphone. There is no denying the branding of this model of the A10 for the Xbox One family of consoles.

Once you start to check out the detail, it looks like an Astro headset, but without all the bells and whistles such as removable speaker tags, removable mic, EQ settings, and all that jazz. What you do get though is 40mm drivers that are built with a 'shock' system to help with durability. The drivers are tuned by Astro and support the new Windows Sonic virtual surround sound mode as well as Dolby Atmos. You get memory foam on the over-the-ear earcups along with an aluminum headband covered with a rubber and a bit more padding for the top of your head. Your microphone is also your mute control, as you flip it up to mute your voice or any sound around you. You control the master volume of the headset with an in-line volume control found on the detachable cable. For an entry level headset the A10 does not feel, or look, entry level at all.

Comfort wise I was fairly impressed. I put these headphones through their paces during some pretty warm early summer days in June and I found I could withstand extended play sessions with my ears only getting warm, and not uncomfortably so. The memory foam allows some air in but overall it managed to keep most of exterior sound out, as well as the game sound in. Should have there been a need for my wife to get my attention, she only needed to raise her voice and I heard her, but she indeed had to raise it.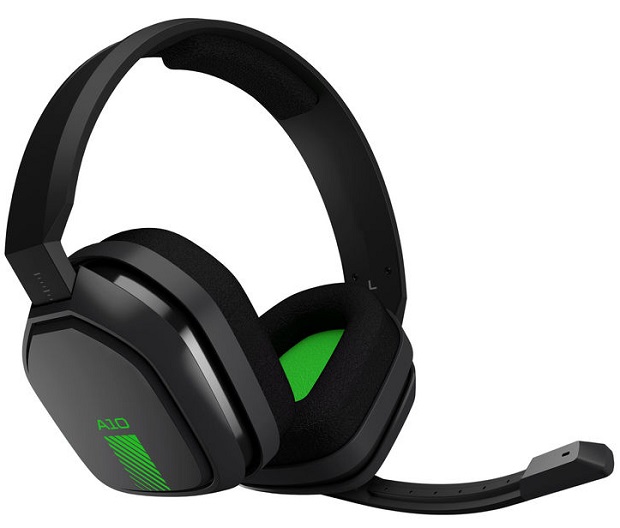 So, the A10s feel good, seem well built, and look like Astro headphones, but I am sure you are wondering how they sound. Well, for an "entry level" headset I must say they sound great. I spent a lot of time gaming with them by playing DiRT 4, Forza Horizon 3 and I finally started to play Titanfall 2. Yes, in terms of the latter I am WAY late to the party, but better late than never right?

When using these headphones in stereo sound, the manage to pack a pretty good punch. The balance seems well tuned. In DiRT 4 you could notice the subtle sounds of the varying surface materials of the road hitting the bottom of the vehicle, and if you play in the in-car view, you'll hear the creaks and rattles of the cars frame and/or interior as you jump, bump, and throw the car around the track. In-game menu music is 'punchy' and those music tracks that require bass get it while not drowning out anything else. As for Forza Horizon 3, I have been addicted to the Hot Wheels DLC, and I must say that the cars that you race above the scenic ocean below sound great. From the Hot Wheels Mustang to any of the real-life in-game cars (e.g. Audi, Lamborghini, and Subaru's), as well as the extensive soundtrack that is included with Forza Horizon 3, nothing sounds out of place nor overpowering over one another. Finally, my journey in Titanfall 2 was just as impactful and enjoyable. From the sound of various weapons to the sound of your Titan's feet pounding on the ground as you make your way across the various environments, and when in battle the explosions, gunfire, and all the sounds of a Titan vs. Titan fight are clearly audible and sound great.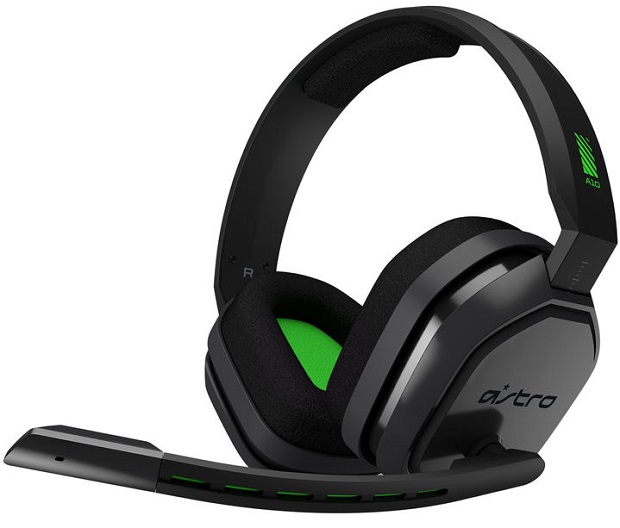 I took some time to enable the Windows Sonic mode on the Xbox One, which is a virtual surround sound mode, and I was indeed pleasantly surprised. Right from start, when in the Xbox One's menus. I felt like the sound was around me and that I was in the middle. Play any game with this mode enabled and you will notice more separation. Don't get me wrong, it's not like sitting in a true surround sound theater, but the sound seems to be all around you and when using the A10s, and it was pretty neat given it was something I hadn't explored until now. The A10s handled all the sound in a surround like fashion very well and this was particularly evident with DiRT 4 as the sounds when playing in the "hood" view was very impressive with debris being kicked up behind the car and collision sounds (e.g. brushing along snow banks or hitting signs/track markers) had a very slight, but noticeable sound of directionality.

I did not get as much time as I usually like to put towards movies and/or music, but I did manage to check out a few things. First off, I was in a mood to catch up on the newest season of Orange is the New Black on Netflix. As I did I found dialog was clear, any music was well balanced with the on-screen action and/or dialog, and I didn't have any issues watching the series. I also recently watched the reimagining of Battlestar Galactica, so I threw in one of season 4's Blu-ray discs that I had in my home office and it sounded pretty good. From the sounds of vipers battling cylon raiders to the Battlestar itself protecting the fleet, all the explosions were solid and there were no issues demoing this Blu-ray to myself. Finally, I played a bit of music, just enough to see how the A10s handled a different variety of music, from Dire Straits, Nickelback, Linkin Park, to Video Games Live and Tron Remastered. All the music was well balanced, with highs and mids being evident while the low-end showed up when it had too. None of the music was muddy sounding and I didn't find any distortion, even at fairly high-volume levels. It was nice to know that if I felt like to listening to some music on Groove that the A10s could provide an enjoyable soundstage to do such.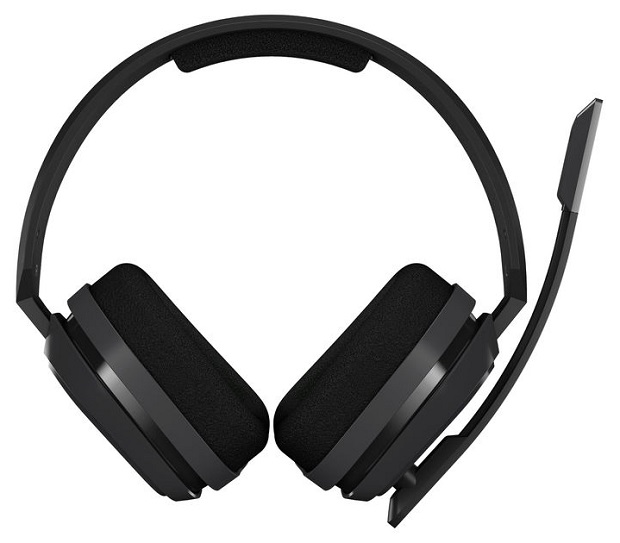 I have yet to comment on the durablity of this headset. While at E3, and during my discussion with the Thadeous, he literally took the headset and threw it against the wall of the room we were in. Funny thing, you could see the marks from almost day and a half prior to my visit from them been doing this repeatedly. This headset is meant to last. After throwing it against the wall, he picked it up, plugged it in and handed it to me to use, and there were no issues.

So, what is verdict of the Astro A10. Consider us impressed, as Astro has managed to make a pretty solid headset that one could consider being at an entry level price. The sound manages to impress, both in stereo as well as when using Windows Sonic on the Xbox One. By taking away all the fancy stuff, and focusing on the audio and build quality with the money they saved by not adding all the bells and whistles, Astro has developed and built a headset worthy of the Astro name, and has provided an option for those who have always wanted an Astro headset, but couldn't afford the price of admission for higher end headsets.


OVERALL SCORE - 8.5 / 10