Sennheiser GSP 350 Headset Review
by Adam Dileva







Features:

- Weight 262 g
- 7.1 Dolby Surround Sound
- On-Headset Volume Control
- USB connector
- Impedance 19 Ω
- Frequency response (Microphone) 10 - 15,000 Hz
- Frequency response (Headphones) 15 - 26,000 Hz
- Sound pressure level (SPL) 113 dB
- Ear coupling Circum-aural
- Cable length Surround Dongle cable: 1.7m / USB extension cable: 1.2m
- Transducer principle Dynamic, closed
- Pick-up pattern Noise-cancelling
- Microphone sensitivity -41 dBV/PA


On this week's headset roundup, we have Sennheiser's newest entry, the GSP 350. But what's that you say, this is a PC centric headset yet XboxAddict is clearly an Xbox related website? Well, that's the beauty of the Play Anywhere initiative from Xbox, as you can play handfuls of Xbox titles also on your PC. I even go a step further and usually steam my Xbox One gameplay to my PC within the app, so I use my PC for Xbox gaming, streaming or native, when possible since I have a decent rig. So while yes, this is a headset meant for PC gaming, there's clearly Xbox centric applications that I've been using it for and will be discussing.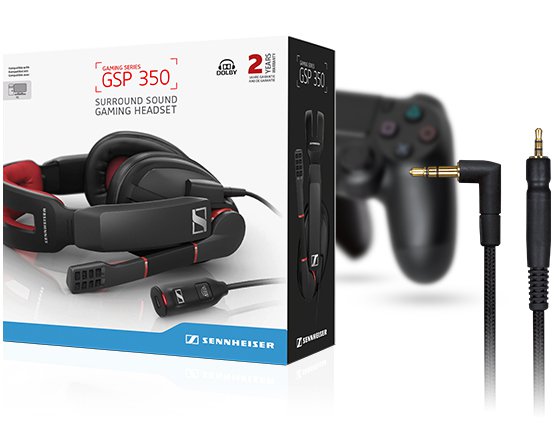 The name Sennheiser is one of the audio brands that's been around for quite some time, since the mid 1940's to be exact, so to say that they've grown over the half century would be an understatement. This German company is one of the top names known for audio quality, and whenever they have a new headset built specifically for gaming, I'm always excited to check them out, even more so when it supports 7.1 Dolby Surround like the GPS 350.

It's no secret that the market is flooded with gaming headsets, so once you have your budget set you need to look at all the offerings within that price range. Sitting around the $140 USD price range ($199 CAD), it may look like a simple and cheap headset, but don't let the plastic build fool you, as there's some cool features that are hidden within that allows for some great audio.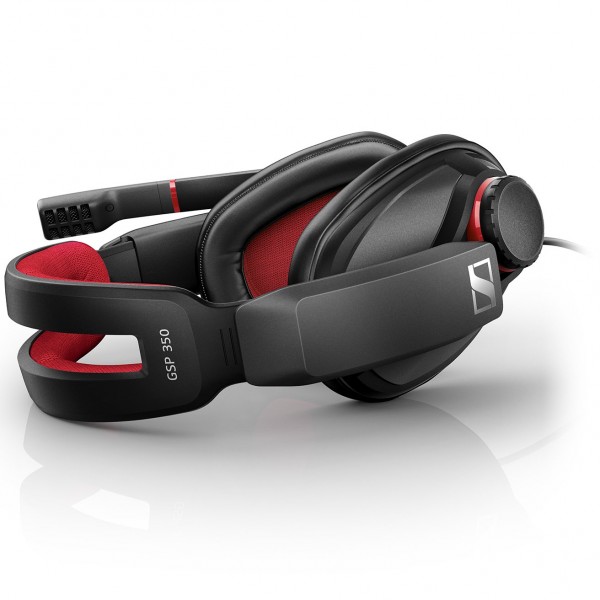 What makes the GSP 350 special is the inclusion of great Dolby 7.1 surround sound, especially at this price point. Sure it may not be top of the line 7.1 like other headsets, but for what it offers at this price range, it's hard to pass up if you want a slight edge on knowing where your opponents are or if you want to be completely immersed in your game's audio. Don't let the plastic look fool you, or the lack of gaudy LED lights, the GSP 350 may be a bland looking headset to some, but it will surprise you with its sound profile and quality.

Let's begin with the ear cups, as that's arguably one of the most important parts to a headset, aside from its audio quality of course. The ear cups are foam padded and don't appear to be too bulky, as you always need to balance design, bulk, and comfort with a good cup for the ears. The cups are very comfortable and I could instantly hear the noise reduction from within the room. When the volume was up I wasn't able to hear TV show my wife was watching right beside me, nor my young daughter playing loudly, so the amount of noise the cups dampen outside sound is great.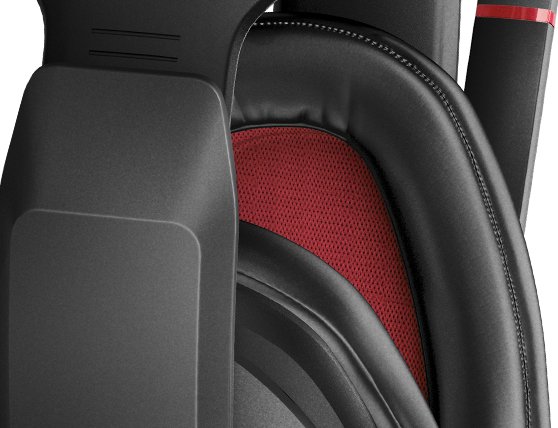 Speaking of volume, I was glad to see that the volume knob was placed directly on the right ear cup and not on some slider or smaller knob on the cable like many other headsets utilize. I actually couldn't find the volume knob at first, so that speaks volumes for the quality of the integration. Even at maximum volume, audio sounded clear and there was no crackling or distortion, even during audio intense games like Forza Horizon 3 and Gears of War 4.

The one negative about the ear cups is that they sit on the ear quite tight (not painfully though) that sometimes my ears start to sweat after a long play session. Now granted, the heat has been very high these past few weeks (reviewing these in July with no cool days predicted), but I have other headsets where my ears don't sweat as profusely. Even after a few weeks of using the GSP 350 my ears have quite a bit of sweat after a few hours of constant use.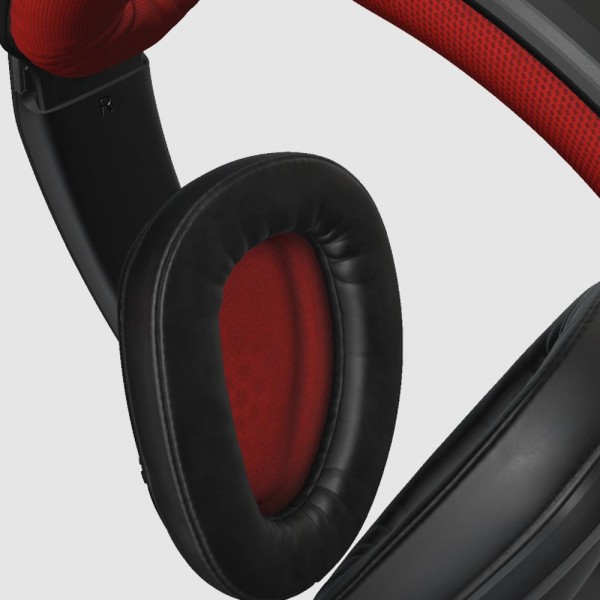 The microphone sits on a rigid boom arm that moves up and down, and it's not adjustable to move it closer, or further away, from your face. When chatting with my friends in an Xbox Live party, everyone said I sounded clear and actually at a much more consistent volume than my normal console headset, so that was a bonus. I do wish the boom arm was slightly more adjustable, and even though lifting it up all the way is how you mute it, there is no audio or visual indicator to prove the mute is activated so I'm still weary of using that as a pure mute option. As a whole, the microphone is on par with others in the same price range and it doesn't stand out as it simply feels rigid not being able to adjust it closer or further away from your mouth (if you're one of those mouth breathers).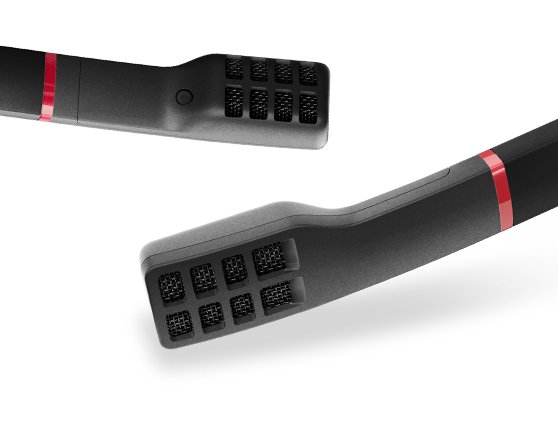 A unique feature the GSP 350 has (and really the only differentiating factor from there 300 model) is its dongle that provides the Dolby 7.1 Surround Sound. This little dongle on the cord is what powers the 7.1 sound, though it should be noted that this dongle only works on PC as its settings are done through software.

One thing I found odd is that the cable that goes from headset to PC is split into two; the standard audio cable from the headset to micro-USB and the Dolby 7.1 dongle to standard USB. Why this two part cable with the dongle isn't just a single cable seems like an odd decision of complexity. My only complaint with the cable is that it's obscenely long, to the point that I need to bunch it up and either place it on my desk or lap to help prevent me from running over the cable with my chair's wheels, though I know some people's setup will allow them to appreciate the added cable length.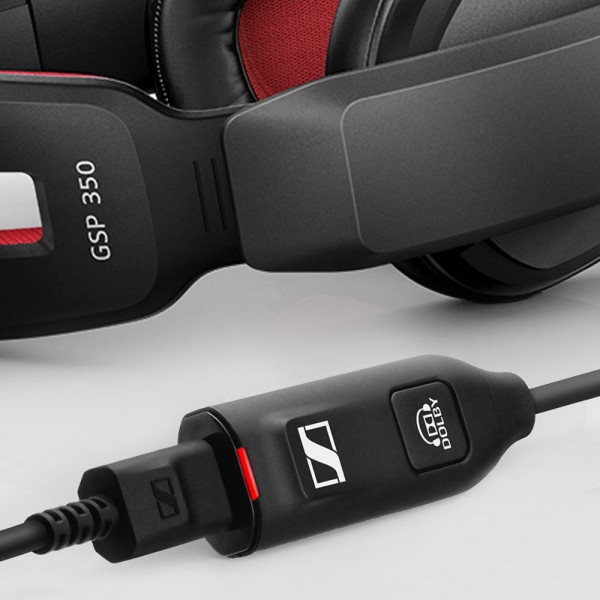 You wouldn't guess it from its size, but the sound profile the dongle outputs is impressive. The magic is done through Sennheiser's software (which is why it's marketed as a PC headset) which allows a handful of options. You can toggle between stereo and 7.1 surround with a single click and it also allows you to choose between 4 different equalizer settings based on your current preference: Off, Music, eSport, and Game. The "Off" setting allows for a purely neutral sound experience while the eSports or Gaming EQ setting is the default setting you'll most likely prefer, as I did.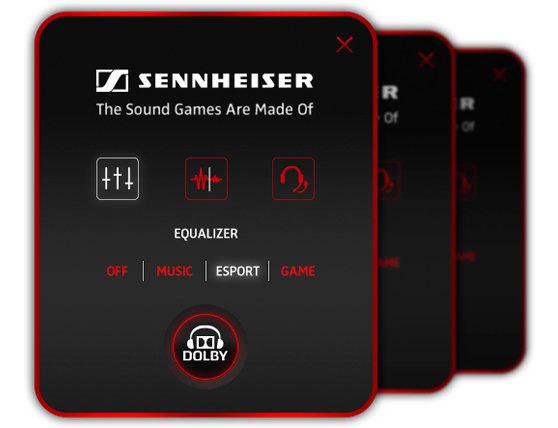 While I applaud the simplistic EQ settings, and find it very easy to switch settings whenever I choose quickly, I do wish there was some more customizable options, as you can't play with any of the equalizer settings themselves. There is also a setting toggle for noise cancellation and side tone should you desire. In competitive play you'll easily notice the difference between the separate EQ settings, being able to hear footsteps and gunfire from multiple directions, though I do wish it had a little more kick to the bass in the gaming settings.

It's clear that the design aesthetics for the GSP 350 were inspired by aviation headsets, as it employs the split headband, allowing for less pressure on top of the head for increased comfort, along with the boom mic that is typical for that style of headset. As for comfort, the GSP 350 should fit any head size, as the cups can angle due to the angled hinge and the plastic build allows for flexibility and rough handling.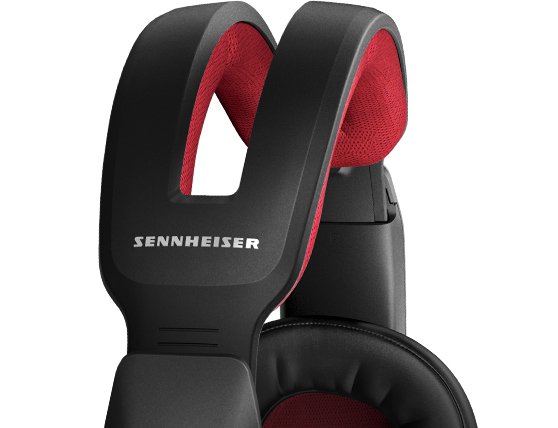 The headset never felt heavy on my head given that the build is made from plastic, and while this may deter some, as plastic can look cheaper, the quality is anything but. Yes, it would have been nice to have a premium looking metal headband of some sort, but that would also bring up the overall weight a bit, which currently sits at only 262 grams. I personally really enjoy the split headband, as I could tell the difference after 6 plus hours straight of gaming compared to my other headsets.

As mentioned above, I really do enjoy the comfort of the plush ear cups, it's just that my ears become incredibly hot and sweaty after quite some time even though it feels comfortable overall. I'm not sure if a slightly larger cup would relieve some of the 'hotness' I experienced, but that's my only real complaint in regards to the comfort level as a whole for the GSP 350.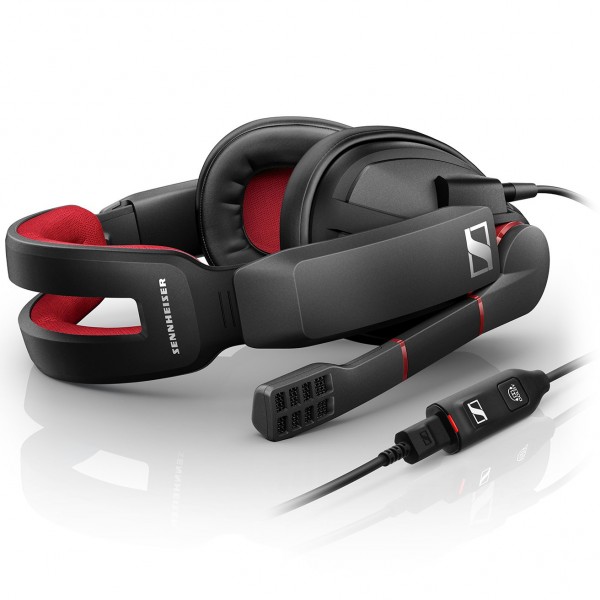 The Sennhesier GSP 350 may look somewhat dull and bland to some, but don't judge a headset by its look, as the audio profile it outputs in 7.1 is quite impressive for the price point it sits at. Even though my ears become quite sweaty after a handful of hours playilng non-stop, I'm still using this as my new go-to headset for all my PC gaming, even though I'm primarily playing my Xbox centric related games on it. If you're like me and have the PC rig to play your Xbox Play Anywhere titles, or stream your Xbox One games to it, and you're looking for an impressive headset that offers 7.1 Dolby Surround, the Sennheiser GSP 350 is a solid choice in its price range. I know that I'll be using the 350 for quite some time now that I've experienced 7.1 surround and heard the quality difference it can make in my gaming experience.


Overall: 8/10