LucidSound LS40 Headset Review
by Chad Goodmurphy











Features:

- Speaker size: 50mm
- Sound Space: DTS Headphone: X 7.1 Surround Sound
- Modes: Stereo, Super Stereo Front, Super Stereo Wide, Gaming Surround, Boosted Surround
- Power Output: 70mW, 32ohm per channel
- Frequency response: 20-20,000Hz
- Battery life: Up to 15 hours
- Charging method: USB
- Weight: 355g
- Wireless range: 30ft
- A single cable attaches the headset to the Xbox One S controller for use
- Optional boom mic, which can be connected and disconnected at any time

Head to any gaming-related message board and you're sure to find lots of people talking about the visual fidelity of their favourite titles. Be it the games art styles, resolution, FPS or something else, visuals are considered an important part of the experience and many look at them as a major selling point when considering a purchase. Sure, it can sometimes go too far and be considered as shallow, but the truth of the matter is that it's been going on for years. Hell, it goes with the territory, especially since we're talking about a technology based industry that is always pushing forward and looking for new ways to improve current hardware through both new consoles and occasional revisions.

Still, while talk about visuals, and any related issues tend to steal the show, it's not the only thing that contributes to a quality and immersive interactive experience. Gameplay is key, but so is good audio, and it's for this reason that developers spend a lot of time creating rich sound effects and working on either original or licensed soundtracks for their games. At the end of the day, sound matters just as much as the visuals do, but we don't give it enough credit.

For years now, gaming's audiophiles have turned to both wired and wireless headsets in order to further immerse themselves in their favourite interactive experiences. One of the more respected creators of such things is LucidSound, a newer company that was started with the goal of offering high-end headsets for affordable prices. The latest flagship model to come out of LucidSound's audio laboratories is the LS40; a beautiful-looking, great sounding and prestigiously designed luxury item that is sure to please any gamer.

Shipped in a large, protective box, the LS40 presents itself as a luxury product befitting its $200 USD price tag. In fact, upon opening the box, users will discover that the company has gone the extra mile by including a protective travel bag. It's here, in this black mesh case, that the headset is found and expected to reside when not in use. The only downside is that the pouch is somewhat snug, meaning that it can take a bit of effort to put everything away.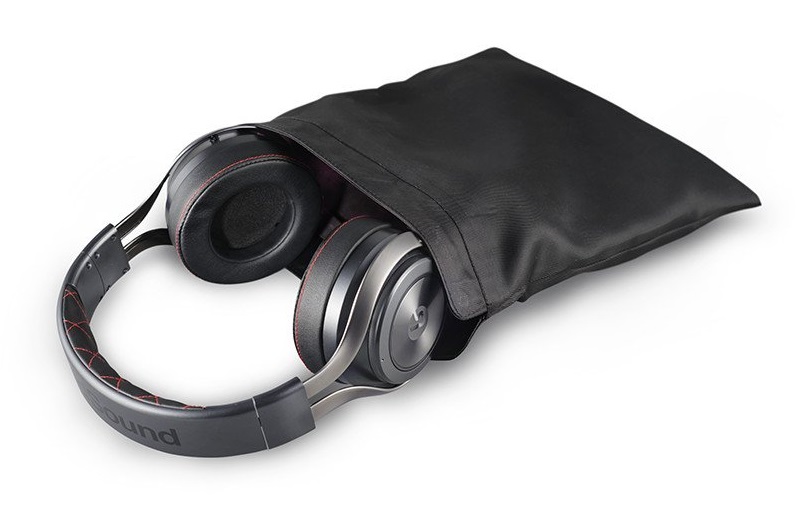 Upon opening, the first thing that you'll notice is how sleek and modern the LS40 is. Not only is it pleasing for the eyes, but it also does a good job of looking the part it wants to play. That is, the part of a premier product that can be used for gaming or other things. In no way does it look or feel like a run of the mill headset, nor does it feature any off-putting decals or cheap-feeling components. Constructed with both comfort and elegance in mind, the LS40 is a sleek device that is largely metallic. What remains has been crafted out of plastic and generously padded leather, which surrounds both ear cups. The headband is also well padded, and all three feature red stitching as a pleasing accent.

The cups themselves are both large and comfortable, meaning that you can look forward to hours of pain free gaming while wearing them. Even when I wore them for long sessions, my ears didn't sweat, itch or become uncomfortable, signaling that the design works as intended. As such, I have zero complaints there, outside of perhaps wishing that they'd included a bit more bass. What's most notable here, though, is where the volume controls are placed. You see, instead of using the tried and true method of remotes, docks or wire-based volume controls, the LS40's are integrated into its cups much like the LS30's were. By that, I mean that in order to increase the volume one must rotate the left cup to a desired position. Decreasing the volume, then, requires the opposite action. Furthermore, those who plan to make good use of the device's optional boom microphone (which is made of a material that allows it to be bent to one's liking) will want to take note that its chat-based volume controls are conveniently located in the right cup. Game mute and mic mute are also available at the press of a button, or cup in this case. Those who wish to cycle between the headset's different modes (gaming surround, boosted surround, stereo, stereo front and super stereo wide) can also do so with the touch of a button. Said button is located on the rim of the right cup, while the power button is conveniently located on the rim of the left.



A Word to the wise: Make sure to turn the LS40 on before you turn your controller on to make sure that it is paired properly. There is a warning on the cable that connects the two together, but it can be easy to forget.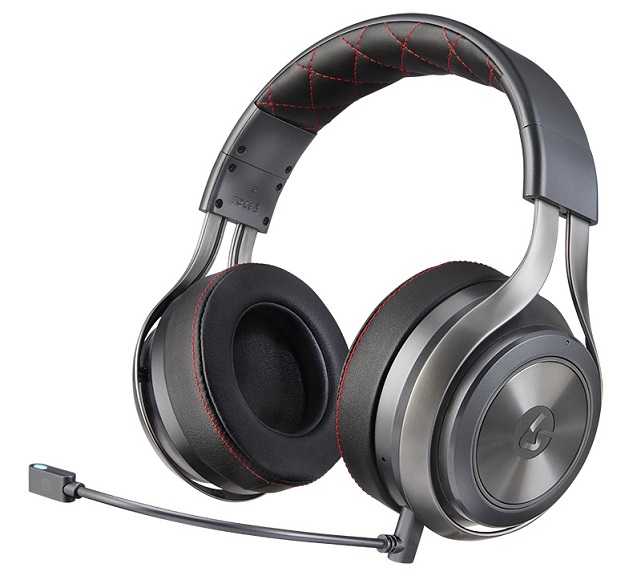 For the most part, the design is both appreciated and of great quality. There are, however, a couple of issues that I've come across during use. None of this relates to the battery, or its USB charging mechanic, though, because the thing definitely lives up to its promised battery life of up to 15 hours per cycle. I've used it for quite a while now and have only had to charge it once. To start, the volume controls could be a bit tighter. I say that because whenever I'd turn the volume all the way down then try to find the perfect level by rotating the wheel, it would take a bit to actually get to the sound. This is hard to explain in text, so bear with me, but it's almost as if there's a bit of quiet space before the wheel gets to audible sound.

Also, upon first setting up and using the LS40s, I must admit that I was a bit disappointed. I'd plugged its optical cable and supplied dongle into the Xbox One S console I was using, and had then followed the instructions word by word to make sure that the headset/chat cable was plugged into the right ports. However, although I could clearly hear the game that I was playing, I kept noticing a slight hiss or crackle in the right cup. The cause seemed to be the chat volume control, because when I turned it all the way down and turned the microphone (and its volume) off in the console's settings app, the slight hiss went away.

The only other crackling I've heard has come from the Xbox One itself (as it sometimes makes such a noise when changing apps for whatever reason), and the supplied boom mic. Although the messages I recorded using it were fully audible and sounded half-decent, they weren't as clear or as sharp as I'd expected and hoped.

The other issue that I have with this thing is not related to its volume controls or its sound, and seems to be a defect specific to my review unit.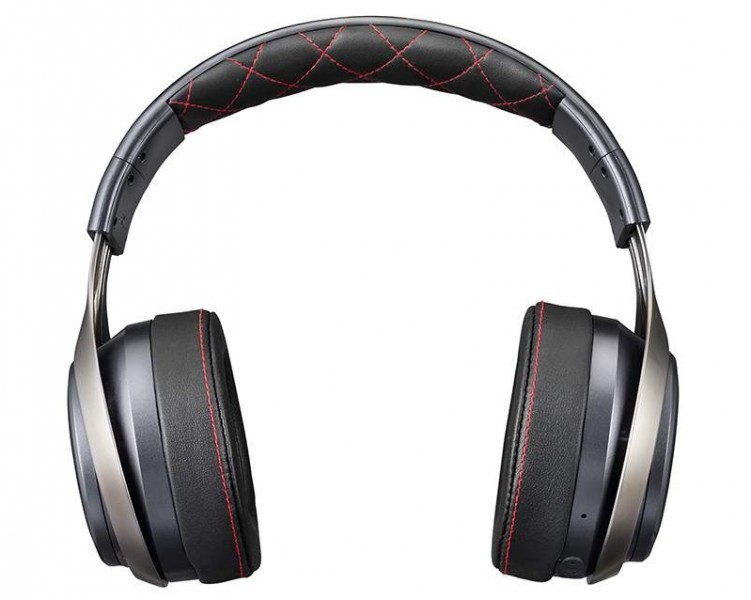 Although I've only had the headset for a month, I'm starting to notice that the metal that comprises its outer shell (and parts of its ear cups) is starting to suffer from decolouration. What I mean is that multiple spots are starting to look darker than they did before, despite me treating it with care, and keeping it in a drawer whenever it's not in use. Being that I deal with extreme Obsessive Compulsive Disorder, I make an effort to keep everything I own in perfect condition and treat each item as if it's worth a million dollars. This includes washing my hands well before gaming and never eating or drinking while doing so.

After speaking to LucidSound about this issue, they've told me that they haven't heard much about it from other users, though it is possible that something happened during production. I understand that and appreciate their honesty, because any mass-produced item is bound to have an issue every once and a while. Their support team has been incredibly helpful, and has offered to replace the unit, for which I'm appreciative.

Of course, what's most important is the sound, and it's of quality here.

Folks tend to say that in order to become fully immersed in a video game, you should invest in a good set of 5.1 (well, 7.1 now) headphones. I've always believed that this is true, especially for the hardcore audiophiles and competitive gamers amongst us, but I have also never had an issue with simply using my TV's speakers because they're actually quite impressive. That said, putting the LS40s on and using them as an alternative definitely made me realize why people say such things. It makes it easier to lose oneself in the game, while allowing for sounds that aren't always heard to really stand out and shine. During my time with this set, I've made sure to test it out on different games, and have come away quite impressed.

DiRT 4 truly came alive while using the LS40s, and that's a credit to both LucidSound and Codemasters' sound department. I could hear all of the intricacies in the engine sounds, the pings of pebbles and the resulting sound effects that came with driving on other surfaces, as well as crashing (which I sometimes do, because I'm not the world's best rally racer). Listening to them with headphones on made a noticeable difference.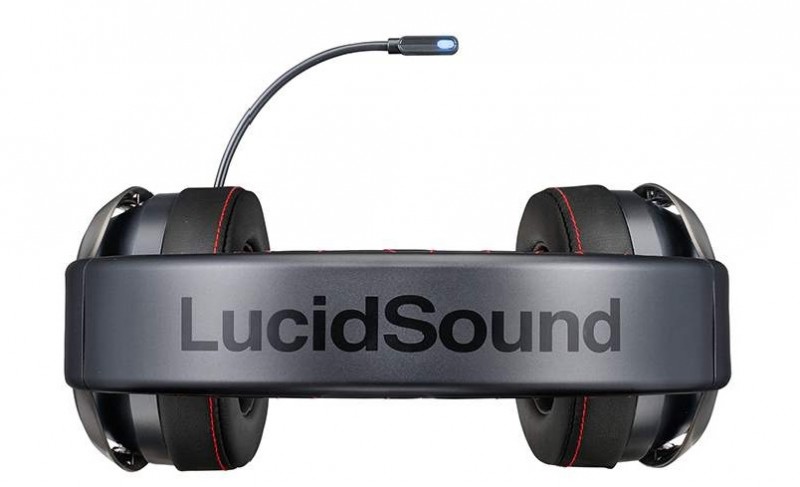 These worked very well and improved the experiences I had with other games too, such as Thumper, which is music-based in and of itself. I did, however, find that Forza Horizon 3 didn't suit the headphones as much as I'd expected it to because it always felt like the music was combating the sound effects, even after I'd gone into its settings and changed the mix to be more music focused. Then again, that's likely to do with the game and its design, as opposed to anything on LucidSound's end.

Simply put, the sound is clear, crisp and loud (when turned up). So much so that I only ever had the volume turned up to 70% or less. Part of that was because I feared blowing the speakers, but it was also due to me being happy with the volume I was getting and not needing anything more. Outside of the abovementioned issues and hiccups, the LS40 has really impressed me. It's a very nice, sleek and great sounding device that is sure to impress those who are looking for a high-end headset for use with their Xbox One consoles (or other devices,), but offered at a decent price. Sure, it may not be absolutely perfect, but it's definitely right up there with the best of the bunch.


Overall: 8.7 / 10