GRAVEL Preview (Post PAX West 2017 Ramblings)
by Kirby Yablonski








Just over a week and a half ago we got the chance to check out Square Enix's upcoming racing game GRAVEL on the Xbox One. Set to release in 2018, what we saw was still early, but yet it didn't look too bad at all. You can tell that it still needs some work, but given the time left in development, the game was fairly enjoyable to look at, and play. Developed by Milestone, a dev-team based out of Italy, and who are actually motorcycle racing game developers (e.g. Moto GP, MX GP), GRAVEL uses the Unreal graphics engine. Xbox fans should also note that it will be also optimized to take advantage of the Xbox One X; however, they did not say what enhancements will be available given the game is not out till next year.

One of the messages that was immediately communicated to us was that Milestone wants to make a "pick up and play" racer. They don't want people to have to be worried about any sim aspects of a racing game, such as having to tune a car, set it up for a particular race, and any other of these king of aspects, they just want players to be able to pick a skin for their car and head onto the track to race, it's as simple as that. It is very much an arcade experience versus many other racing games out there.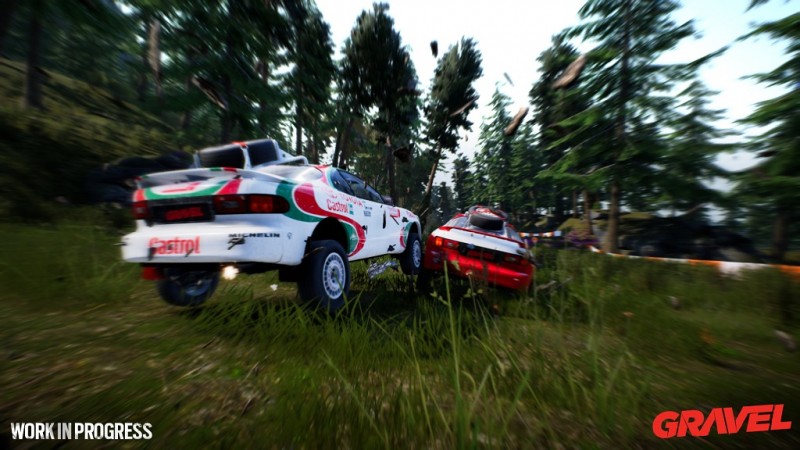 Even with the arcade-like experience, there is a single player story mode called GRAVEL TV. Alhtough we didn't check out any of this, we were told that you basically enter the world of GRAVEL as a new racer and you have to race through all the different racing disciplines, even facing off against boss like characters. There are 4 different racing disciplines in GRAVEL, including Cross Country (race from point A to point B), Wild Rush (fantasy tracks), Stadium Circuit (like motocross racing but for cars/trucks), and Speed Cross (traditional, but small, asphalt tracks). There are a wide range of vehicles too, from rally cars, trophy trucks, speed cross cars, and many others, and they also worked with manufacturers to get licensed vehicles in the game. In terms of the overall numbers, and yes, this is the corporate speak, there are 65 tracks, over 70 cars, 10 gameplay modes, 16 locations, 7 vehicle categories and 19 licensed manufacturers.

So, enough rambling, I am sure you want to know about the gameplay we experienced. We got to play one track form each of the four disciplines. You can change the time of day, the weather and the AI difficulty. We were also told that vehicle damage is only cosmetic, so it won't affect your racing. There are driving assists too, and should you turn them off, your score will "ramp up" given you'll be playing on what is seen as a harder difficulty (typical racing game stuff here). As we looked at the options, and what to do before racing in each discipline, there is not an overwhelming set of things to change and adjust, which again, leads to the simplicity of this racing game.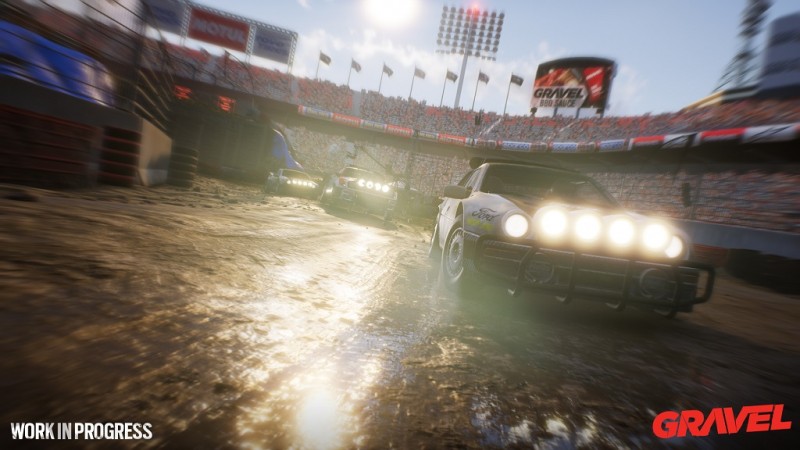 First up was Cross Country in the rain, and rain it did, in the game at least (PAX West was hot and muggy). Control was as to be expected in an arcade game, as there was not much of a sim aspect to the feel. It took a bit of time for me to get used to the control, given that I have most recently been playing the more sim-focused DiRT 4. The Unreal 4 engine looked pretty good, with the rain affecting the surface of the ground and the handling. I used the 'hood' view, as I do with any racing game, and raindrops formed on the hood and 'windscreen'. The track in front of me was dug up by other cars too, so the ground itself was being transformed by the other cars. I won't lie, the handling wasn't as smooth as it could have been in this mode, but it was already better than some other racers I have played at home.

Next up was the Stadium Racing. We used a Landcruiser racing truck on this track. It was this race that we were informed of a 'rewind' button (Left Bumper) that allows you to rewind your last 10 seconds. The stadium tracks are very small, and very tight, and you'll be bumping and grinding throughout. The track we played was set in sunny weather had a sun effect that could almost blind you at various times. Having only cosmetic damage allows you to not worry about the other vehicles hitting you, or you hitting them, in the tight corners. The track gets quite "chewed up" during the race too, again, as a result of the Unreal 4 engine. Even in this early state, this mode looked good and played pretty good too.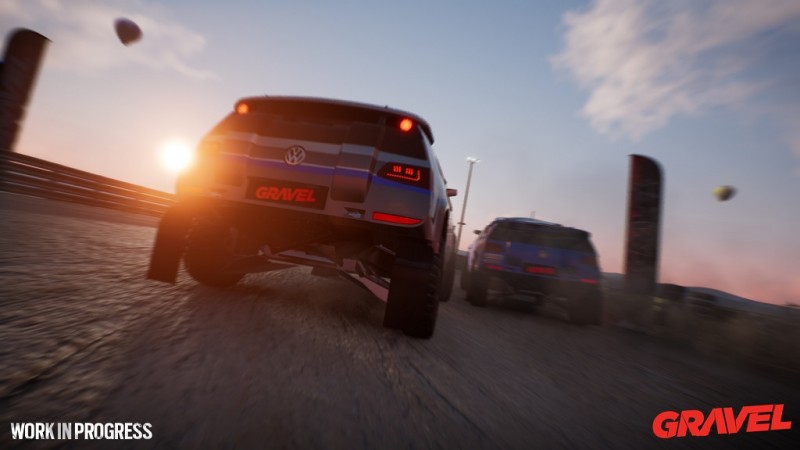 As we had just played Stadium Racing, we'd thought we'd continue the small and tight track feel of the game, so we hit up some Speed Cross. The track was small, tight, and full of hairpin turns. What I noticed was that the AI was quite aggressive, and they did not hold back. There were many times I was nudged by the AI as I lined up and braked for a corner, or two, and I had to fight to keep in my racing line. I know that Rally Cross is an aggressive sport by nature, and that I only raced this discipline once, but man, who knows how they will continue to race in this mode as one plays the full game. What I also found was that the control was tight, and the use of the e-brake to drift was pretty good. The sound of these cars also caught my ear, so to speak, as they sounded like the high revving, small rally cross cars that actually race these types of tracks. I was pretty impressed with this mode.

Our final discipline to check out was Wild Rush. These tracks are fantasy tracks that are, what we were told, "carved out" of the environment they are in. For this demo the track was set in an Australian mining quarry. It was definitely original, and not an environment that I have raced in before in any game. I used a Chevy trophy truck, which is all wheel drive and a tank compared to the rally/speed cross car I had just previously used. And oh boy, what a difference it was. The truck was fast, but it actually felt heavier in terms of the control. It swayed and rocked to the bumps on the track, and again, the AI was pretty aggressive and hugged their lines giving me little opportunity to make clean passes. I switched to the 'behind the truck' view and could see the damage the truck was taking, as the fenders started to flap as they were being separated from the frame of the truck. It was a long track too, which is always the way in fantasy tracks. Again, control was pretty good, even in an early state, and it was kind of fun, even though I didn't win this battle.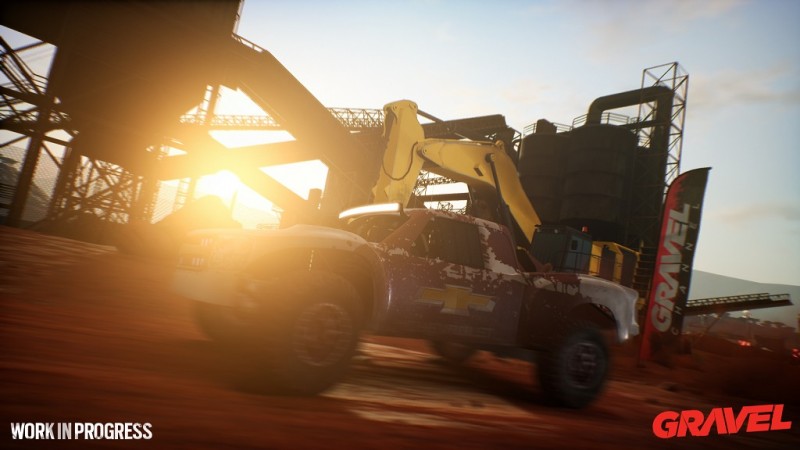 Overall, I walked away from my time with GRAVEL fairly impressed, even in its somewhat early state. Sure, there are some visual issues that still need to be worked on, and control is not always spot on, but the game is not done yet, and 2018 is still far enough away that the game will continue to be fine-tuned. I like the fact that it is about simplicity, and about just picking the game up and racing. Most racing games of this nature don't have legs, but GRAVEL stands a chance to make some gains in this area given the single player story mode of GRAVEL TV. It will be interesting to see how this is flushed out. Regardless, we hope to have more coverage of GRAVEL as the game continues its development.