Review: SCUF Gaming Accessories for Xbox One Elite Controller
by Kirby Yablonski








Gaming is an interesting hobby, as there are so many things one can buy to make this hobby more enjoyable. One of the more important areas of gaming lies in the controller that gamers use to play the game(s) of their choice. Through the years many first party controllers have been improved upon, and some would say perfected, by third party companies. One such company is SCUF Gaming. They are well known in the eSports arena, as they have been helping teams master their games through innovative products, including some pretty neat controller options, for many years.

Last year Microsoft took the bold step of getting into this market by introducing a controller that was branded to take Xbox gaming to the next level, and that controller was the Elite Controller. It has interchangeable analog sticks, an interchangeable d-pad, as well as triggers/paddles on the back side that just happen to be removeable. The controller is also programmable, from which buttons you want to assign to do what to the sensitivity of the analog sticks. To say that this was a good controller was an understatement, from the features to the build quality. With that being said, could this controller be made even better? I never thought I would say this, but yes it can, and SCUF Gaming has made some accessories that replace some of the stock Elite Controller parts making for an even better Elite Controller for Xbox One gamers to enjoy.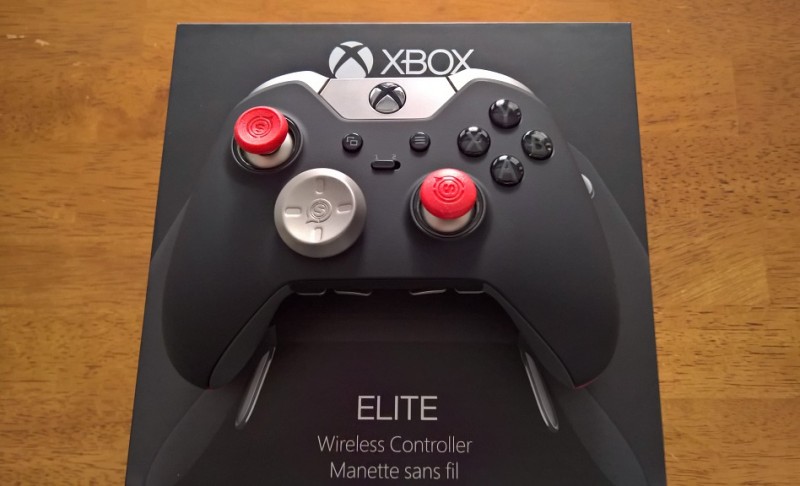 Over the past six (6) weeks or so, I have been putting a few of SCUF Gaming's Elite Controller accessories through their paces, and I must say that I am VERY surprised with how they made using the Elite Controller a better experience. This is something I did not think would be possible, but with a few simple additions, and changes, using SCUF products, the Elite Controller becomes that much better. SCUF Gaming has two upgrade packages available to purchase for existing Elite Controller owners: the SCUF Elite Paddle Control System & Directional Bias d-pad and the SCUF Elite Precision Thumbsticks and Pro Grip Handle Kit.

Now, to get the full advantage of these accessory kits, Elite Controller owners are going to have to do a bit of work to install some of included parts, but don't worry, it's not a lot of work, it's not that hard, and it won't do any damage to your existing Elite Controller. In terms of the Elite Paddle Control System & Directional Bias d-pad, it is a simple affair. The new paddles are attached to a new battery cover, just simply replace the stock battery cover of the Elite Controller with the Elite Paddle Control System battery cover and you are done. The Directional Bias d-pad is a new d-pad option which simply snaps into place, magnetically, like the other two d-pads that come with Elite Controller when you buy it.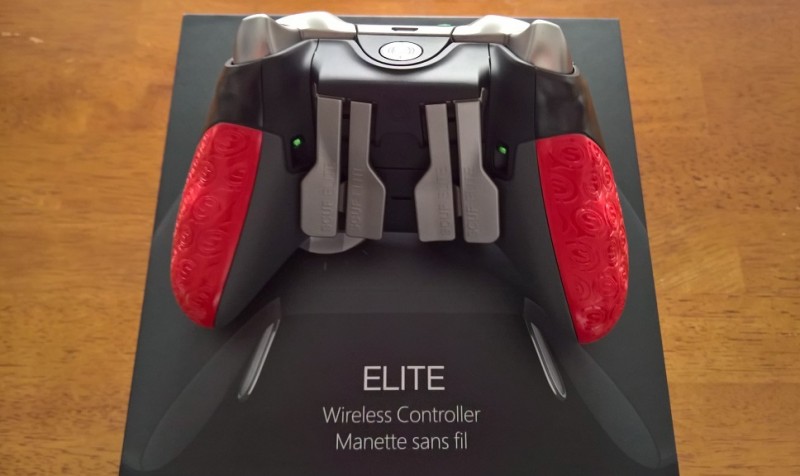 Where a bit more work will be required is with the Elite Precision Thumbsticks and Pro Grip Handle kit, specifically the grips. The whole kit comes with two new grips, as well as six (6) analog sticks for you to choose from (two standard, two taller, and two domed). The analog sticks are simple to replace, as they are just like the stock ones and click on magnetically with ease. In terms of the new grips, you will have to take the original grips off the Elite Controller. To do this, SCUF Gaming has included a tool that allows you to 'pry' the grips off the original Elite Controller. It's a simple step, and very easy to do, requiring very little force. The instructions are clear and the process is simple. Once you remove the original grips, you will put on some double-sided tape (already cut and ready to put on) on the Elite Controller where the grips go, then you snap on your new grips. The whole process only takes a few minutes too, and once you're done, pack up your original Elite Controller grips and sticks that you replaced in the original SCUF packaging for storage (this is my suggestion) and you're good to go. I should note that you can chose one of five (5) colours for the SCUF Elite Precision Thumbsticks & Pro Grip Handle Kit, and they range from black, red, white, blue or green.

As I said earlier this review, I find that the SCUF Gaming accessories make for a better Elite Controller, let me explain why.

The Pro Grips are covered with a better textured rubber, as are the Precision Thumbsticks. If there is one way to describe how they feel, it is that the is somewhat 'sticky'. The reason I put this in quotes is that they don't actually stick to your hands or fingers, nor do they leave a sticky residue, it's just that the grips and analog sticks seem to be more 'stickier' then the stock Elite ones. In terms of the grips, the controller seems to stay in place a lot better with the rubber material that is on them, and the analog sticks seem better to use as I felt my fingers could 'grip' onto the top of the sticks better. The grips are also contoured to fit your hands more naturally. If you look closely at the grips, they have areas that are curved to let you grip the controller better where your fingers meet your palm. It sounds strange to be describing it this way, but once you hold it you will understand what I mean.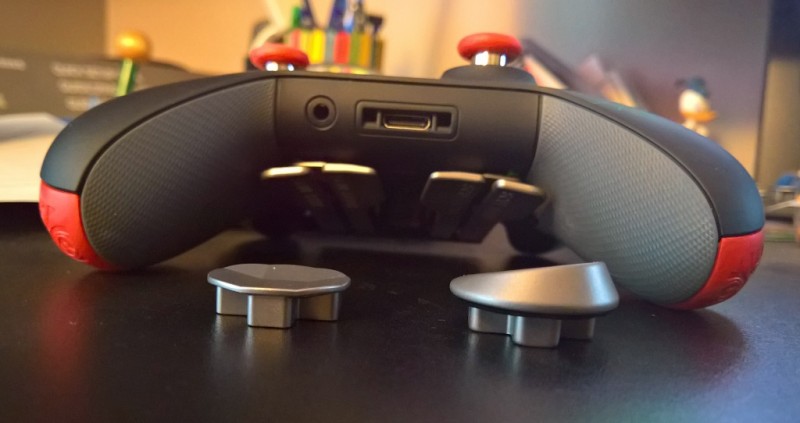 One of the issues I have always had with the Elite Controller is the placement of the original paddles. Anyone who knows the Elite Controller knows that the paddles run along the backside and then along the actual grips for a short bit. Personally, I found that I had to relearn how to hold a controller as I could not grip the Elite Controller in the traditional way that I would a non-elite controller without paddles. The Elite Paddle Control System is a great solution to this problem. I could say "Why didn't Microsoft do that?", but then again, they would have probably been accused to copying, which I understand. Anyhow, the Elite Paddle System allows all four triggers to go almost straight down the back, allowing you to pretty much grip the controller the way you'd grip a normal one. It was a godsend for me, and I find that I am using my Elite Controller more often than not, as I don't have to worry about the paddles, or take the original stock Elite paddles off when using it, which I did as I was tired of accidently hitting them and adjusting my grip as I played. The SCUF paddles are a simple solution, but one that works very well (in my honest opinion). And as for using the SCUF paddles, they are very easy to reach, and very responsive. I use them far more then I did the standard ones, as they are somewhat more 'natural' to use.

Packed in the Elite Paddle System is the Elite Directional Bias d-pad. When I first saw this d-pad, and its fancy name, I was quite skeptical of it given the weird shape. Well, after using it the past six (6) weeks or so, I can honestly say that I am a believer, and have been converted to only using directional bias d-pad. The shape is such that when you bring your thumb from the analog stick to the new d-pad, the ridge on the right-hand corner literally stops your thumb from going any further, and it allows you to be "oh-so-slightly" quicker when using it. I really didn't think that it would be anything special, but the way I can just move my thumb to the d-pad, and know that the ridge will stop me from moving on by it, and the fact that the d-pad is a bit higher in general size, it really does make a difference. I am so used to this now I don't know if I could ever go back to the regular ones offered with the Elite Controller.




If I have any complaints about the SCUF Elite accessories that I put through the test, it would be two minor ones aimed at the sticks and grips. The first is that if you get your hands or fingers wet (e.g. picking up a glass of water or soda with condensation on it) the rubber material can actually feel slippery for a bit, but once things dry off it's back to good old 'sticky like'. The other minor complaint is that the grips and tops of the analog sticks seem to get a bit dirty quickly, which I guess is to be expected given the rubber compound. That being said, one can just always to make sure to keep it clean by wiping it down now and then.

Overall, I would say that I am more than impressed with the SCUF Elite accessories for the Xbox One Elite controller than I had expected. It seems that SCUF Gaming has taken their third party controller eSports expertise and applied it to what you can buy for your stock Elite controller. I for one really didn't think that anything could make the Elite Controller better, but SCUF Gaming has surprised me with ergonomic design, smart placement of the paddles, and quality materials. The only thing you really have to consider is do you spend $30 usd (Elite Precision Thumbsticsk & Pro Grip Handle Kit), $40 usd (Elite Paddle Control System & Direction Bias d-pad) or $70 usd (both) for accessories to put on a controller you already spent $149 usd ($189 cdn) for? Well that is up to you, but I can confidently say that the SCUF Elite Accessories do make a difference, and in a good way too.

OVERALL SCORE: 9 / 10