Xbox One X - An Unboxing of the Retail Unit (In Pictures)
by Kirby Yablonski








Xbox Canda was kind enough to send us a Xbox One X retail unit. We have had it for a few days, but we thought we should share "what's in the box" with you. In a bit of a different twist however, we aren't going to do one of those fancy YouTube videos that all those kids are doing now a days, as we are going to harken back to the old days, when people took pictures and posted them to show what their experience was, and what things looked like. I know, that is some cutting edge journalism right here, pictures....but we thought why not be different? So, without any more stallilng or beating around the bush, check out what Microsoft has put in the Xbox One X retail box.

As you can see, the Xbox One X box shows off what really matters, the console itself. Yep, it's a box with a picture of the mid-generation update for Xbox One fans to ponder.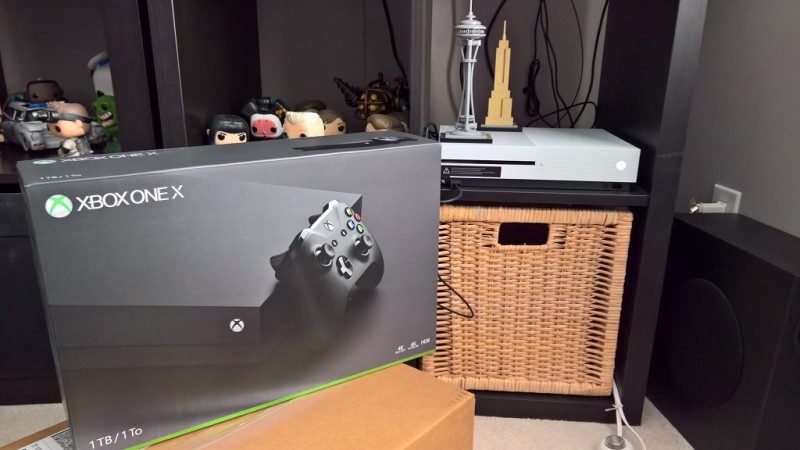 Upon opening the box you are greeted with a folder of information. These are just not any tabs of paper though, they have some information, and codes, that you may want to check out. There is a quick guide for hooking the console up (like most Xbox One fans, or techies as a whole, won't know how to do that *heh*), as well as a code for 14 days of Xbox Live, and a code for a free one month trial of the Xbox One Game Pass. We think that the Game Pass code is pretty cool, as it gives buyers access to over 100 games to check out. Sure, the majority of them aren't Xbox One X Enhanced, but hey, they will still play great on the Xbox One X nonetheless.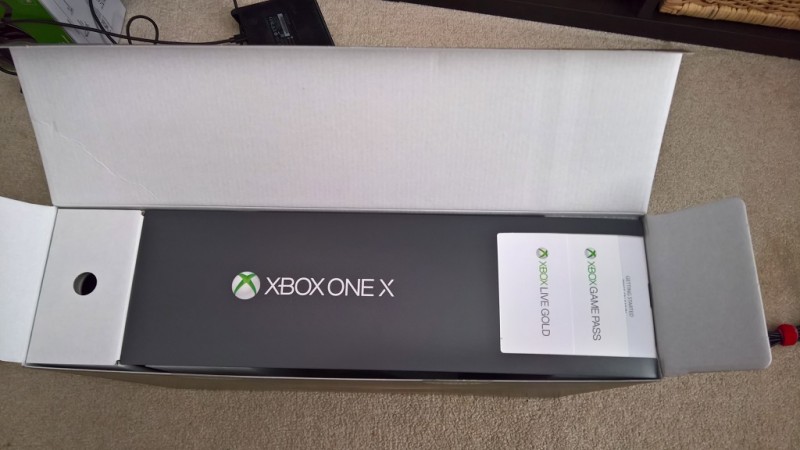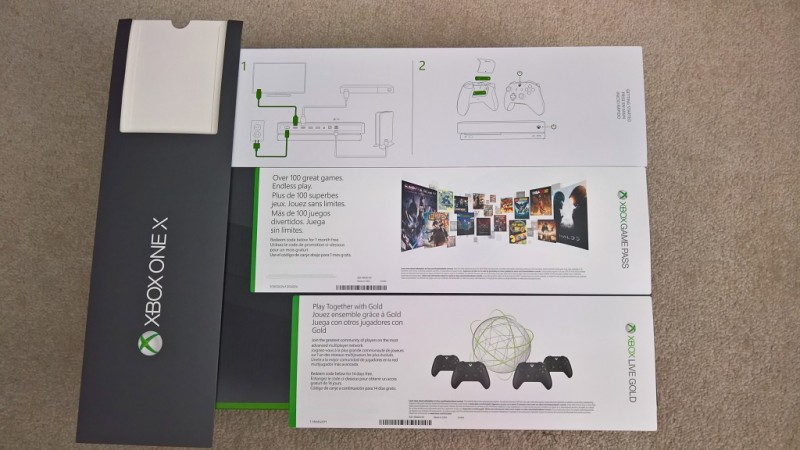 Next up, we pulled out the cardboard box on the left of all the informational tabs, and in here you'll find a brand spanking new Xbox One X controller (which is not any different from the current Xbox One S controller), as well as the necessary cables to hook up your new console. If you are using a first generation Xbox One, and with regular HDMI cables, you will want to make sure that you use the HDMI cable that is included in the box, as it supports the bandwith needed for 4K picture data and an HDR signal to pass through to your TV. Even if you are not using a 4K TV, it's highly recommended you use this cable. If you are swapping out an Xbox One S, the HDMI cable for that unit is compatible with the Xbox One X.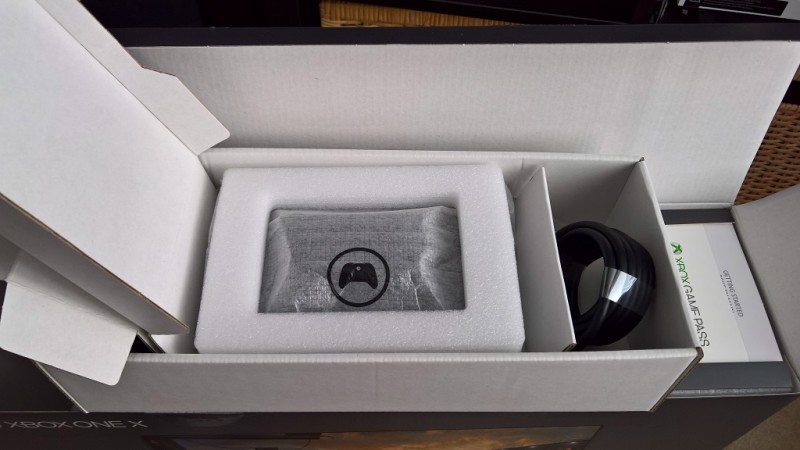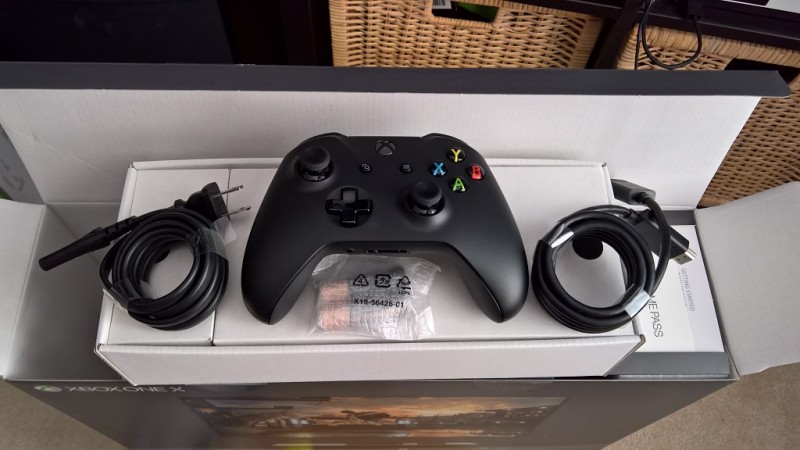 So, with those two things out of the way, it was time to pull out the highlight of the box, the Xbox One X console. It's been a long time coming for us here at XBA, given we are very excited to see what exactly Microsoft has put together for their mid-generation update that makes it the "Most Powerful Console" availalble to date (yes, we know, that is Microsoft's marketing hype, but in all actuality, it's true, it is the most powerful console at this moment). Regardless of all the marketing and advertising slogans, there is an Xbox One X in the box for goodness sake, and we got to take it out and check it out.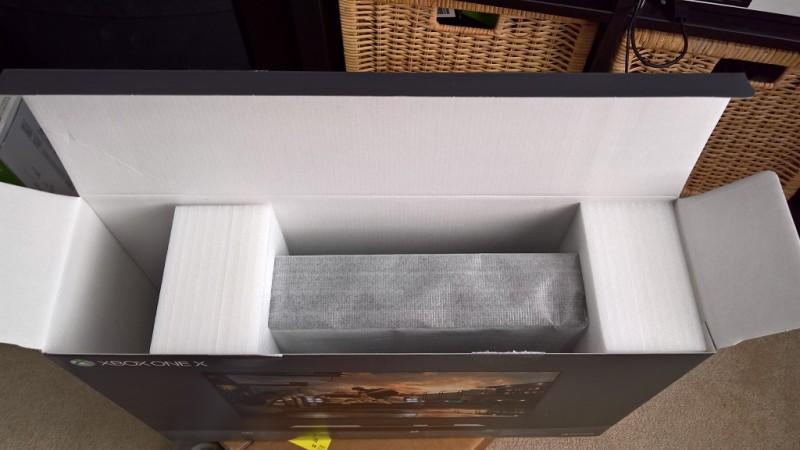 The console was surprisingly heavy, and if you check out the stats online you'll see that it weighs in at 8.4 lbs. When you think about it though, it kind of makes sense as they custom designed it to incorporate a custom vapor coolling unit, which keeps all things cool inside. It's got a nice matte black finish and we think the console will look good no matter where you put it. And yes, some of here at XBA are #TeamSticker, so at this point the sticker remains on.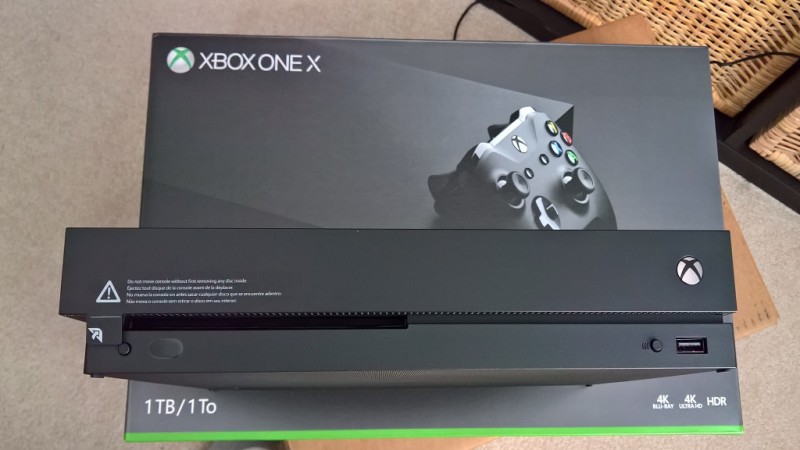 Size wise, it's pretty cool to compare it to the Xbox One S, which we did by putting in on top of one. You can see how close they are in size. The main consmetic differences though are the disc tray slot location, the front USB and infra-red receiver, and the vents on the back of the Xbox One X are different. The two unites are closer than I thought they would be in size though, as you can see in the pics below.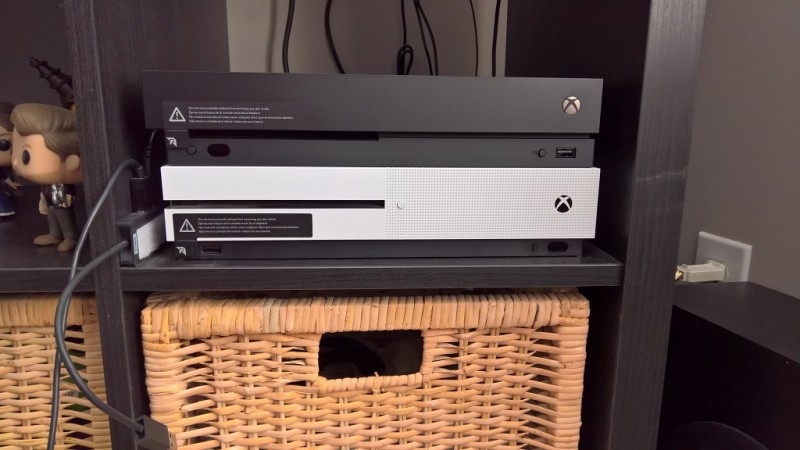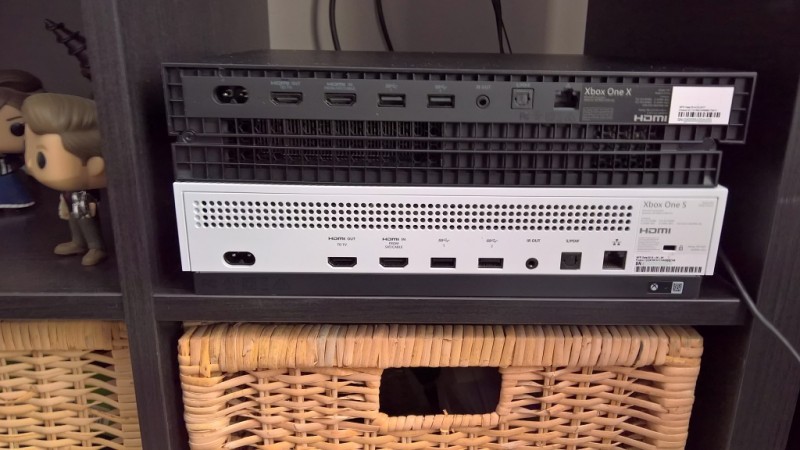 Ok, so there you have it. That is all we are going ot say about the Xbox One X at this point, given we aren't doing a review on it at this time. We just wanted to share with you the contents of the retail box, and give you a sneak peek at what the unit looks like. We'll definitely have more coverage in due time, but until then, that is all folks.