Razer Wolverine Ultimate Review
by Adam Dileva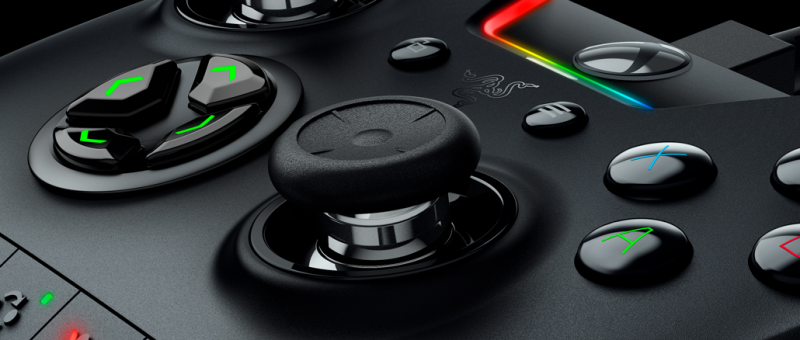 Features:

- 2 shoulder Hyperesponse Multi-Function Bumpers
- 4 Multi-Function Triggers
- 4 Tactile Switch ABXY action buttons
- 4 button Quick Control Panel
- Multi-Color Razer Chroma Lighting Strip
- Optional trigger stops for rapid-fire
- Zero slow-turn concave analog joysticks
- 3.5 mm audio port for stereo audio output and microphone input
- Quick-release cable feature
- Carrying case
- Detachable 3 m / 10 ft lightweight braided fiber cable with Micro-USB connector
- Approximate size: 106 mm / 4.17 in (Length) x 156 mm / 6.14 in (Width) x 66 mm / 2.60 in (Height)
- Approximate weight (without cable): 260 g / 0.57 lbs

I still remember when Microsoft announced the Xbox Elite controller, how people scoffed at the $150 (USD) price tag, thinking it would never sell. Well, Microsoft proved everyone wrong. While the price was steep, the quality was unmatched. I own one myself and absolutely love it, as it's probably the best feeling controller I've ever used. While not many will be able to justify the price of a controller in that range, the fact is that there is a market for core gamers that do want the best, and now Razer is trying to edge into that market with their Razer Wolverine Ultimate controller for Xbox One (as well as Windows 8 & 10 support).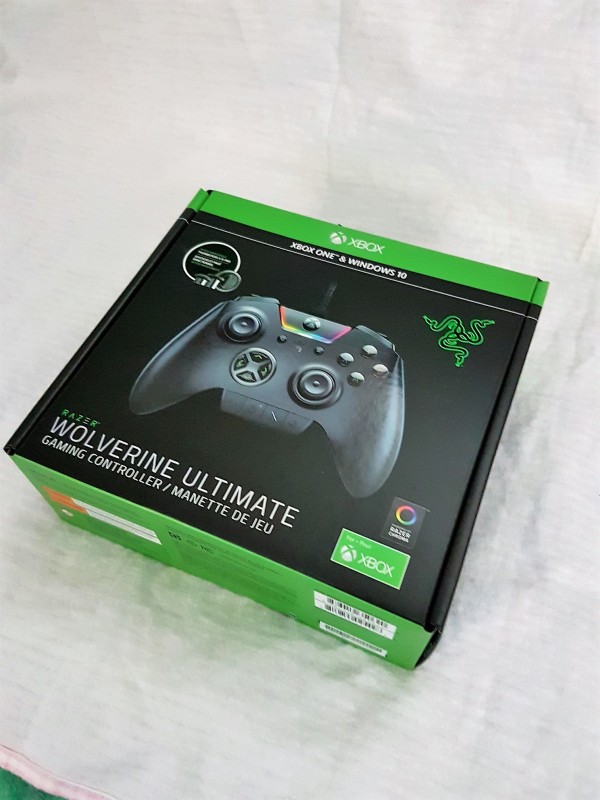 Razer has released a previous Xbox One controller, and since then they have learned what's worked, and what hasn't, and they have brought an Elite-like contender to market, albeit with some differences. In their previous attempt at being a high end controller maker, the Wildcat was a stepping stone to get to where the Wolverine Ultimate currently sits, as it has fixed many of the concerns people had with it, plus it looks much more professional now with its pure black coloring, giving it a much more serious look rather than something for just gamers.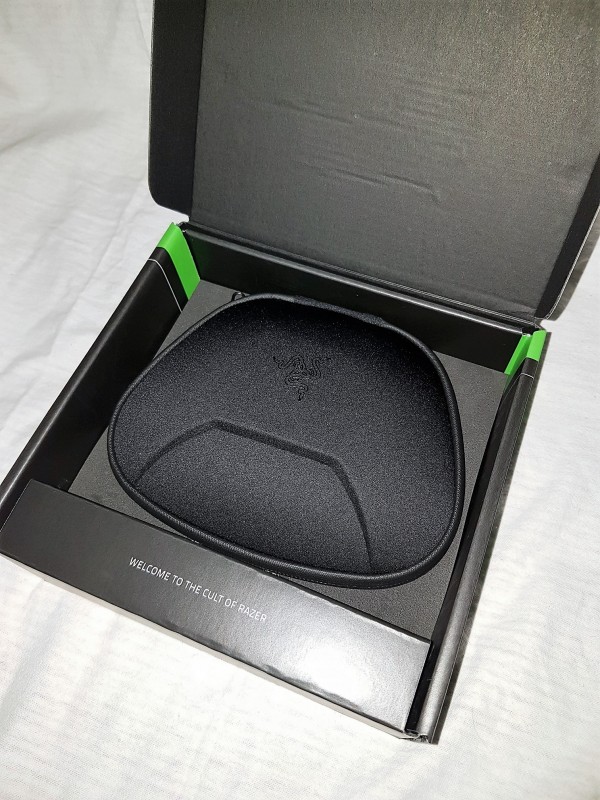 So, what does the Wolverine Ultimate do apart from other controllers? At a quick glance you have the ever popular Razer Chroma lighting, interchangeable thumbsticks and d-pad, extra buttons (all of which are remappable), and a great guild quality with textured rubber grips that feel great to hold. It's no secret that Razer is trying to copy the success that the Elite had, but with their own twist on a few key aspects. So, let's delve right into it and see if all of these features justify their asking price of $159.99 USD.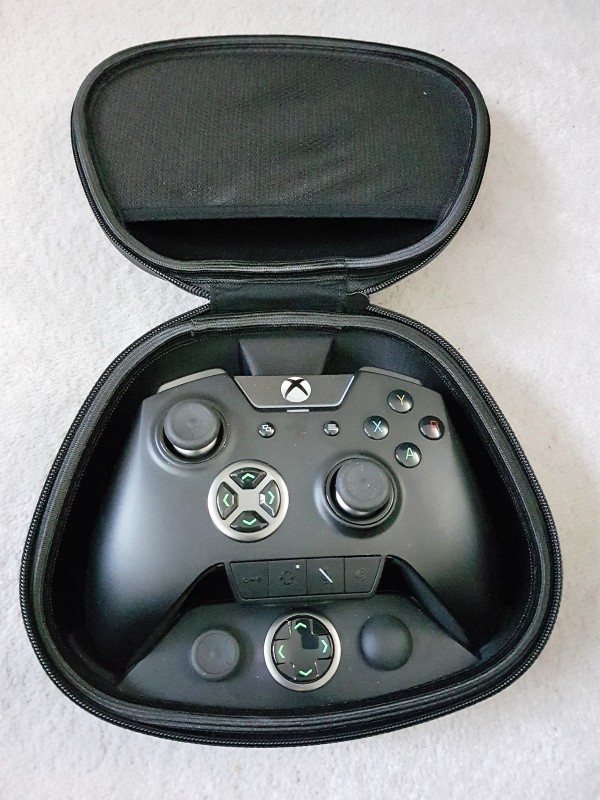 Lighting on hardware is unnecessary, but it is really cool to have, which is probably why nearly every Razer product includes their awesome Chroma lighting, capable of 16.8 million color variations. Is that needed, especially on a controller? Of course not, but is it necessary? Sure is. Just like what you'd find on any of their PC peripherals, Chroma lighting on the Wolverine Ultimate is included within a thin strip that goes around the Xbox home button area.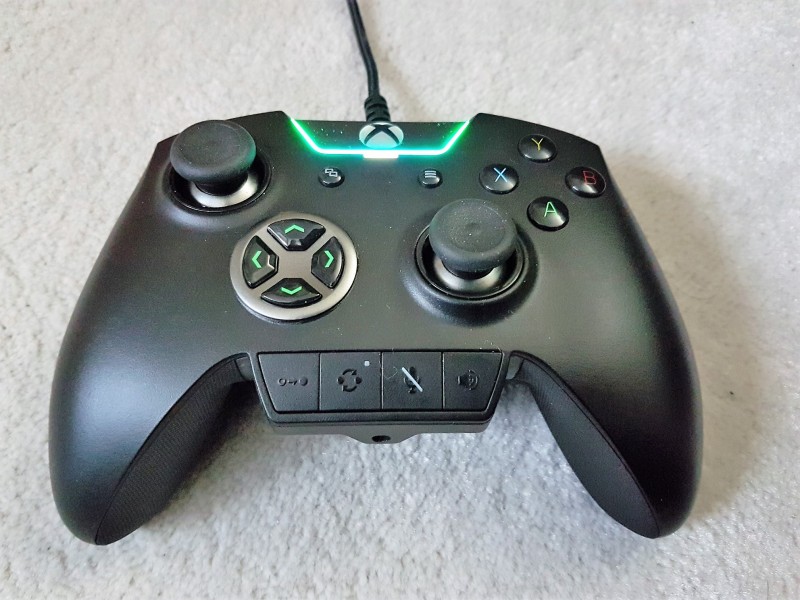 You're able to set a static color of your choosing, cycle though all of the colors with the 'breathing' setting, reactive and even use 'immersive' mode, which will light up whenever the controller vibrates. Again, yes, these are just 'fluff' options, but it's fun to find the style that suits your personality best. It's going to go unnoticed when you're focused on your game, but I have to say, my 5 year old daughter absolutely loves the colors as they scroll is the 'spectrum cycling' setting, seeing all the colors cycle in an ongoing wave. Razer is also woriking with game developers to incorporate the Chroma Lighting into games, so it will change during specific scenes or actions; however, nothing I played does this....yet.


The secret sauce behind configuring the Wolverine Ultimate to your exact preferences is through its Razer Synapse app on the Xbox store. This is where you'll not only be able to program the confusing the Chroma lighting to your favorite style, but also tune the controller to exactly how you want, based on what you're playing. You're able to set specific thumbstick sensitivity, controller vibration, remap buttons and create multiple profiles for any settings or game type. There's a lot of customization here and it's very simple to use as the UI is very clean and easy to understand.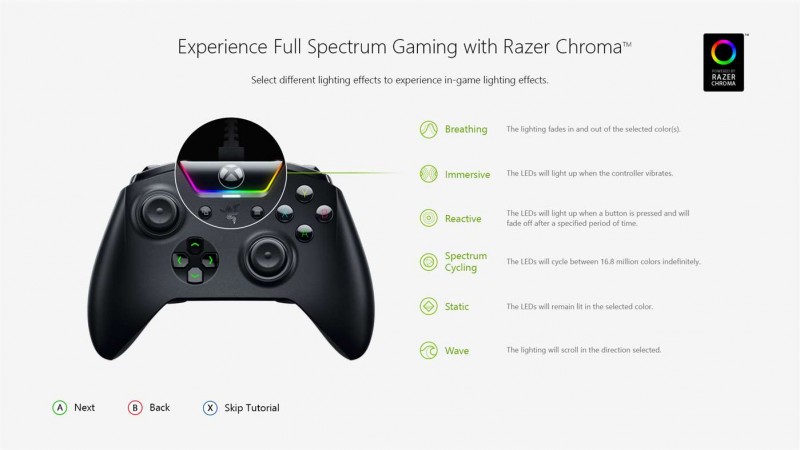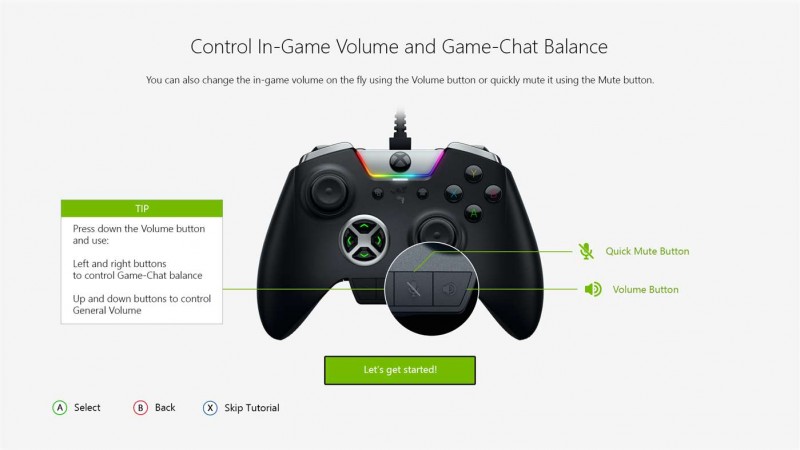 Although you're unable to remap the standard buttons and triggers, you're able to remap any of the Razer "M" keys to your liking, which I'll delve into shortly, but this is how you can essentially duplicate any face button, trigger, stick or movement to any of these 'M' keys. This customization adds for a whole new layer of strategy with your games, as you can set up the button customization that some would prefer. For example, in the recently released game Call of Duty: WWII, you can map your score streak activations to one of these buttons so that you don't need to take your thumb off one of the sticks to press the d-pad, the possibilities are endless.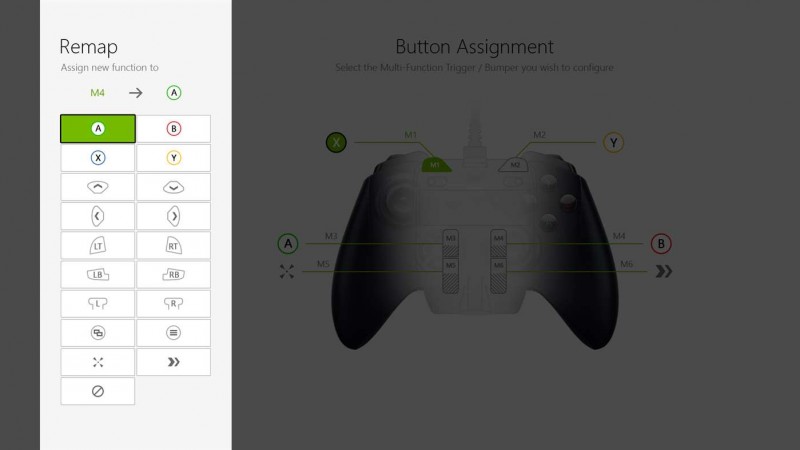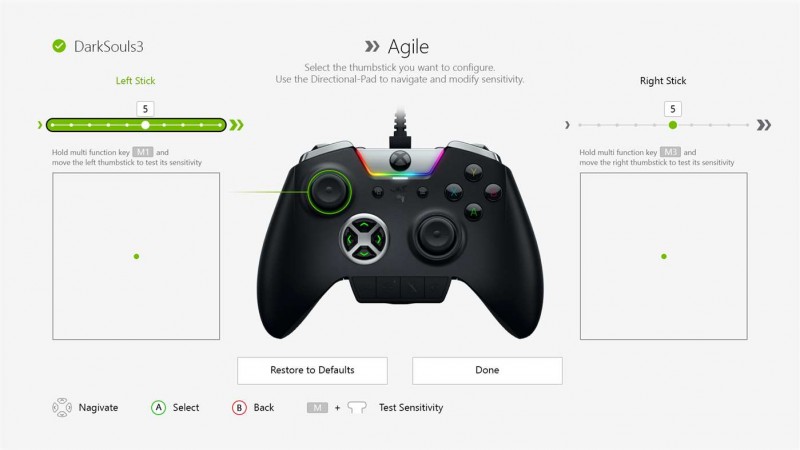 Much like the Elite, the thumbsticks and d-pad are interchangeable with the included extras, but the Wolverine Ultimate doesn't utilize the paddles that the Elite does and opts for static buttons/triggers on the back instead. Included is the two standard sticks and a 4-section d-pad, much akin to older style controllers that fighting game fans prefer. Also included are two extra thumbsticks, one concave and another standard, yet taller convex stick. I do wish there were maybe one or two other types, as the default ones work fine, but they aren't sunken in enough, which caused my thumbs to slip off many times.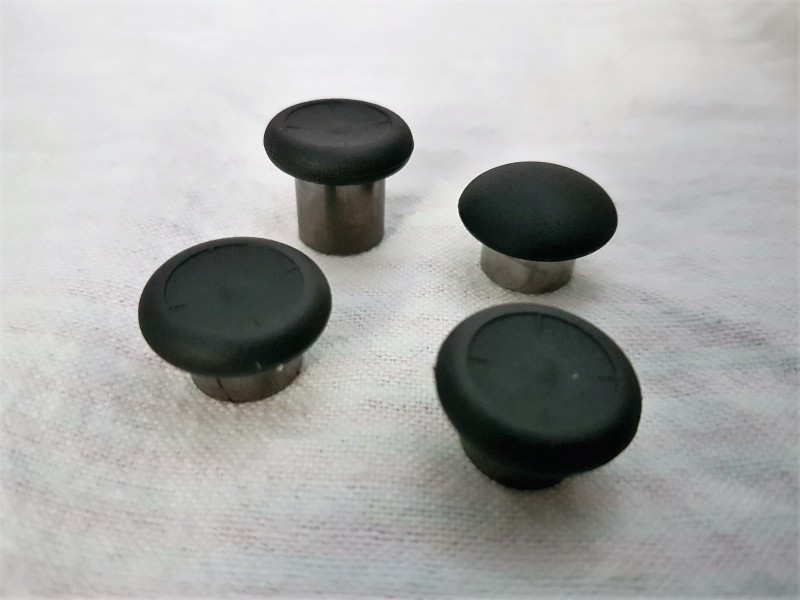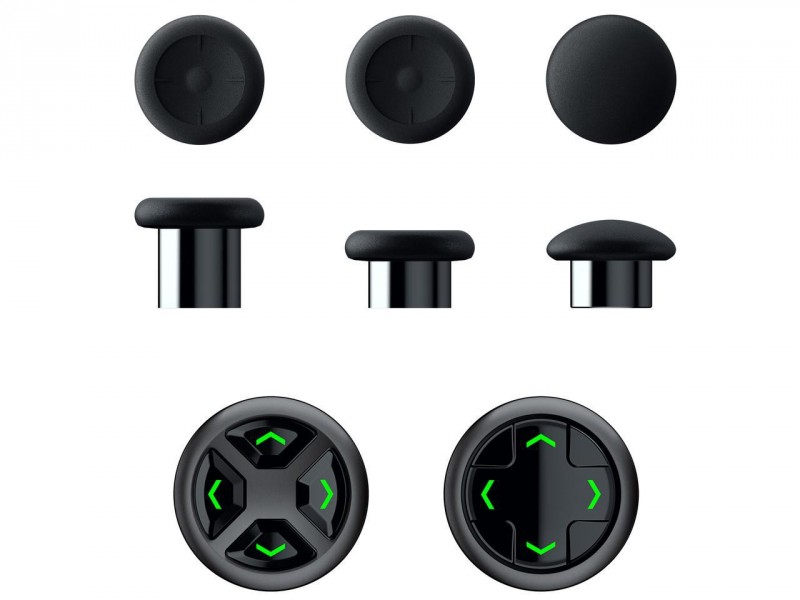 Because of the limited number of analog sticks, you're unable to use two long sticks at the same time, as only one is included, and only having one concave stick is an odd choice as well. The d-pad options are standard, though they are quite thin, so as they are magnetically connected, just like the sticks, it's quite possible to have them lift up or even pop off if you press on the outer edge hard during an intense game since they are created as a circular disc, unlike how the Elite ones are designed. This only happened to me once, but it's something that's never occurred with my Elite.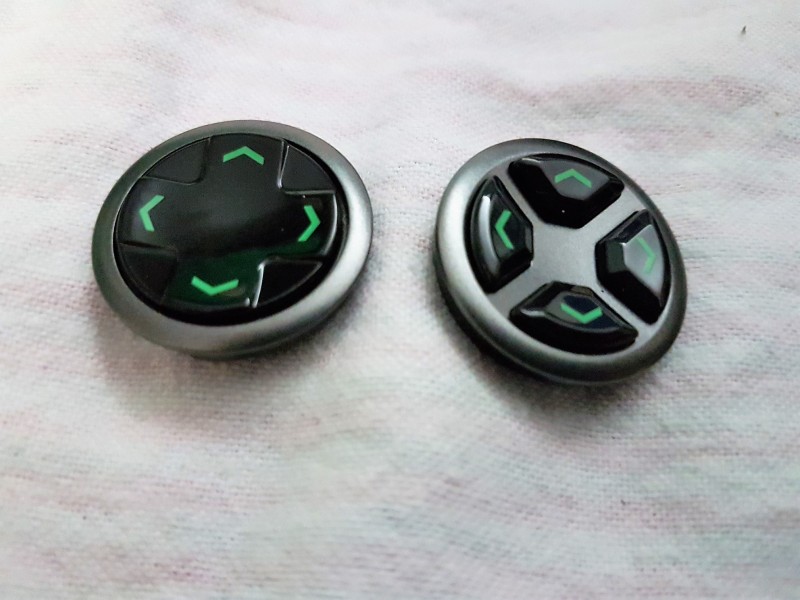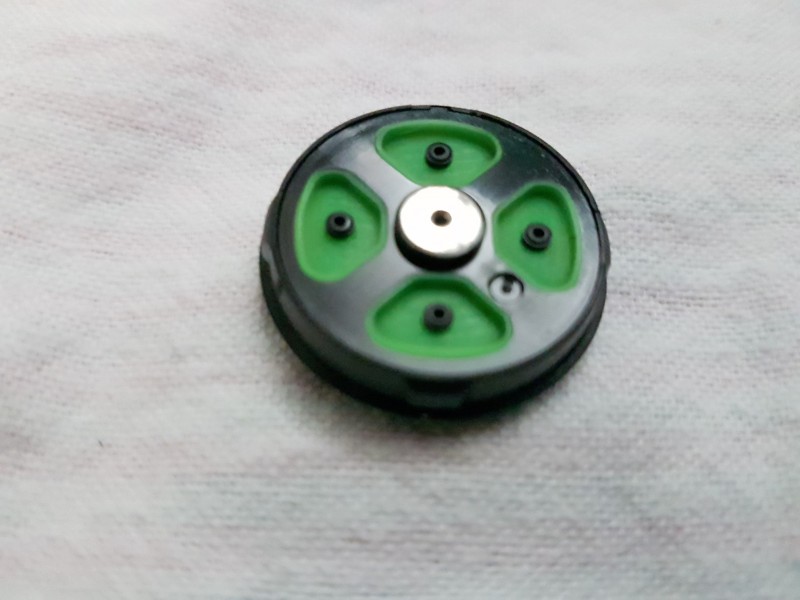 It should be noted that the nubs that the sticks utilize are a completely different size than the Elite, so this means that you're unable to swap in any of your Elite sticks; not something I expected, but this also means that the Wolverine Ultimate has proprietary accessories, of which there's no replacements or third party solutions to, that I'm aware of. The d-pad is also created differently, so if you lose or break any of these parts, you'll have no choice to either contact Razer for options to rectify this.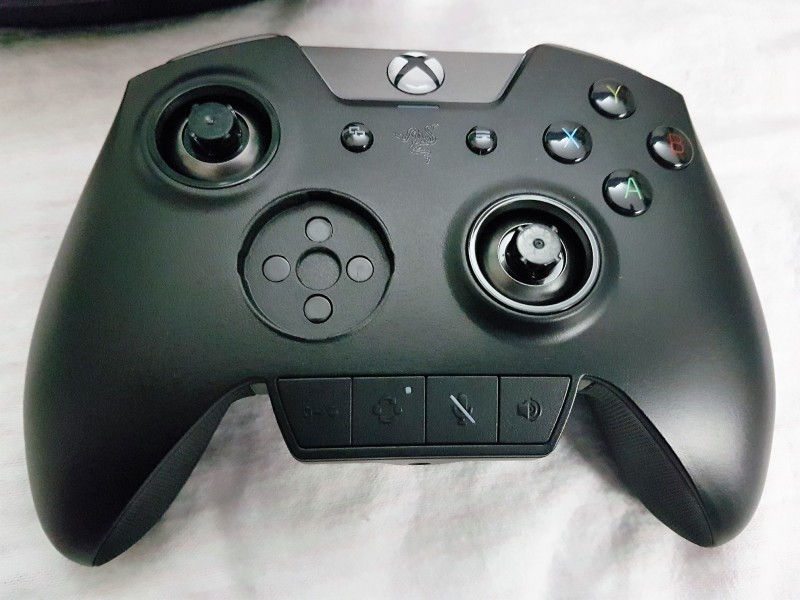 As for the buttons, each one, including face and 'M' keys, have a very distinct Razer-like click to them, almost sounding like their mice for PC's. The 'M' keys have a very short range for clicking, which is almost like a hair trigger, but for the buttons themselves, it takes a little getting used to. While some will really enjoy the 'clicky' face buttons, I found them different than the standard, which is fine, but they took some getting used to. These buttons aren't as "squishy" as standard face buttons on other controllers, so the distance to press them is much shorter.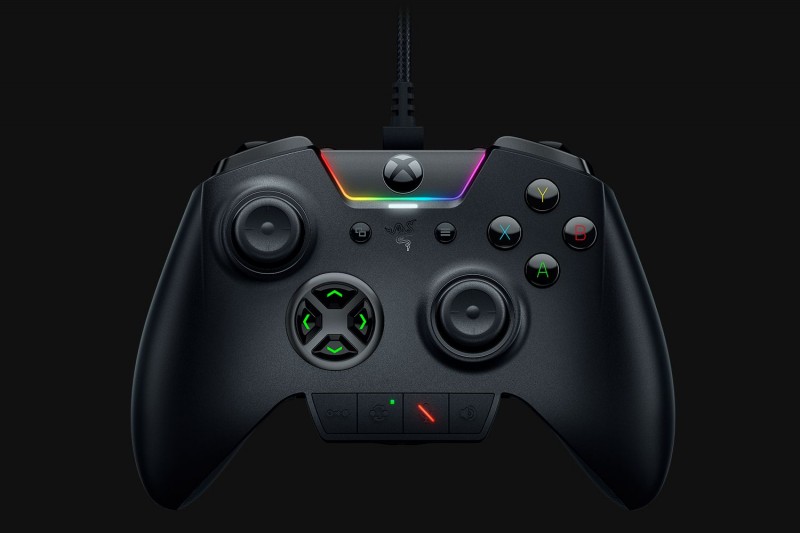 Each button feels like it has been designed with a specific purpose and the 'click' of each one feels great. The placement of the M1 and M2 keys on the top near the triggers and bumpers looks very odd at first, but they start to become natural as you remember that they are there. The M3 to M6 buttons on the back are a completely different layout than the Elite, as they aren't paddles at all. These are housed in the middle of the back in a vertical layout.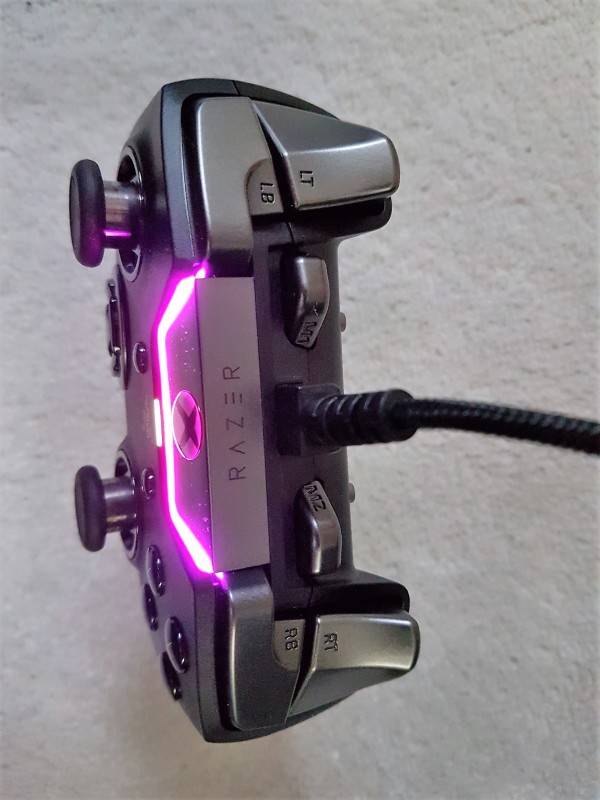 What I do like about this setup is that they are buttons and 'click', especially from the trigger-like M5 and M6. The issue I came across though, after dozens of hours of use, is that I have short fingers, so I constantly had to reach and extend my fingers to reach the buttons on the back. Those with longer fingers should have no problem, but I constantly had to think of where to extend my fingers to reach those back keys.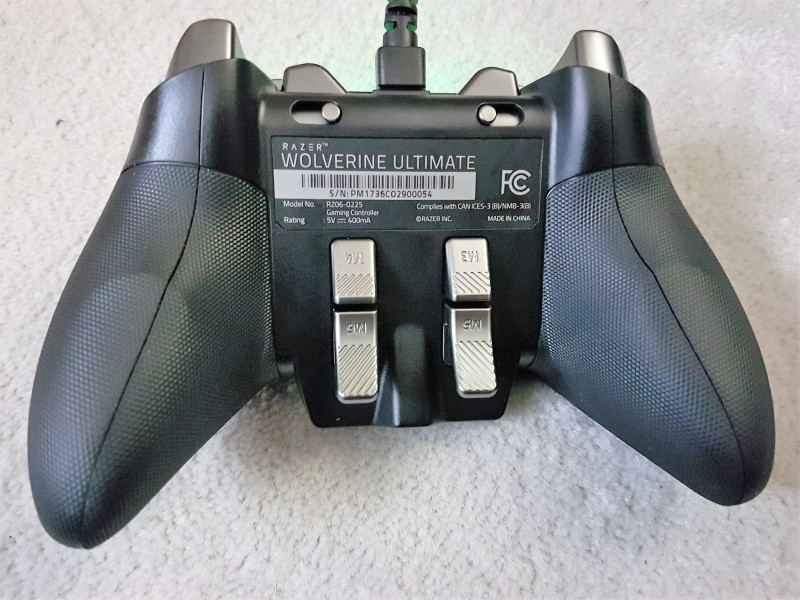 Just like the Elite, the Wolverine Ultimate also includes trigger locks, allowing you to activate the trigger with a shorter press, granting you a quicker response time. This is great for shooters, especially at a competitive level, though not meant for everyone, or every game. I personally still prefer the full trigger motion, but one can easily see the benefits of utilizing the trigger locks for shooters if you became accustomed to it.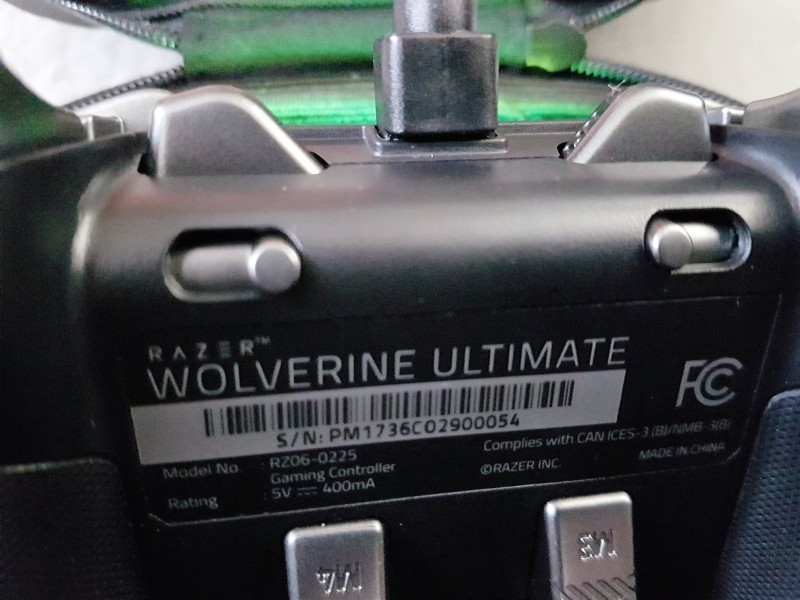 Like any of the new controllers, this one also has a 3.5mm jack built right in, but there's also a bit more here that will take some getting used to. The buttons on the front connector is where you'll mute, change volume, change profiles and even remap buttons on the fly. Press the button to remap, the button you want to change and then what you want it switched to, and you're done; easy as that. Sure the UI from the Synapse app is much more visual, but this is a great way to change things on the fly that you may not have thought of for forgotten to do in your profile.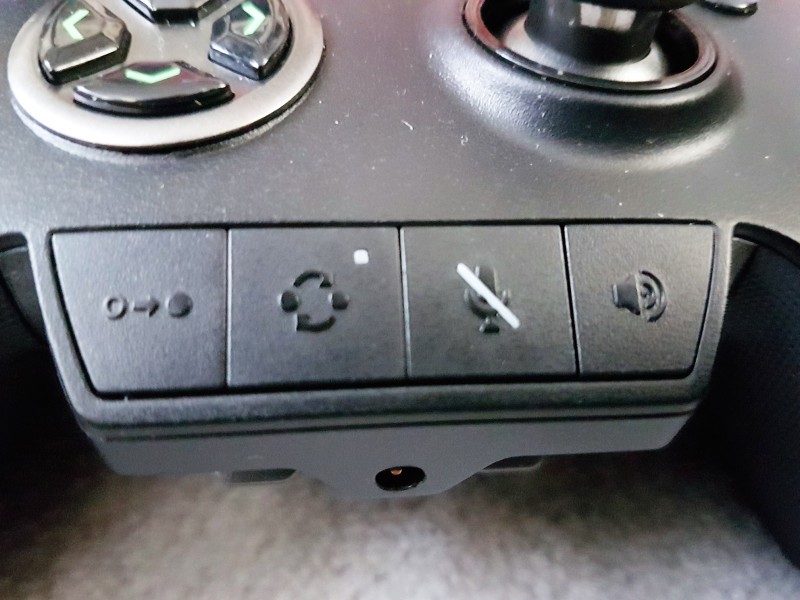 This pricey controller is a purely wired connection only, and it may be a deal breaker for some. While I don't mind, as the 10 foot cable is more than enough length for my needs, many gamers, especially who are dishing out this kind of money for a premium controller, tend to prefer a wireless controller for its freedom. That being said, many of high level players, like eSports gamers, do prefer a wired connection, as it's got the lowest latency and a reliable connection compared to having to change batteries. So, while it's wired, don't dismiss it simply for that fact.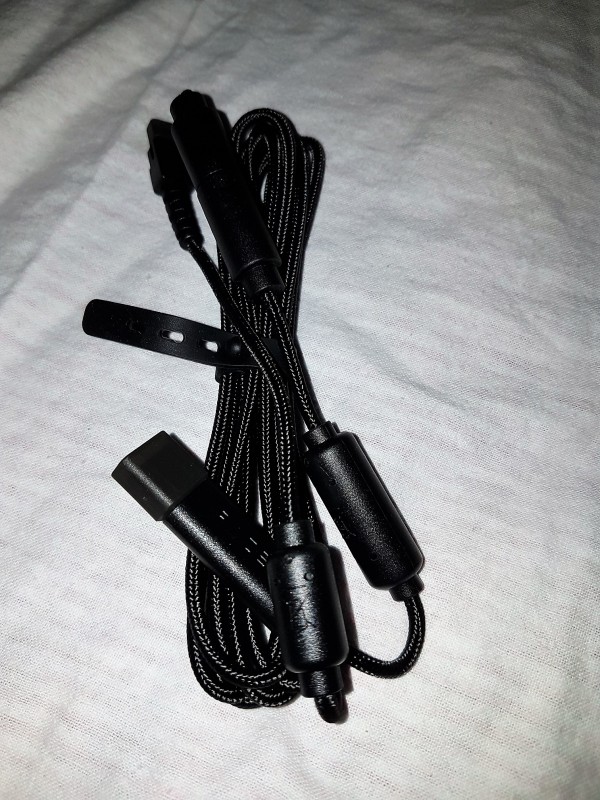 The main issue I have with the choice to be wired is the fact that Razer decided to make their quality braided cable sculpted in such a way that you are forced to use this specific cable only. This means that unless you have some oddly shaped USB charging cable, no others will work aside from the one that's included. Should you have a kid, or pets, that destroy cables, or worse, lose it, you're going to be out of luck and forced to again, go through Razer to replace it, at who knows what cost. This proprietary connection is a huge disappointment, as something is bound to happen to the cable at some point.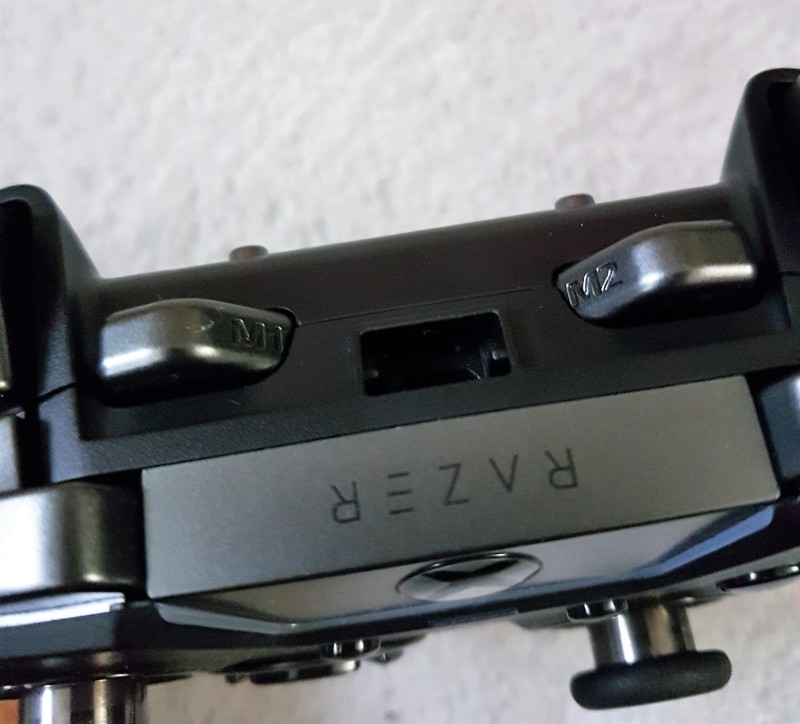 While this is a premium controller aimed at the core crowd that can afford such things, it's oddly priced higher than the Elite and is a wired connection. This controller isn't for the casual fan, and while it has its issues, it's a fantastic feeling and responding controller, provided you don't lose any of the thumbsticks or your cable needs exchanging, as you'll be forced to go to Razer directly to replace them. The Razer Wolverine Ultimate places itself in an odd dilemma, as it's a great controller all around if you don't mind the price and wire, but being priced so closely to the Elite, which is as good as a controller gets in my opinion, it's hard to recommend it over it, that is, unless you're a huge fan of fancy lights and really do want a directly wired controller.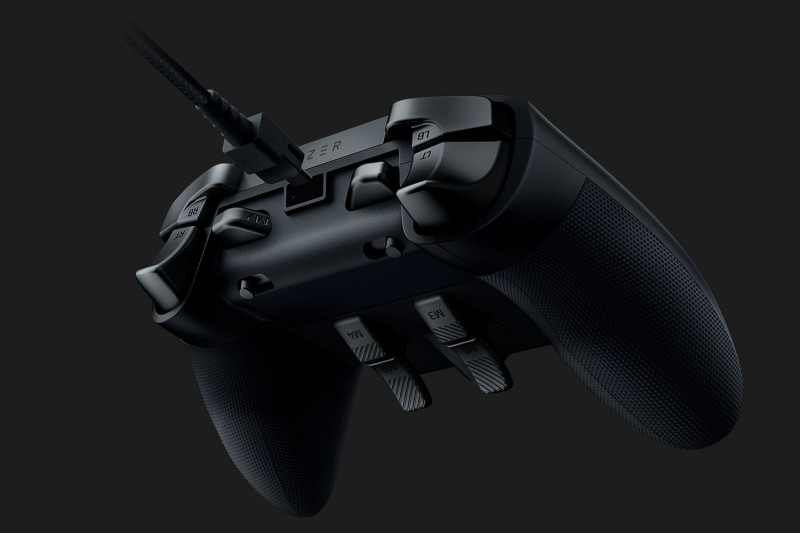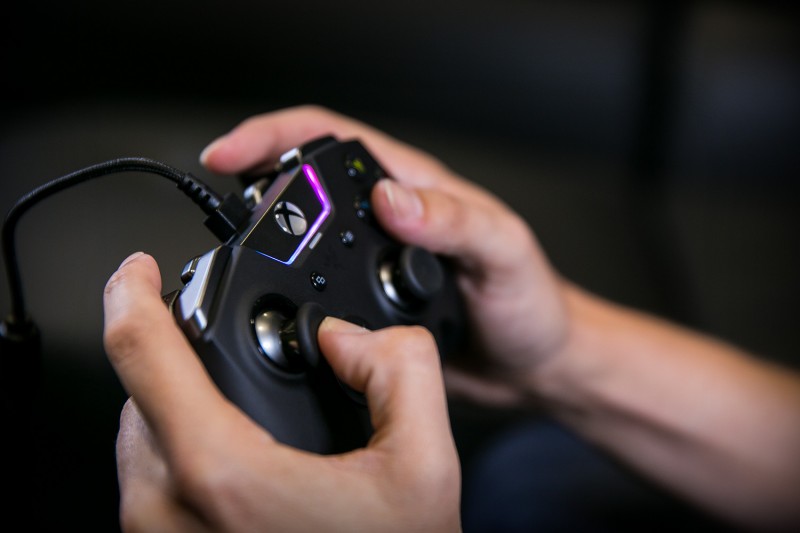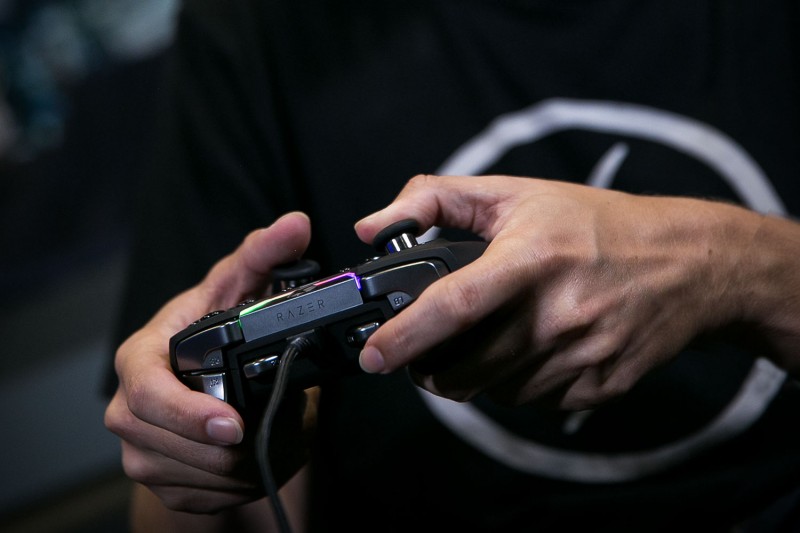 Overall: 8 / 10