Review: Razer Thresher Wireless Gaming Headset
by Kirby Yablonski








Features:

- 50mm Drivers
- Frequency Response: 12 - 28,000 Hz
- Totally Wireless as Connects Directly to Xbox One (including chat)
- Retractable Boom Digital Microphone
- On-Headset Controls (Chat Volume/Master Volume/Mute)
- Supports Windows Sonic
- Boom Mic is Retractable
- Up to 16 Hours Battery Life on Single Charge
- Charging Time: 4 hours
- Weight (approximate) 408g (0.89 lbs.)

Another headset, another review. Sure, my love for gaming audio will never die, and if companies want to release new headsets, from entry to luxury level, then I am all for it, as choice of what to buy is always a good thing, as everyone's tastes are different. Earlier this year I had a chance to review a headset from Razer called the Thresher Ultimate Headset. It is a wireless headset that uses a transceiver to wirelessly stream game audio and chat from the Xbox One to the headset itself. It is a virtual 7.1 Dolby Surround sound headset that is great for the Xbox One platform, or even your PC. Well, fast forward to the present day, and Razer has reworked the Thresher to connect directly to the Xbox One using the 'Xbox Wireless' technology that Microsoft has made available to companies. So, now the Razer Thresher is getting all of its audio functionality from the Xbox One itself.

When the Razer Thresher arrived at my home office for review, I was surprised by the box that it came in. It was quite large, and upon opening it you'll find the Razer Thresher sitting snugly in some black foam. The packaging really does look premium. What is missing is the need for a transceiver. With it gone, there is no need for any extra cables, such as power to a transceiver, as well as a fiber-optic cable to carry the bitstream. Also missing is the headset stand that was included with the Thresher Ultimate. Still, you do get some pretty nice headphones, a USB to micro-USB cable for firmware updates and charging, and a reference guide on how to connect your headphones to the Xbox One.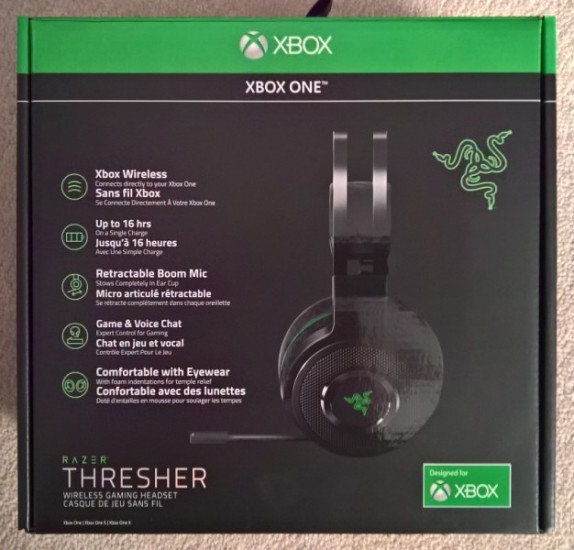 The Razer Thresher is pretty much the same headset that was in the Thresher Ultimate box. It is flat black with some green highlights. The traditional Razer three-headed snake logo is on the earcups, and they light up when you turn the headset on. This feature looks good and is not gaudy given that they light up, as they are not overly bright and they don't take away from the headset's design. The chat microphone is on the left earcup and it is retractable, so you won't see it when you game solo. You'll find some small, but easy to use, rocker switches on each earcup as well. The left one adjusts your game/chat volume balance, and if you press it you mute your microphone. The right rocker switch controls the master volume of the headset. The power button is also on the left earcup.

Speaking of the power button, this is also used as the 'sync' button for pairing up the Thresher directly to the Xbox One. Hold it down until you see the LED flashing (about three seconds), and then press the sync button on the Xbox One, and the two pieces of technology will have an electronic meet and greet, and viola, they are now friends as they are sync'd. Yep, it is as easy as that.

Comfort wise, I am still impressed by the level of comfort offered, as well as the fact that it allows copious amounts of room to go over my big head, and with ease too. The headset is designed so that you don't have to adjust each side, as the design has a flexible band below the main headband. It's this flexible band that allows you to simply put it on and pull down the earcups until they are over your ears. Each earcup has memory foam covered in a faux leather, and the material is somewhat breathable, but it still manages to isolate the sound quite well. Heck, I missed a phone call or two while playing games, as I did not hear it ring, needless to say, my wife, who was the one calling, was not impressed by this fact.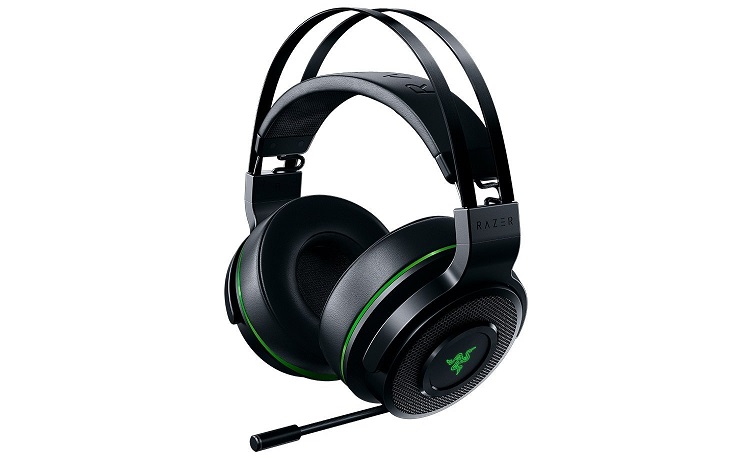 I used the Threshers on for some extended video game play sessions, as well as some general media too (e.g. Spotify & Blu-ray). In general, the headset looks quite large, but it is nicely balanced weight wise and you can use it in an extended use and not be impacted by having a set of headphones on for a long time. Using the rocker switches for chat/game volume mixing, and controlling the master volume is very easy. I should note that the headset does not get too loud to hurt your ears. This was most likely a design choice by Razer as to not risk damaging your ears.

So, as usual when I look at reviewing a headset of this nature, one of the most important questions is how does the Razer Thresher sound? And with this one, how does it handle Windows Sonic or Dolby Atmos? I think that I can describe this in one simple word, they sound "awesome" for a headset that is directly connected to the Xbox One. I have been playing a lot of Destiny 2, Call of Duty: WWII, Spintires: Mudrunners, and Forza Motorsport 7.

The games that I focused on have a wide and differing range of sound coming from them, and I can honestly say that the Razer Thresher handled everything with ease. From the orchestral music and sci-fi weapons that are found in Destiny 2 to the horrors of WWII and D-Day, such as incoming machine gunfire, soldiers yelling from all directions, and explosions rocking the beach while you advance. Everything sounded well balanced and you you'll find that you are "in the middle" of everything that takes place. As for Mudrunners and Forza Motorsport 7, both are driving games, but they are very different.




In terms of what was offered in Mudrunners, it's an off-road focused driving game, but not a racing game, as you navigate different environments (e.g. The Bog or The Island) with a wide range of off-road vehicles. Anyhow, the sound was very impressive, from your suspension moaning and groaning through mud or rock filled trails to having to navigate through a creek or river. You'll even hear the sounds of wildlife as you venture through each level, and each off-road vehicle has a distinct sound of their own. As for Forza Motorsport 7, what can I say, it's a high-speed racing game, filled with so many different cars, each one having its own distinct sound. You also clearly hear when a car comes up from behind and tries to pass on the left or right side of you. Heck, the sounds of the cockpit and the sounds of the outside of the car are so different, and you feel like you are either inside the cockpit or outside on the body given how the motor, weather (e.g. rain and thunder/lightning) and wind all sound. I can't say enough about Turn-10's job of sound in a racing game, and the Razer Thresher made it even better.

What is new with this version of Razer's Thresher is that it relies on the Xbox One to provide the game and chat audio. To provide gamers with a surround sound experience, Microsoft included what is known as Window's Sonic as a headphone option on the Xbox One. This is a virtual surround setting, and as would be expected with virtual surround, it is not as 'surroundish' (yes, I used a made-up word) as sitting in a home theater with 5-7 speakers around you. That is not to say that you don't feel in the middle of the sound, as you do. Some effects do truly seem to come from behind, but they are not as pronounced as you might hope. You can also use the Dolby Atmos app, a paid app, when using these speakers. Although Razer does not mention this on the box, or their website, it can be used. If there is one way to describe the difference between Windows Sonic and the Dolby Atmos app, it is that the latter is fuller sounding, and that is with the fact that Windows Sonic sounds pretty darn good too.

I took some time to listen to some other sources of media on the Xbox One, specifically some music from Spotify and a 4K Blu-ray of Planet Earth II. In terms of music, I was impressed by how well the Razer Thresher handed a wide variety of genres. From EDM and hard rock to hip-hop and pop, each song I listed to sossunded good. I was impressed with how well bass sounded, as it never sounded 'muddy', nor did the 50mm drivers struggle. I found that highs, mids, and lows, were distinguishable when they had to be, and all the varying frequencies of sound was well balanced. As for Planet Earth II, this tour of different regions of our globe sounded decent. From the sound of waves crashing into rocks to the wind howling atop of the Andes, everything was clear and well mixed. I was also impressed with how the narration of Richard Attenborough just blended in with the rest pf tje sound, while remaining clear and precise. The Threshers also provided a clear sound stage for the symphonic music that accompanied each episode as well.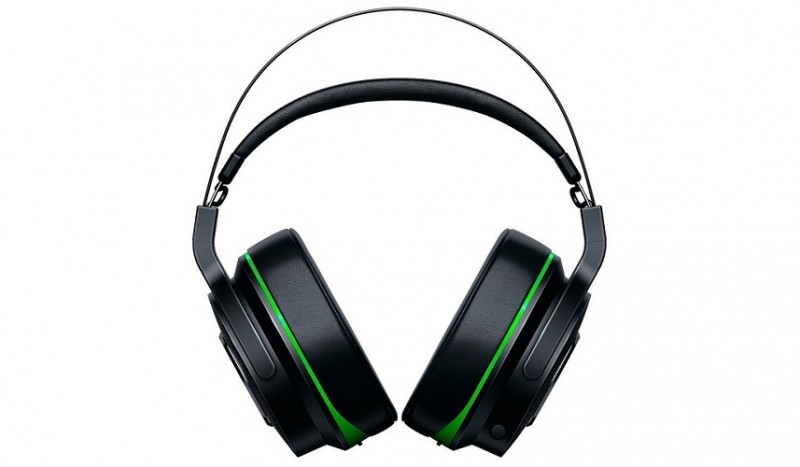 The Razer Thresher does not offer any separate EQ modes, as it stays on a single sound setting that Razer has deemed to be optimal for what they offer. I am no sound engineer, but it as I have mentioned in this review, it is very well balanced so whatever EQ settings they have incorporated are good. That being said, I know people out there may enjoy have a bass heavy setting, or a treble heavy one in contrast, so that is something to consider.

As far as online chatting was concerned, my friends who I played online with had no issues with how I sounded. What I did find though was that their voices, when using the surround sound mode, kind of sounded all around me, so I had to really adjust the chat/game sound mix to hear the in-game sound more than the voice around me. On a side note, when you mute your voice chat a red light in the microphone, which is retractable, lights up.

Razer claims that the headset is good for up to 16 hours before recharging. I have put a lot of gaming sessions in with the headset, some lasting up to 4-5 hours, numerous times, and I've only had to charge them once so far. I think that I can feel confident that their estimate is accurate. As for the range of the headset, it's not bad, but if you navigate a few rooms, like I do when my kids go to bed at night (home office -> hallway -> kid's rooms), you'll lose your connection now and then, but come back and the automatically starts to work again with no issues.

I think that the new Razer Thresher (not to be mixed up with the Razer Thresher Ultimate) is a great headset to use with the Xbox One. And what is really cool, is that it wirelessly connects with the Xbox One for a true 100% wireless connection. The rocker switches for volume, sound, and muting are intuitive and easy to use, you will enjoy what different types of audio sounds like through the 50mm drivers of this headset, and as a bonus, the headset is very comfortable and manages to isolate sound quite well with the faux leather wrapped foam on the earcups. I truly have no issues recommending this headset for Xbox One owners, as it the audio that emanates from it is full, well balanced, and a treat for the ears to hear.

Overall Score: 9 / 10

***Razer sent XboxAddict a review unit for the purposes of this article***