Ahoy Mateys!!! A Review of the Book 'Tales from the Sea of Thieves'
by Kirby Yablonski








Author: Paul Davies
Publisher: Titan Books

When it was suggested I review a book about Sea of Thieves for our video game website, I associated one of those fancy art books with lots of fancy pictures. These pictures, I would have guessed (from past art books I have perused), would show how developer Rare sketched out, painted out, and finally programmed the world that would become Sea of Thieves. So, I thought, why not, lets check out the book. SURPRISE!!!! I guess I should have paid more attention to what I was getting myself into, as the book in question is not an artbook, but it indeed is a storybook, one that has words, sentences, and even paragraphs. I had to stop, read, and follow along with the story(s) at hand. Needless to say, it took me much longer than I anticipated given I had to put my brain to work. So, what did I think of "Tales from the Sea of Thieves"? Well, let's say I was pleasantly surprised.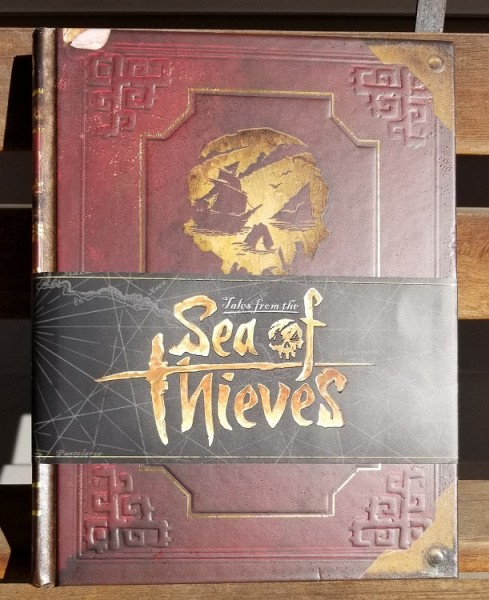 First off, Tales from the Sea of Thieves is written by Paul Davies. Not being a huge 'book-nerd', I had to do a bit of research on the good old interwebz. Seems like Mr. Davies has been in the world of "writing" for about 25 years and is currently a freelance writer and games consultant. He has been involved in other gaming 'books' including ones from the Thief franchise, Assassin's Creed franchise, as well as the Halo franchise to name a few. I'd be willing to bet he knows a thing or two about gaming books given his resume.

In terms of any narrative, the adventure within is not one long story, but actually three stories that take place in, you guessed it, the world of Sea of Thieves. It is told from the perspective of three different pirates. The book is presented in a Journal form, and that journal is owned by Captain Faintheart. It turns out that a couple of other pirates end up contributing to the book, and each entry (or chapter if you wish), is from a different perspective of each pirate as they add their own 'story' along with other content to make you more pirate savvy.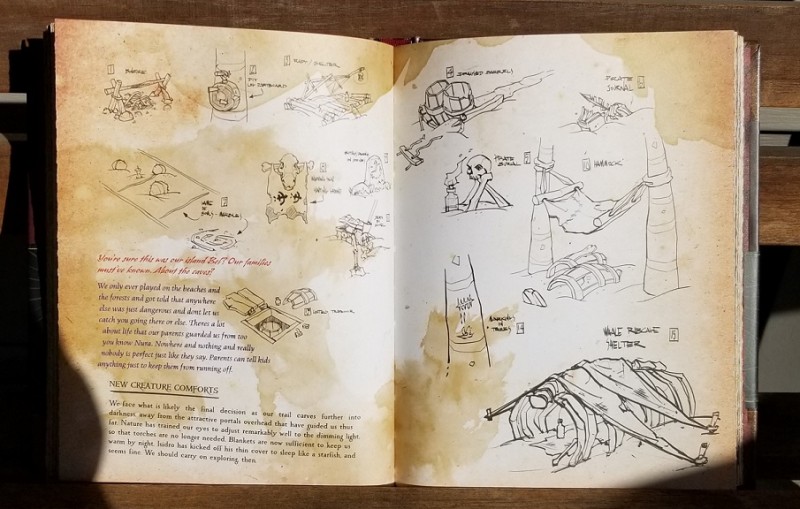 So, what kind of content will you find in this book? Another good question my fellow readers. You'll find that the book reads, as mentioned earlier, like a journal. It really opens up your eyes to various aspects of the world of pirating, and you'll get a feeling of whose content you are reading (e.g. who is actually supposed to be the pirate writing the words). From the adventures that are narrated within, to other interesting tidbits like some games of the pirate kind, some characters you might come across in the video game (e.g. the mermaid kind) to songs, and even a recipe or two, there is a lot of content to consume. Yes, you read that right, you'll come across a recipe or two. It's presented in a fashion that you'll never know what is going to come next. There is also a lot of context to link much of it to the world of the game, so you are getting a bit of an education, in a round about way.

One little quick tidbit. As you read through each pirate's adventure, you'll find something kind of interesting. The editor of said journal will have notes that are written within, and you may even find a written conversation between pirate and our trusty editor. It's a neat little way to add some spice to the content, and you should really take the time to read the stuff like this. It is easy to find, as the font will usually be on an odd angle and written in red. To be honest, I can't remember seeing anything like this in video game books of any nature I may have skimmed through, or those that I own, which are indeed the art of specific games.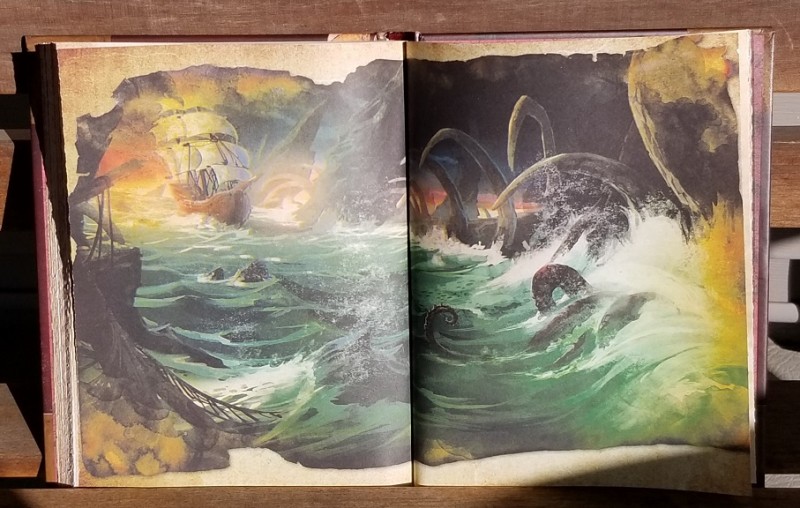 The book itself takes on the look of an actual journal from the time-period that the stories are based upon. The cover emulates leather with a fancy logo on the cover, marking the fact that it's not some simple diary written by a regular person. What I really enjoyed was the fact that the pages within did not look like a typeset printed story on regular book paper. The pages are meant to look like well-worn notepaper of that time it was to have existed, and that which was within a book that was indeed sitting on a pirate captain's desk, weathered and faded looking at times. There is writing, and not typed font, which adds to the feel. The artwork found on the book's pages looks like it was sketched by the author, with a pencil or quill and ink, and what colored images you will find look as though they were painted, and not printed, given the shading and look of the colors used. All in all, the presentation of the material on the pages does the content justice.

Funny thing, the book isn't particularly large, like say, an art book, so you might even want to keep this in your video game area, on the shelf with other games or video game related knickknacks, as it will look right in place sitting there for anyone who happens to come into your room to play a game or two. I have to say that I have mine in my home office amongst my movies and video game controllers and I try to show it to those who happen to stop by and chat.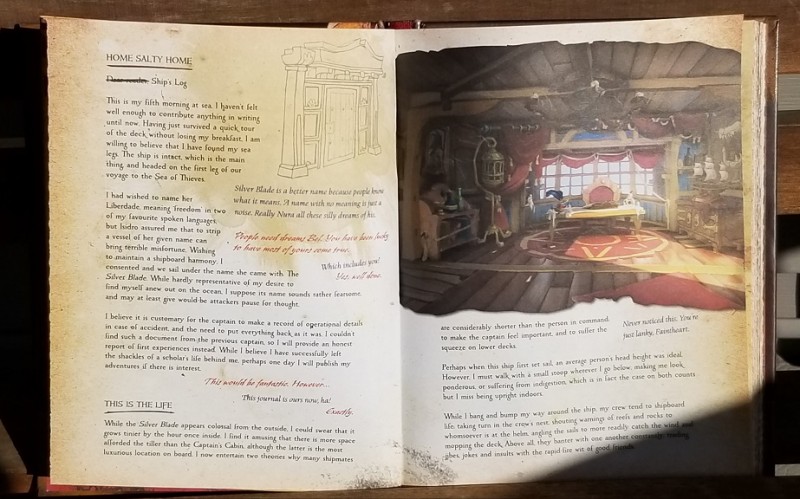 If you've already played the game, but not seen the book, the words that you'll be reading are like an expansion to the world of Sea of Thieves that compliments the game you may already be playing. But what If you haven't had an opportunity to play it yet? Don't worry, it doesn't ruin the game as it opens your eyes to what will lie before you when you do indeed start to play. Although it's not a direct companion, or guide, it is something that you can spend some time reading on a lazy day and enjoy, while knowing that its content is indeed tied into the game in one way or another. It is light hearted enough to be an easy read, yet it has content that is somewhat worthy to digest. At the end of the day, Tales from the Sea of Thieves is a book that is worth your attention, particularly if you are a fan of pirates, a fan of the recently released game (Sea of Thieves), and definitely if you find yourself within both groups.



Product Information


Hardcover: 160 pages
Publisher: Titan Books (March 20 2018)
Language: English
ISBN-10: 1785654314
ISBN-13: 978-1785654312
Product Dimensions: 18.3 x 1.9 x 23.6 cm
Shipping Weight: 567 g