Edifier S350DB Review - A Clear and Powerful 2.1 Punch
by Adam Dileva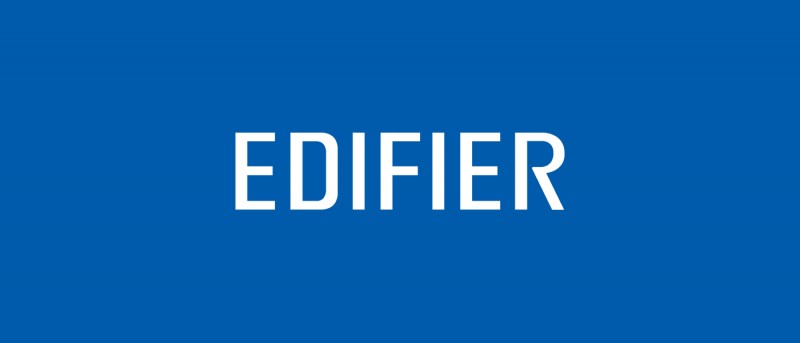 Features:


Power Output: R/L(treble): 15W+15W, R/L(midrange and bass): 25W+25W, SW: 70W
Signal to Noise Ratio: R / L: ≥ 80dB (A) ; SW: ≥ 85dB
Frequency Response: R/L: 160Hz -20KHz ; SW: 40Hz –160Hz
Input Sensitivity: PC : R/L: 600±50mV ; SW: 270±20mV, AUX: R/L: 400±50mV, SW: 200±20mV, Optical/Coaxial:R/L: 400±50mFFS, SW: 200±20mFFS Bluetooth: R/L: 400±50mFF, SW: 200±20mFFS
Input Type: PC AUX Optical Coaxial Bluetooth
Dimensions: Subwoofer: 312*265*298mm, Satellite: 222H x 127W x 156Dmm( 8.75H x5W x 6Dinches)
Weight: 19.1kg
MSRP: $249.99 USD / $339.49 CAD

For many years I've been using a soundbar for my TV and consoles. This choice was mainly due to having a kid and needing the space, but also I simply didn't have the room for the multispeaker setup any longer, so I searched for a more compact way of delivering my audio. At the time, a soundbar was my ideal solution, but things change, that and the Edifier S350DB's were not created at that time.

I'm supposed to keep my final thoughts until the end of the review, as to hook you in to reading my drawn out thoughts and opinions, but sometimes you need to come outright and say what's on your mind. The Edifier S350DB speakers provide an absolutely stunning sound experience, one that I don't know if I could go back to a soundbar for.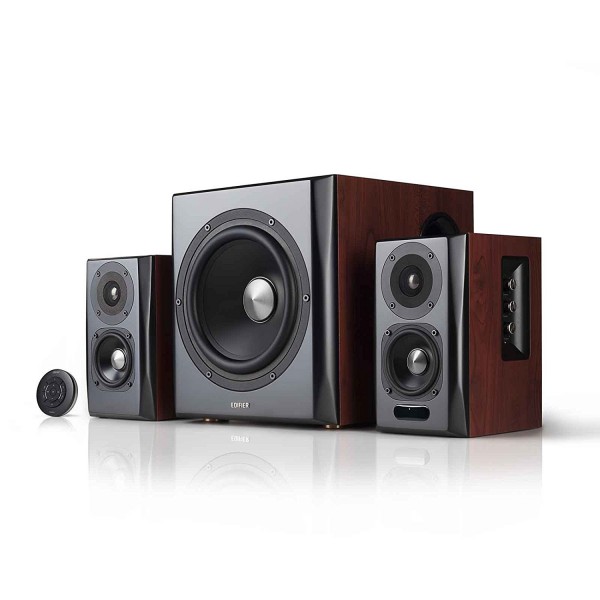 With the S350DB, you get a small and compact 2.1 speaker system that looks stylish and sounds incredible. Two active bookshelf satellite speakers are moderate in size, not too small, but nothing that won't fit on your bookshelves or entertainment center either. Encased in an aesthetically pleasing wood finish, I can't think of a setup where these wouldn't look like they don't belong. For its looks, the S350DB's look very classy and stunning. The build quality is superior to many out there and doesn't give off that 'plasticy' look that many speakers tend to do. The wood finish makes them appear high quality and allow them to blend into nearly any setting or placement in the room.

The 3/4 inch tweeters have a titanium dome and function to produce the clear audio sound that you'll experience. The one odd thing I did notice instantly though was that there's no grill covers, so your speakers are exposed. While this might not be a concern for some, others like myself have children, and if they are placed in reach, you never know what damage might be done to them.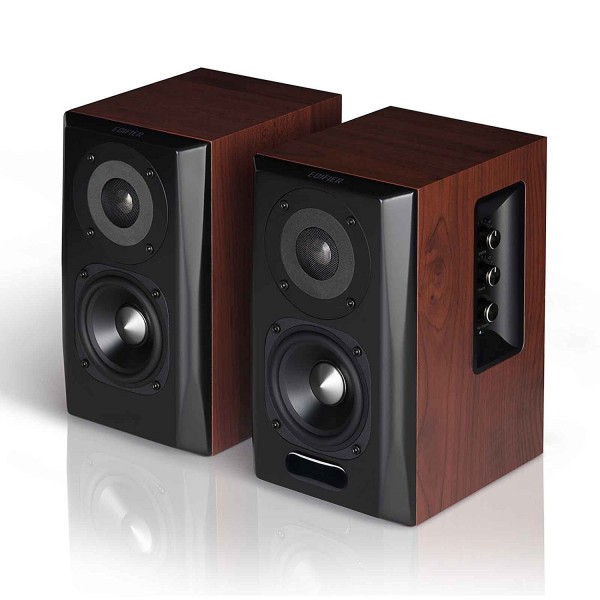 On the right speaker you will find the side panel controls. With these three simple dials you can control your treble, bass and of course, volume. A small light on the front of said speaker will show what input you're currently set to, and slightly flicker every time you adjust the volume. The built in amplifier is what powers the whole hardware, the brains if you will, as they also use signal processing which helps provide a supremely crystal clear sound from digital signals.

As well with this right speaker, it houses the built in amplifier, as the left satellite is passive, and both will need to be connected to the sub to perform. The right speaker is hardwired into the sub itself and is not possible to disconnect, whereas the left speaker is connected via a speaker cable that is more than generous in length. The issue is that the hardwired speaker cable is that the length is incredibly short. Obviously everyone's setup and preference will be different, but this short cable really made me settle on a setup I initially didn't want, as the sub and right speaker can't stray far from one another.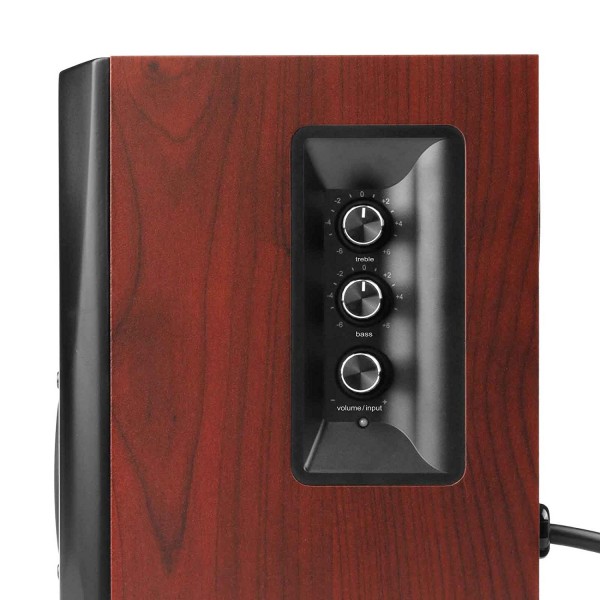 Also included is the hefty 8 Inch subwoofer, resulting in giving your movies, music and games that extra oomph. The side has a bass reflex port, allowing for more airflow and a richer deep bass. While the bass is decent, even with the knob turned to maximum, I was hoping for a little more extra bass, as that's what I enjoy, though my neighbors are probably happy with the levels they are currently set at.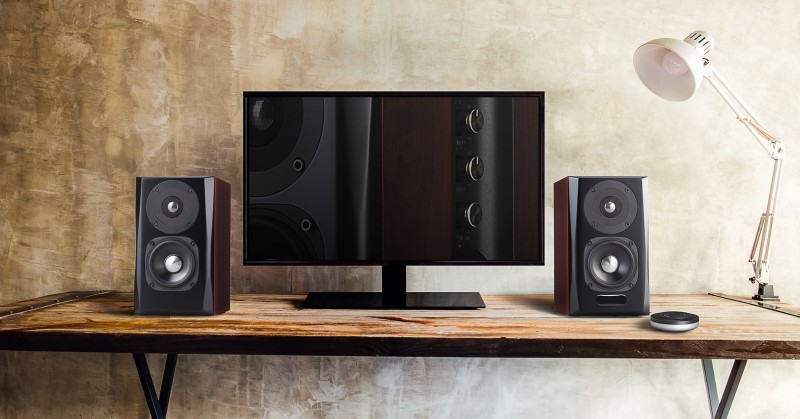 You're able to connect your sources by nearly any input you should need, including legacy connections. Connect via RCA, optical, coaxial, auxiliary or Bluetooth, with an inclusion for aptX codec support, for those wanting a higher quality Bluetooth connection, nearly as good as wired. I myself have them setup with optical, as that's how I run my sound output from my Xbox One, and my audio has never sounded better. Bluetooth worked just fine for streaming Spotify, though it would have been nice to have an NFC feature included for quicker and easy pairing.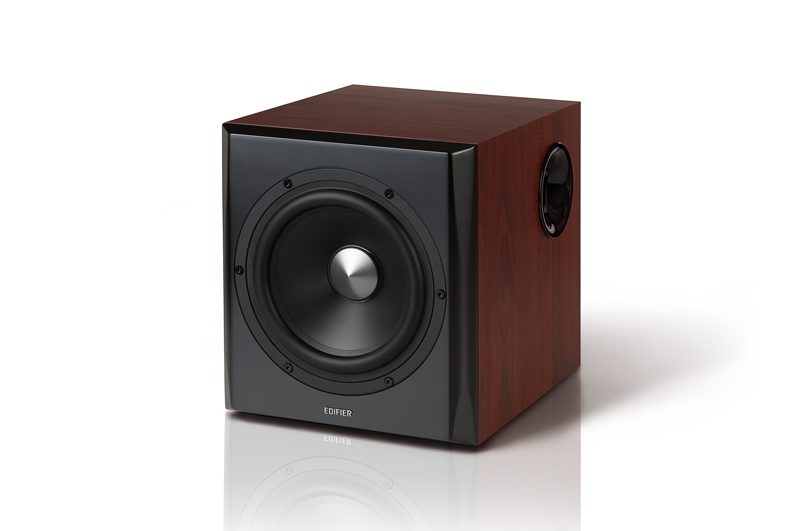 Also included is a remote, as no one wants to get up and turn a dial every time they want to adjust the volume, and this wireless remote is how you'll change your inputs from the comfort of your couch or across the room. What you'll notice instantly about the remote though is that it's created in the shape of a puck. That's right, Edifier won't give you a standardized rectangle to control your audio from the couch, but a round puck instead.

While I liked that it was "different" at first, I started to notice an issue with it that became a nuisance over time. With the circular puck design and symmetrical button layout, you're going to need some light to see what button you're pressing. The circular placement of the buttons means there's no physical button that is offset, so you can't simply feel what button you're on, like a regular remote, given its design.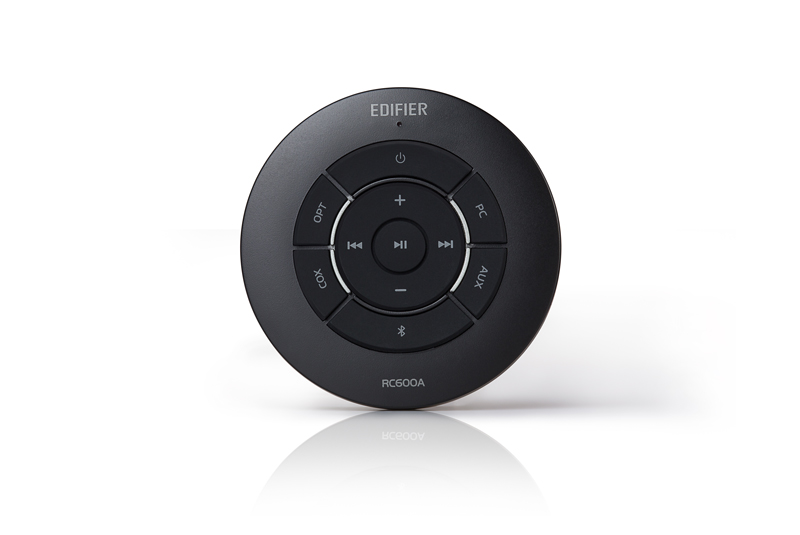 The IR sensor is also at the 'front' of the puck, and can be a little finicky at times to aim directly at the right speaker. Also in an odd design choice, there's no mute button, so when those times call to halt your audio, you'll need to fumble with the puck to find the 'front', aim it at the speaker and power it off. Also, there's no EQ preset buttons, but individual input buttons instead. It would have been a welcome addition to include a music, movie and game setting for different equalizer levels, but alas, one of the misses here.

What I did like though is that the volume increments are very small, so finding that exactly perfect audio level is possible. The problem I have with my current soundbar is that the increments between each volume sometimes makes the audio level either too loud or quiet, depending on the content. Previously it wasn't uncommon to turn up soft speaking sections, but then have to quickly tone it down when there's action on the screen. Luckily I haven't had this issue with the S350DB. It may take a lot of presses (or a hold of the button), but you'll eventually find that perfect auditory level without the need to adjust very much.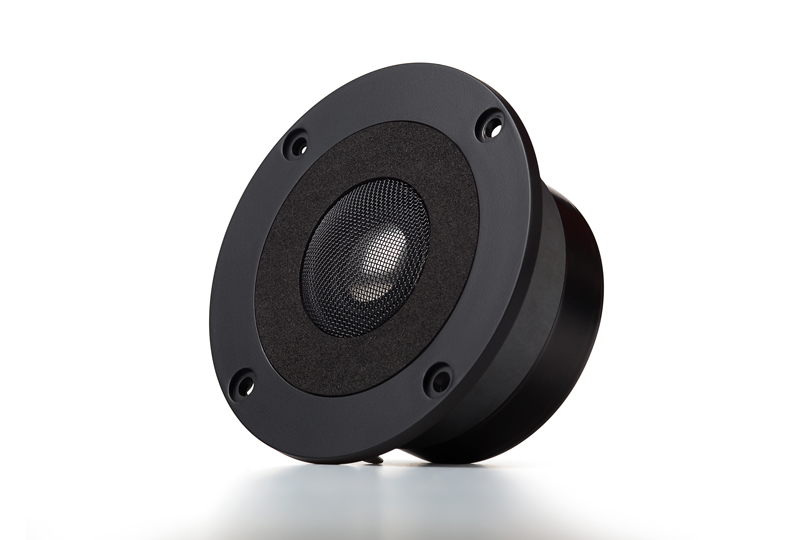 Now for the part you've been waiting for, how they sound. I'll admit, I didn't think that a 2.1 bookshelf setup could create such a sound stage, but boy was I wrong. The mids and highs sounded so extremely clear that it sounded much different than I was used to. Of course, being a guy, I also cranked up the volume as much as I possibly could without the neighbors complaining, and heard no distortion at all, not even minor crackling or popping. The bass is balanced, though as a bass guy, I simply wish it had a little more power to it, but it never became overpowering, even in action heavy gunfire and explosions.

At first I played some of my favorite music, listening for the minute details such as guitar strings and high hat hits, both of which sounded distinct and extremely clear. What surprised me the most was with how far apart I have the two satellites, the sound profile had no issues making me feel as though I was right in the middle, even if I wasn't sitting exactly dead center.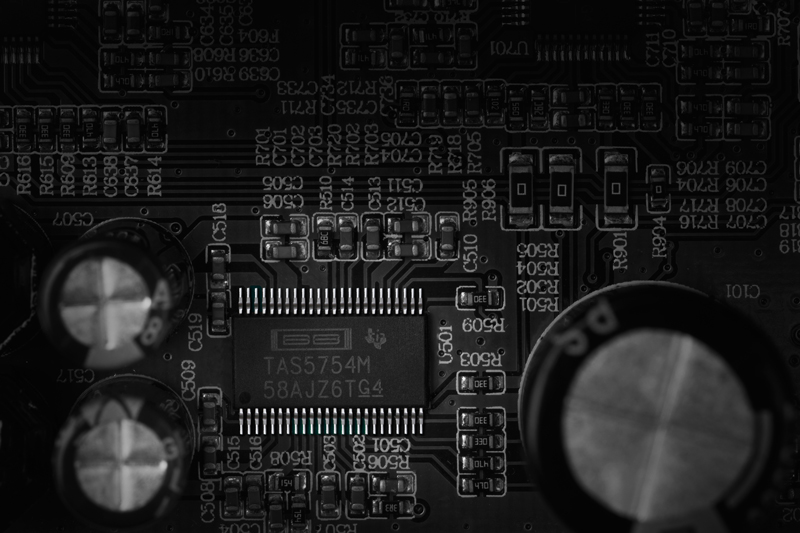 Over the past few weeks I've put the S350DB though its paces, watching hours of TV shows, dozens of movies, listening to my favorite musical artists and of course, more than my healthy share of gaming on my Xbox One X. I played a variety of music, from classic AC/DC, Rage Against the Machine, to my favorite EDM tracks. The acoustic sound was fantastic, with the instruments sounding very distinct and the vocals superb and clear. Dialogue from my movies and TV shows sounded very crisp and clear, and of course, explosions and actions sequences had the right amount of bass and treble.

As always, my go-to for testing audio equipment for gaming is a slew of titles. Hellblade: Senua's Sacrifice has probably the best audio profiles I've ever experienced in a game before, so I use that as my first test for vocals. She suffers from a mental disorder and constantly hears multiple voices in her head, so I was wondering how that would translate with this simple 2.1 setup. As it turns out, Edifier knows their audio, and it sounded fantastic as can be for the two simple satellites. Engines from the Forza series sounded powerful and rumbled, dialogue from Mass Effect was very crisp, and of course, my shooter games sounded very impactful with all of the chaos around me. To say I was impressed would be an understatement.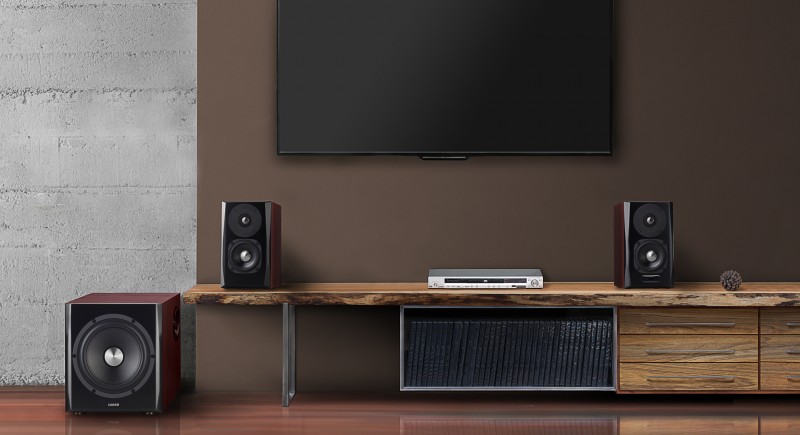 Even some audiophiles don't have the big budgets to get amazing 5.1 or 7.1 setups in their living rooms, or if you're like me, don't really have the space or need for it. For the price, the Edifier S350DB produces an amazing sound that took me by surprise. While my main two irks aren't deal breakers by any means, with the awkwardly short hardwired cable from sub to right satellite, and the awkward and clumsy puck remote, I'd still gladly recommend to anyone looking for a quality 2.1 setup.

Regardless if you're planning on using them for music, movies, TV or gaming, the super clear audio that emits won't disappoint. It's a great bonus that they also happen to look sophisticated and can provide the power necessary to keep up with whatever media you're experiencing. Don't let the modest size of the satellites or sub fool you either, there's some power hidden within, but more importantly, my games have never sounded better and clearer.


Overall: 9/ 10