Limbo Prime Warframe - A New Prime Warframe for All to Enjoy
by Kirby Yablonski









If you are a gamer who plays a lot of cooperative games with friends, then you know that each person usually takes on a specific role. Personally, I tend to like general duty type characters who can take a bit of a 'beating' from enemies, but also have some weaponry or skills that will dish out a bit of punishment to those that I face in the virtual world. Why am I talking about this you ask? Well, I have been playing a cooperative game since January of this year, and that game is Warframe. It is a free to play game, that is quite large, and one where you can play alone, or with up to four other players. It has a narrative mode, but it also it has individual missions and challenges outside of the story mode that allow for individual team members to take on that 'specific roll' I mentioned above.

Warframe has upward of 55 characters to play as (called Warframes), and they recently released a new one onto consoles, including the Xbox One. There are 35 regular versions of the in-game characters, along with 21 Prime versions of the in-game characters, including the new one. Prime versions are usually given special characteristics, such as different polarities to put in mods, more shield and/or health, and other interesting changes. They are special Warframes as they are designed to look like 'high-end' versions of their regular selves. The newest Prime Warframe added to the roster on June 19th was Limbo Prime, and a few weapons were made available at the same time. I wanted to take some time give you our impressions of this latest Warframe, and also provide you Xbox One readers out there with a chance to win some in-game Warframe swag, including the Limbo Prime Access Pack.

The best way to describe Limbo Prime would be that he is a support Warframe. His health and shields are increased over the original Limbo, but in the end, he is not one to take too much damage. When first using Limbo Prime, you'll find his shield starts at 100 and maxes at 300 (no mods) versus regular Limbo who starts out at 75 and maxes out at 225 (no mods). Armor is also higher on Limbo Prime, starting out at 85 (no mods) whereas regular Limbo is 65 (no mods). The energy level (used for special abilities) on Limbo Prime starts out at 175 and maxes out at 262 (no mods) while regular Limbo starts at 150 and maxes out at 225 (no mods). The final change for Limbo Prime versus regular Limbo is that you are given two extra polarities for a total of four in his initial build versus two polarities in the regular Limbo.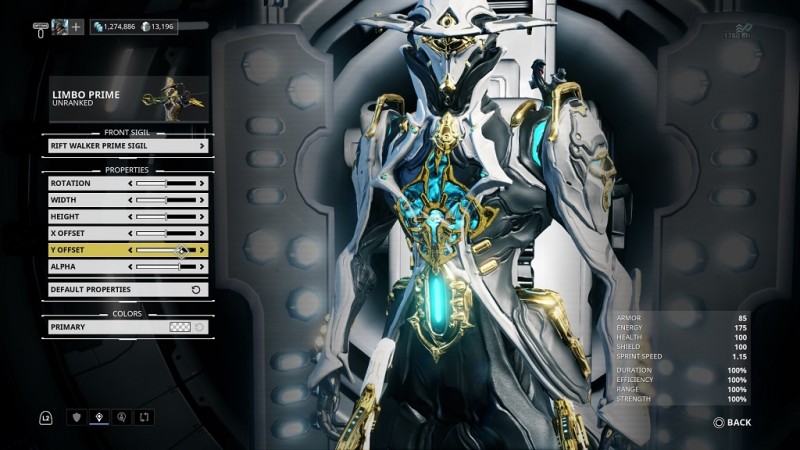 What this all means is that he is a bit tougher, has more energy for special abilities, and the two extra polarities allow for mods of the matching polarities to be used while only using half of the assigned mod points of the specific mods. There is definitely some key advantages to Limbo Prime over the regular Limbo, stat wise, but as a Warframe overall, we must say that he is pretty fun to use as long as you know the role to take with him.

One of the greatest abilities of Limbo Prime is the passive ability to Rift Walk. This ability, when activated with the Roll/Dodge button (left trigger on Xbox One controller), allows Limbo to enter a Rift, which is best described as another dimension where you will exist. It is basically a mirror of the area you are in; however, you cannot be hit my enemy attacks, nor can you use any of your own weapons. That being said, you can still use your special abilities to hit enemies and support your teammates and you can still collect items that are on the ground. It is a mechanic that you will want to master, and if used right, you should rarely, if any, die as you can become somewhat invincible when needed, just with the caveat of not being able to use your weapons.

Limbo Prime has four abilities that will be at your disposal once you open them up. They are as follows:

1. Banish - Displaces a target into the Rift Plane inflicting additional damage if the target is hostile.
2. Stasis - Freezes Rift bound enemies, when active weapon fire is arrested in mid-air, resuming its trajectory when stasis ends.
3. Rift Surge - Surge void energy through the Rift Plane, increasing the damage inflicted on enemies that have been banished
there.
4. Cataclysm - A violent blast of void energy that tears open a pocket of Rift Plane which can sustain itself for a short period before collapsing in another lethal blast.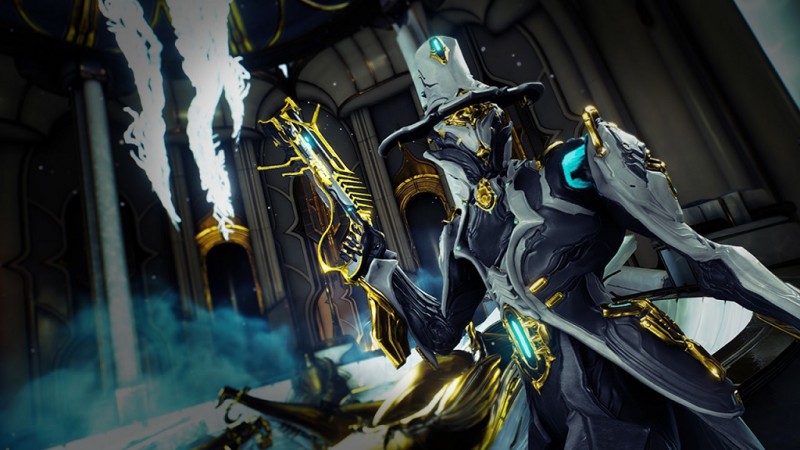 A player can be very useful to allies when using Limbo Prime. The main way that you can be an asset to your teammates is that when using your fourth ability (Cataclysm) you combine it with your second or third ability, allowing for some great assistance to your fellow Tenno. I tended to use my fourth ability with my second ability (Cataclysm + Stasis) as it provided a large area where enemies who stepped into the Rift would freeze, and it would allow me and my teammates to find some safety when needed.

Now, a big change that should be mentioned here is that prior to Limbo Prime, regular Limbo's Stasis ability would result in teammates only being able to melee within the rift as bullet/projectile based weapons could not damage enemies. All the information that I have uncovered, and what I can see from my time playing with Limbo Prime, is that this has been altered and allows teammates to use any weapon to damage enemies. From my time talking to past users of Limbo, Stasis was an issue for other players as they could not shoot their weapons, but this seems to be rectified, and people who encounter anyone using Limbo Prime shouldn't worry as it won't affect their gameplay experience.

I had my doubts when starting to use Limbo Prime, but as I got to understand his abilities, and used mods that focused on range and duration, he became a Warframe that really was enjoyable to use. Using the Rift Walk ability saved me many times, and being able use the fourth ability, and combine it with the second or third ability, was not only useful, but at times fun to watch. Like I said earlier, although he does not have particularly high shield or health, but using his abilities to your advantage will allow you to stand amongst your enemies for a LONG time, as long as you use those abilities correctly.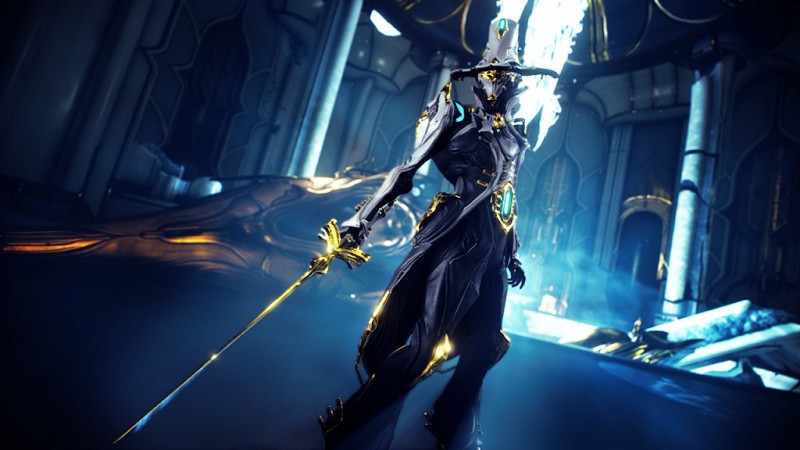 One quick final note, I found that Limbo Prime was VERY useful in defence and interception missions. Being able to freeze enemies within the Cataclysm was so useful, and you could keep your defence target safe or you could lockdown some key points in interception with only minor difficulty. You can also use Limbo Prime in mobile defence missions, given there are key points you need to lock down for specific time periods. For all these scenarios, make sure you have your range and duration modded to a level you like, and what you think might be helpful to your teammates. I did use Limbo Prime in survival mode, especially when completing fissure missions, as it kept allies safe and allowed us to focus on specific areas, but you may not find this useful depending on how you play.

So, how do you get yourself Limbo Prime. Well there are a few ways. The first, and most time consuming of course, is through grinding out relic challenges. Limbo Prime's parts are found in the following relics:

- Blueprint - Meso Z1 (Uncommon)
- Neuroptics - Axi L2 (Rare)
- Chassis - Neo L1 (Rare)
- Systems - Lith B3 (Common)

Farming various fissure challenges will allow you a chance to get one of these parts as a reward, but remember, they are not always guaranteed, and may take you some time to collect all of the necessary parts.

Should you wish instant access to Limbo Prime, you can purchase him outright by via the Prime Access for $79.99 (USD). Sure, that may sound pricey for Prime Warframe, but you get more, as you get the Pyrana Prime Pistol, the Destreza Prime Rapier, some Limbo Prime Glyphs, and, something that is important here, over 2600 platinum (Warframe's in-game currency). The price of the platinum alone justifies this purchase. For those who may just want all the Limbo Prime Accessories, you can purchase that separately, and this includes the Oblivia Prime Syandana and Rift Walker Prime Sigil, a 90-day affinity booster, a 90-day credits booster, and over 1300 in platinum.

So, how do I view the new Warframe. In my opinion, Limbo Prime is a Prime Warframe worth having, whether you decide to farm for him, or if you decide to pay some hard-earned cash to get him, his weapons, and a very sizeable amount of platinum. Either way, you're going to get a Warframe that is enjoyable to use and helpful to your teammates.




But wait, what about that chance to win some Warframe swag I mentioned earlier on? Well, the fine folks at Digital Extremes have given us a chance to offer you Xbox One Warframe players a chance to win Limbo Prime, and a whole lot more. If you hit the link right HERE, you can enter over the next two weeks for a chance to win one of the following prizes:

GRAND PRIZE - Limbo Prime Access & Accessories - 1 winner

Includes:

- Limbo Prime playable character
- Limbo Prime Glyphs
- Destreza Prime rapier
- Pyrana Prime pistol
- Oblivia Prime Syandana
- Rift Walker Prime Sigil
- 3,990 platinum
- 90-Day Credit Booster
- 90-Day Affinity Booster

First Prize - 2 Winners

- 5,000 platinum
- 300,000 credits
- Frost Prime Warframe

Runner Up - 10 Winners

- 7-Day Resource Booster (crafting material boost)
- 7-Day Affinity Booster (exp boost)
- 7-Day Credit Booster (money boost)

Remember, you only have two weeks to enter, as this is a time sensitive contest. GOOD LUCK TO ALL THOSE WHO ENTER TOO.