Steelseries Arctis 3 (2019 Edition) Headset Review
by Royce Dean








- Mic Frequency Response: 100-10000Hz-Mic Impedance: 2200Ohm
- Mic Pick-Up Pattern: Bidirectional
- Headphone Frequency Response: 20-22000Hz
- Headphone Impedance: 32Ohm
- Headphone Drivers: 40mm
- Compatibility: Mac, Mobile, PC, Playstation, Switch, Xbox

Since the first time man picked up a stick, we've been driven to make tools that improve our quality of life. Over the course of our thousands of years of history, we've seen just that. Where there is need, there is innovation. Instead of using a rock to bash things into other things, we put a rock onto a stick to make a hammer. Instead of holding a large leaf over our heads to block out the rain we affixed that same large leaf to a stick to create the umbrella. Catching a fish with our bare hands is a task near impossible for most, so we combined a vine with a stick to birth the first fishing rod. Sticks are pretty great. As a whole, people across the world have created spectacular wonders in both minor and macro scale...but not all of our creations have been doorcrashers. You need only watch late night infomercials to see the grim reality that is the "Happy Hot Dog Man" or "Toilet Golf".

My favorite category of innovation is comfort. Aside from being one of the hottest buzzwords for selling something that's usually stiff or awkward as hell, comfort is something that everybody thinks about on a daily basis whether they realize it or not. Do me a favor. Think about your favorite pair of jeans. Let me guess... they're your favorite because they're comfortable. Am I right? How about your favorite shoes or coat? Your favorite blanket? What is it you look forward to doing at the end of your work day? Climbing a mountain? Of course not. You want to get home as fast as you can and slip into the bath with a glass of wine because you take comfort in it. Gamers have comfort needs too. No matter the flag you fly or the platform you swear your allegiance to, you need a good chair, a good headset, and a good (preferably frequently washed) pair of sweatpants. At the very least, our friends at Steelseries can help you with the headset.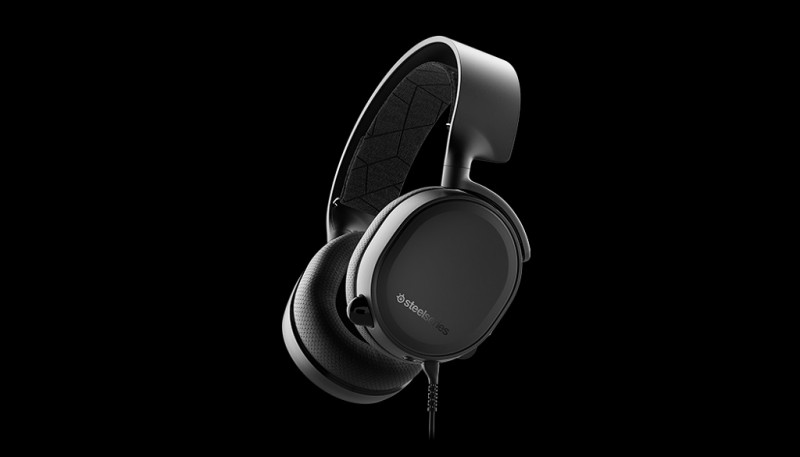 Steelseries has been a brand that has never done me any wrong, and the Arctis 3 headset is no different. It is perhaps one of the most functional and multipurpose headsets I've had the pleasure of using in my long gaming career. From the moment you open the box it's clear that the Arctis 3 isn't only looking to please, but comes equipped to do so packing not one, but two 3.5mm analogue audio cables. The main cables hooks up straight from your left earcup to whichever device you choose, be it a phone or a controller, and then you have the dual 3.5mm extension cable which is used on PC's. This double cable system is fantastic for gamers that like to spread their love across all the multiple platforms out there. You can leave your extension cable plugged into your PC on a permanent basis while taking the rest of the headset with you to the TV for a round of Halo, or out with you on the road for a tear around some tracks in Mario Kart 8. All you have to do when you get back home is grab the easily accessible end to your extension cable and you're good to raid with your guild in World of Warcraft. Uldir won't clear itself.

The Arctis 3 is... dare I say... sleek. Maybe even sexy. I've used my fair share of headsets over the years. Some headsets have felt cheap and breakable, which unsurprisingly have been cheap and broke. Some have been functional, but looked really weird. My last one made me look like a Stormtrooper. Still others looked great but sounded like the muffled PA on a transit system. The Arctis 3 suffers from none of that. Its sturdy, it's comfortable, and it looks as professional as gaming headsets get. The headset is a singular mat color with no etching or odd designs save a simple Steelseries logo written on each of the oval earcups. Under the bridge of the headset you'll find a cloth band thats looped through two metal rings and affixed by velcro. This band can be adjusted to the size of your head and was one of the first things I addressed when starting to use the Arctis 3. While being elastic in nature, having it fit properly will be instrumental in you personal comfort while digging into long gaming sessions.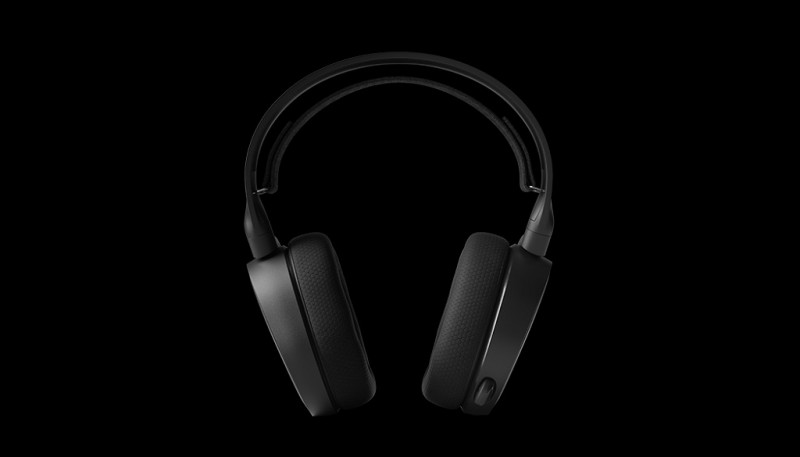 The earcups themselves are decently large without being comical, and have enough depth for those among us that, uh… "hear really well". The padding is a light airweave cloth inspired by athletic gear which feels soft to the touch and also helps to keep your ears cool and dry while playing. This cloth material doubles not only as comfortable but as functional too. It cancels a great deal of outside sound because it form-fits so closely. Naturally, my girlfriend hates them already. The earcups swivel and pivot on a joint attached to the bridge across your head, so it's easily rests on your head in a number of ways. Frequently I find the need to keep one ear out in the real world in case the phone rings, the door knocks, or the guinea pig starts squeaking. Or, you know, in case it's my turn to do the dishes.

On the left earcup you'll find a few toys to play with, including the volume dial, retractable microphone and microphone mute button. These features aren't new to headsets, but are conveniently located and easy to access. Some headsets, comparatively speaking, have these commands on a dongle in the middle of the cord running to your machine, which can be a little cumbersome when a sudden and dire need arises to use them. Placing your left hand on the left earcup you'll find the microphone mute button at the top on the backside, where your thumb should be. It's a small button with a satisfying click, but it can be difficult to tell if the button is depressed or not. Once you have a feel for it, it will be easier to tell simply by touch, but initially I found myself have to confirm visually before diving into online chat. Right below that is the volume dial. Like with the mute button, it can be easily bumped while placing the headset on your head. With enough time you'll get better at minding its placement while handling the set... or simply checking before you play. All in all the only problems I actually experienced with the Arctis 3's audio controls were simple user error that I overcame with a pinch of mindfulness. The left earphone is also the home to your retractable microphone which slides in and out of the headset more easily than any headset I've used previously. The microphone boasts an impressive range of motion that is questionably useful at best, but hey, it can move if you need it to.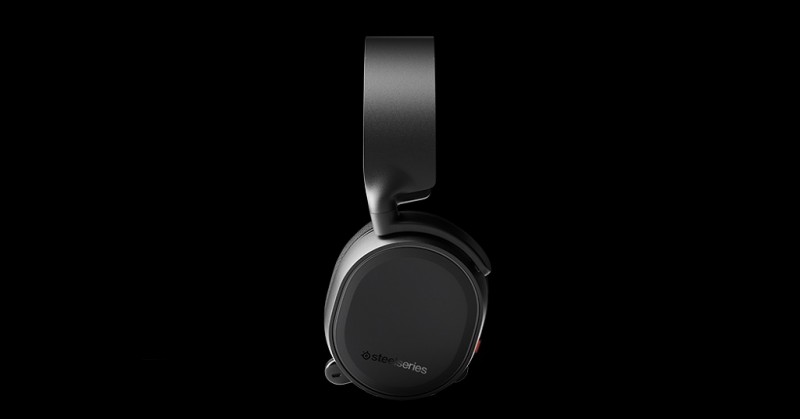 I'm no sound engineer. I don't even know if they have a proper title or if i've just insulted them by calling them the wrong thing. What I do know is that the Arctis 3 sounds phenomenal, and I don't use that word lightly. For its price point, the Arctis 3 has some of the best audio quality i've gotten out of a headset, both incoming and outgoing. This could well be that speaker technology has improved in strides since I picked up my last headset some seven years ago, and I do expect that has much to do with it. But audio quality in games has improved in that time as well, and Steelseries has given us a product that treats the music and sounds in our favorite games as faithfully as they deserve to be treated. There are elements to old favorite tracks of mine that I haven't picked up on before, and I love it. The maximum output these puppies can give us is 98db, which after a quick google search is comparable to the ambient noise of traffic or the subway. At that level it's recommended you expose yourself for no more than 4-8 hours at a time. Listen wisely my friends so that you can listen wisely another day.

What impressed me most about the general sound quality was the background or ambient sounds; rainfall, birds, distant gunfire and the like. The Arctis 3's ability to not only pick those up, but highlight them, helps you, as the player, really immerse yourself in whatever game world you find yourself in. If you find yourself using this headset on a Windows PC or Xbox One console, the latter which our site focuses on, you'll find that your audio experience is further enhanced with Windows Sonic Spacial Audio; a native surround sound built into these platforms. The onboard microphone provides crystal clear sound quality and boasts external noise cancellation. I know this because I forgot to mute my mic before singing along to Lady Gaga, and all of my Discord friends thought that they were at one of her shows. I'm kidding. They made fun of me.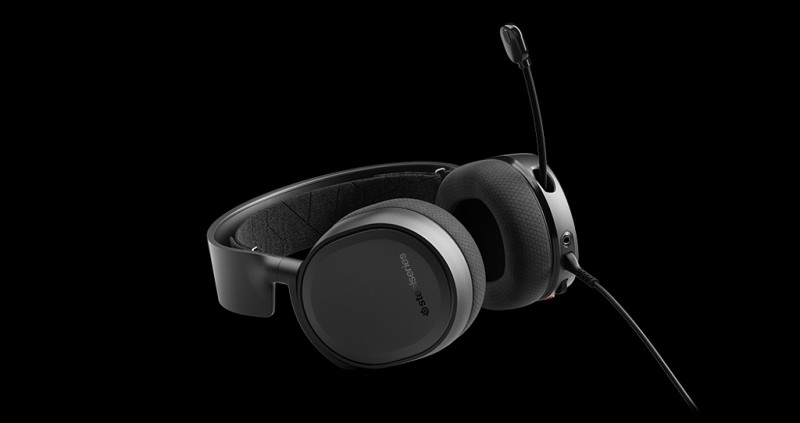 It's rare that I get to play with and review a product that genuinely makes me happy through and through. There's a special kind of joy that comes with getting to hear all of your favorite things again as though it were the first time. But, not only that, with Steelseries' newest iteration of the Arctis 3 you get to do it in comfort and style. Given the level of quality in play, Arctis 3's price point at $89.99 CAD is extremely reasonable. If you're someone, like me, that was in the market for a new headset and isn't sure which direction to take, or simply has no preference to brand, strongly consider looking at Steelseries' Arctis 3 2019 edition. Your ears will thank you.



OVERALL SCORE: 90