Audio Technica ATH-PG1 Headset Review
by Adam Dileva







Features:


Driver Diameter: 44 mm
Frequency Response: 20 – 20,000 Hz
Maximum Input Power: 1,300 mW
Sensitivity: 96 dB/mW
Impedance: 38 ohms
High max input: 1,300mW
Flexible boom microphone, with mute and volume control
Detachable smartphone cable with inline mic
Three detachable cables: 1.2 m boom mic cable, 1.2 m smartphone cable and 2.0 m extension cable
Type: Closed-back dynamic
Weight: 245 g (without cord)
Connector: 3.5 mm (1/8") gold-plated mini stereo, L-type
Type (Microphone): Condenser
Sensitivity (Microphone): -40 dB (0dB=1V/Pa, 1kHz)
Frequency Response (Microphone): 100 – 10,000 Hz
Polar Pattern (Microphone): Omnidirectional


It's not hard to find a headset for your gaming needs these days. Seemingly every company has designed and built a headset for gaming. These headsets can range from a few dollars all the way to more than the price of a console itself and everything in between. Each headset touts its own reasons why it's the best, its technology and why you should get it, but I've never had an Audio Technica headset before. So here they are, in the console gaming arena with the PG1's.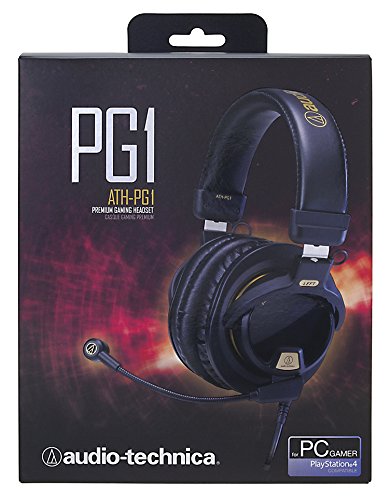 The first thing you're going to notice about the Audio Technica PG1's is that they don't look like a typical gaming headset. Many gaming headsets have that 'gamer' look to them, trying to be sleek and edgy, and usually with a lot of plastic; not Audio Technica though. Instead, they have more of a 'regular' headphone appearance to them, something you could see someone wearing at the gym, on the bus, or anywhere really, not just sitting on the couch playing video games.

The PG1's are a closed back design, which is meant to keep more audio in the cups and la ess bleeding effect. Obviously everyone's ears and head is different, but given the large 44mm drivers, the cups themselves fit very nicely over my whole ear; obviously your mileage may vary, but it should fit over most no problem. This also helps keep the audio contained within and over your ear, as opposed to the styles that sit on your ear and do not surround them completely, as it also helps keep distractions out of your ear, like my loud 6 year old daughter.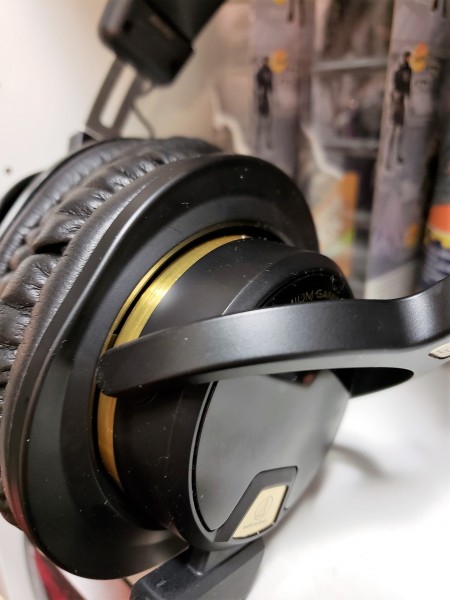 While I like this style much more, the one side effect that comes from this is that your ears can become warmer quicker given there's no real 'breathing' room, even more so when the cushions are leather or pleather. Given that the PG1's use pleather pads for the ear, I was weary at first, as thie style, as opposed to foam, usually makes my ears sweat after long gaming sessions (given that it's not uncommon for me to play for hours on end). Thankfully that wasn't the case here, and I found there to be incredibly comfortable to wear, even when I embarrassingly spent a near full day binge watching some Netflix with them on non-stop.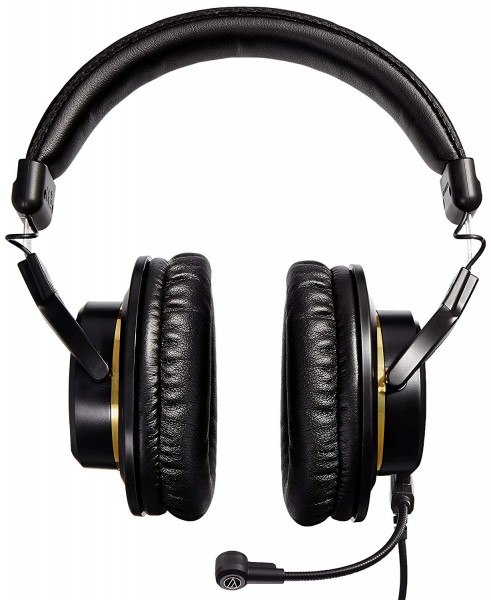 That being said, pleather varies in quality, and the thin/cheap styles will tend to crack and break over time. When I get a new headset to review, I purposely take a few weeks to put them through their paces, not just for experiencing its audio, but how durable it holds up to regular wear and tear (and a little purposeful misuse to accelerate this testing). Even after about a month of using the PG1's, I don't notice a single crack in the pleather cups or headband at all, which is quite impressive given how much I've been using them.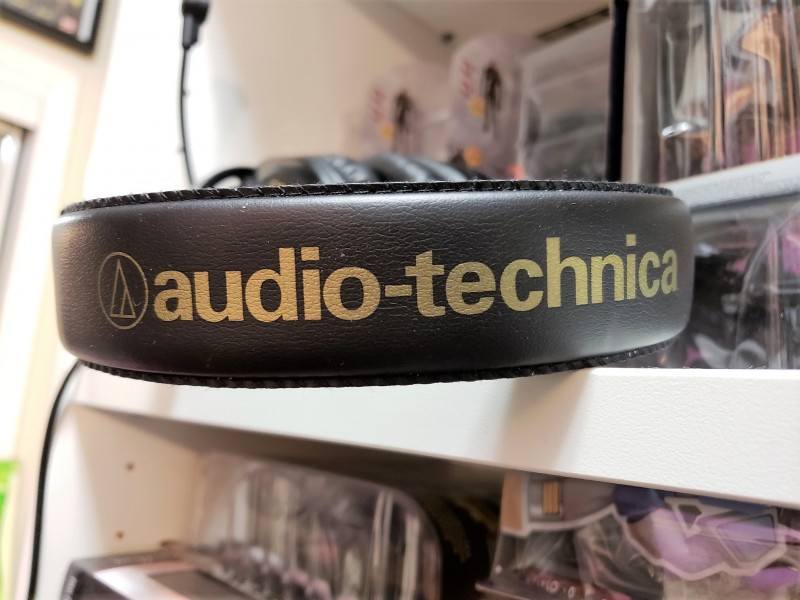 The headset itself is very light, thus I've had little to no fatigue when using them for prolonged sessions. The headband itself is metal, which is a nice touch, as it adds some sturdiness to the main area that tends to start to warp over time first. The band itself is layered in pleather and is comfortable on the top of your head given its softness. The band then attaches to the cups themselves and can be slid easily to fit any size of head. What I like is that there's no notches for sizing, so you can make incredibly minor adjustments to get that perfect fit, where headphones with the sizing notches don't always fit exactly perfectly.

While I don't wear glasses, many do, so I asked my wife to try them on while watching some of her shows. She didn't notice any extra pressure against her glasses, so the cushioning is form fitting enough to wrap around most glasses arms. I initially thought that with a metal band that the pressure against one's ears would be a little tight, but that wasn't the case here. One of the PG1's bestselling points is its comfort, something I always look for in a headset, as you're investing in not only a good sounding experience, but you need it to be comfortable for hours at a time. The cups can also rotate 180 degrees, so they should conform to your head just fine.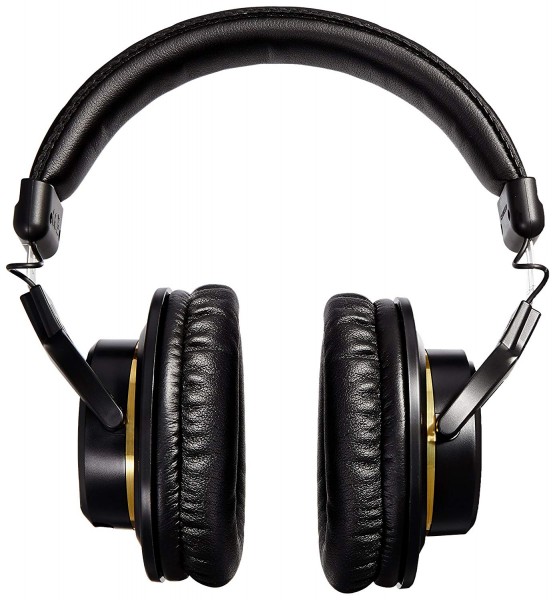 Included in the box are three separate cables, based on what you want to use it for specifically. For PC use,there is a 2.0m extension cable with 2 x 3.5mm plugs for mic and audio that is long enough for nearly any setup. My only complaint about this cable is that it ends with the 3.5mm jacks tethered together quite closely, so if you have your two plug-ins not close by to one other, like myself, it's going to be tricky to find a solution without further extension cables.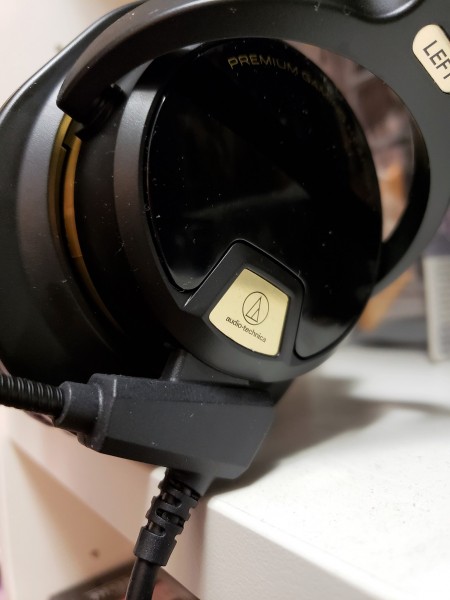 There's also a 1.2m smartphone cable that includes a volume slider and a built in-line mic with a button for controls. This is the cable you'd use when out and about on your day, at the gym, or most other non-gaming uses. The cable is just long enough to reach wherever your device is and thin enough to not add much weight. The main cable that you'll most likely be using though is the gaming connection. This cable is the one that contains the gooseneck mic with volume slider and mute toggle.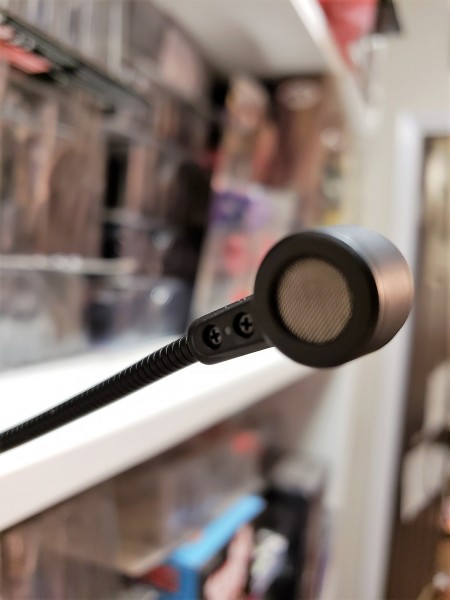 Some people love boom mics that are flexible, others like the hidden or sturdy kind, it's all a preference. I don't mind either way, as long as it makes my voice sound clear and doesn't pick up my heavy breathing. The PG1's boom mic has a very flexible neck and will stay in any position you place it in. An Omnidirectional condenser mic that is this small is quite impressive. Whenever I play my Xbox One, I'm almost always in a party with friends, chatting away, so I was glad to hear they said I sounded clear as could be.

Now, here is where i have to talk about a few flaws. For starters, sometimes my party was hearing an echo of what I was hearing in my cans. This means that there was either some feedback, as they were hearing what I could hear in my ears, or that the wiring within isn't as shielded as well as it should be possibly. I don't believe that the audio was leaking out of the cans into the headset's microphone, given that they are flush against my head, but it did seem to only happen when I had the volume very loud. I'm still leaning towards some sort of feedback internally, but there's no issue when playing at normal or low volumes.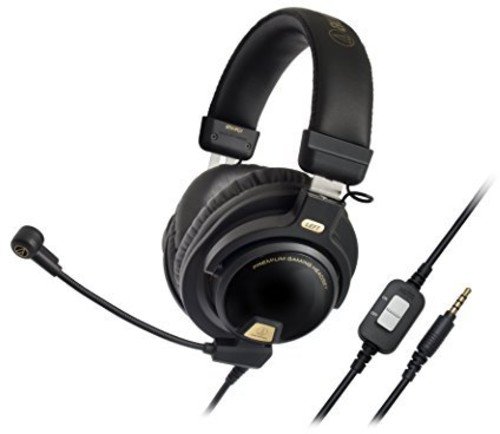 I figured that I would use the in-line volume controls to fix this problem, but the controls themselves aren't that great. The knob itself is housed in a very small and cheap plastic housing, and to make things worse, the rotating controls go from one extreme to the other. If you want to just slightly increase your volume prepare to have your ears blown out, as there's a huge variation of volume adjustment when sliding it either direction. You can fine tune the audio, but you have to do it so precisely that it's something you need to specifically focus to do. For the mute slider, there's also no light or indication that you're muted or not. So obviously when my friends weren't replying to me for 20 minutes, I figured out that I somehow slide the mute toggle to on without knowing.

Now for the audio, what most want to know about, as you don't want to invest in a headset that sounds terrible right? Well, the ATH-PG1's sound... ok. I figured with large 44mm drivers there would be some great audio that came from these, but they simply sound alright. Compared to the other half dozen headsets I use, the PG1's sound 'flat' overall. There seems to be a focus on treble and nearly no bass comes through. Obviously I don't need, or want, a headset that's going to rumble my ears with bass, but when you're playing shooters you want to experience the explosions and action. Bass is present, but there's no 'oomph' to it, so keep that in mind.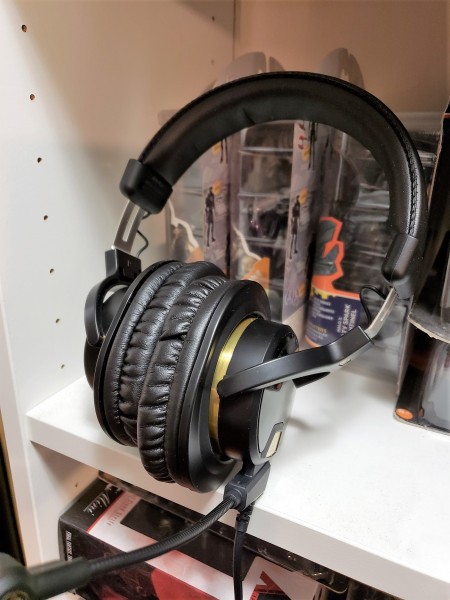 The audio itself is clear and sounds fine, but if you're using it for PC gaming, you'll probably want to play with an equalizer to make up for its shortcomings. Every game I tested with the headset, again, sounded just fine, but nothing that 'wow'd me. While some really prefer having everything wireless, I don't mind the wired nature of the PG1's, as I'm usually forgetful in charging my devices in advance, so that I see as a positive.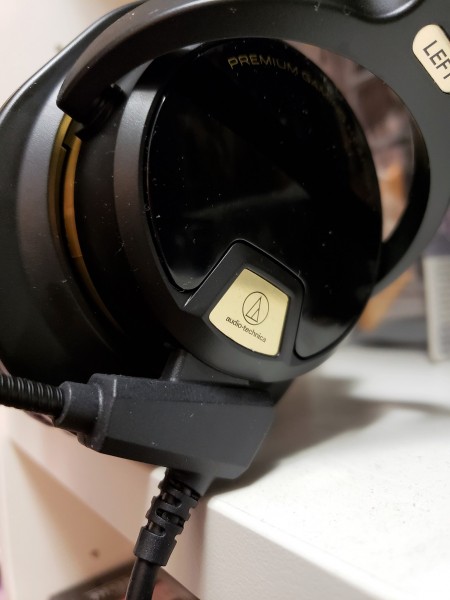 One last thing, pertaining to Xbox One use, is that it's not really built for it natively. To be fair, it's not advertised as an Xbox One headset (it only displays PC and PS4 on the box), but with the new Xbox One controllers with 3.5mm jack built in (or with a stereo headset adapter), any headset can be used with it. It works, but there's no individual sliders for game and chat audio in-line at all. Sure, I can adjust these via the console menu, but it's cumbersome to do so and not very user friendly. It's hard to fault Audio Technica for this, given it's not designed as an Xbox One headset, but a feature like this really needs to be the norm for any 'gaming' headset in my humble opinion.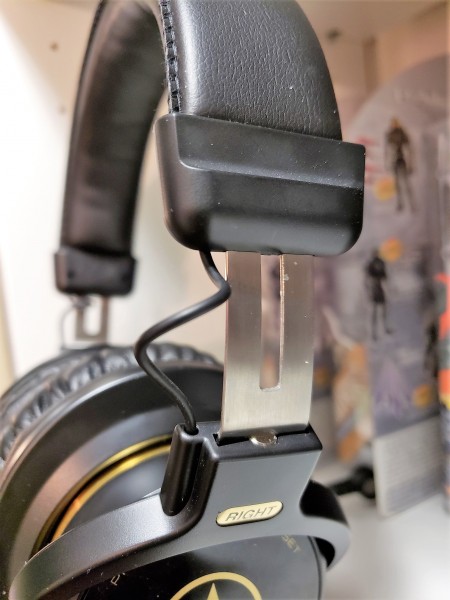 For $129.99 USD, you're going to find value in the ATH-PG1's if you covet comfort over all other aspects. If these were priced about $50 less, it would be a killer headset for that price point, but for its current MSRP, there are superior gaming options available. While the audio does fall a little 'flat', it's decent enough, but there are other better sounding choices at this price point. That being said, the comfort level of the PG1's is what I'm sold on for long gaming sessions, and I prefer the wired solution at times. Being able to use them out in public without having them look like a 'gaming' headset is also a plus if you want to get more mileage out of them.



Overall: 7/ 10