Hands On - Fallout 76 T-51B Power Armor Edition
by Josh Morgan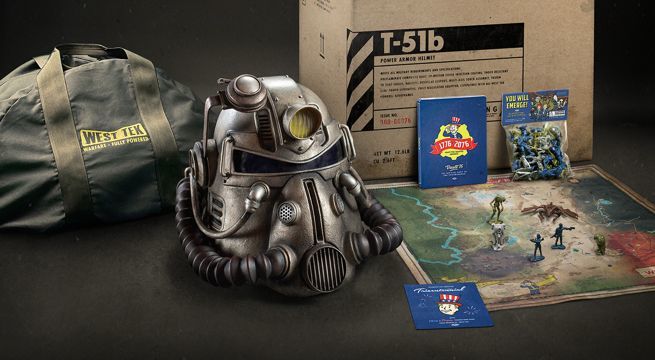 Full disclosure, I do not own Fallout 76 and I've never played Fallout 4, so I do not consider myself a current fan of the series. I do however have a few collectible helmets in my collection, so I thought it would be useful for me to put together a review of the Fallout 76 Power Armor Edition that a friend bought. This review has nothing to do with the game, but solely on the extra goodies included with the Power Armor Edition.


Here is a list of the items included and then we'll get into each item individually.
· Canvas West Tek Duffel Bag
· Wearable T-51B Power Armor Helmet
· Exclusive Steel Case
· 24 Collectible Fallout Figurines
· Glow-in-the-dark world terrain map

First on the list is the famed "canvas" bag. If you haven't followed the news on this then you are probably wondering why I put canvas in quotes. As the Power Edition started to ship to customers, posts on social media started to pop up and reports were that a nylon bag had replaced the canvas one shown and described on all promotional posters and listings from retailers. Understandably customers were not happy with the switch and reached out to Bethesda support for clarification. Bethesda's "we aren't planning on doing anything about it" response spread like wildfire and the company received some pretty nasty backlash from its most avid fans.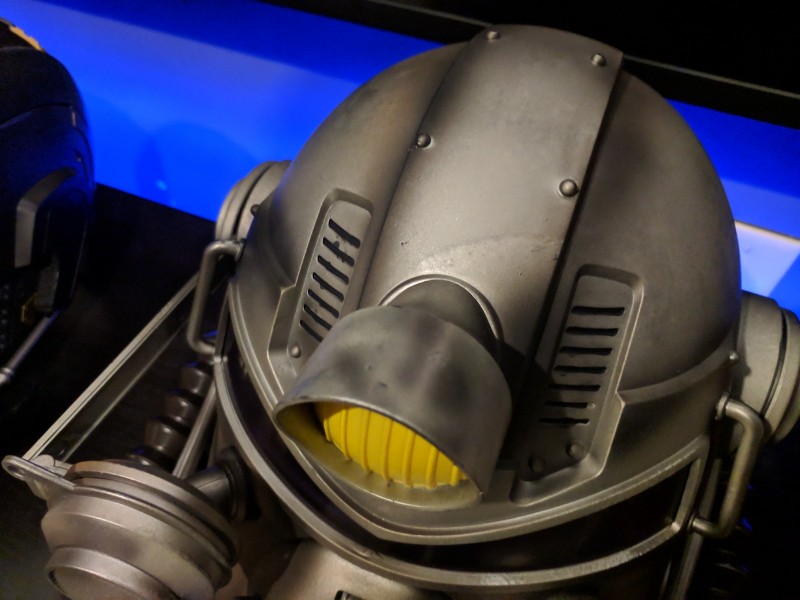 On 12/3/18, Bethesda Support's twitter account announced that a canvas bag replacement will be sent out to owners of the Power Armor Edition. A link to request a replacement can be found HERE. I do not have my hands on the replacement canvas bag yet, so I may update this review once the canvas bag arrives. As I removed the nylon bag from the clear plastic bag it came in I immediately noticed how thin it was. Honestly, the clear packing bag that it comes in might be made of a better quality material. The nylon West Tek bag is paper thin and I doubt it would be able to carry the weight of the very light helmet it comes with. Even if there was no drama surrounding this bag and the original promotional material stated it was nylon, I would be pretty mad about the quality of this item. It just doesn't match the quality of the T-51B helmet it comes with.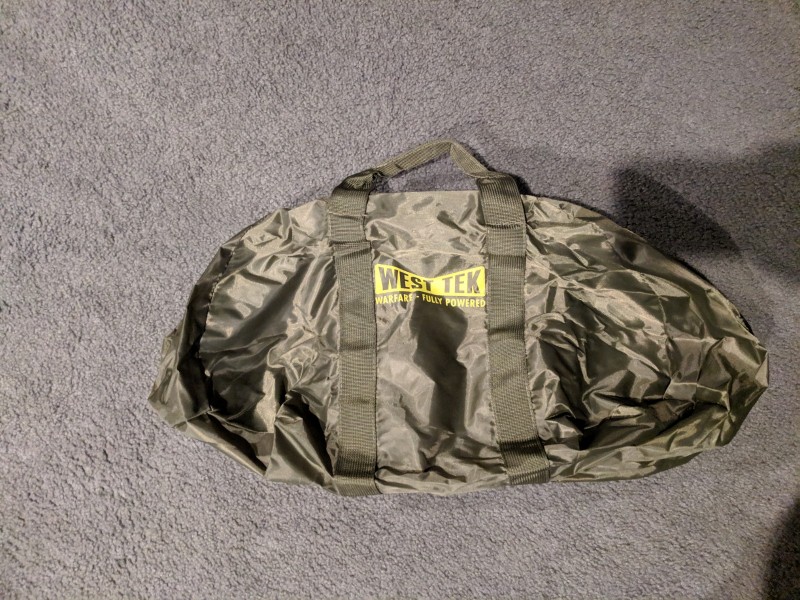 Speaking of, next up is probably the reason you are reading this review, the wearable T-51B Power Armor Helmet. As I stated in the opening of this review I own a few collectible helmets and have them on display in my gaming room. Just to brag a bit, I own the Marvel Legends versions of Star-Lord, Iron-Man and Black Panther, and have worn each of them for various amounts of time, playing with the buttons and chasing my kids and dog around the house. The T-51B is every bit as detailed as the helmets I own. At first look it is quite large, but I feel that fits along with the bulky armor that is worn in the Fallout games. Another thing that I noticed is that it is very light compared to the size, which is awesome if you plan on wearing it for longer periods of times at a convention or gaming event.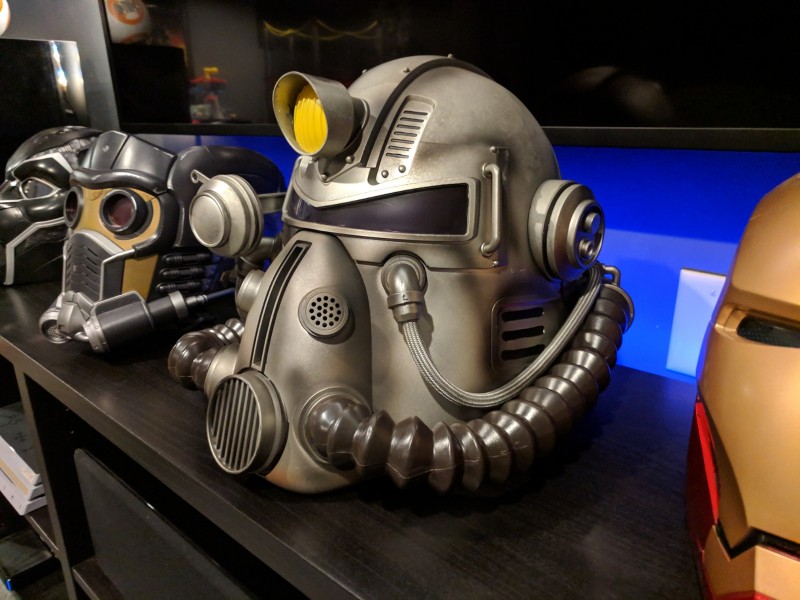 There is a cloth neck wrap that is attached to the helmet by plastic hooks on the inside, which gives a nice tight snug fit around the neck and prevents wobble from such a large bulky helmet. It's also removable so it can be washed to get rid of all the Dorito dust that stuck to it last time you wore it to a Halloween party. Once on, your visibility will be limited a bit due to the small eye shield. This isn't a flaw in the design of the collectible, but more so on the design of the helmet itself. The opening that you are looking through just isn't big enough to see much in your peripheral, and even looking up and down can be tough. This is a common problem among prop and collectible helmets that are closely modeled after movie, comic or game armor. They are designed more for looks than actual use, but that's not necessarily a bad thing. All 3 of the helmets I own suffer from this same drawback, but they look awesome sitting on a shelf and for the occasional use.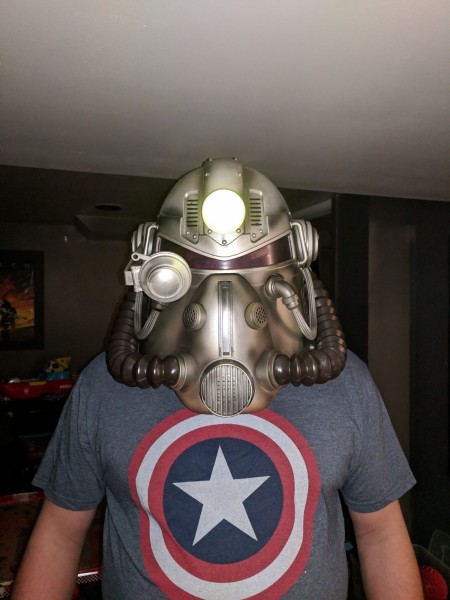 The quality of the paint job is where this collectible shines. It's covered in silvers, browns, greys and rust red colors that a helmet of heavy use would have. Chips, cracks and worn metal marks are also intentional flaws that bring this helmet to life and tell a story of use. There are no noticeable plastic seams, burrs, paint smears or screw holes that are usually red flags that the maker cut corners. The battery compartment is inside the front where the mouth would be. So there's no bulky battery cover showing on the outside. All of this gives the helmet a look that is very true to its in-game counterpart.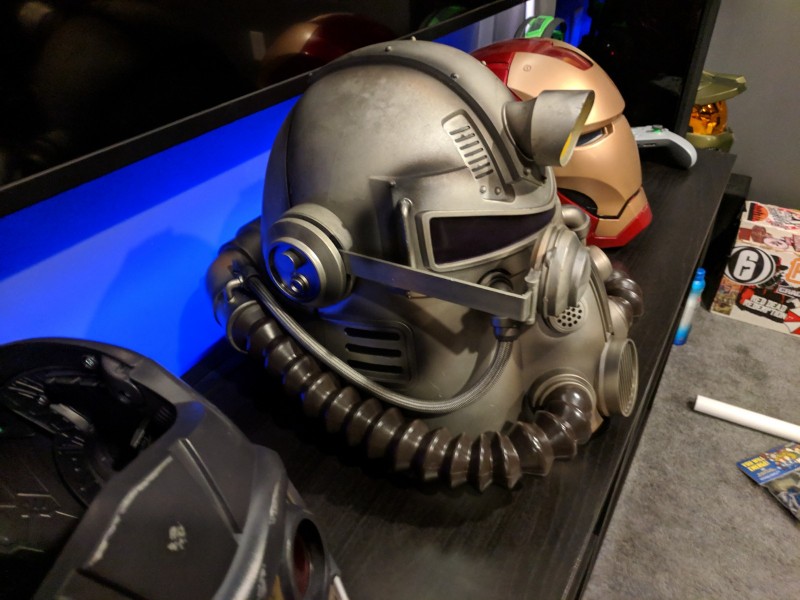 There is a working light on top that glows an eerie yellow when on, and a sound effect that I can only describe as a gas or air tank depressing some stored up pressure. It's not very loud, or clear, so I would say the speaker is definitely a low point in quality of this collectible. There is also a voice modulator that is meant to mimic the voice of the Brotherhood of Steel in the games. I tried using it a handful of times. but there is always a small delay in the voice, and with it being too quiet, you tend to hear your own voice echo in the helmet more than the voice modulator. Outside of the helmet the sound is no better, as the voice of the user is louder than the speaker (the same speaker as the sound effect), and the delay muffles it into a mess you just can't understand.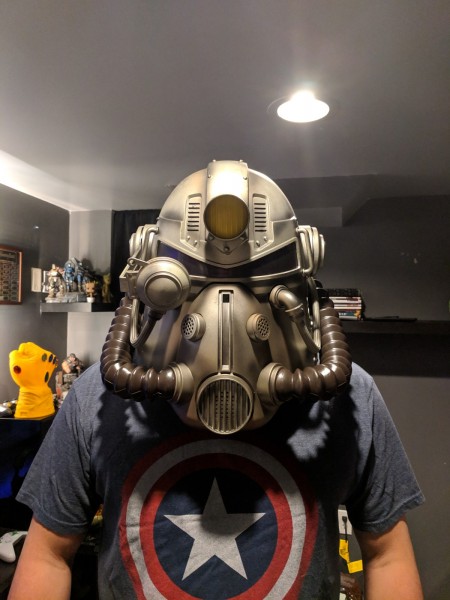 Aside from the light which is very cool, these "features" are very low quality and it makes me question why they decided to include the options in the first place. I think the light would have been sufficient and they could have scrapped the sound effect and voice modulator in lieu of providing an actual canvas bag. I think that most people won't be using this as a wearable anyway, and instead, it will be sitting on a display shelf for most of its life. It looks great sitting on my entertainment center and the quality of the item is on par with the $100+ helmets I have on display. If I were a Fallout fan I would be very happy to have this in my collection.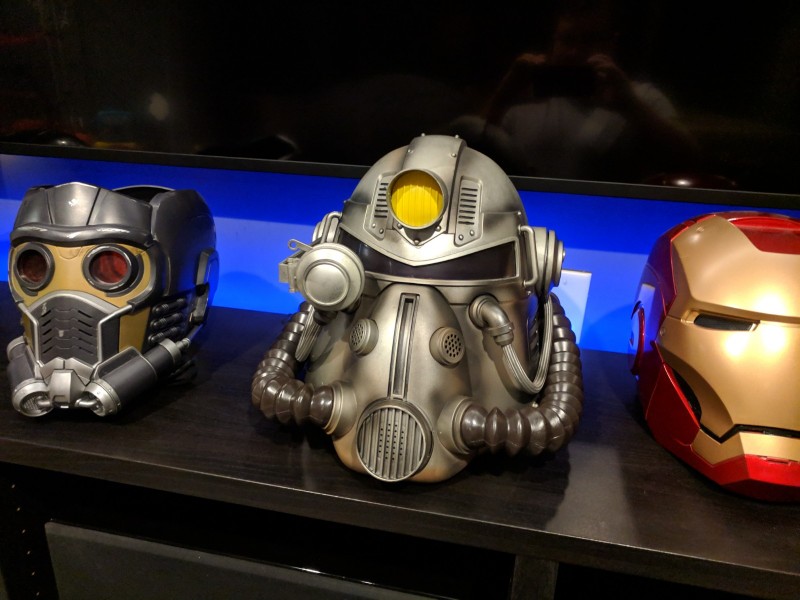 The rest of the items that come with the Power Armor Edition are pretty standard for editions like this so I won't go into too much detail. The steel case is exactly how it sounds. It's a blue metal case with the logo of the Tricentennial. Very colorful and bright which is the opposite of the color pallet of the Fallout games I remember. There is also a bag of 24 Fallout figurines that are a lot like the plastic army men our dads used to pretend to have fun with as kids, and a glow-in-the-dark world terrain map that actually glows in the dark pretty well. The map is made of a poster type material and is super glossy. The only drawback of it is that it's packaged in a tight roll and is very hard to spread out without creasing it. It would look pretty cool framed and hung up on the wall of your gaming den.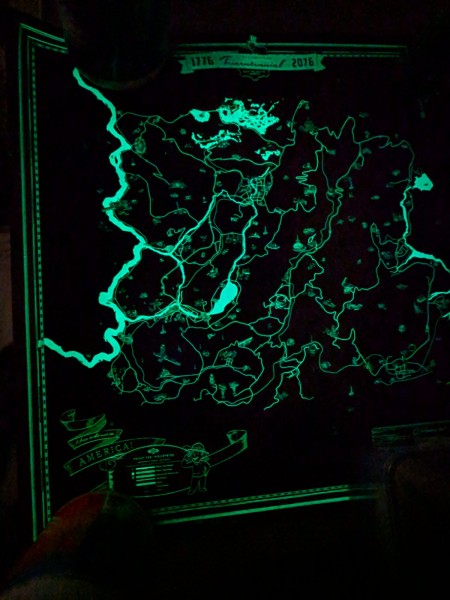 At $200 USD I think it's a pretty decent price for what you get. I would honestly have no problem putting the T-51B Helmet alongside my Marvel helmets which retailed about $100 USD each. Add in the $60 game, the quality map, the canvas bag (when you get the replacement) and the digital goodies you get and it's not far off from the price tag. Let's face it, the star of the show is the helmet and I think it is a quality piece that will look great on a shelf, and great on your head. Just don't go exploring any dark tunnels in the wasteland with the cheap nylon bag, as it can't carry much loot.