Fantom Drives XSTOR Xbox One X 2TB HDD Review
by Adam Dileva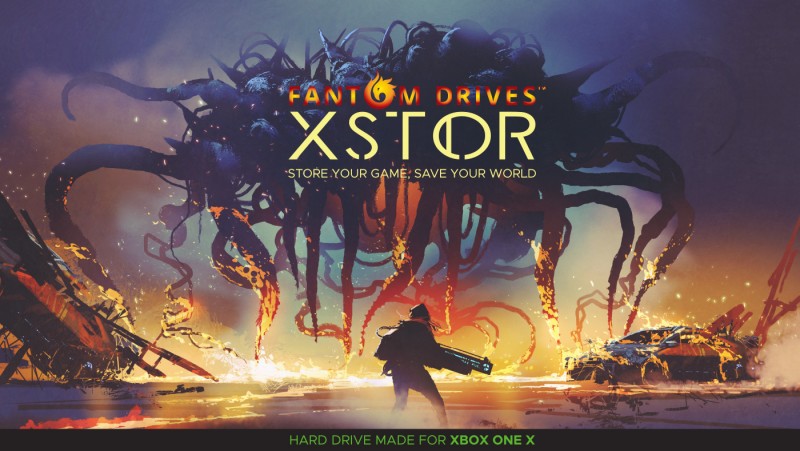 This generation sure did grow, not just in sales and audience, but files sizes for games as well. It's not that uncommon these days that a single game can be over 100Gb with patches and DLC, hell, we've seen day 1 patches alone almost reach 100Gb on their own. Luckily, I have a great connection in my city, so speed-wise, this really isn't a concern for me. Where my dilemma comes in is storing all those digital games and updates.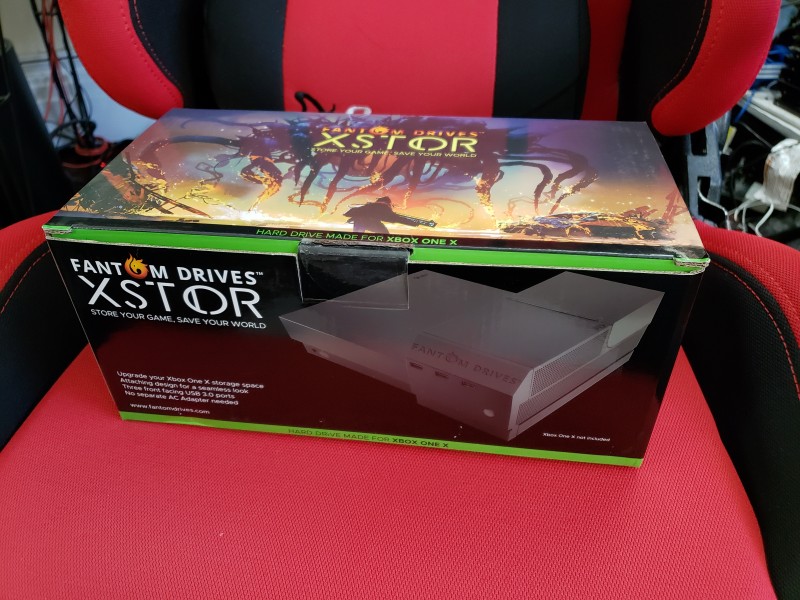 As a game journalist, we are sent digital codes for games instead of how discs used to be sent last generation, so we need to digitally store all our games. Sure, you still need to install discs to the hard drive, but my digital collection is so massive that I literally have had to delete a few games to install newer ones I'm currently reviewing. Yes, I know, first world problems right?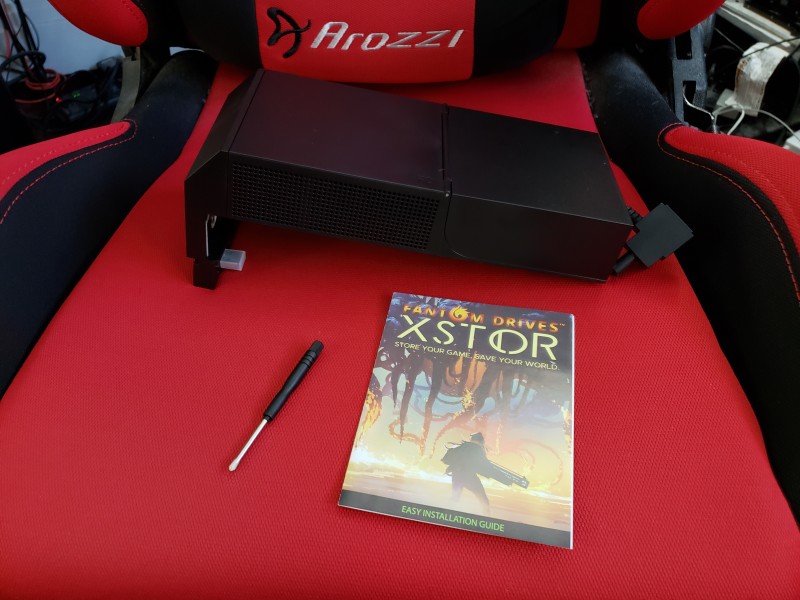 That being said, I have no way to keep my near 1000 digital titles (backwards compatable included) installed at all times, so I eventually went out and bought an external portable drive for my Xbox One shortly after launch to add some more storage. This worked, and still does, but it simply wasn't enough, as I always want to have certain games installed that I go back to now and then, like Final Fantasy XV, Forza 7 and Horizon, and a dozen others that are massive in size. If I was using the internal hard drive alone, I'd not be able to have many games installed at once, though it was nice doubling the space going from a Day One Edition Xbox One to a Project Scorpio Xbox One X.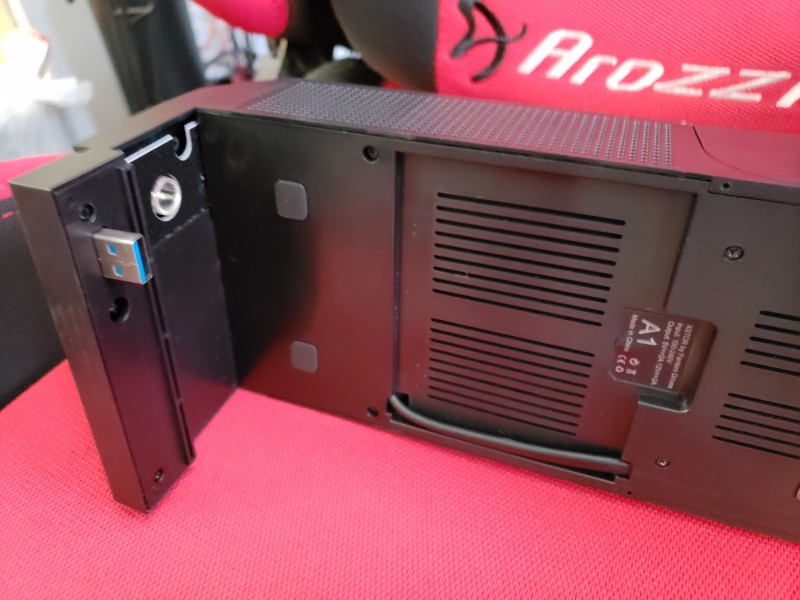 Even doubling the internal HDD wasn't enough for the needs I have, which is where the external came into play. Even that though started to fill up quickly, and I was contemplating weather to buy another external or upgrade to a much larger one. The clouds parted and I heard music in the air once we just happened to get our newest unit to review, the Fantom XSTOR for Xbox One X. Fantom made an external add-on for the original Xbox One, but nothing for the Xbox One X, until now.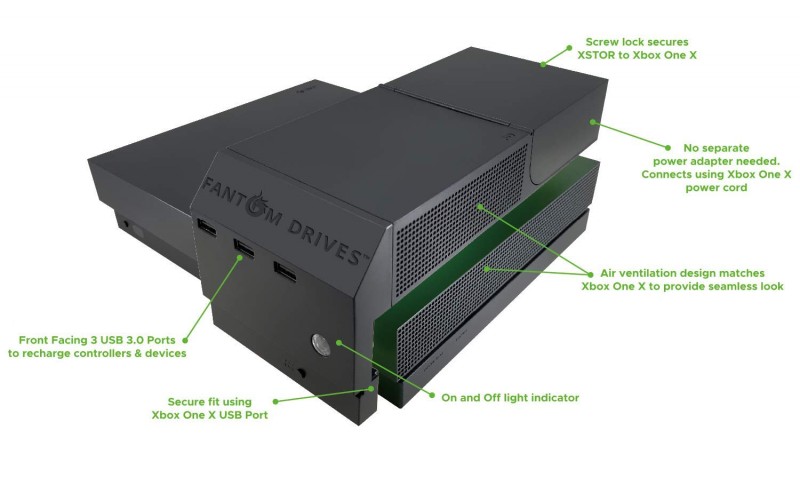 It was meant to be, and I've been using their 2TB model for a few weeks now (Model# XOXA2000). Being one of the first external drives designed with the Xbox One X in mind, this attaches simply within minutes and seamlessly; sort of. I have a myriad of consoles and other devices also plugged in at all times, so power bar space is a premium in my setup, so the fact that the XSTOR doesn't use or require a power adapter that's always too bulky to play nicely with everything else in my power bars, is a welcome feature as well.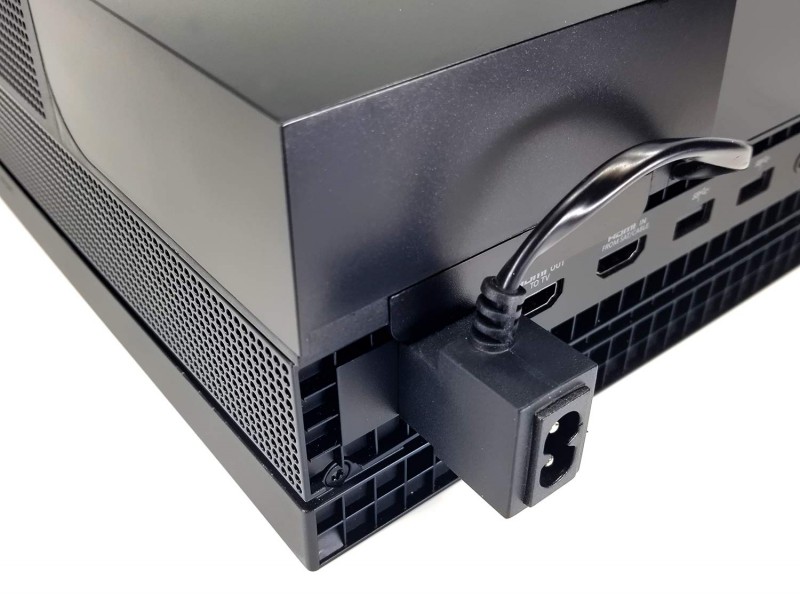 I've been using the 2TB model, but the Fantom website shows options from 1 to 5 GB or a 1 or 2TB SSD configuration, with varying prices of course. For your average gamer, an extra 2TB is going to be much more than is needed, but for extreme users like myself, the bigger the better. I looked everywhere online, on the official site and elsewhere, but was unable to find out any information as to what hard drive was actually included with this model.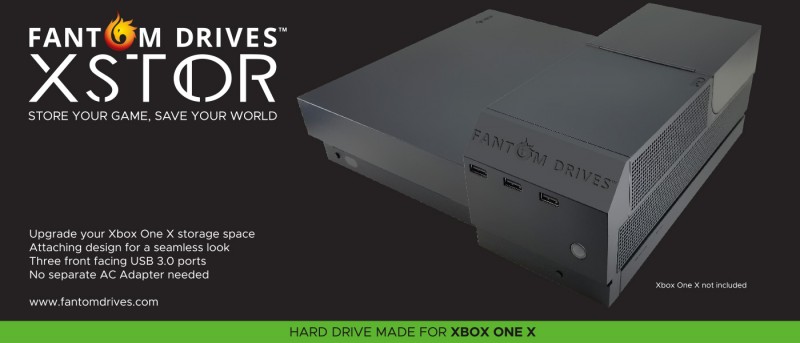 So I did what any curious person would do; slit the 'warranty void if opened' seal and checked for myself. Turns out, Fantom decided to use a Seagate FireCuda model (ST2000DX002) which has fairly decent reviews, which was a relief, as they could have put a no-name brand in to save a few bucks, but didn't.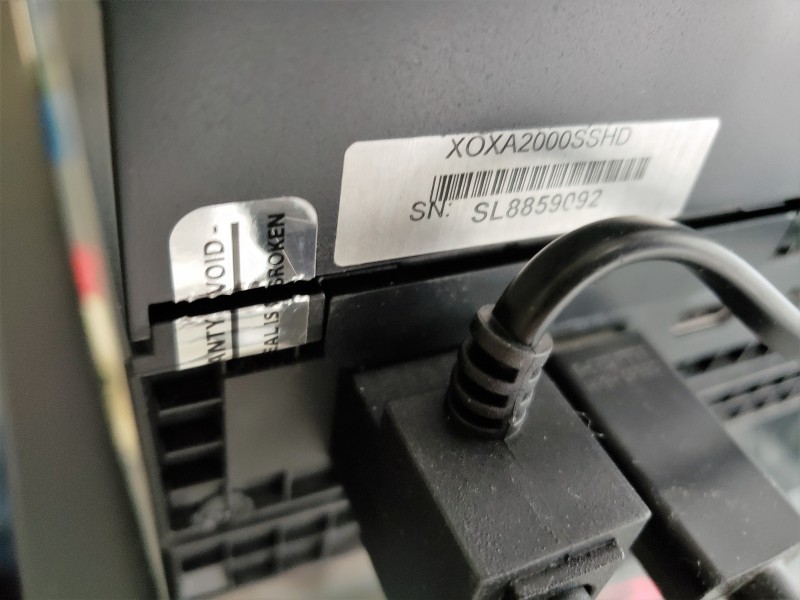 Installation is as easy as it comes. The hard drive is housed in a plastic casing that plugs into the front USB slot of your Xbox One X and is powered by the regular plug-in at the back of the console. Fantom claims "frustration free 3 minute installation", but I don't think it took anywhere near that long. You literally just plug it in, slide it back so it's snug, screw the little plate so its tight against the console and doesn't shift, and finally plug in the adapter. With no power adapter, there's no wires or anything you'll need to mess with, and the HDD is already preformatted for Xbox One use, so it's ready to go as soon as you turn your system on.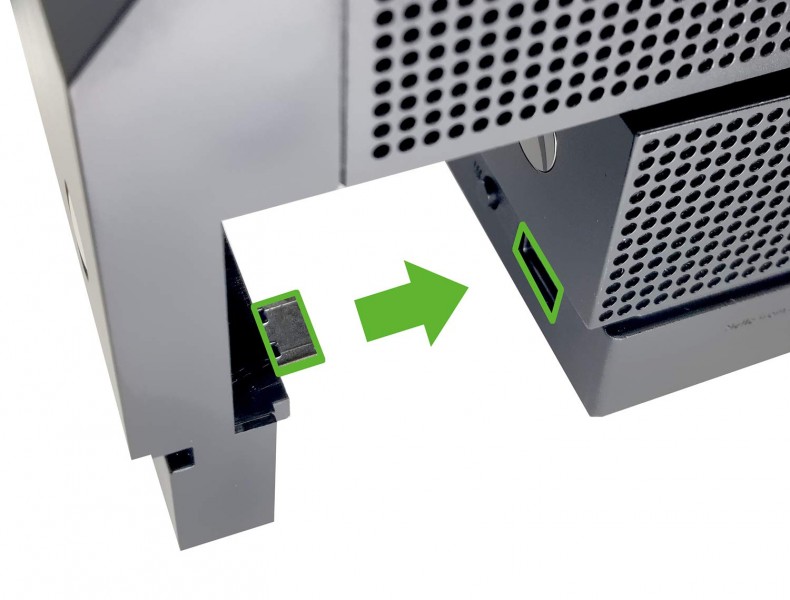 The first thing I wanted to test was a handful of installation times from discs compared to the internal drive of the Xbox One X. How I did this was start a stopwatch from the moment the drive pulled the disc to the moment installation reached 100% and the 'ready to play' messages popped up. I only tested this from disc installs and declined the updates to not factor in any internet download speed anomalies.




*Mutant Football League: Dynasty Edition
Internal Install: 6M 00S
Fantom Install: 5M 28S

*Shadow of the Tomb Raider
Internal Install: 23M 38S
Fantom Install: 23M 02S

*Sega Genesis Classics
Internal Install: 2M 03S
Fantom Install: 1M 45S

*Tekken 7
Internal Install: 40M 37S
Fantom Install: 39M 58S

*Plants vs Zombies: Garden Warfare
Internal Install: 12M 40S
Fantom Install: 11M 27S

*LEGO The Hobbit
Internal Install: 11M 10S
Fantom Install: 10M 16S

*Trials Fusion
Internal Install: 7M 21S
Fantom Install: 6M 54S

So as you can see, you save roughly 30 to 60 seconds per install. Sure, that doesn't seem like a lot, but it adds up if you're someone like me that's installing a new game every few days or so. This also made me realize how lengthy some game installations are these days (I'm looking at you Tekken 7). As for boot times, it was also slightly quicker when the game was installed on the Fantom as opposed to internal as well. Again, nothing drastic in terms of time saved, but it adds up over time. There's also a setting in the console to make this, or any, connected drive your default storage, so you don't have to fuss with moving titles back and forth if you don't want to.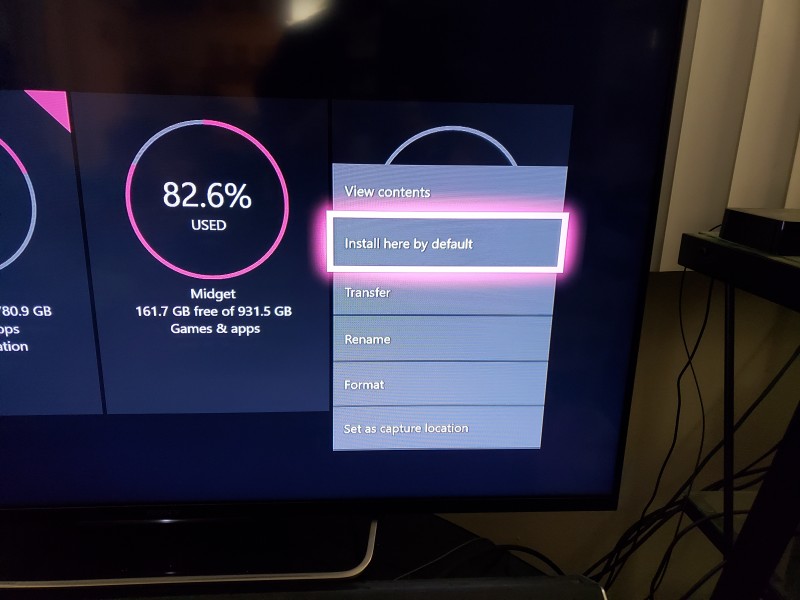 One feature that I really enjoy is that since it's taking up the front USB slot, the one I'm always using for my wired controller or whatever other device, the front of the XSTOR actually gives you back 3 USB 3.0 slots in the front. For someone like me that is already maxing out the console's USB slots with external drives and other devices, the added slots are very welcomed.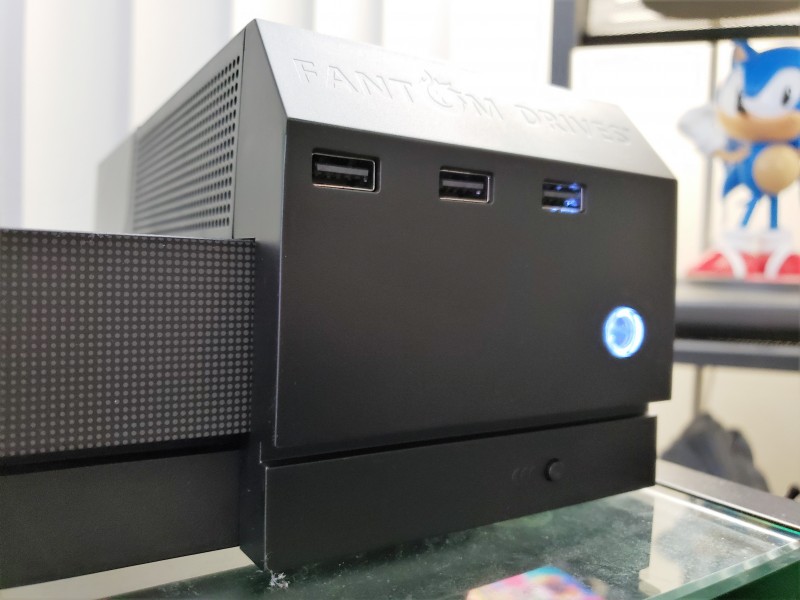 If you're one of the weirdos that use the stand to have your console vertically (just kidding, you're not weird... sort of), the XSTOR doesn't interfere with this either. The housing is flush on the side of the console and has incorporated air ventilation to help with the additional heat the hard drive produces.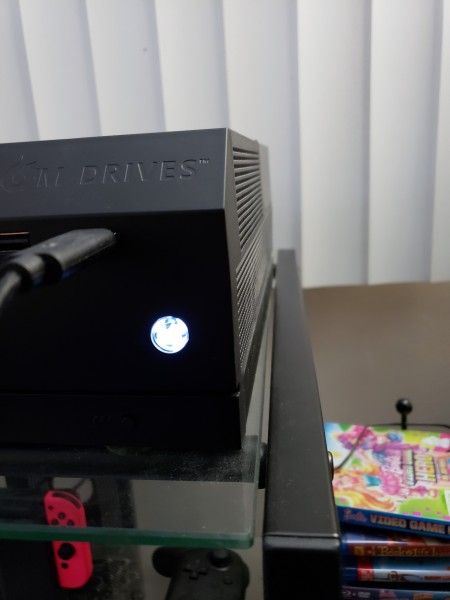 I have to admit though, I was initially cautious and concerned that a hard drive sitting on top of my console, even though it's in its own housing and ventilation, worried me. After weeks of use, I've had no issue yet *knock on wood*. It seems that there's always power going to the device though, as the casing, and thus the console, is always warm and has that quiet 'hum' that most electronics have, most likely because I keep my console in standby mode when not in use.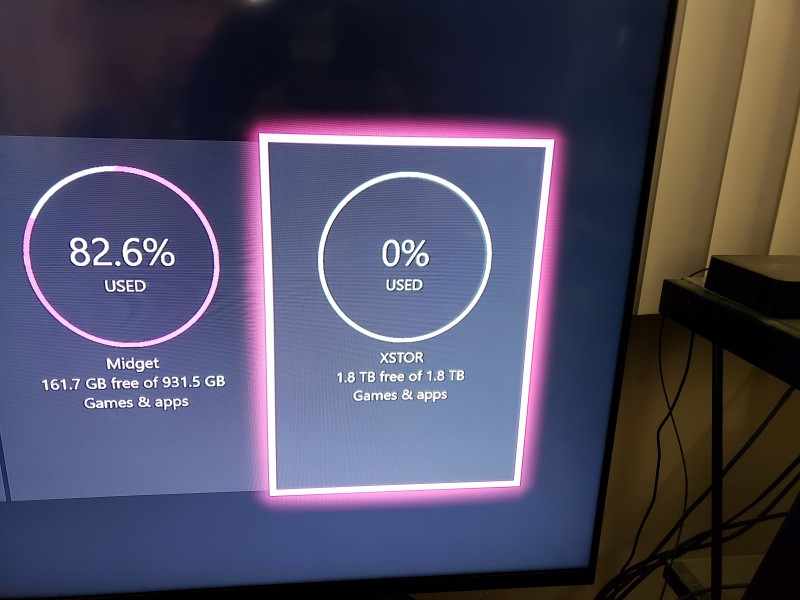 Aesthetically, the Fantom XSTOR is going to be something you like the sharp jagged design of, or will simply hate. I'm somewhere in the middle. I generally don't care what my electronics and devices look like, as long as they do what they're supposed to do, but the Xbox One X is small and sleek, and adding the XSTOR to it makes it look like a monstrosity. The device only covers about 30% of the console, so it's not an even flat look anymore with this installed. There's a clear jewel on the front that goes over the original power button, so you can see the 'X', but the button itself does feel a little cheap and looks slightly 'cloudy'.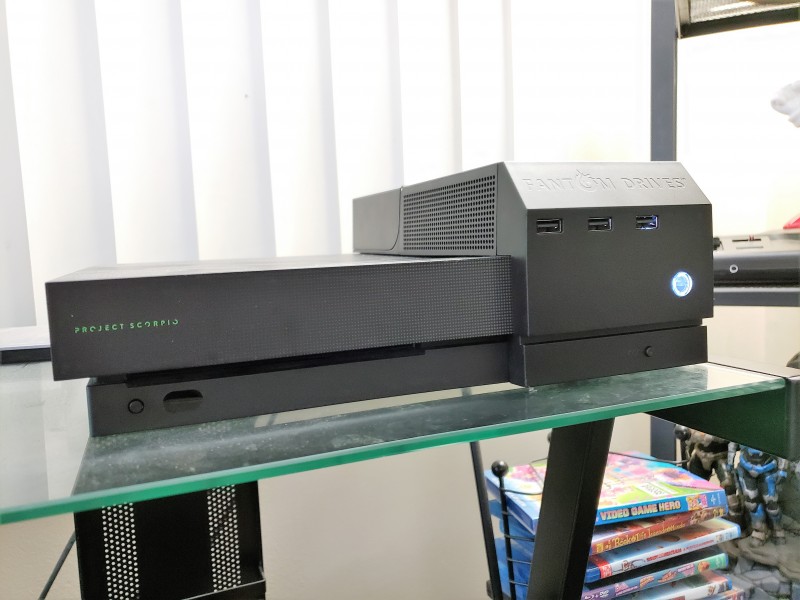 Some may like the aggressive look, but upgrading from the VCR sized launch Xbox One to the sleek Xbox One X was a great selling point for myself, which will no longer be the case with the XSTOR installed. I think the Fantom part is actually taller than not only the original Xbox One, but the classic Xbox as well; it's that huge.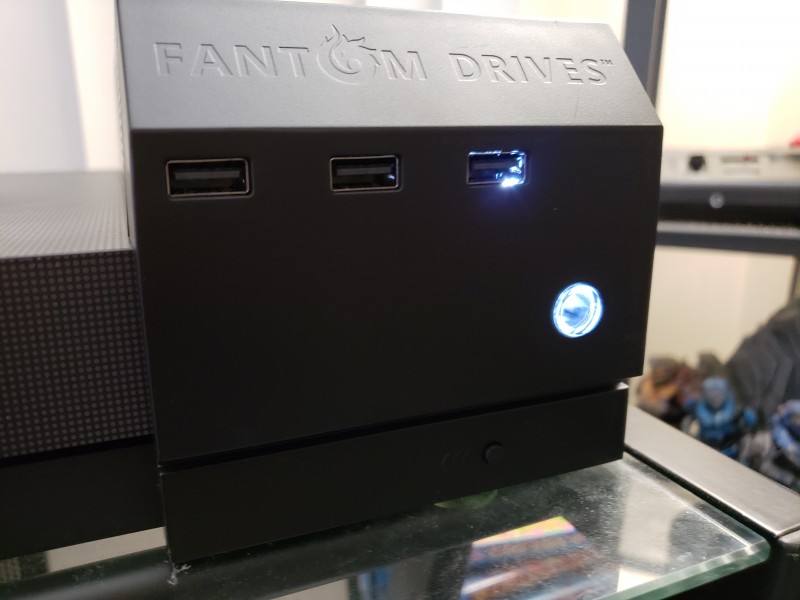 After opening up the hatch that houses the HDD to inspect the device, it's simply a standard 3.5" SATA hard drive, so technically you could simply take that drive out and install a larger one should you want. If you're going through that much effort, and paying the premium for the housing, you're better off going with an external drive anyways.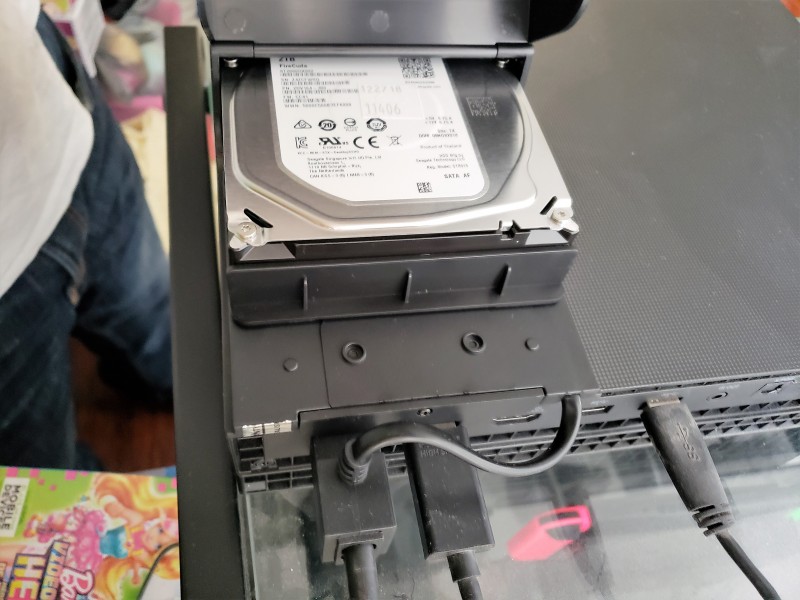 This is where price comes into play. The Fantom website is selling this 2TB version for $139.95. If you're a savvy shopper, you won't have any problem finding a 2TB internal, or external, for cheaper. So why choose Fantom? Well, internal drives aren't really an option without an extra adapter of sorts (which is essentially what the XSTOR is), but that's not very practical, or recommended. External drives have come down in price, but is simply a hard drive without any extra USB slots included.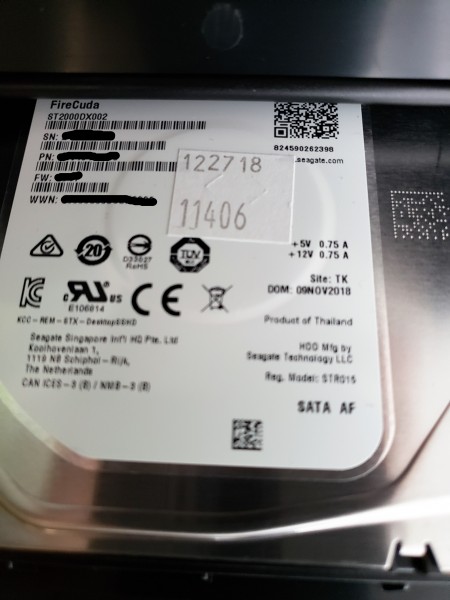 And that's sort of what you have to factor in when deciding. Do you want to pay a slight premium to add the Fantom to your Xbox One X and gain a few extra USB 3.0 slots and an aggressive look while not have to format the drive (not that that takes more than a few moments), or save a few bucks and grab an external, to which there's endless choices. That's really up to you. While I don't particularly like the aesthetic of the XSTOR, I'm becoming used to it, and it's doing its job; giving me a lot more space for my obscene collection of digital titles.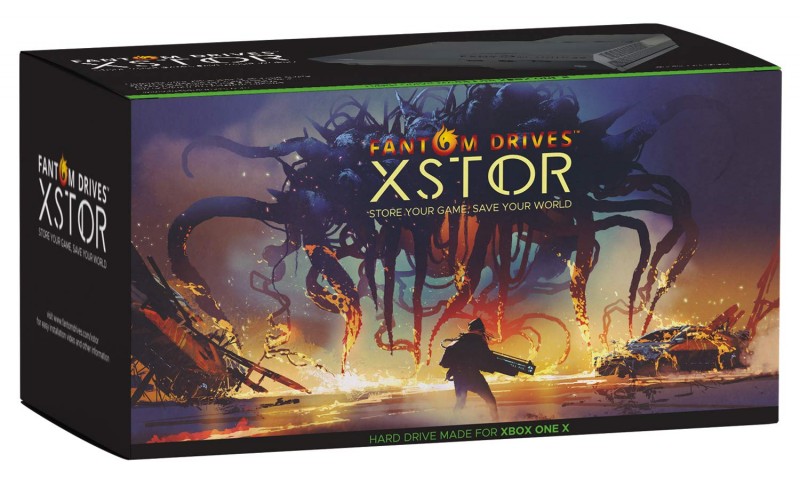 If aesthetics is a big deal to you, you're not going to enjoy the gaudy Fantom XSTOR adding monsterous size to your console, but if you don't care, then it does its job of easily adding more storage that should be more than plenty for your average gamer. I constantly have an issue with space and lack of USB slots on the console, so the Fantom XSTOR is a great solution for someone like myself and my needs, and if I need to add more storage and see a great deal on an internal HDD in the future, I now have the casing to add it to my Xbox One X without any hassle.



Overall: 8.5/ 10