Sudden Strike 4 - The Pacific War DLC
by Adam Dileva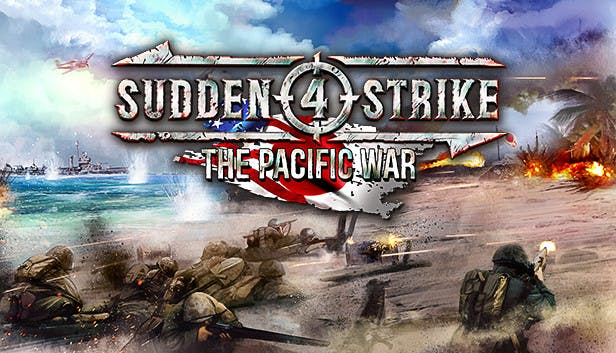 It's not easy to transition a RTS to consoles, namely due to the controller interface. Some fail horribly, whereas others, like Sudden Strike 4, do a half decent job at rising to the challenge. In fact, you can read our review on the base game HERE.

Since release, developers Kite Games have added a couple of DLC expansions for Sudden Strike 4, with the newest, The Pacific War, available now. Adding a whole new theater of War, this expansion focuses solely on the Allies versus Japanese conflict in the Pacific, complete with new units, scenarios, gameplay and generals.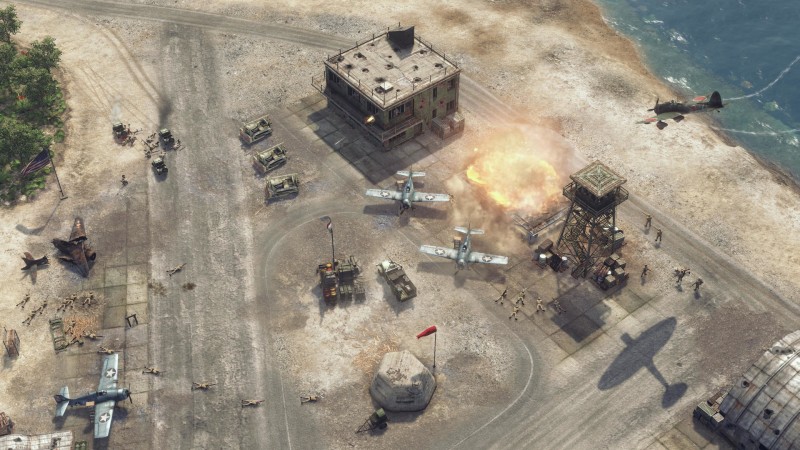 As you begin, you'll choose either Allied or Japanese forces, each with their own campaign of five missions each, for a total of ten. Each campaign will allow you to utilize three new commanders each, all with their own unique abilities and playstyles. You'll battle on completely new lands in scenarios that were iconic in World War II, such as the battle at Iwo Jima and more. I know it's a historical recreation of events, but I don't want to spoil any of the missions given there's only a handful, though some were very interesting, challenging and unique.

So what's specifically new with this DLC aside from a new setting and commanders? The main points would have to be the varied vehicles (including naval ships) and new units that add some interesting strategy, such as flamethrower tanks and units, amphibious vehicles and so many more that I don't know the official names to. The naval battles were surely the biggest surprise for me, and also the mission I'll remember the most from both campaigns.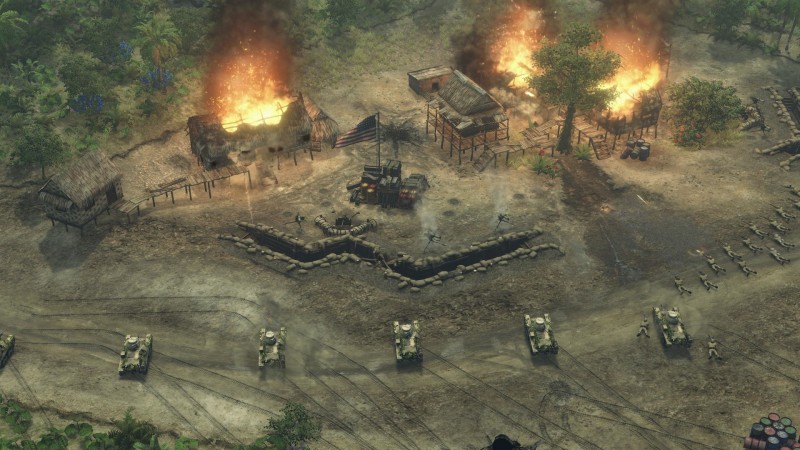 Looking up the DLC, you'll probably notice that it's priced a little high, $19.99 CAD to be exact, but for good reason, as you're getting a massive 10 missions with completely new commanders, which is much more compared to what the previous DLC packages offered.

Core gameplay is largely unchanged mechanically. You still need to use the annoying 'A' button hold for an expanding reticule to select units imperfectly. Given that Sudden Strike 4 is a RTS, you're going to have to become proficient with managing multiple squads at any given time, though for the majority of the missions, I found that gathering every single unit of mine and sending them as a massive force worked for the most part as well. Sure it wasn't anywhere near as strategic, but it brought a grin to my face when I would simply steamroll anything in front of my chosen path.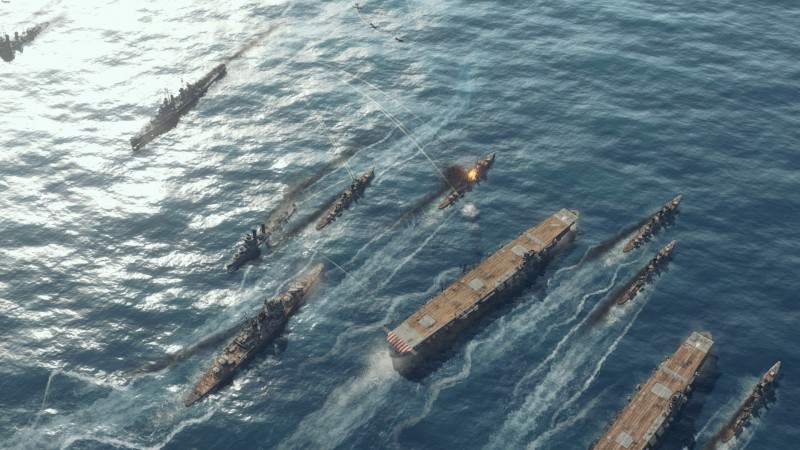 Historically, The Pacific War seems to be quite accurate. While I'm no history major, there's nothing quite like having to invade an enemy controlled island on the beach shores and push your way into enemy lines. Many missions revolve around some sort of invading, or defending, and having to capture a specific point for strategic purposes. Yes, that's the general reasoning for any battle, but with the new units and vehicles added in this expansion, it sure makes it a lot more interesting.

There's nothing like quite rolling up on a fortified airbase with your tanks, infantry and flamethrower tanks, disseminating anything in front of you, or just as you think you're on the brink of victory, you become swarmed with enemy tanks on your flank. There's plenty of exciting moments like this included in many of the missions, but the naval battles was a great addition and added some variety to the basic gameplay.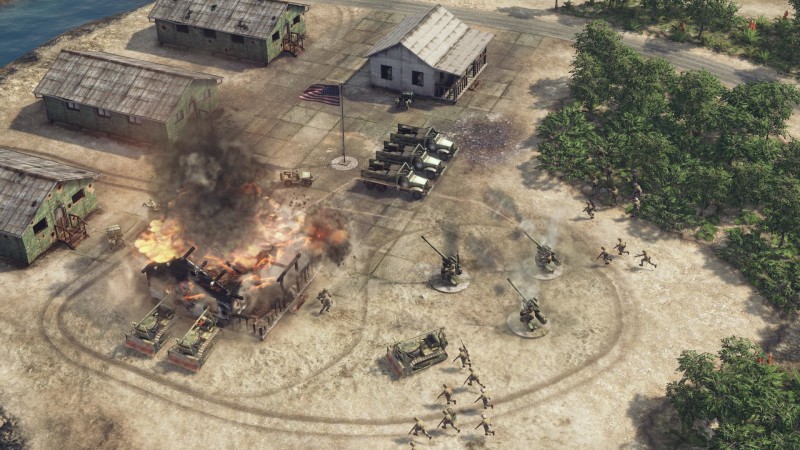 While I didn't previously play the core Sudden Strike 4 game, I really enjoyed some of the strategic elements, like medics, repair requests and the new deployable HMG's. As you complete missions, you'll be graded on 1 to 3 stars, which in turn can be used on picking perks and abilities for your commanders for your missions, allowing for varied gameplay and replayabilty. Some abilities cost 1 star to equip, where others can be up to 4, so you'll need to choose wisely based on your playstyle. I tended to focus on infantry skills and boosts, though there were many for tanks as well. My only wish was that each commander had a more specific focus on battles, as each had some minor differences, but nothing terribly drastic.

Visually, I was impressed with how sharp and detailed the environments were. Sure, you're not able to completely zoom in closely to individual units, but with a RTS title, there's no real reason, or time, to. I found infantry to appear very bland and basic, but vehicles were much more detailed, as you could tell what type of tank or vehicle they were at a quick glance. Seeing trees fall in the jungle as your tanks roll through is always satisfying, as are tracks and pathways be left behind your infantry. As for the audio, the soundtrack is subtle and fitting, and the sound effects from battle are crisp and sound realistic. The voice over work isn't nearly as good, but serviceable.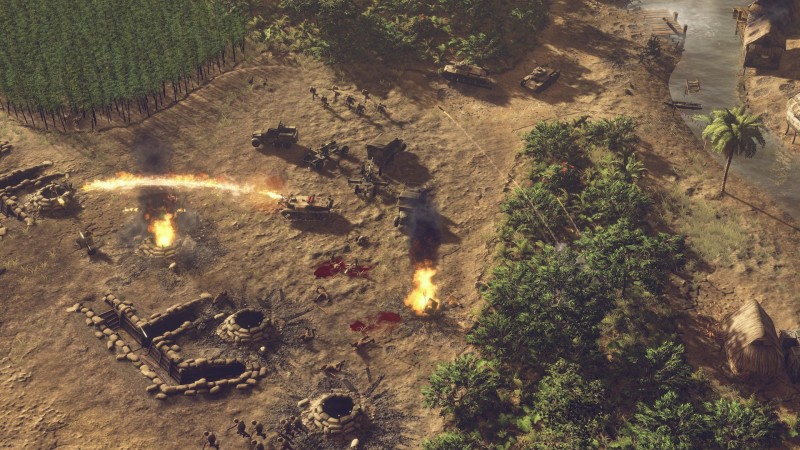 The only issue I had was that when I was controlling my horde all at once (every unit I had alive), there would often be some major hitching when I would issue commands, as if the game had to pause and think of how to navigate all of the units to my destination. It caused for confusion at first but eventually I learned to deal with it.

While I was initially taken back by the price point, after playing through both campaigns and all 10 missions, I was glad that I did. It would have been easy to simply reskin previous content and call it a day, but it's clear that effort was made here to not only be historically accurate, but fun and exciting as well, even for Sudden Strike 4 veterans, or new comers like myself.