Turtle Beach Recon 70 Gaming Headset Review
by Kirby Yablonski








- Speakers: 40mm with Neodymium Magnets
- Speaker Frequency: 12Hz - 20kHz
- Audio Connection: 3.5mm
- Master Volume Wheel
- Microphone Mute (flip up)
- Over Ear Earcups

I am a huge fan of audio when it comes to gaming. From the sounds of exotic cars, the sounds of modern day or futuristic weapons to the sounds of a waterfall or the wind of a winter storm, it all helps make a game more immersive. Of course with good sound, you'll need to have a good way to listen to it, and this can range from soundbars, stand alone speakers, surround sound setups, and of course, gaming headsets. One name that is associated with headsets is Turtle Beach, and most recently they released the Recon 70 headset, a budget friendly wired set of cans that anyone can afford. We here at XBA have been putting this headset through its paces, and we have to say that it offers pretty good 'bang-for-the-buck'.

Given the budget nature of this headset ($39.95 USD), you won't find much 'stuff' in the box. You get the headset, a quick start guide, and a Turtle Beach sticker. Yep, that is it, and with the fact that you are buying an inexpensive headset, it makes sense that there is so little in the box.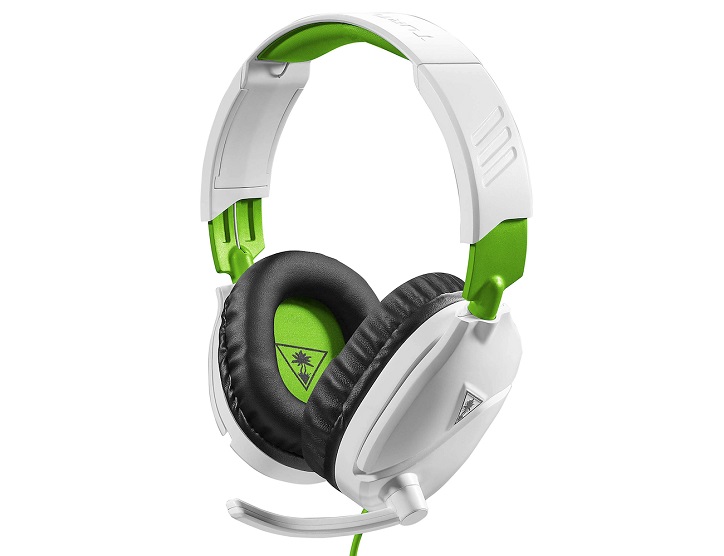 The headset we were sent for review was the white version, with green accents. I thought the colour scheme was great, and the headset doesn't look cheap. Yes, it doesn't look like a luxury one either, but given how little you pay, it is a good looking headset in general. The green accents that are found at the end of each side of the headband, as well as on the foam padding that is underneath the top if the headband, add some flair to the Recon 70's. The foam cushioning around the earcups is wrapped in synthetic leather, and the speakers are covered with green material, emblazoned with the Turtle Beach logo. You will also find a neat little geometric line on each earcup, and the microphone is on the left side which, when retracted, blends in nicely with this geometric line.

Comfort wise, I was a bit worried that this headset might not be comfortable to wear on my big head. Yes, we all know, via other headset reviews that I have done, that I do indeed have a large melon on top of my neck. Well, to my surprise, the headset was very comfortable to wear. The over the ear earcups didn't press to hard, or too soft. They felt really comfy so to speak, and at no time did they ever feel like they would fall off. There is a nice range in the adjustment of the earcups and they should be comfortable pretty much for anyone to use. Although it does not offer the glasses feature of higher costing headsets, I didn't have too much issue, comfort wise, when gaming with my glasses on.

In terms of noise isolation, the synthetic leather wrapped foam did a fairly good job of keeping noise in, and keeping external noise out. That being said, you will still hear some sound from the outside, but again, given the affordable price of the headset, they do a good job in this area. I never found myself disappointed with the amount of sound it kept out, even with my kids in the house yelling at each other, and other noisy distractions.

With the Recon 70s, I played mainly two games when using them, those being Destiny 2 and The Division 2. Both games have an amazing amount of detail in audio, and playing them using the new Recon 70 headset was quite a treat. Right off the hop I should caution you that you won't be getting reference quality sound, but on the other hand, you won't be getting cheap sounding audio either.



When playing Destiny 2, the game's signature music, futuristic weapons and environmental sound effects all blended quite well. There was no issue in hearing separate sounds, such as firing your weapon while the sound of rushing water is heard in the distance. Any dialog, such as your ghost or NPC characters talking to you, never sounded muddy or out of place. The Recon 70's managed to mix everything Destiny 2 threw at it quite well.

As for my time with The Division 2, I have to say I was pleasantly surprised with the performance of the Recon 70. The Division 2 is a game whose audio is very immersive, given the setting you find yourself in, and the sounds that are all around you. From gunfights off in the distance to the sound of wildlife prancing through the Washington, D.C., the detail and intricacies of such sound were reproduced fairly well. When engaged in battle with the game's enemies, the distinct sounds of different weapons was heard, and hearing the enemy yell to each other, or at you, was reproduced without issue. The boom of explosions was also prevalent, and although the bass was not "booming", it stood out more than enough to add to the onscreen action. I never found the 40mm speakers to be driven too hard, but then again, I don't crank the sound to the max.

I was using the Xbox One's virtual surround sound mode, Windows Sonic, and you will notice the way that it, along with the Recon 70's, keep you in the middle of the action. Sure, you'll never have true surround sound in a headset, but if set your Xbox One to Windows Sonic when using headphones, I think you'll find a notable difference from just uncompressed stereo sound.

I did get to play online a few times during my time with the Recon 70's. There was no issues at all with the online experience, from my voice being heard by others to me hearing all those I was playing online with. I think this is best reflected during a particular evening when I was in a party chat with my brother-in-law. We talked for a while and were playing separate games, and I mentioned to him that I was reviewing a 'budget' oriented set of headphones, and he stated "you sound like you do with your other headphones, I would have never known you were on a less-expensive headset if you didn't say anything". For reference, I use the Turtle Beach Elite Pro 2 and Mix Amp as my main headset, so for him to say this is kind of neat given he didn't hear much difference in my voice through the Recon 70 microphone.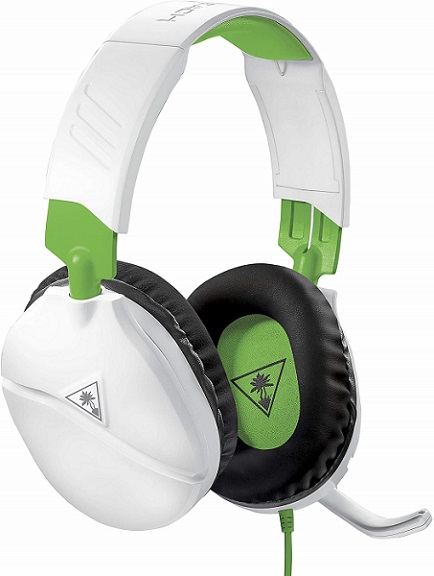 I didn't put the headset through a rigorous test of music and movies, but what I did put through it (e.g. Spotify, Netflix and a few trailers on the TV and Movies App) managed to hold its own. This ranged from various genres of music, various types of Netflix shows, and of course various action trailers on the TV and Movies App. And like my time with the games I reviewed, which was more in-depth, the Recon 70's did not strain too much, if at all, at the various forms of sound thrown at it. Again, bass wasn't over prevalent; however, it managed to be heard in a satisfying manner, and given the price of the headset, this was, again, a pleasant surprise.

If there is any complaints to be had with this headset, it would be that you have to utilize the Xbox One dashboard to set your chat/game sound balance. The headset does have a Master Volume wheel, and you can flip the microphone up for mute, but for that all important chat/game sound balance, you'll have to step out of your game, and use the Xbox One dashboard to fine tune this area. The other issue is that the headset is basically plastic, which may play into durability issues; however, I can't think of any other way that they could have made the Recon 70 as affordable as it is.

At the end of the day, and when thinking of how to score this headset, I feel I have to take a few things into consideration, and this includes, but is not limited to, its sound quality, features and build quality. In terms of the Recon 70 Headset, it's a great budget headset that sounds solid. Sure, you'll notice the plastic used to build this headset, and it's evident in how light it is, but man, when coming back to the sound, you really won't find much better in this price range. And as an added bonus, the white color scheme with green accents is perfect for Xbox One owners.

If you are looking for a secondary headset for yourself, or others to use at home, then you definitely should be giving this budget friendly headset a close look as its quality outpaces the budget price. Oh, and one more thing, if you are a multi-console owner, you can use this headset on other consoles too, just sayin'.




Overall Score: 8.0 / 10