Gears 5 Coverage - An Interview about Game Accessibility with Otto Ottoson from The Coalition
by Kirby Yablonski








As I am writing this, Gears 5 is making it way into the homes of fans across the globe. It is also hitting Xbox's Game Pass service, which will most likely introduce the franchise to many gamers who have not previously played the series or to those who have not played any of the more recent games. During my visit to developer The Coalition, in Vancouver, BC Canada, prior to the game's launch, I had the chance to sit with Otto Ottoson, who just happens to be the Lead Multiplayer Producer at the studio. Originally, I was to speak with him about the game's multiplayer offerings; however, I ended up talking to him about what Gears 5 offers in the area of accessibility. It was a conversation/interview that created its own path, and given what I learned I am somewhat excited to share what we talked about.

During my time with Gears 5 at the event, I was surprised that I was playing the campaign with the subtitles on. The reason I mention this is that I am not one to play a "story" mode with this feature on; however, I found that I didn't want to turn this feature off in Gears 5, and if anything, it helped me enjoy my time with the game a bit more. Yes, this sounds weird, but it's true. So, with that in mind, I expressed my newfound interest in subtitles to Otto and I asked more about the feature.

What I learned from Otto is that there have been two major types of input that the team has taken in terms of their use of subtitles in the game. The first was during the end of development of Gears of War 4. The dev-team had "subject matter experts" come to the studio and give them their take and their feedback on how they play games, what they expect and how their ideas could help themselves and others enjoy it. Subtitles was a big part of this discussion. He then further explained the second source of input. Some of the dev-team, including himself, went to Redmond, WA, where Microsoft just happens to be located, to attend an "Accessibility Boot Camp". During their attendance, a hot topic of discussion for enjoyment of games and accessibility was the use of in-game subtitles.

Otto discussed that subtitles are a funny thing in such that you don't have to think much about them if you don't rely on them; however, hearing the importance of what subtitles can provide for a gaming experience helped the dev-team realize and commit to not only using them, but making them something that actually helped people play the game. It led them to put more detail into the actual subtitles such as who is talking, how they are talking (e.g. over radio, yelling, etc.), using a backplate to allow the contrast ratio to be strong, describing certain sounds that were being made and allowing gamers an ability to increase the font size of the subtitle text should they need or want to.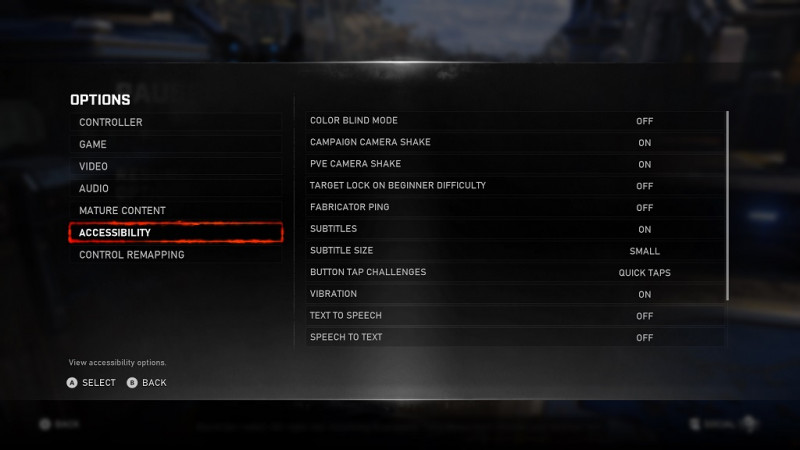 When they were implementing the use of a backplate for the subtitles early in development, testing out how it looked, the subtitles were on by default, and everyone liked it. Otto then chuckled and told me that when they turned the subtitles off by default, a lot of people were asking where they were, and that they missed them. Given this input they made the subtitles the default setting and you have the option to turn them off. The development team not only saw them as a bonus, but also as useful when playing.

Given my interview with Otto started with the issue of the subtitles, which is an accessibility feature, I thought it would be prudent to talk more about the game's accessibility features, as it is something that not a lot of people pay attention to unless they find a need to use such. I spoke to him about my past visits at Microsoft where I got the chance to go to the Inclusive Lab, where they work incredibility hard to provide people with disabilities a possible way to game. These disabilities and solutions range from, but are not limited to, such things as special controllers, special features for sound and settings for people who are colour blind, to other things you might not even thing about, like disabilities where people can become overstimulated or those people who have issues finding the right way to comfortably sit when playing a game due to a medical or physical issue.

Otto said that he is a big fan of the Inclusive Lab and that the staff there work so hard at what they do to help everyone that need it. This led him speak more about what The Coalition has done with Gears 5 in terms of accessibility, or what we know what Phil Spencer has said is a goal for the Xbox platform: "Gaming for Everyone".

Gears 5 is fully supported for play with the Adaptive Controller. Gamers can fully remap the input buttons to that which may suit their need(s), which in turn allows those who use the Adaptive Controller to remap control inputs to specialized input devices which plug into it. The ability to remap your inputs is both controller and keyboard/mouse based, so you can use the Adaptive Controller on the Xbox One and/or PC. It is something that the team is very proud of, as it allows so many ways for a person to control the on-screen action, should they require the need for customizability of this nature.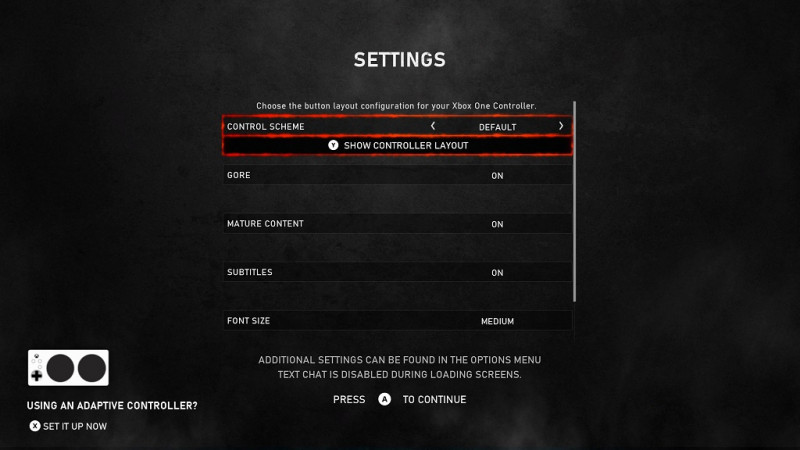 As we chatted, Otto spoke about a law that existed, one which, to be honest, I did not know about. This law requires that all social experiences are accessible in a way where people who have low or no sight can access them, and this includes video games. This is also geared for those with hearing disabilities. So, in terms of visual disabilities, when people are communicating via text chat and they are unable to read it themselves, it can be read to them via voice. And in terms of gamers with a hearing disability who cannot hear any chat via a headset, they can have the voice chat translated to text. All of this can be implemented by the user in any game mode which is considered a social experience (e.g. cooperative campaign, PvE, and PvP).

Otto also quickly noted that there is also narration in the menus as well. He said that it is an "in-system setting" that the game will utilize. You turn it on in the Xbox's system settings, and to when you do this, the game will then allow you to turn on the option to read the menus. This will allow the user to hear, via a voice, where they are in the menus and what menu item they may be on at that time.

Next on the list during our accessibility discussion was how text falls in this area too. Gears 5 has an in-game text scaler for those that have any difficulties reading smaller text. This is aimed at allowing people to see what Otto described as "Critical Text", that which allows you into options, set gameplay, etc. You can set the text to large, a size that he explained has been optimized to assist those with sight disabilities allowing them the ability see it.

Something that surprised me during my discussion was that even motion sickness has been addressed. Otto spoke about one person who they know who said that she would love to play the Gears games, but they could not as she would feel sick when utilizing the run feature, which most fans know as "Roadie Run". Given that there are players out there that have a wide array sensitivities to on-screen motion, the studio took this feedback to heart and made an option where you can turn off camera shake, allowing those that may experience motion sickness during gameplay a chance to play Gears 5. The only place where this is not possible is in versus PvP, which is a very competitive mode, and they want all gamers to have a 'level' playing field.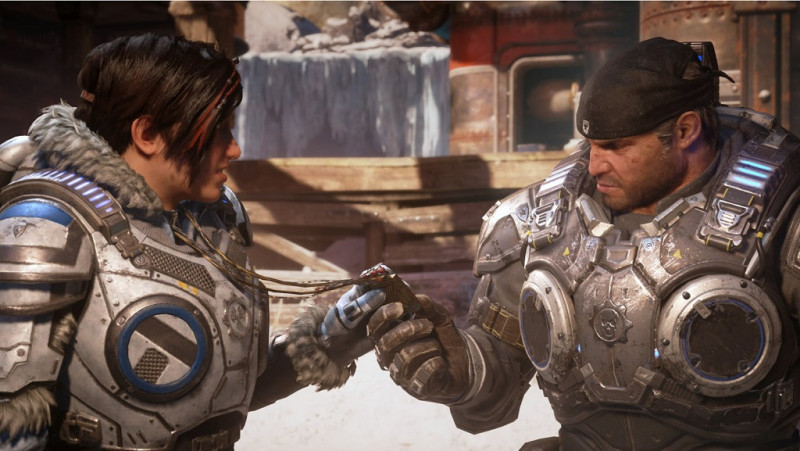 A new feature that has been added to the Gears franchise is "snap to aim". This is best explained as when an enemy is in your sights the game's reticule will snap right on the enemy and aim, so think of it as an aim assist. This is on by default in the beginner difficulty, which is meant for the "very new" player to the franchise or someone who may not be able to play the game on a harder difficulty. This will help to compensate for all the other controls that one must learn, such as weapon switching, each weapon's secondary features and the cover system. It may even help players as it can allow them to have some ability to pay more attention to the game's story and characters. Finally, and as Otto explained, it allows those that might find all the game's aspects overwhelming to think a little less about having to find all the targets, aim, and dispatch an enemy. As this is an optional setting, you can turn it off, but it is good that it is there for those that may need it.

As we started to get towards the end of our discussion, Otto spoke about other areas that Gears 5 aims to address in the world of accessibility. They have a colour blind mode (yes, we spelled that the Canadian way) that supports the three most common versions of colour blindness, and they have different volume sliders for various sounds, including music, sound effects and dialogue. They also have a control option to help people who have a hard time pulling on the triggers. This is something that I had never even thought of, let alone heard of. To address this area, they allow gamers to remap the triggers to the face buttons which can assist them in firing their weapons.

When thinking about accessibility, Otto also addressed the fact that they consider other things including the gore (e.g. blood), the mature language and some of the things that people may say on text chat. All these are controllable by the person playing the game.

We spoke about the fact that there is most likely going to be a new audience coming to the Gears 5 franchise who may have not been there before, and these people are those who have the Game Pass service who might check out the franchise for the very first time, including the PvP modes. Having a new audience stepping into the world of Gears as a whole, including PvP, for the first time is exciting to The Coalition. Otto reiterated how the PvP game has its hardcore audience and that the game is unique in its gameplay style, such as cover bouncing and shotguns in the face. With this in mind, they would like to make an experience (or mode) that is more familiar to the new crowd coming to the Gears PvP world for the first time. The new mode is called "Arcade Deathmatch" and it was born out of this belief.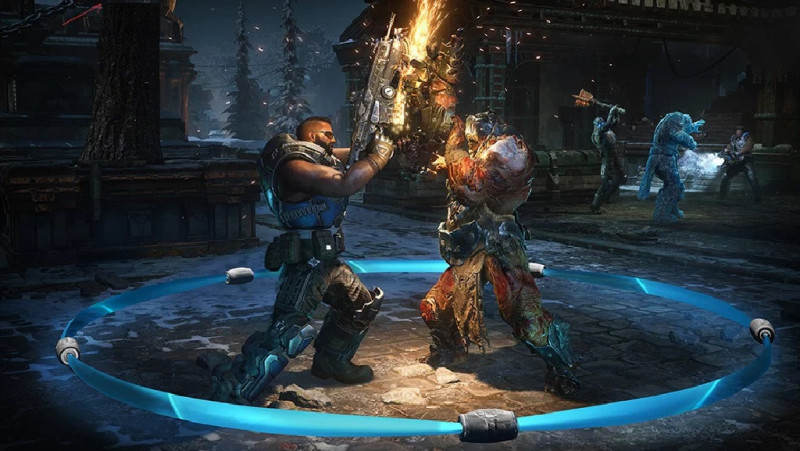 Each character is given a different load out, so you won't find the Gnasher shotgun on all characters so there is way less Gnasher fire. They also took away the ability to cover bounce quickly, which is utilized by the hardcore players. To limit this, they added a cool down timer to limit the amount of cover bouncing. They also put a lot of work into the gunplay for this mode. People can come into this experience which, as Otto explained, feels a bit less hardcore then the experience that makes Gears PvP its own beast. You only need to get in a few shots into an opposing enemy to get credit for a kill, even if you don't get the final blow. You can also upgrade your character as you get skulls from your eliminations (again, you don't have to get the final blow, just be involved in the damage).

Otto said that during the July tech test they received feedback from the public who stated that they don't usually play Gears PvP. However, these same people stated that the Arcade Deathmatch was something they enjoyed and found themselves wanting to play given the changes made versus what is regularly associated with Gears PvP. This confirmed that they were on the right track with this mode, allowing a new group of gamers to enjoy some Gears PvP.

And with that, my time talking with Otto was over. I was very appreciative that I had the chance to learn about all the different facets of accessibility that were incorporated into the game, and I have to say that this just might be the most accessible Gears game to be released. It was clear from my interview that the team took time and thought to add features for those that might not be able to play the game for one reason or another. A big old THANKS to Otto for sharing his passion and insight into what they did for Gears 5, and a thank you to the team at The Coalition for not only allowing me to learn all this, but for allowing so many gamers an opportunity to at least have a chance to enjoy Gears 5 when fully released to the public.