GAEMS Guardian Pro XP Review
by Kirby Yablonski








Over the past few weeks I have had an opportunity to put GAEMS' newest portable gaming monitor set-up through its paces. This 'monitor, speakers and media hub' all-in-one is called the Guardian Pro XP. It's a 24-inch WQHD resolution screen in one fancy box, and it's loaded with some pretty great tech inside. But before I get into my experience with it, here is a brief history lesson for you all.

GAEMS designs and produces what they call Personal Gaming Environments (PGE for short). Their journey began in 2010 when one of the founders had an idea that solved his problem with gaming on go using a home console. They modified an off the shelf "Pelican" style case with a 15-inch monitor and used an Xbox 360 to play games on it. In 2011 they released their first retail product, the GAEMS G155 which they renamed The Sentry in 2012. It was a custom designed portable case with a 15.5-inch monitor, built in speakers, and a space to put the console of your choice. Since then GAEMS has released many different products including different sized portable gaming units, standalone monitors of various sizes to accessories including monitor stands and console controller charging units.

Now, we try not to be too technical when it comes to a review like this. We focus on the user experience, and how we think things look, sound, and perform from a simpler standpoint. There are tech-heavy sites out there that will tell you how many bits there are, how many frames per second, measure how bright a monitor may get, give you details of the Hz in a speaker, etc., but we aren't one of them. That being said, we thought that it would be prudent to throw in some of the tech-specs of what the Guardian Pro XP has to offer, and they are as follows:

- Product Weight - 24 lbs.
- Resolution - 2560 x 1440
- Max Refresh Rate - 60hz
- Response Time - 9ms GTG (w/overdrive)
- Colour - 16.7M
- Brightness - 300 nit
- Output - HDMI 1.4 (1x), USB 3.0 @ 1.8A (1x), USB 3.0 @ 0.9A (2x)
- Sound - 9w Stereo Speaker (2x), 12v power amp, Subwoofer (2x)
- Power - 100-240v AC
- Dimensions - 23" W x 5" D x 16" H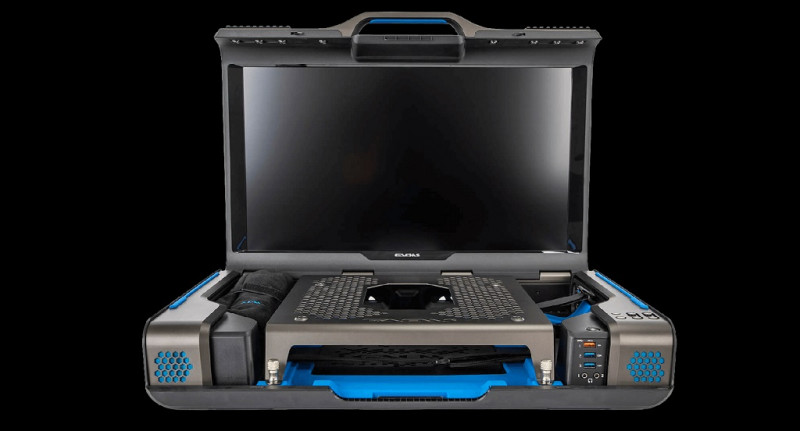 As you can tell from the details above, the unit is big, it's somewhat heavy, and it has a fair amount of tech built in. One of the questions that should be answered right away is who is this Guardian Pro XP aimed at? GAEMS was kind enough to provide the rationale behind such a big and tech filled case. They said that the reason the Guardian Pro XP exists is truly because of a need for a "Content Creators Environment", where creators focus on gaming content, needed to be built. The weight allows for content creators to mount their lights or camera and have stay case balanced so it doesn't fall over. The side benefit of the Guardian Pro XP is that those hardcore and/or tech-savvy gamers out there can benefit from it as well given how great it is to game on it. Taking it even further, one of the Guardian's purposes is that it can replace a 'home desktop/TV type' scenario, and you can easily pack everything up and carry it out with one hand. Remember folks, PC gamers have been packing up their equipment for decades as take their towers, monitors, keyboards and mice/controllers to LAN parties or BYOC events (e.g. PAX or Gamers Outreach Yearly Event).

At 24 pounds the Guardian Pro XP is no lightweight, and this is before you put the console of your choice in it. When chatting with the folks at GAEMS, they explained that the weight has purpose as it allows the Guardian Pro XP to support up to 10 pounds of streaming gear with stability when mounted on the Picatinny rails of an opened Guardian (see, there is that content creator focus again). The Guardian Pro XP is compatible with all the existing current generation of consoles out there, but because we are an Xbox Centric website, I used an Xbox One X to review the unit. The Xbox One X automatically detects what resolution the screen is that you are using, and it detected that the monitor was capable of 1440p, so it gave me the option to display the graphics in either 1080p or 1440p. For you audio/visual experts out there, the monitor is not HDR compatible, which is kind of a bummer, but I do wonder how much cost would have been added should they have included such a panel as it would need to be 10-bit to take advantage of the technology properly.

Something that kind of surprised me was the amount of cables included in the box. You'll find two HDMI plugs that are designed for the Guardian Pro XP, each one is L-shaped to accommodate the various consoles as well as taking into consideration the distance to the back of the case. There is also a USB cable, a custom power cable for the PS4/PS4 Pro, and the Guardian's power supply cords. What is quite interesting is that the USB plug is for a USB port inside the case beside the console. What is the purpose of this port you ask? Well, let me tell you.

The Guardian Pro XP includes a media hub, which has direct controls for the volume and brightness at your fingertips (there is no remote control). There is also a menu and 'OK' button which allows you get to the nitty-gritty of the individual settings for picture and sound, along with some options such as language or the transparency of the menu itself. You can customize your settings for both video (e.g. brightness, contrast, sharpness, gamma, etc.) and sound (e.g. individual bandwidth) for a more personal touch. There are also pre-existing settings for both areas, such as game or film/movie mode, which for those wanting even more simplicity, is a great option. Using the buttons on the media hub was intuitive and the menu system was fairly self-explanatory and easy to use.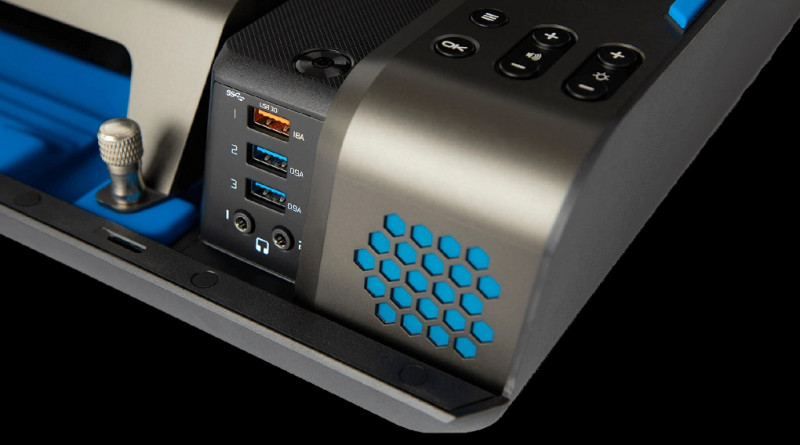 Right beside buttons are three (3) USB ports, which all use the USB 3.0 standard. It's here that the USB plug on the inside-back plays a major role, as you won't have to access the back USB port on the back of your console once you plug the provided USB cord into it. The USB ports feed signals to the back port and vice-versa. They 3 ports at the front are pass thru ports, which allows you to plug in a USB based HDD, SDD or even a thumb drive, and play it on the Guardian XP Pro's screen. You can also use them for your secondary storage drive of your console. You can also charge devices from the ports (e.g. controllers and headsets come to mind). Finally, there are two headphone jacks under the USB, which allow you to plug in any standard headphones with a 3.5mm plug.

There is an HDMI pass-thru on the back of the Guardian Pro XP's case which allows screen sharing. This plug also allows content creators to capture gaming content onto an external capture device. As mentioned earlier, there are also those mounting spots on the top of the lid, based on GAEMS Picatinny rail system. These allow people, who might need it, a place to mount cameras, lights, or anything else they may use to stream. There are three spots, and for streamers who may be on the go, they should be very useful.

The WQHD monitor is fairly bright and crisp, and the 1440p resolution looks good. Sure, it's not true 4K, but on a screen this size you'd be hard pressed to not be impressed with the sharpness of the image. Gears 5 launched just after I received the Guardian Pro XP. It is a game that uses the Unreal graphics engine and one that really highlights what the Xbox One X can do, and it looked great on the Guardian Pro XP's WQHD screen. Details were prevalent, lighting was impressive, and the framerate showed no ghosting or stuttering from the monitor. For comparison, I played Gears 5 on my 40-inch 4K HDR Samsung TV, and when I compared the two, the only thing I really noticed was the lack of HDR, but it still has a lot of visual fidelity even without it.

Developer Bungie's environmental designs are amazing, and Destiny 2 is further proof of that. From the tech oriented Braytech Industries on Mars, the Egyptian inspired buildings and landscape of Mercury, to a battered and dilapidated EDZ (Earth for you non-players), all the games environments looked detailed, the colours were rich, and the overall image was, once again, sharp. All the environmental lighting and effects for each planet's unique attributes are noticeable and you'll be impressed with the 24-inch screen's detail here. Even in the dark areas I had no problems noticing the planet specific elements that were put in by the graphic artists. I also managed to play a lot of PvP during my review time as I was grinding out kills for one of the PvP pinnacle weapons, the Mountaintop. I did not find any issue with input lag when having to compete with the 'sweaties' (aka - diehards) of Destiny 2 as it was Iron Banner week during some of my playtime. Response time felt fast and I didn't notice any delay from button press to when the action took place on the screen. I felt that I could be competitive and that I wasn't hampered by any input lag.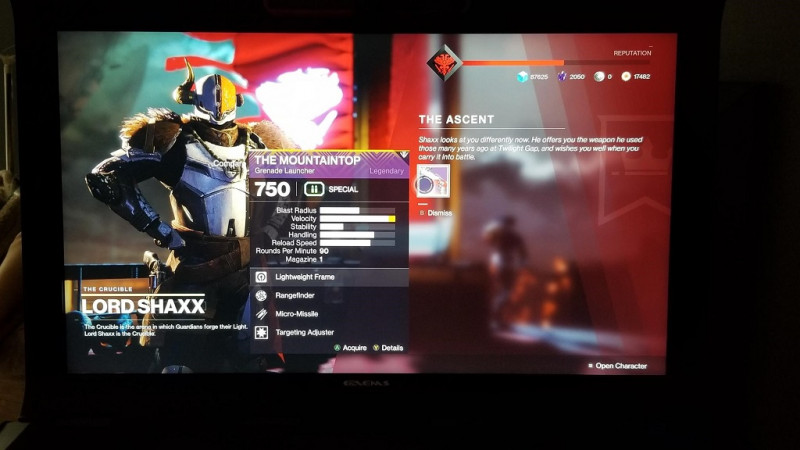 Next up, I took a spin in the world of Forza Horizon 4. Playground Game's driving game looks just as impressive as I had hoped here. It is different from the two previous games I played as you focus on driving through the streets and the country backroads of Britain. You'll drive during one of the four season which change in-game every week too. There is also a chance to drive blocky cars and explore a plastic brick laden world in the LEGO inspired DLC too. I noticed that everything was like it should be, detailed, bright, sharp, and fast. The detail that was put into this game always amazes me and it is still just as eye pleasing on the Guardian XP Pro as when I played it on my bigger and higher resolution TV.

Changing things up, I took some time to check out two types of games that usually aren't in my list: Below (developed by Capybara Games and available on Xbox Game Pass) and Super Blood Hockey. In terms of Below, the atmospheric look translated well on the Guardian Pro XP's screen. From the dark and damp caves, the flicker of light from your torch, to the atmospheric fog found throughout your adventure, everything was detailed and without issue. As for Super Blood Hockey, this game is a celebration of unadulterated 8-bit inspired 'throw-the-gloves-off' hockey. What I really noticed is how its retro feel was very much conveyed through the visuals, and the monitor was perfect as you could see the individual pixels that made up the players, the referee, the crowd and even the Zamboni that cleaned the ice. Overall, if you are playing single player games, local or online cooperative games, or online adversarial games, you should find no issue with the screen brightness, response time, refresh rate, and all that makes it what it is.

The speakers found in the Guardian Pro XP are very, very good. They are not the traditional speakers that GAEMS has used in the past, which have been mounted under the screen and had to take the thinness of the gaming case's lid in consideration. In the Guardian Pro XP, the speakers have their own enclosures that fire directly at you. They also have their own subwoofer in the back of each one. After spending the last few weeks with this unit, and breaking the speakers in, I would have to say they do a pretty damn good job. I set up the Xbox One to play in uncompressed 2-channel audio, and the speakers in the Guardian Pro XP handled pretty much everything I threw at it. Although I focused on gaming I also took some time to watch some Netflix and YouTube content. First the games.






There was a good balance of mix in the voices of in-game characters, sound effects and in-game music, and Gears 5 and Destiny 2 are two great examples. Yes, I also know performance in this area is heavily influenced by the audio engineers of the game itself, but how it sounds through the speakers is also a result of quality of the speakers too. From Gears 5's constant action, the narrative cut-scenes, to the use of music during battle or key story moments, nothing sounded muddy or distorted. The same was noted for Destiny 2, including the moments during story missions or strikes when there was conversation from the Vanguard. The dialog was clear, discernable and nothing sounded overpowering. Destiny 2's orchestral music was full and melodious through the speakers and I believe that people may not expect this kind of audio fidelity from a portable gaming case. Bass in all aspects is pretty good too while not being overly 'boomy'. In terms of volume, I found I could hit 60 to 70 (out of 100) without having too much, if any, distortion.

As for Forza Horizon 4, the sound effects were clear and concise (e.g. engine sounds, environmental sounds, separation, etc.) as was the variety of music, which is a big feature of this game. I was able to turn up the volume and listen to the wide variety of tunes included while mindlessly driving around. The speakers were able to handle the deep bass tones of EDM to the guitar riffs of good old rock n' roll, all while allowing the games sound effects to remain audible along with each stations DJ when it was time for them to ramble.

Finally, as for Below and Super Blood Hockey, each title has their own distinct audio as they are very different games. Below's audio is moody and unique as you venture through each level exploring the unknown. Super Blood Hockey on the other hand is a true retro sound experience, as the music and sound effects are simple, yet appropriate. Both Below and Super Blood Hockey sounded great on the GAEMS Pro XP's speakers, and quite detailed, and it added to the play of each game.

As I mentioned I spent some time watching some Netflix and YouTube. On Netflix I was focused on watching a series called "Better Than Us", a sci-fi drama which is dubbed as it is a Russian produced series. I found that the voices stood out quite well, while the sound effects were a bit quiet. The only time I had to turn the volume up was during the scenes with music. I attribute this to the dubbing though, and not the GAEMS unit, as other material sounded good. On YouTube, I watched Destiny 2 content creators, Nintendo focused content creators, and some Digital Foundry videos. What really hit me during this time was how enjoyable it was to watch YouTube on this unit. The content sounded great, not tinny or underpowered, and when listening to the narration of the content creator combined with gameplay, it sounded pretty natural. I was comfortable watching almost anything on it, and it didn't really occur to me that I was watching on a portable gaming unit.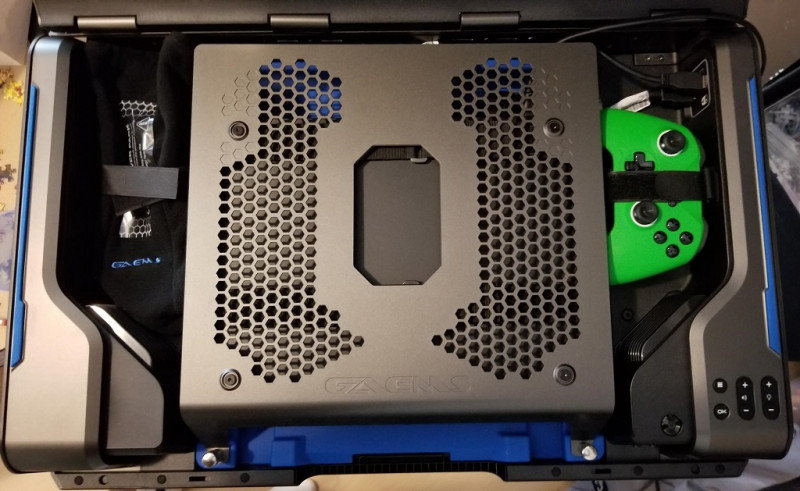 So, let's get to the part of the review where I do have concerns. One of my main concerns is the price. As of writing this review, the Guardian Pro XP sells for $700 (USD) on GAEMS own website. This is not cheap, especially when you consider that their Sentinel unit, their most compact portable gaming case they have ever made, sells for $349 (USD). But of course, there are major differences between the two from the size of the monitor (24 inches vs. 17 inches), resolution (1440p vs. 1080p), speakers, the included media hub and built in USB ports, to the HDMI pass through on the back and the mounting areas on the lid. Simply put, there is a lot of tech in this extra-large sized portable gaming case and it most likely cost a bit of money to design and pull off this feature rich box. Still, some may find the price of admission too high for their wallet.

The next point of concern is the size and weight of this unit. Before adding a console, the weight of the Guardian Pro XP is 24 lbs. and with an Xbox One X in it, it weighed 32 lbs. It's not nearly as compact or light as other GAEMS products; however, you really need to consider everything they put into this case and some of the rationale noted in the beginning of this review. And remember, you can pack EVERYTHING into this unit and carry it with one hand. The form factor of a suitcase does well. Yes, it is large and it is heavy, but it is still portable.

So, who is the Guardian Pro XP for? That is a good question, but I think we answered most of it in the beginning of this review based on our discussion with GAEMS themselves. Content creators should take a close look at this unit given how it can replace a lot of gaming related equipment all in one case, and it also allows for the mounting of the peripherals they may use. Those hardcore gamers out there, along with the tech-savvy gamers who love to have the best of everything, should not overlook this product either, as the tech inside really is impressive, and the screen and speakers make for a great portable gaming experience that is quite big. In the end, I don't have a problem recommending such an extreme portable case, as there are so many features and tech found within, just be prepared to shell out a fair bit of coin, as it's not a cheap, but once you use it you'll realize how good it is to game/stream/create content on it.



Overall Score - 9 / 10