Evil Controller Master Mod Xbox One Controller Review
by Kirby Yablonski







The world of custom controllers sure has grown. You'll find controllers that are cosmetically customized, physically customized (e.g. paddles) to those that have been altered internally. In terms of the all three, there is one company that has been developing controllers that can do some pretty interesting things, and that company is Evil Controllers. They have been customizing and modding controllers since the early 2000's. Over the past couple of months, I have had the opportunity to put their Master Mod Xbox One controller through its paces, and I have to say that this controller is very specialized and unique, but it can also be quite be expensive.

First things first, given the nature of what you can do with the Master Mod controller, many online games and their 'Terms of Service' consider controllers like this as cheating devices. Given that this controller can change the way an in-game weapon behaves, multi-button presses can be combined into a single action, short cutting commands, and more, all by using the controllers existing hardware (e.g. buttons, sticks, etc.). While the Master Mod has other alterations, such as the addition of a paddle system, hair triggers, and specialized face buttons, these are all considered ok as there is an acceptance of such changes; however, being able to program your controller to actually change what happens on-screen is indeed frowned upon.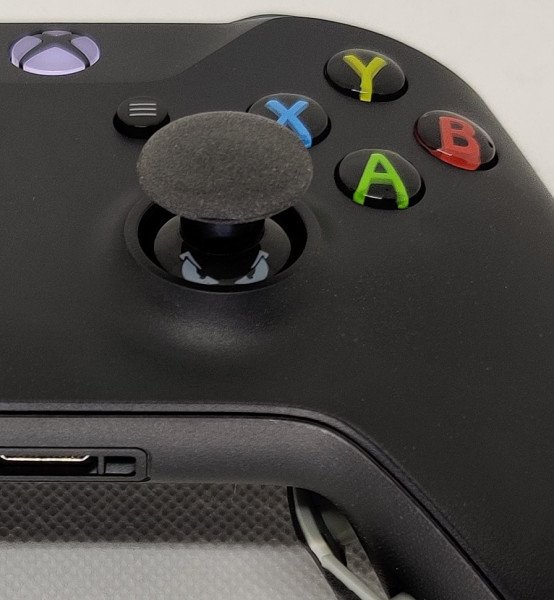 To review this controller, I used many of the programmed abilities in PvE game session, and if I wanted to see how it handled in a PvP environment, I tended to open up a private match and play with a friend or two. I mostly stayed away from actual public matches only because I didn't want an unfair advantage, especially given what some of the programmed mods can do. Plus, in many Terms of Service agreements, using modded equipment is not only frowned upon, but can result in negative consequences from developers/publishers, so I wasn't willing to risk it.

As you can see from the photos in this review, the controller is very basic looking, as it clearly looks like it's a standard Xbox One controller. The only notable difference is the analog sticks and the paddles at the bottom. But let me tell you, this controller is far from standard. First off, the analog sticks have a much larger surface on top where your thumbs go. The material is also textured to assist in helping your thumbs stay on the sticks during heated gaming sessions. The Master Mod controller allows you to swap out different sized analog sticks. This is an option you can choose when ordering the controller. If you do go with this option, changing the sticks is as simple as just pulling each stick out and then replacing it with another one. You then simply line-up the new stick and give it a good press until you hear it click. As when I previously reviewed the Evil Shift controller, I once again found the attention to detail on these analog sticks pretty good, as you will still find the little devil-like controller logo on the base that clicks into the shell.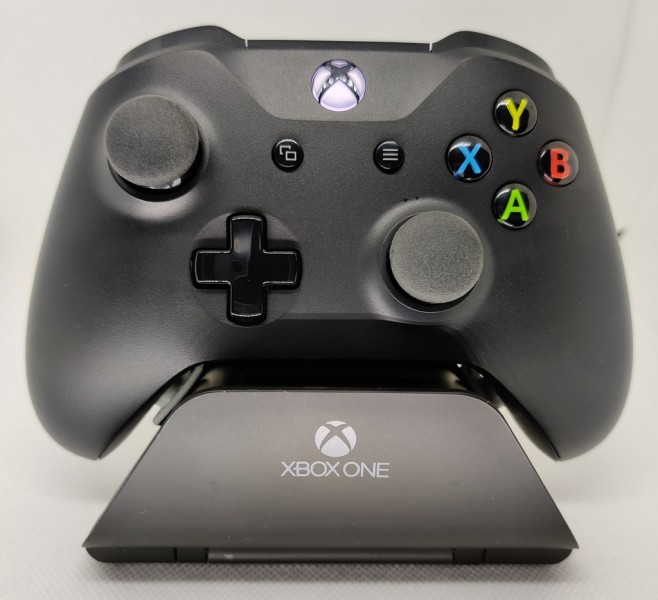 Something of note here is that you can add what is called 'Pro Tension' to your analog sticks. This feature allows the stick to feel more 'resistant' when moving it. Evil Controllers states that this 'tension' is what eSports players are accustomed to and that it allows better control. After using it for as long as I did, and then going back to a regular controller, I would tend to agree. I was quite surprised with how better my accuracy was using the more resistant analog stick. Everything else just felt loosey-goosey (yes, I said that) when playing on a regular controller afterwards. I think that a lot of people might enjoy this feature and should seriously consider it if they are interested in an Evil Controller product.

Of course, there are the paddles to talk about as well. The paddles are not like those that you find on a SCUF product or Microsoft's Elite Controller, and they are not what you would consider a traditional "paddle" in the sense of size and shape. The paddle system is more like four (4) very large buttons, placed towards the bottom inside of the controller. It takes a little getting used to having the paddle system there, but I found it easier to adjust to them than some other paddle systems, especially the Elite series of controllers. Something Evil Controllers paddle system excels in is that you can press anywhere on them and they will register the input, allowing for the on-screen action (e.g. weapon loading, jumping, sliding, etc.) as if you pressed a face button. This can be crucial when speed of input is needed.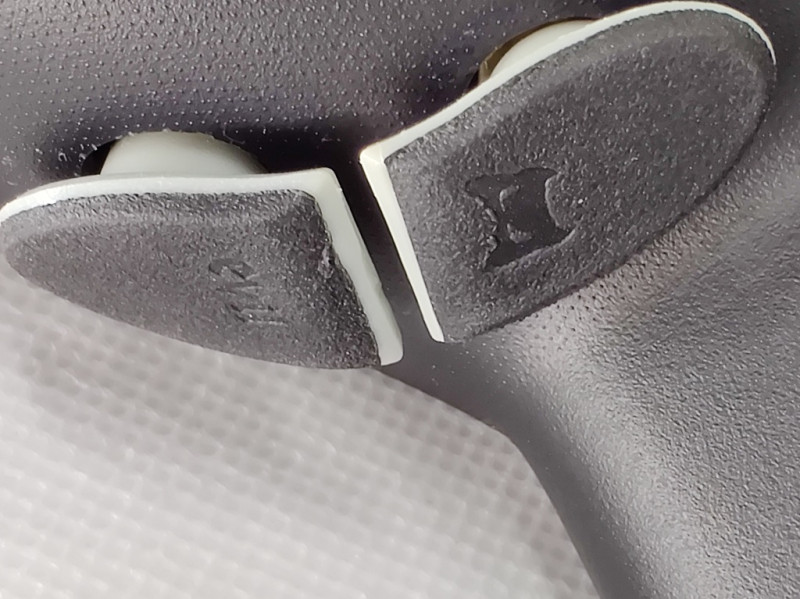 Programming the paddle system is a breeze and you do not need a computer or special magnet to do so. It is as simple as pressing and holding the view button (left button when looking at the 'guide' (home) button) and holding the paddle at the same time. Once the guide (home) button flashes and the controller vibrates, you let go of the two buttons. You then press the specific input that you might like to map to one of the four (4) paddle buttons... and viola, you are done! Simplicity is the trick here, and Evil Controllers really knows how to make this very simple indeed.

Along with the paddle system, the Master Mod controller also has unique triggers and face buttons. One of the key features of both is how responsive they are. In terms of the triggers, they have a very short travel distance, which makes them very adept at using when playing a game where quick trigger pulls are important. These triggers are locked at all times, so there is no adjustment for their travel, which some will find strange, if not unusable in many games. Regardless, when you find the use for such a short travel trigger, you will no doubt appreciate this feature.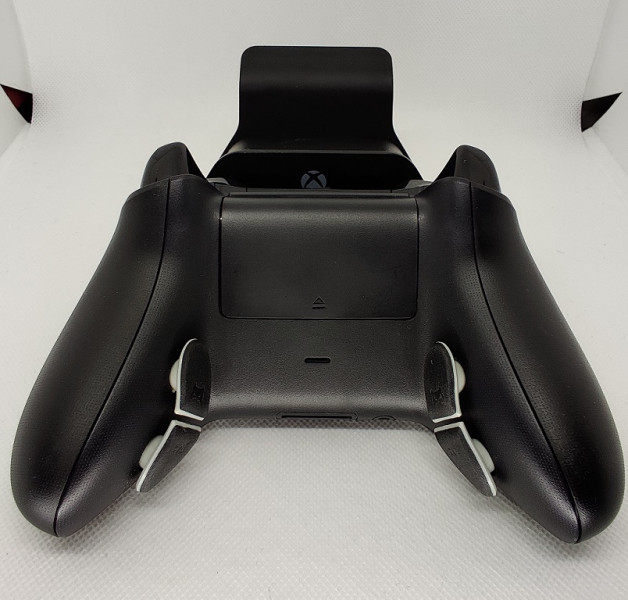 Next up are the controller's face buttons. These buttons (A,B,X,Y) have a very different feel to them than most controllers for the Xbox One. Evil Controllers offers a more tactile approach resulting in having to use less pressure than regular buttons. The button travel is decreased over other controllers and you can feel it. They even have a slight 'click' sound to them when you press them, which, in my opinion, I liked, as it felt and sounded more arcade-like in quality. If I can best describe the feeling of using the face buttons, it would be that they were not mushy and more solid feeling in terms of each press.

So, as you would think for a controller called Master Mod, there are more than just buttons, paddles and short throw triggers to consider. Well, you are correct in this assumption, as it is also capable of being programmed to assist in making the on-screen actions easier, quicker and advantageous. This can relate to such things as auto-fire, auto running, instant drop shot, fast reload, and even assists in aiming. The controller can even add auto-detect, but this is feature does not work for all games out there. If you are reading this paragraph correctly, then you can see that most of these programmable features are geared for first person shooters like Call of Duty, Battlefield and more, as well as Fortnite. The Master Mod controller also has room for 20 separate profiles, again, all of which can be created without the use of a computer or special magnet.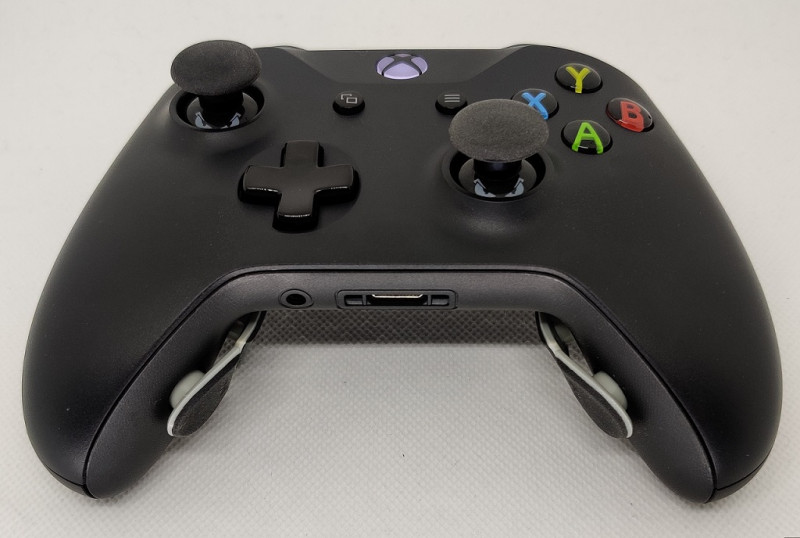 For those who are wondering if any of these features work, I can confirm that they do, and they are easy to activate with a combination of button and/or d-pad presses. There is even a detailed guide for you to follow to enter all the mod commands. I was able to adjust the shooting speed of the Breachlight sidearm in Destiny 2 from a semi-automatic weapon to a fully automatic one. I also utilized a good friend of mine who is not only a fellow Destiny 2 player, but one who has a heck of a lot of time into COD: Modern Warfare to test this controller out. He was able to convert his favourite semi-automatic weapons into a fully automatic ones and the addition of fast reload helped get an advantage that he didn't know was possible.

Overall, being able to utilize different options by adding various actions that you didn't know you could is very advantageous while being easy to do. I was amazed that by utilizing the controller's internal hardware and circuitry, you only need to do a series of button presses to activate, and even fine tune, so many assists, including those mentioned above. But again, you must be aware that this can be considered 'cheating' given the advantage it allows, and it can be viewed as breaking the rules of the online game's Terms of Service.


So, what are my overall impressions and recommendations regarding the Master Mod controller? Well, that is more complex than you might think. I am once again impressed by the build quality and features that Evil Controllers can put into an Xbox One controller. The face buttons are amazingly quick to respond, the trigger's hairpin feature has very little travel, firing a weapon quickly is easy and the analog sticks, including the added tension, really do make a difference. I have always been a fan of their paddle system too, which I find fairly comfortable and well placed, minimizing accidental presses.

On the other hand, when looking at the options on the Evil Controller website, a controller like the one that I am reviewing here costs upwards of $275 (USD) plus applicable taxes, which is quite the price for a single controller. You can bring this price down by picking and choosing various options though. You'll also find that it is very specialized for the games that you can play, which is most FPS games as well as games like Fortnite. The best way I can put it is that the Master Mod controller is a very interesting piece of hardware that allows for the addition of some cool features and 'mods' in various games, and if you are a serious gamer that looks for every advantage you can have, especially for the games that the Master Mod is geared towards, and you have some extra moolah, then this unique and very specialized controller deserves a serious look.


OVERALL SCORE: 8 out of 10