Afterparty Interview with Creative Director Adam Hines
by Adam Dileva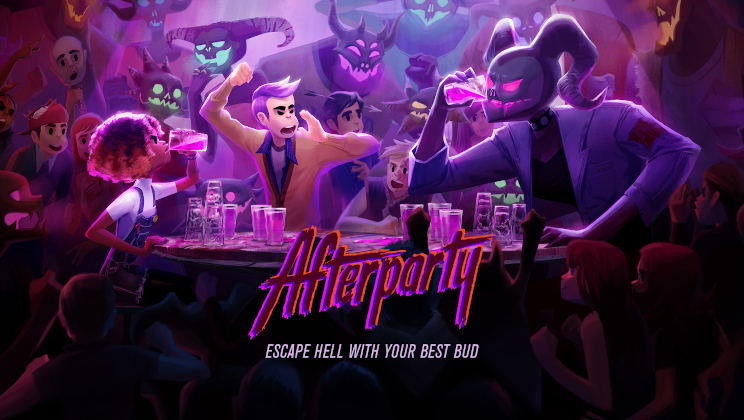 (XBA): First off, thank you for taking the time to do this interview. Having just played through Afterparty, I had a blast beginning to finish, and was certainly a very memorable and hilarious game. For those that haven't heard of it, why not give the elevator pitch and why they really should play it.

(Adam): Sure! Afterparty is about Milo and Lola, two lifelong friends who unfortunately die and go to Hell just before graduating college. They discover a loophole, however, that if they are able to find Satan, get invited to his house party, and then successfully outdrink him, he'll open Hell's gates and let them return to Earth. So the game becomes a crazy, phantasmagorical bar crawl through the worst of the afterlife's watering holes, making friends and enemies (and playing lots of beer pong and drinking games) along the way.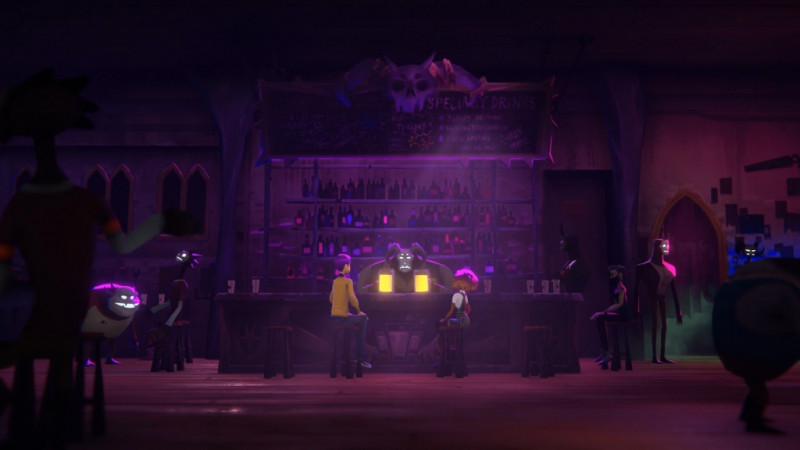 (XBA): So, I've got to start off with the most obvious question, one I'm sure you've been asked a million times before. Where did the idea for Afterparty come from initially and what made you roll with making a game out of such a crazy idea?

(Adam): We really wanted to make a game that takes place in a bar. That was the first thought. Bars are naturally interesting locations that attract a very wide swath of people who are there for a huge variety of reasons, so it seemed like a natural fit for a story-driven experience. We thought initially that you should be the bartender, balancing making drinks for customers while getting invested in their lives and problems, but decided it would be way more fun to be a patron on a night out, going to a series of establishments, running into and losing people in your party as you go. We went back and forth a little on where exactly all this debauchery should take place, but eventually landed on Hell due to the environment's ability to bring in anyone from any time period, and have every character you meet have at least one thing in common: they're not that great of a person.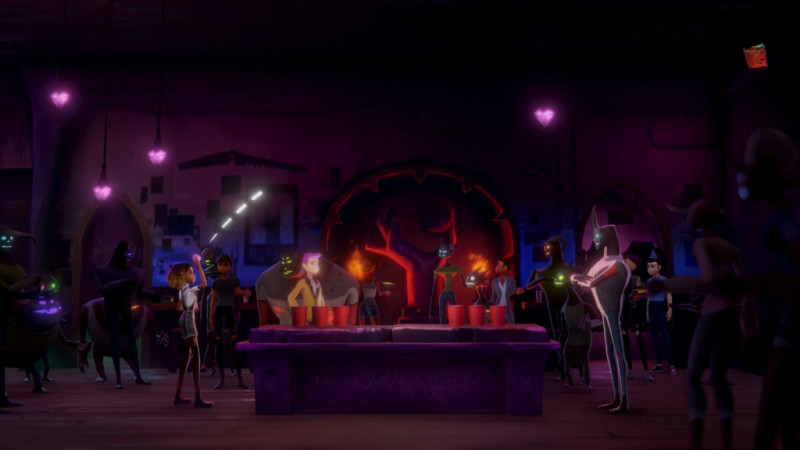 (XBA): I have to admit, I probably wouldn't have been able to give Afterparty a shot during the busy and expensive holiday season if it wasn't for Xbox Game Pass, so thank you for having it there at launch. How did this decision to include it on the service come about and are you happy with the results so far?

(Adam): We were happy to bring it to Game Pass because of the immediate reach to millions of players the service grants us. Like you said, people are much more willing to try something out for at least a couple minutes when it's already "free." For indie studios like us, it's vastly more important to get awareness of the game out there and hope that the increased exposure will lead to sales. It's still pretty early to see if the strategy is 100% working, but hearing people talk about the game from their experience on Game Pass has been really encouraging.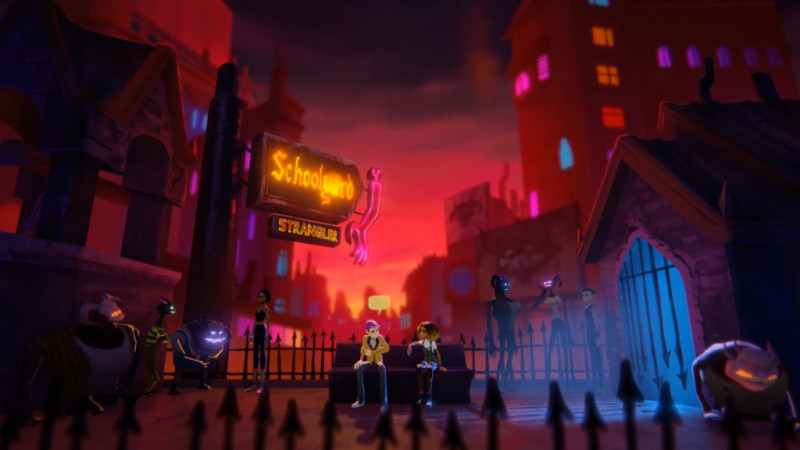 (XBA): Afterparty is not only unique in its setting and plot, but its visuals really make it stand out as well. How did you come up with the overall visual tonality of the game? Even though it's set in Hell, it's not your typical depiction of it, as most portray Hell as red and fire-filled, but Afterparty has a lot of color and neon to it, as if it's in a downtown city at night during a pub crawl in the seedy part of town.

(Adam): We wanted our Hell to be distinct from the other versions people may or may not have already seen, so we let it grow organically from the story and what it would "naturally" have evolved into over millions upon millions of years of urban development (and overdevelopment). We liked the idea of Hell being a place that was originally just rocks, lava and weird, celestial phenomena that the demons have slowly crafted into something more resembling a civilization using whatever tools and current architectural trends were in vogue at the time. So you'll get things like ancient Roman single-story houses run over by more modern apartment complexes, or stores with buzzing neon signs dug out of caves. It was important to us that the city felt like a huge mish-mash of every culture throughout history, as if the souls kept updating it as time wore on.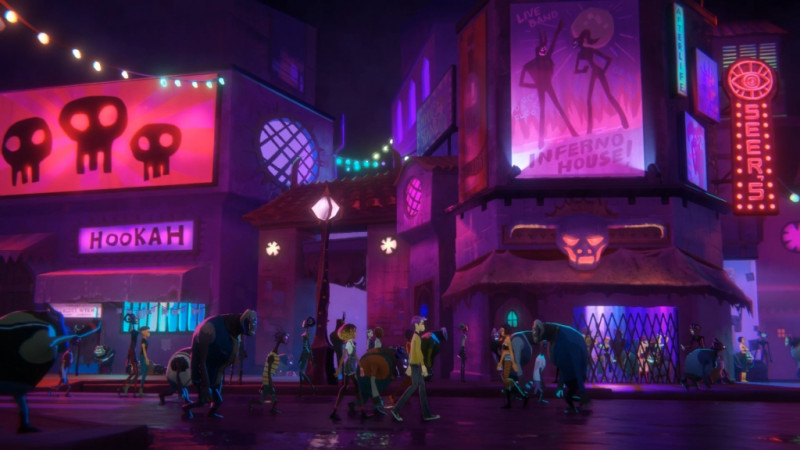 (XBA): The same goes for the character design. I love how the demons, Satan, main characters and Wormhorn are all unique and lighthearted visually even though it's set in Hell. Was there a specific design philosophy when creating the characters or simply let the artists see what they come up with?

(Adam): There was no strict design philosophy, no, other than wanting the demons to all look like the same "species," with hollow, Jack O' Lantern-like eyes and different colored steam coming out of their heads. We had some specific notes for certain character details like the type of jacket they would wear or how they'd have their hair done, but other than those cases we preferred to let the artists interpret the scripts in their own way. Wormhorn took the longest for us to get something we were all happy with. We knew we wanted your "Personal Demon" to be more ethereal and elastic than the regular demons, and it took some iteration with our tech and tools to get her to a good place.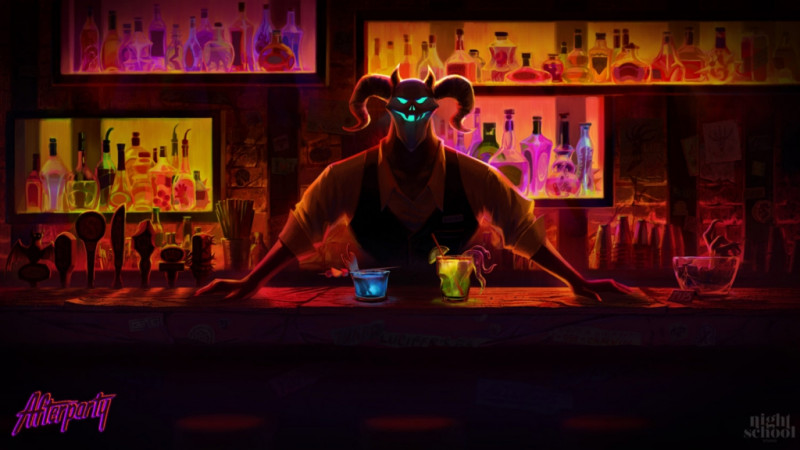 (XBA): The writing is absolutely fantastic in Afterparty. Characters are extremely well written, dialogue is witty and funny and the overall narrative flows smoothly. Was there one main person or direction behind much of the writing, or was it a collaborative effort across the team?

(Adam): Thanks! I wrote the majority of the game, but we had multiple writers touch different scenes, particularly the Bicker posts, which almost everyone in the studio, regardless of their discipline, contributed to. It helped that we had a very strong and specific tone that we wanted to hit, which was basically a comedy game that didn't hold its punches, but at its core is a story about friendships and how hard those can be to maintain when you're dealing with complicated individuals.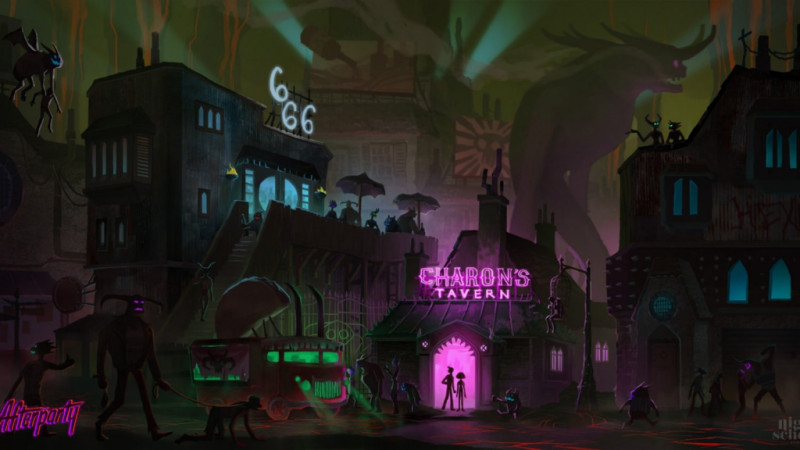 (XBA): The setting of Hell fits perfectly with the dialogue as well, as there's a ton of swearing, but never feels excessive or out of place. Sometimes this seems forced in other games, but it's perfectly suited here, I think mostly because of the excellent deliveries from the voice actors themselves. Even though Afterparty is rated M, did you have to town it down at all or cut some dialogue or situations out that were maybe riding that line a little too close?

(Adam): There were a few jokes and lines here or there that a member of our team would flag and say, "You know, I don't really know if we have to do an entire rap song about [insert horrifying topic]..." but those moments were honestly few and far between. And yes, the voice actors really pushed everything to a great place. We got really lucky with the cast, particularly our main characters, as Khoi Dao and Janina Gavankar brought a ton of nuance and hilarious comic timing to their parts. It's always difficult because we never record our actors at the same time to allow us to more efficiently tweak things later, so they have to perform with no real scene partner. It's a testament to their skill that it's impossible to tell.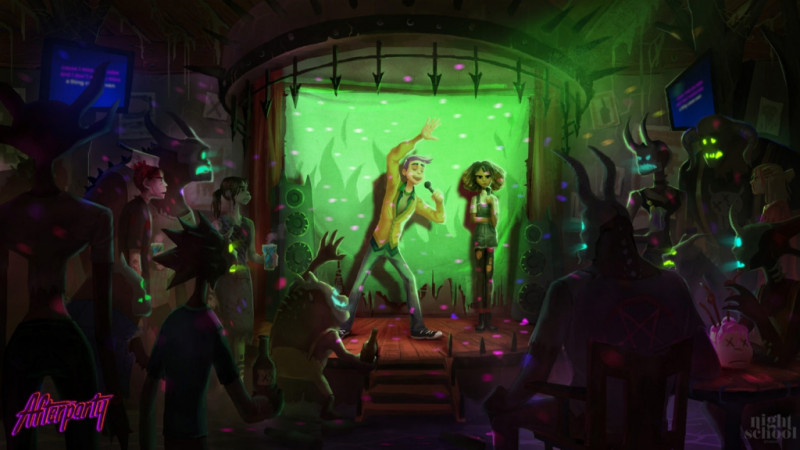 (XBA): Thanks for taking the time to answer our questions and give an insight into the development of Afterparty!