Razer Nari Ultimate Headphones for Xbox One
by Adam Dileva







Features:


-Audio Connection: Wireless Direct to Xbox (No receiver required)
-Speaker Frequency Response: 20 Hz – 20 kHz
-Impedance: 32 Ohm (1 kHz)
-Sensitivity: 108 dB (1 kHz)
-Driver Size: 50 mm
-Earcups: Swivelling Earcups with Cooling Gel Cushions
-Inner Earcup Diameter: Major Diameter 67 mm, Minor Diameter 56 mm
-Earpad Material: Heat-Transfer Fabric/Leatherette/Memory Foam
-Microphone: Retractable Unidirectional Microphone
-Pick-up Pattern: Unidirectional ECM boom
-Microphone Frequency Response: 100 Hz – 10 kHz
-Microphone Sensitivity (@1KHZ) : -54 ± 3 dB
-Product Dimensions: 7.68 x 8.87 x 3.94 inches
-Weight: 2.25 pounds
-Battery Life: Up to 6 hours with HyperSense / 20 hours without HyperSense
-Warranty: 2 Years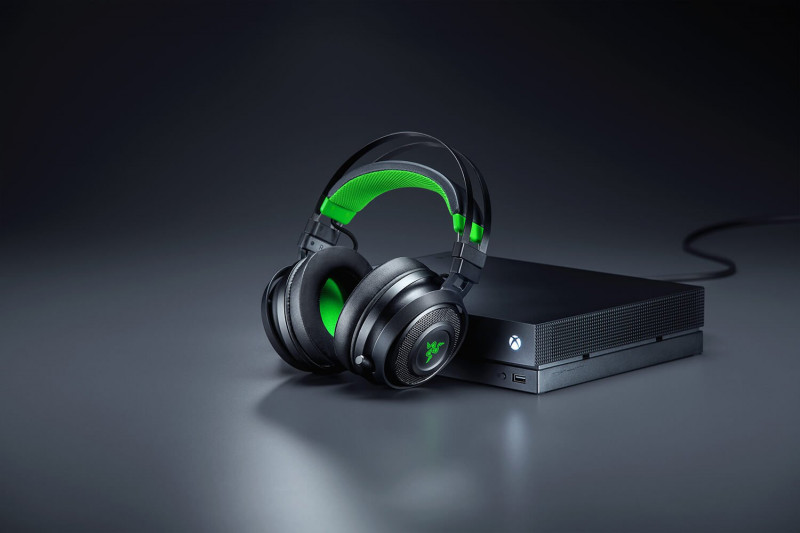 There's no denying that when you think gaming gear and peripherals, Razer is probably one of the top brands you think of. Who could blame you; they've been around for quite some time and have a wide gamut of gaming related products available, from mice, keyboards, capture devices and more. What we'll be focusing on today is the newest Xbox One headset; the Razer Nari Ultimate. While you may have seen these headsets before, the Xbox One version is basically identical to the PC counterpart, though this one connects directly to the Xbox One without any receiver needed or necessary; a very welcome addition and feature.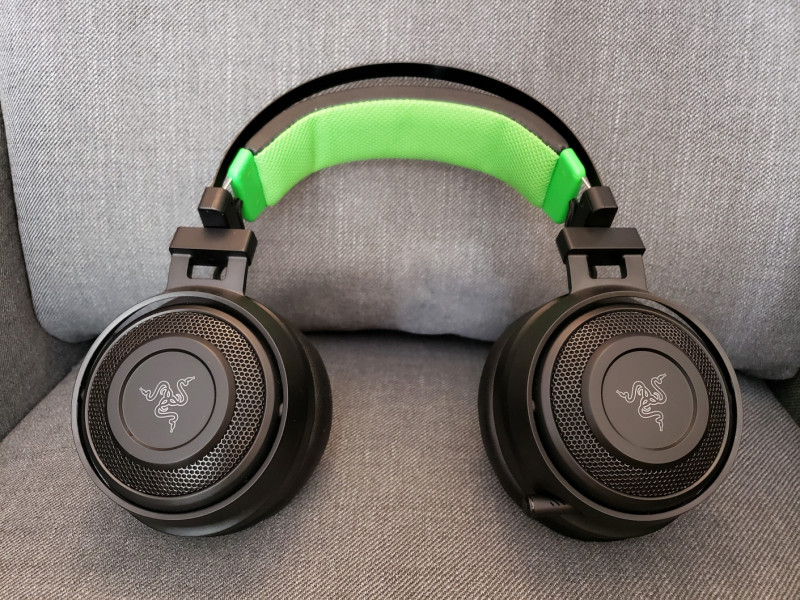 So before we delve into all the features and such, let's start with some of the specs. As mentioned, the headset will connect wirelessly to your Xbox One without any connection or dongle, simply sync it like a controller and you're good to go. The distance works up to about 30-40 feet or so, as I was able to go to the kitchen and grab a snack without any interruptions. For someone like me that already has all of their USB ports being used on their Xbox One with external drives and a wired controller, I wouldn't have had to sacrifice using some other peripheral if this headset wasn't completely wireless. Not everyone is in the same situation as I am, but for those that to utilize their USB ports to the fullest, it's a great feature that needs to be emphasized.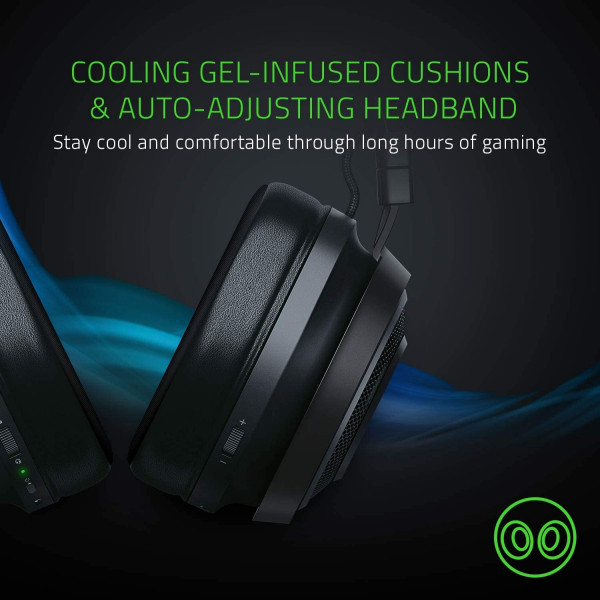 Let's begin with the aesthetics. The Nari Ultimate sports the typical black and green style, and the main frame is made from a single piece of aluminum. This means the headset itself is lightweight but also has a sturdiness to it compared to most headsets that are mainly made from plastic. The green details are subtle enough to be noticed yet know recognize the signature Xbox color scheme.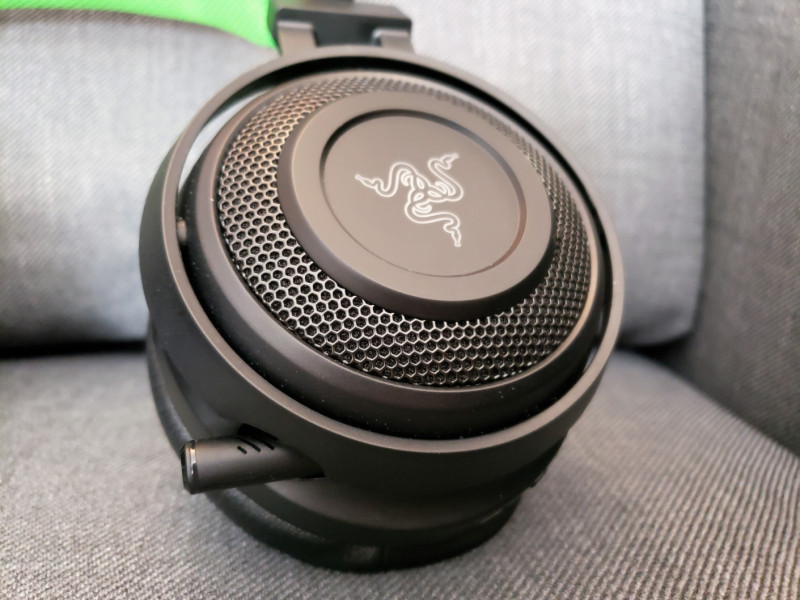 The massive 50mm cups swivel, so you can store them flat somewhere when not in use, or have around your neck DJ style. Most headsets have notches that you use to set the fit of the headset to suit the size of your head, but the Nari Ultimate instead uses an auto adjusting system that will stretch to fit your head if needed. Now there are pros and cons to this type of system. On the positives, there's nothing you need to do to find that perfect fit, as it will simply stretch if needed to accommodate the size of your head, and no need to readjust and fix the sizing if someone else uses the headset.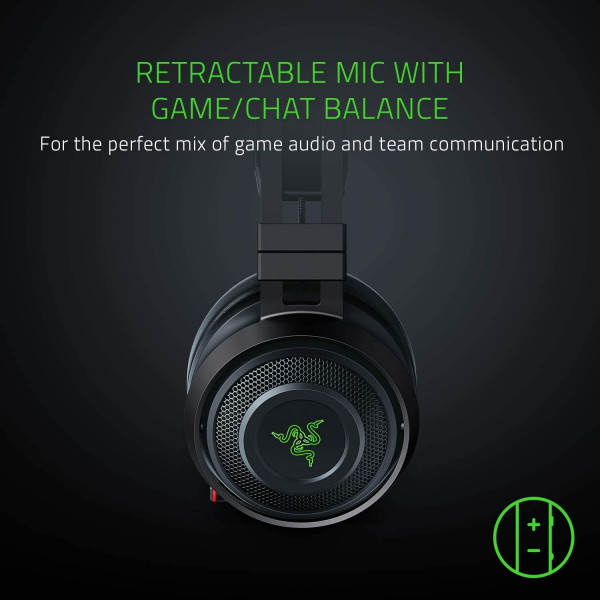 A negative though that I didn't expect but was a constant issue is that I guess I have a smaller sized head, so every time I bent over to pick something up or moved in a weird way, the headset would either shift or actually slip off completely. While I eventually learned to deal with it and it shouldn't affect those with larger heads, as it'll be nice and snug against your ears, it happened quite often which was unexpected. My guess is that this happens because the cans themselves are very weighted, for good reason which I'll delve into shortly, and actually appear double the thickness you'd see from any other headset ear cup.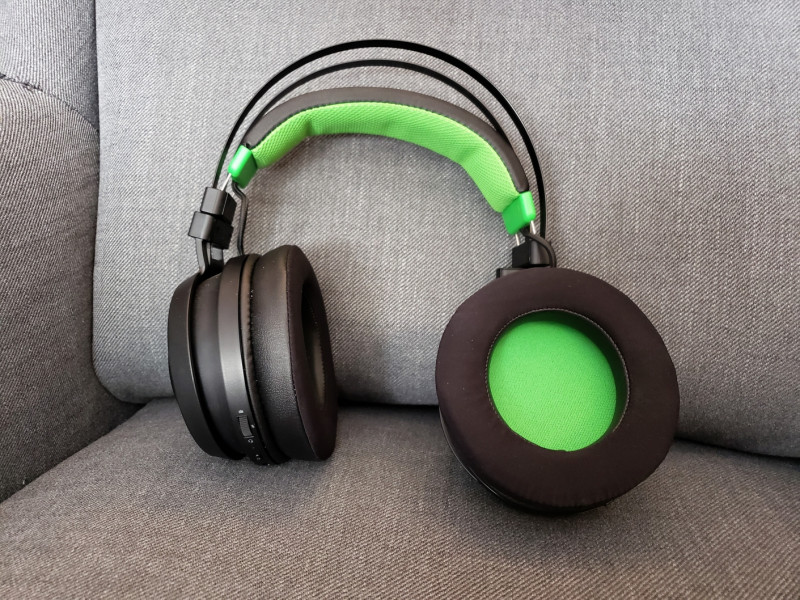 Some people choose headsets for various reasons. Most obviously choose for the sound quality, but sometimes other features are big factors as well. Me for example, I put a very high emphasis on its comfort and feel, as I'm usually gaming for hours at a time, and there's nothing worse than a headset that makes your ears get all hot and sweaty. Having reviewed many headsets, I've got a pretty good idea of how they feel over prolonged use. Some are comfy because of their lightweight, but the Razer Nari Ultimate are on a whole other level due to their cooling gel-infused cushions on the ear cups.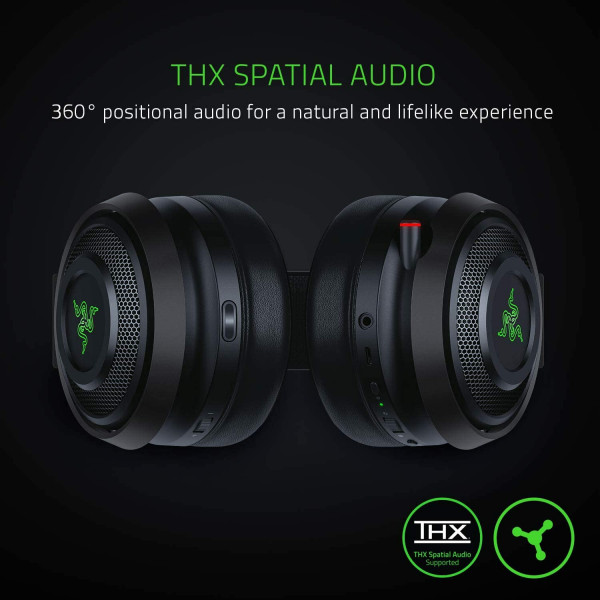 When I say comfort, I seriously mean it with the Nari Ultimate. The cushions are so plush and comfortable, I've sat with them on for hours and never once had ear fatigue or overheating. Because of how big the cups are, you get near perfect sound isolation from outside interference as well. With my seven year old talking directly to me less than a foot or two away, I was unable to hear anything she was asking. The sound isolation is near perfect for a headset that isn't technically noise cancelling. For those that wear glasses, you'll also be happy to know that there's a hidden indent channel as well, which should alleviate pressure. Again, the foam in the ear cups are absolutely fantastic and is by far the most comfortable headset I've used to date, which speaks volumes.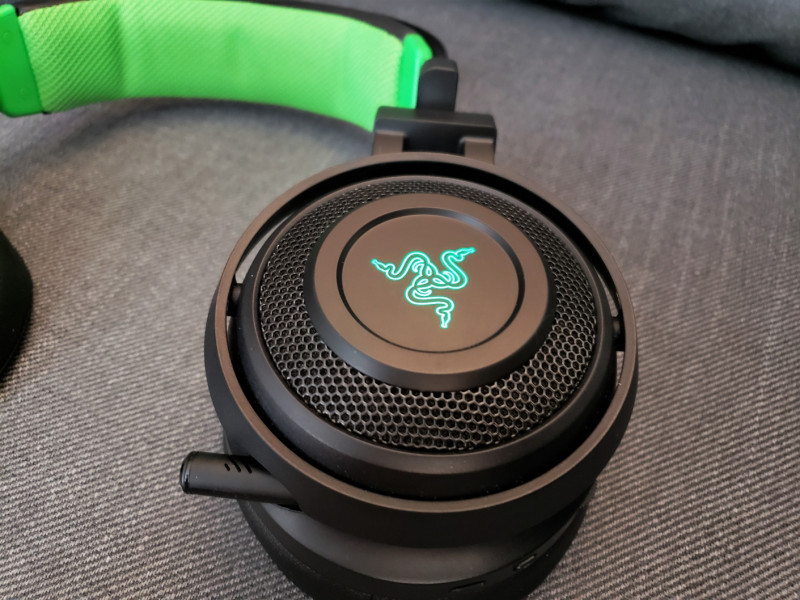 While the headset itself is a little on the heavy side compared to others, I never once felt that weight, most likely due to a combination of the lightweight build quality and auto adjusting headband, along with the extremely comfortable cans that completely envelope your ears. Now, given that this headset is a bit on the hefty side and the cans look extremely large compared to nearly other headset, there has to be a reason right? Yup, and it's a pretty big deal; HyperSense.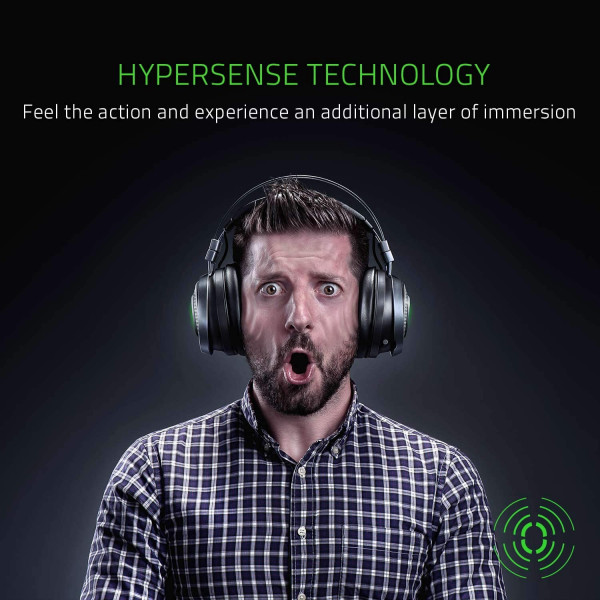 HyperSense is Razer's integration of high-definition haptics within the ear cups. To put it in its simplest terms, it's essentially a rumble feature built into the headset that allows for another layer of immersion when playing your games or watching your favorite media. I know what you're thinking, that they've simply over boosted the bass and that's where the vibrations are coming from, but you'd be wrong.

Developed by Lofelt, HyperSense allows you to also feel your audio, and more than a simple bass boost. Just like how a controller rumbles when actions in games happen, it's the same premise. The technology uses real-time processing, so you don't need to have any complicated app or software to enable it, as it simply just works for any media or game you're consuming. Supporting Windows Sonic 7.1 surround sound, you can bet that your audio is not only going to sound fantastic, but now feels like it as well. Although its rumbling on your ears, it never sounds drowned out or too bass heavy either, which caught me by surprise. On many headphones, if you turn the bass too high, you usually get muddled or crackly audio, but not here.




With a dial on the right ear cup, you can adjust just how intense you want the vibrations to be, and while I enjoyed it basically at maximum settings, it can be a bit much when there's a ton of bass heavy action happening, like explosions and gunfire. While it mostly boosts the bass instead of in-game cues, it's doing all of this in real time and adds another layer of immersion. Those that don't enjoy bass heavy headphones or settings elsewhere probably aren't going to appreciate it or utilize it as much as people like myself that crank the bass, it's one of the main features for the Nari Ultimate that you'll need to factor in when deciding to purchase. Yes it can be turned off, but if it's the main feature that makes it stand out against the competition and you don't plan on utilizing it, that will need to be considered.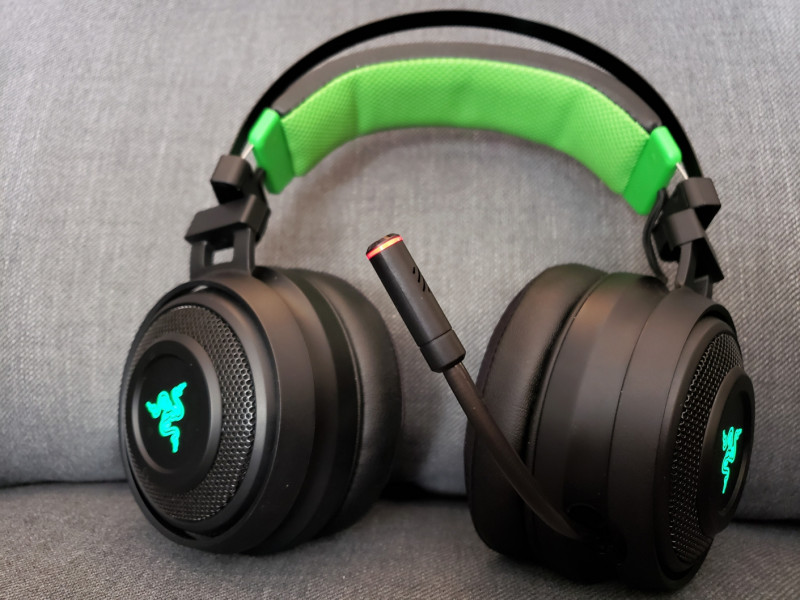 Now, there are some caveats to having a feature like HyperSense. For starters, this is why the cans are so huge and nearly double the width of conventional ear cups, though it's not as if you'll be taking these out for a jog or to the gym, so the aesthetics shouldn't bother you all that much in for comfort of your own living room. The major drawback is that it absolutely drains the battery life if you have it turned on and maxed like I do. With HyperSense on and cranked up to 11, you'll get roughly six hours of use before a charge is needed if fully charged beforhand. Turn it off and the headset battery life more than triples to nearly twenty hours. That's a massive difference. Granted, not many will be gaming for 6+ hours at a time, but some do, so this will need to be considered as well if so.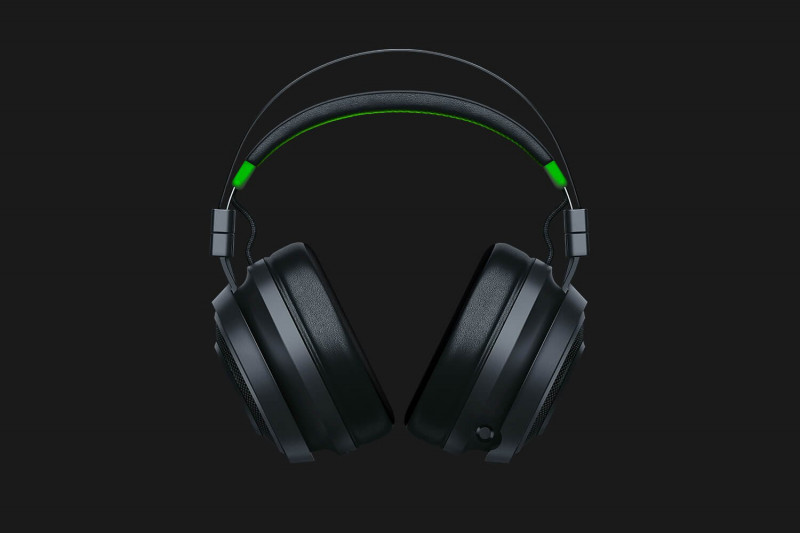 So, other than the bass focus, how does the Nari Ultimate sound? If I had to pick a single word, it would be 'decent'. Supporting Windows Sonic, you'll hear the minute details of engines rumbling in Forza, gunfire and footsteps in the shooter of your choice, and even clear audio of dialogue from your favorite RPG's. Music sounded great, especially with the HyperSense on when I was listening to some bass heavy EDM, though it can sound a little muddled if not listening to something with a ton of bass or heavy. It might be because of the great ear surroundings of the cups, but I swear I was able to hear more details than normal with the HyperSense off, but that might be because of the great outside noise isolation they provide more than anything else.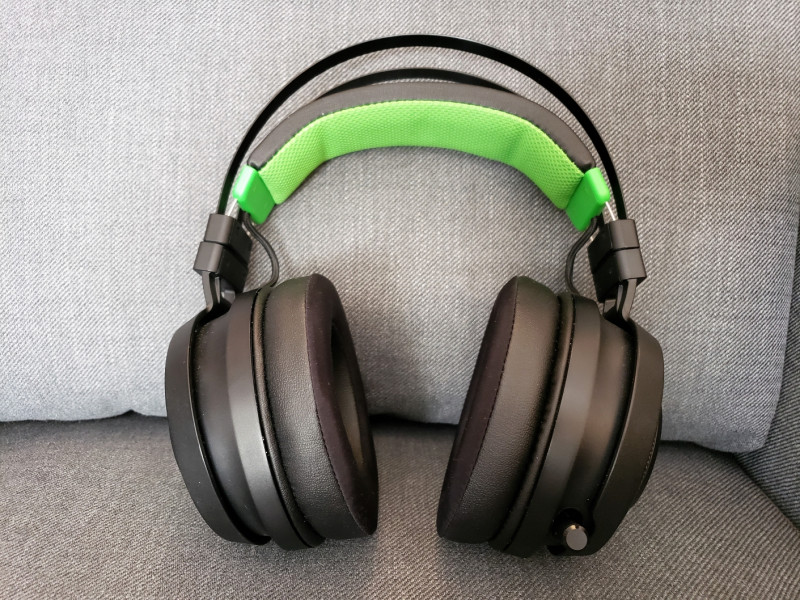 Whenever I play something on my Xbox One, I'm always in a party with some friends chatting away, so a headset with game and chat balance on the headset itself is a much welcomed, plus so I don't have to fiddle around in the system menus every time. You can easily change the balance of game and chat volumes, as I generally like to have my party chat a little higher than my audio so I can hear the conversation.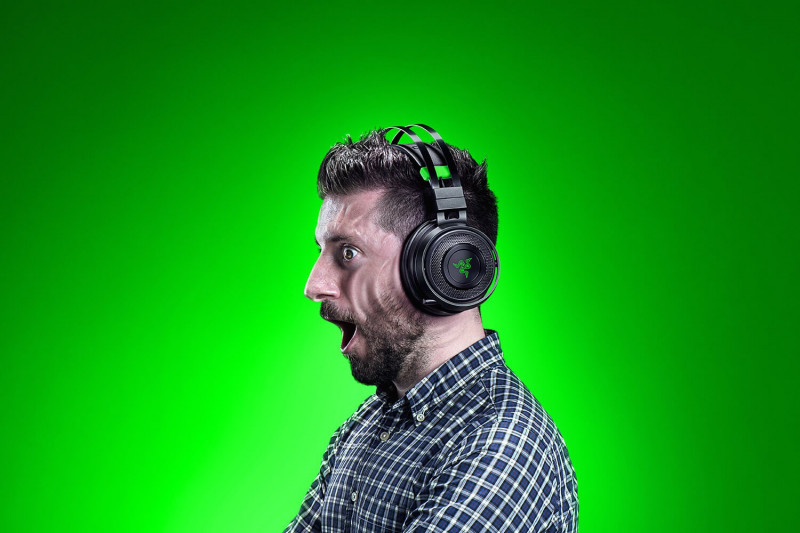 This is where the microphone comes in, the main detriment to the Nari Ultimate. Since I'm constantly in a party with friends, they need to be able to hear me clearly. The microphone is retractable and simply stows away inside the cup when not in use. With no option for microphone monitoring, I was unable to test and hear for myself how I sounded to others. With multiple people, in numerous parties, I had every single person tell me they could barely hear me. I figured maybe the mic was too far from my mouth, so I put it closer, yet still got complaints I was too quiet.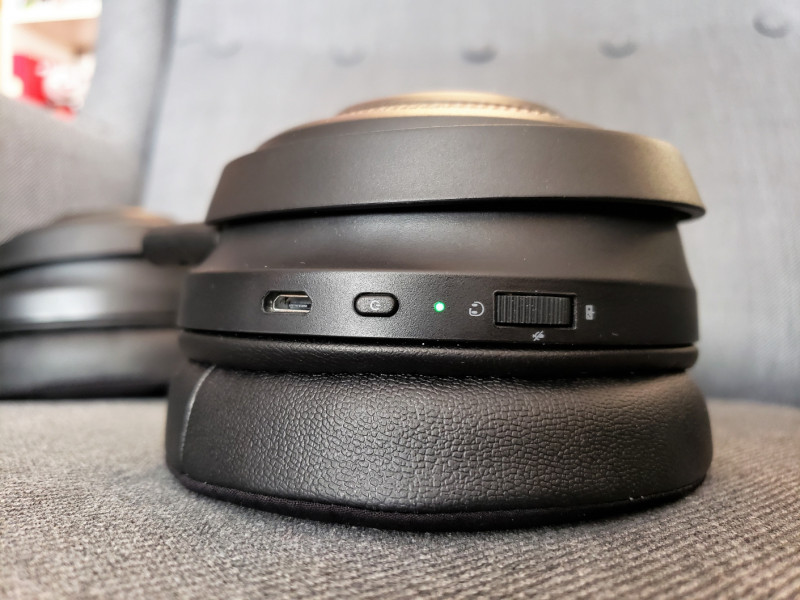 I generally game at night when the wife and kid goes to bed, so while my party was able to hear me better when I spoke substantially louder, whenever I spoke normal as I do with any other headset I game with, they couldn't really hear me, or said I sounded very 'tinny'. I tried everything I could to troubleshoot the issue, even to the point of having the mic touching my lips, but then all they hear was my breathing. Curious to see if others had this problem I did some research online, only to find that while not widespread, I was able to confirm others having the same disappointment with the microphone quality.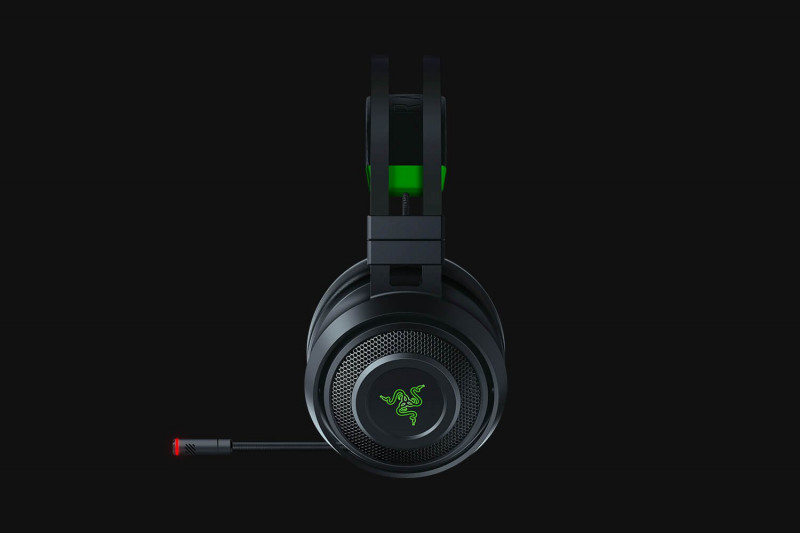 The build quality seems solid over the past few weeks that I've been using them constantly, not that I've been throwing them around when I'm done though, and they are absolutely unmatched for comfort over long gaming sessions. Coupled with some fantastic noise isolation from outside sources, the Nari Ultimate is a great choice if you're looking to be immersed in your gaming and want no outside interference.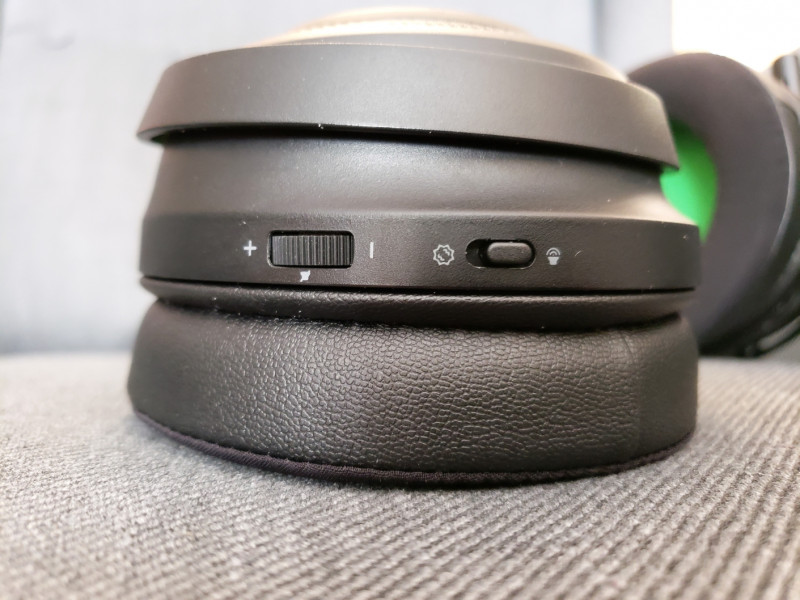 While some will simply see the haptic feature as a novelty, I enjoyed having a sub dedicated for my ears, but I'm also a heavy bass lover. It has its issues, but the Razer Nari Ultimate is still a solid headset overall, even if it does cost a premium for an Xbox One only experience. Not all will have the issues I had with the loose fit due to a smaller head and some won't care about the microphone, but the experience that HyperSense adds is an interesting one, something I'm curious to see how Razer improves for their next headsets in the future.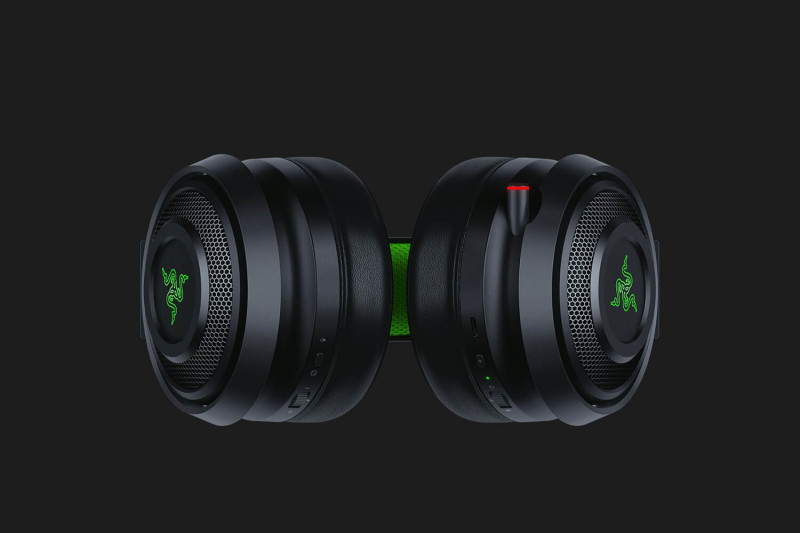 It's a shame that the microphone issue is almost a deal breaker for me, as I absolutely fell in love with the near perfect comfort of the headset and the HyperSense sensation (regardless of its battery life with it on), but I need to have party chat going almost all the time when I play my Xbox One, so it's almost like I can't use these unless playing something single player or watching Netflix.



Overall: 8/ 10