Xbox Series X Unboxing - We Go Old School and Take Snapshots, Not Video
by Kirby Yablonski









As we near the 'official' launch of Microsoft's next-generation console, we had an opportunity to unbox the Xbox Series X retail unit from the retail packaging that consumers will get on November 10th. Yes, that is not particularly exciting, but hey, it is something right, and it gives you an idea of what is in the box.

We won't get into specific details of the Xbox Series X itself, but we will include a few pics of what is inside the 'box' and how it's presented once you peel off the seal stickers and open the box up to unveil what it inside.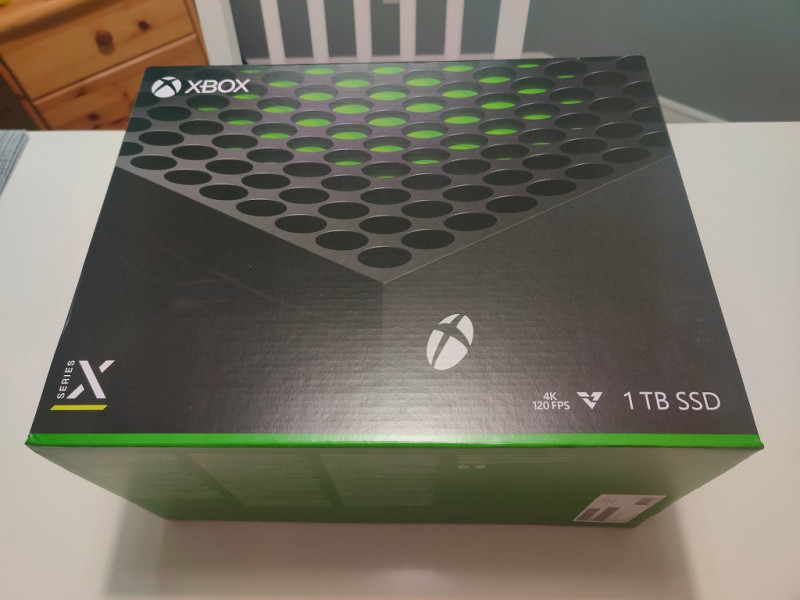 I won't lie, when the package was initially shipped to my home office I was somewhat surprised with how heavy it was. The official packing slip said the shipped package was 14.1 pounds, which is definitley not light. The actual weight of the console itself is approximately 9.8 pounds.

Having had the opportunity to open up premium products from Xbox in the past (e.g. Elite Series Controller - Series 2), I really wondered what the experience would be when first opening the next-generation Xbox's retail packaging. Well, after doing such, I have to say that Microsoft has made an effort to provide an actual experience when first opening the box.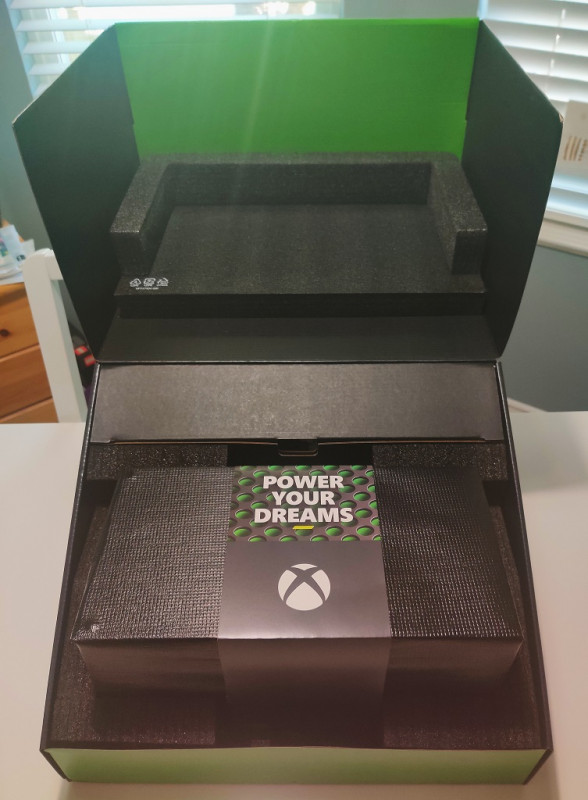 It's clear from the picture above that Microsoft has taken efforts to ensure that the console is front and center, given that it's what is at the heart of its next generation video gaming experience. Even the "Power Your Dreams" wrap is somewhat meaningful, as Microsoft wants to reinforce the fact that this is their most powerful Xbox ever, and it is what will power your gaming experience.

I won't lie, pulling the console out of the protective foam packaging made me realize just how heavy the next generation of consoles are. This is no lightweight when considering the weight. The almost 10 pound console is hefty, and it can best be compared to a small PC tower given all the components within the plastic box.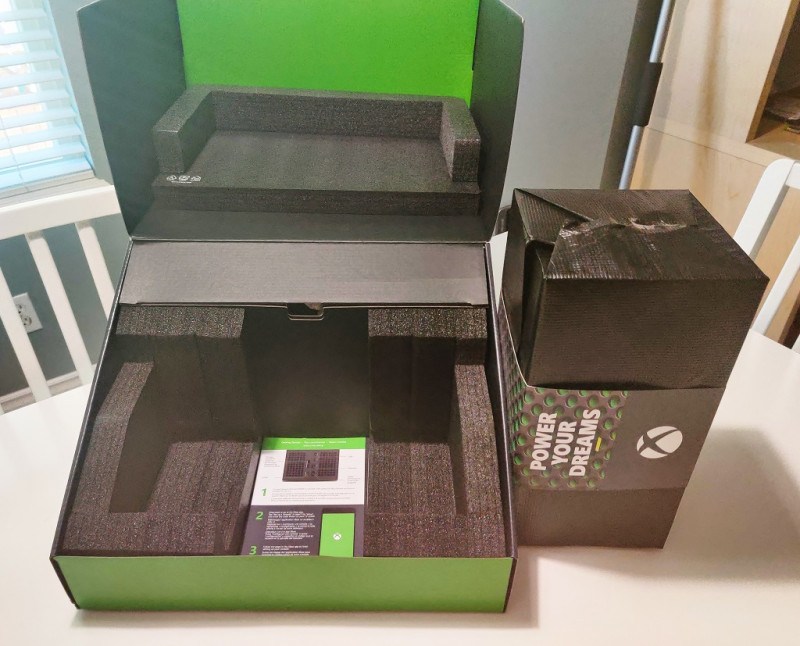 It is my opinion that a lot of tech product companies have learned how to package their gear from one specific company in terms of ease of unpacking while managing to create an experience, and that previous company is Apple. Simplicity and minimal steps to get the product out are key in packaging, and all that is included in the retail box for the Xbox Series X.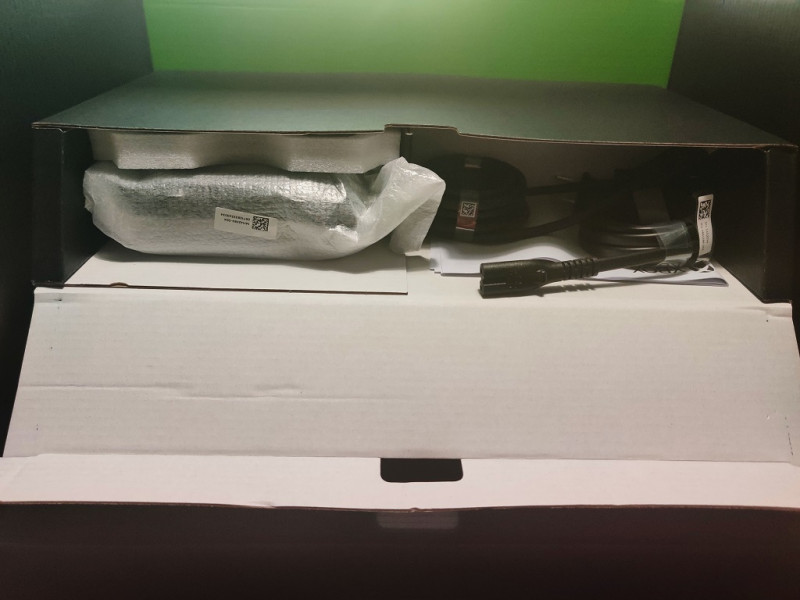 Microsoft has put very little information inside, as there is not a lot that one needs to know. There are some very basics when it comes to the set-up of the Xbox Series X, but it's exactly what you need to know to get the Xbox Series X going.

We aren't going to touch on the user experience of setting the console up, as we are to only talk about what is inside the retail box, which of course you can see from all the pictures included in this brief little write up. Along with the console, you'll find the new (and improved) Xbox controller, batteries for the controller, the power plug, and a high speed HDMI cable, capable of supporting the new HDMI 2.1 standard.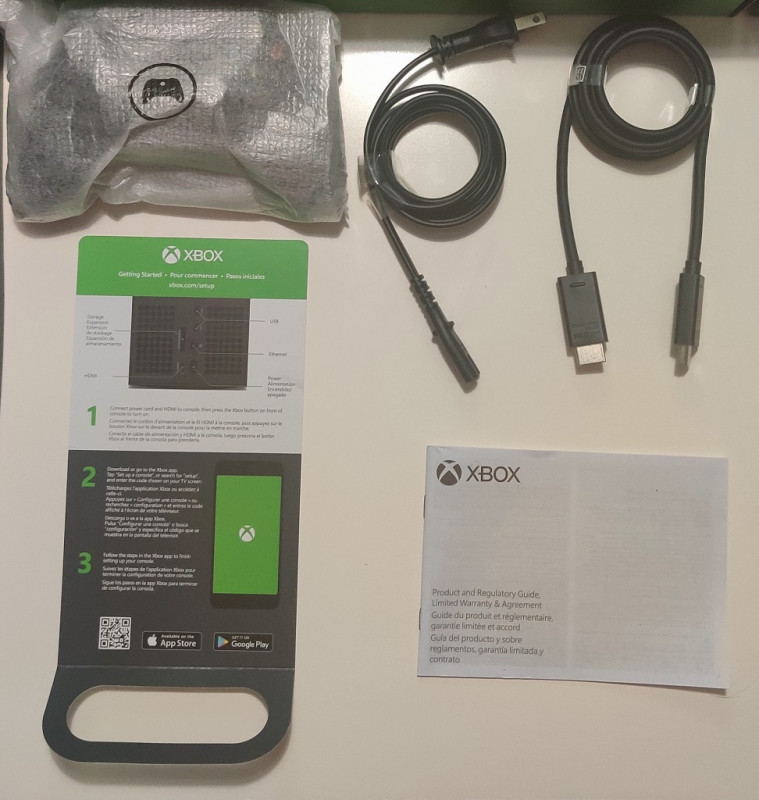 For those curious, we took one final picture of all the contents together, with the console unwrapped. It perfectly sums up what you can expect to find once you finally get your Xbox Series X home. We know that this is not something that many people will get excited about, and we totally understand, but for others, this might be just the right amount of information that can satisfy that bit of curiousity of what Microsoft has included in the box when purchasing their newest console.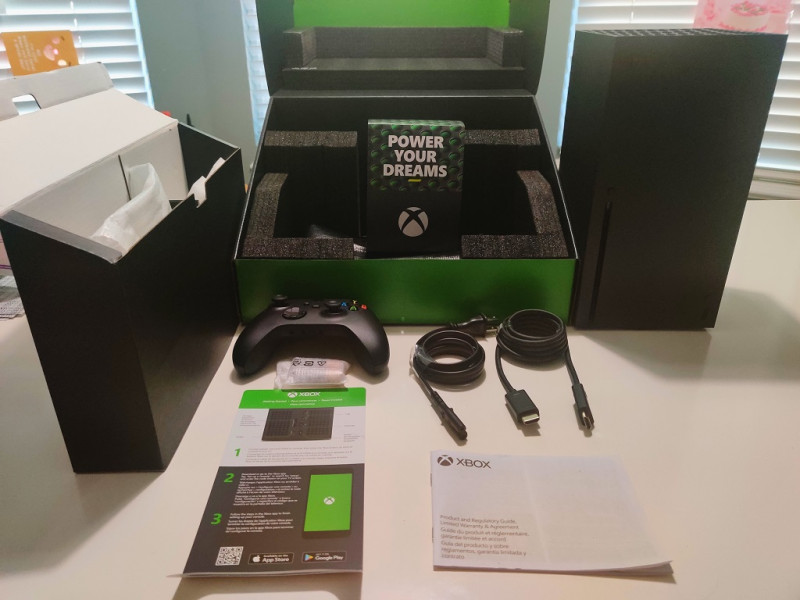 Well folks, that is it. There is no more for you to learn about what the retail box of the Series X holds. We've tried to make this exciting as we can, and provide you with some useful pics of what you will find with the cardboard walls of Seriex X's packaging. We are putting the console through its paces as we speak, and should have some indepth information and impressions with a week or so, when our embargo for such information is lifted.

Until then, we hope you have found this short little gander of all the contents included in the packaging. Again, we are aware that it is not the most exciting topic to write about, and take pictures of, but we hope you have seen it as informational, and old school as we took the snapshots with all of you in mind, knowing that it's a simple task to discover and share with you fellow Xbox fans, what you are paying for in terms of physical items.