Thrustmaster T.Racing Scuderia Ferrari Edition-DTS Headset Review
by Josh Morgan








Features:

Style: Closed-back dynamic
Driver Diameter: 50mm
Earpads: Foam
Microphone: Detachable
Volume control: On Headset
Mic volume control/mute: On Lapel Clip
Cable Length: 2.0m (6.6')
Battery type: None
Wireless Connection: None
Wired Connection: 3.5 mm (1/8") gold-plated stereo mini-plug (4 pole)


Package Includes:

Thrustmaster T.Racing Scuderia Ferrari Edition-DTS Headset
Detachable Microphone
Y-Type adapter cable
Analog 3.5mm cable (attached)
1 Year DTS Headphone:X access on Xbox and PC (free app needed)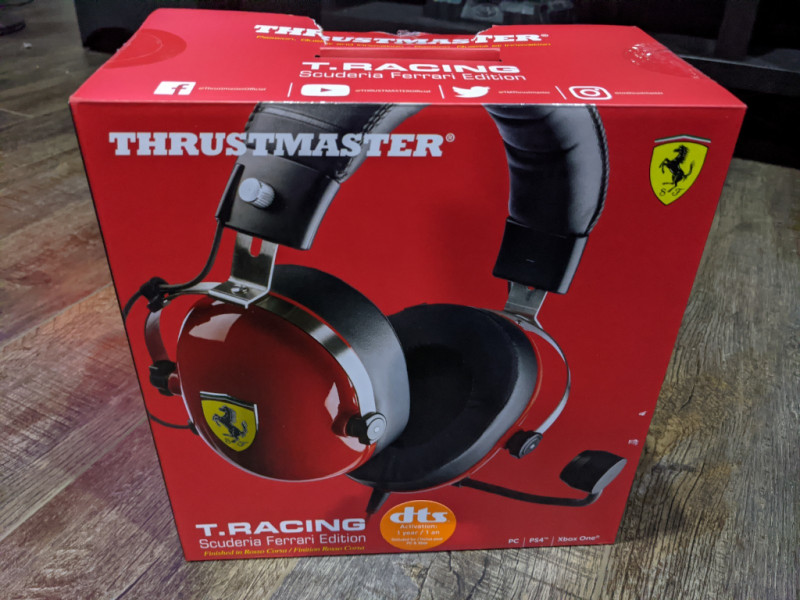 Do you have dreams of being in a pit crew? Does the thought of getting barked at to move faster as you change the tire on a Ferrari get you excited? Well, Thrustmaster has made the headset for you! Designed to look and perform like the real thing, the Thrustmaster T.Racing Scuderia Ferrari Edition-DTS takes real life Scuderia headsets and brings them to your gaming den. Are they worth the $99 (USD) price tag? Lets jump in, buckle up for safety, and go for a quick spin!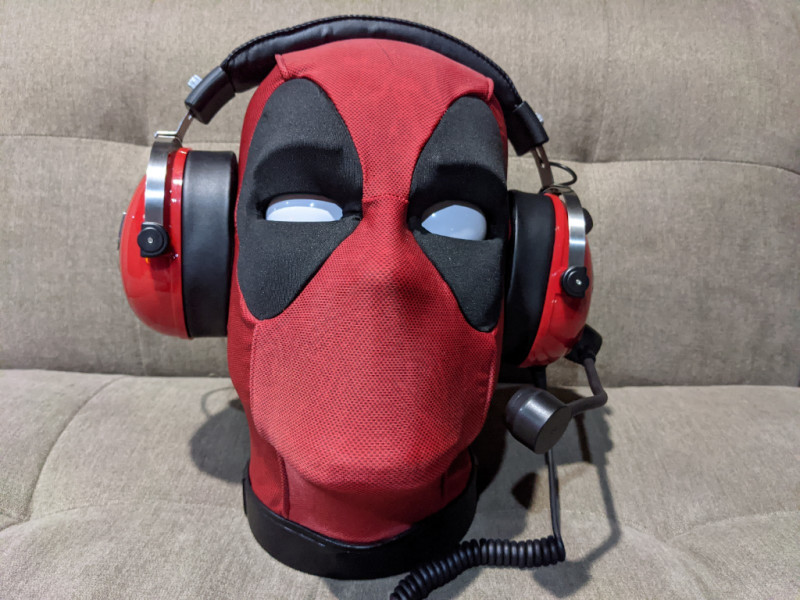 The headset looks like it has been pulled straight off the head of a Ferrari Scuderia pit crew member, and that itself is pretty impressive. If you're into the Ferrari branding, you're going to love the high gloss red finish and black leather look-alike padding. An all metal band with metal arches that support the ear cups really push the "durability over comfort" look that this headset is going for. It's meant to look official and make you look like you belong working in a pit crew. Thrustmaster really paid attention to the small details when designing this headset, even the volume control knob is in the same position as the official Ferrari headsets of the pit crew.


When designing a real headset that is meant for a pit crew, a lot of thought and design is focused on the noise cancellation due to their close proximity to very loud cars. Applying that design on a gaming headset makes for a very bulky design for no other reason other than aesthetic. The cups feel enormous on my ears, and often get in the way when I turn my head, especially when wearing a hoodie or collared shirt. The cord coming out of the cups is also very stiff, and that gets in the way as well. Wearing these headphones, you never really forget you are wearing them, which is a design that I think a lot of headset makers forget to focus on.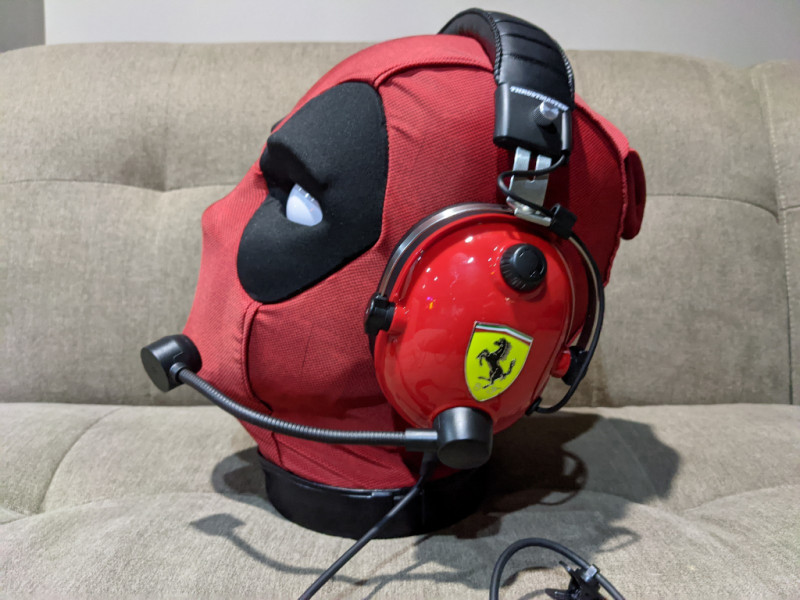 The padding on the cups are also thick and bulky, again this is intended to replicate the thick cups of the noise cancelling sets used by crew members. At first it's nice that they feel firm and the cups hold snug to your ears like a set of safety ear cups. But, as you spend some time with them it gets real hot wearing them. The fake leather type cloth that the pads are wrapped in offer no ventilation. I wore them for a 3 hour session of Warzone with a buddy and my head around my ears was sweating. I felt the moisture collecting between my head and the cup. They are made of plastic, even though they look like the shiny red metal of a Ferrari, so they look a lot heavier than they are. I think the weight is pretty comparable to other headsets on the market.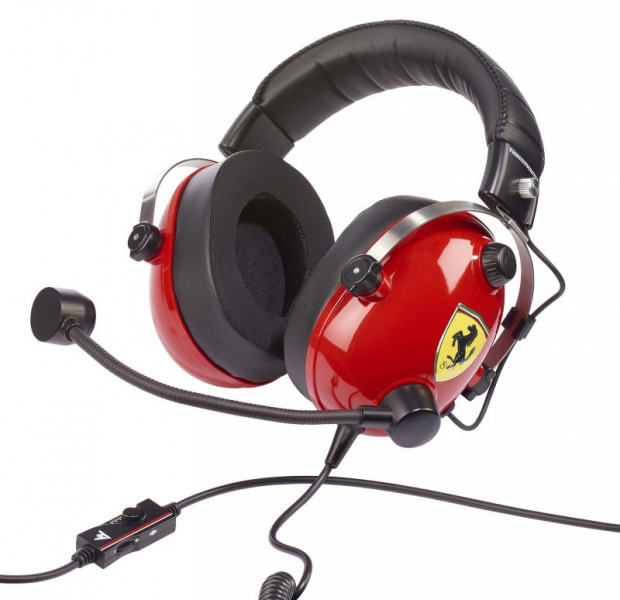 The Scuderia headset is wired, but that makes them versatile with Xbox, Playstation, Nintendo Switch, PC and any phone or tablet with a 3.5mm port. The cord is made with a thick rubber coating that never really flexes or loosens up. It's just as rigid as the first day I tried them out. There is an in-line mute and mic volume wheel on the lapel clip for easy adjustment. Volume control for the headset is located at the top of one of the ear cups. The removable boom mic is easy to raise and lower, and is made of a flexible but sturdy stem that stays in place no matter what position you prefer. These are all pretty standard options for a wired headset these days, but the quality of the product really shines here. It all feels really well made and sturdy, no cheap plastic or easily movable parts that will break after time.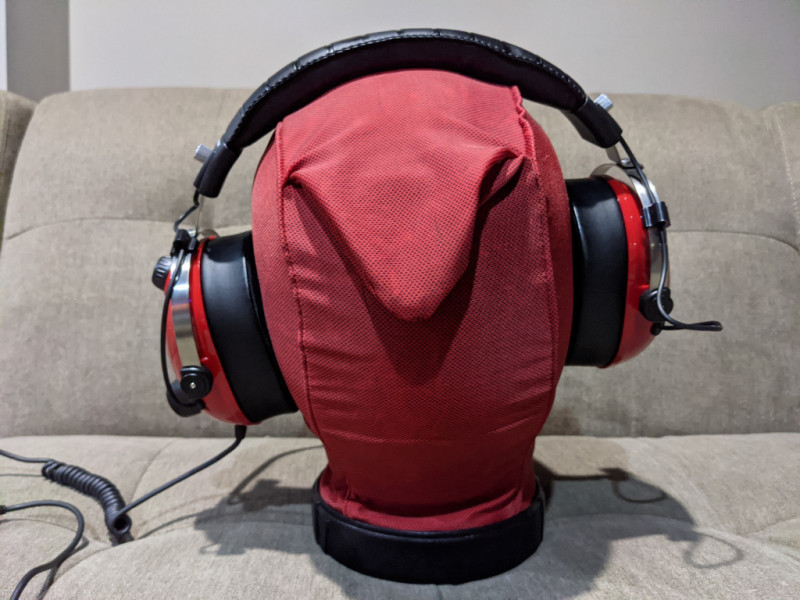 My main set of gaming headphones are Astro A50's and I was eager to test these out and compare them when it comes to sound. I first tested them out with Call of Duty Warzone and am pleased to say the sound was very accurate when it comes to directional audio, and they offer a wide range of sound from lows to high. Explosions have enough bass, and the high pitch sound of bullets whizzing past your head sound crisp and clear. I also extensively tested out the mic quality during my Warzone play sessions with friends and they all commented that while clear, it sounded like I was talking inside of an empty metal can. I assume this effect is intentional to simulate the sound of a pit crew, but I can't be certain. No adjustment of volume on my end, or theirs using the Xbox console controls, could remove the empty metal echo that my voice produced in their ears. Again, my friends could hear me loud and clear, but the quality of the mic audio did not compare to my A50s.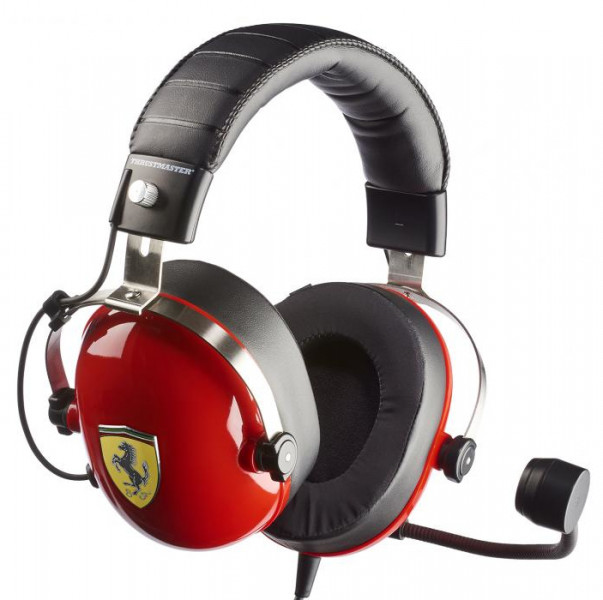 The next game I wanted to test was Katana Zero for its banging soundtrack. I've listened to this soundtrack for hours using high end audio headphones, wireless earbuds from my phone, and my huge surround sound speakers, so I wanted to test a game using the Scuderia that I KNOW how the sound should be. This is where I felt the bass was a little high for my tastes. The headset performed great during its test of Warzone, but there wasn't nearly enough bass to keep up with the low thumps of the Katana Zero soundtrack. Sword swipes, glass shattering and in game sound effects sounded OK but I really felt the bass was lacking and could use a boost.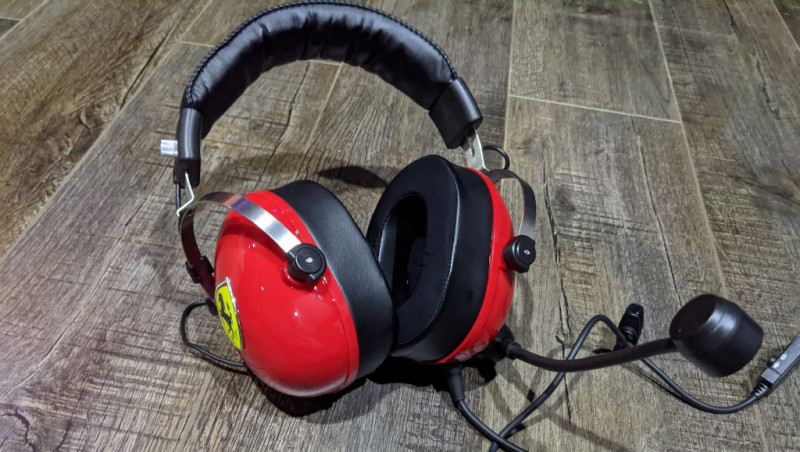 If you are a superfan of Ferrari and want a headset to match for the complete racing look, then the Thrustmaster T.Racing Scuderia will work great for you. For me, as an everyday gamer they do not compare to other headsets that produce a better sound, and offer better mic quality. The build quality is fantastic, and I can see them lasting a very long time under normal use, but the bulky design and non breathing cups distracted me and often reminded me that I was wearing a headset. That pulled me out of my gaming experience, and headsets are supposed to do the opposite.



Overall: 7/10