Razer Kaira Pro Headset Review
by Kirby Yablonski








Specifications

- Driver Size: 50 mm
- Driver Type: Razer TriForce Titanium
- Frequency Response: 20 Hz - 20 kHz
- Sensitivity: 108 dB
- Wireless Range: 30 feet
- Over the Ear Earcups
- Breathable memory foam cushions
- Works with Xbox One and Xbox Series X|S platforms
- MSRP: Kaira: $99.99 (USD) / Kairo Pro $149.99 (USD)

Over the past few weeks, I have had the chance to put the new Razer Kaira Pro gaming through its paces. It is the big brother, or sister should you wish, to the Razer Kaira, the difference being that the 'Pro' allows for Bluetooth 5.0 connectivity, it also has two microphones (one detachable and one built in for mobile use) and it also has Razer's patented Chroma RGB lighting system. Razer praises the Kaira Pro as the ultimate headset for the Xbox gamer on the go, and in some ways I have to agree with them.

Inside the retail box, you will find the headset, a charging cable, and some brief information on how to use it. There is a label on the headset that includes a URL and a warning to update your headset before use. The process is very painless as you simply plug in the Kaira Pro into a PC, enter the URL into a browser's address bar and hit enter. The headset will automatically update at that point.

I have to give props to the folks over at Razer, as they are changing the way that their headsets look. While previous headsets like the Kraken X or Nari Ultimate were professional looking, they were quite large and even bulky. Razer's latest headsets have slimmed down somewhat and look as if they are more for just gaming at home. You will find the typical colour scheme that is associated with many Razer products, which of course is their classic black and green.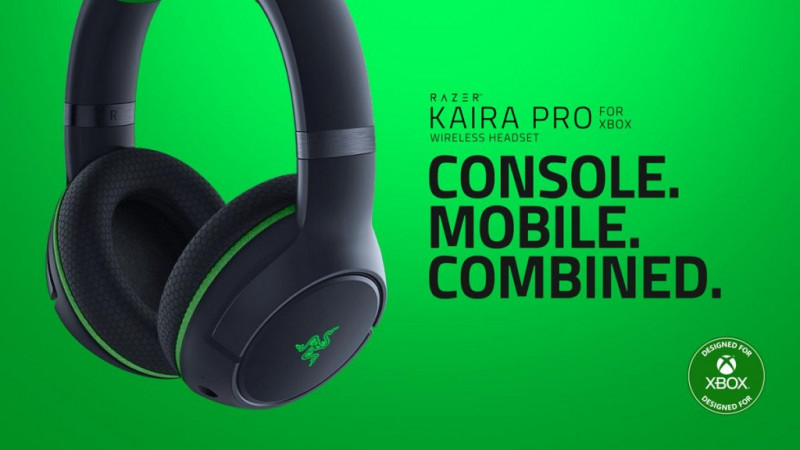 The headset is made of mostly plastic, which helps with the weight, and it does not feel as cheap as other all-plastic headsets that I have used in the past. The logos on the side of each earcup can light up with a static single colour or rotate through the spectrum of colours provided by the Chroma system. The earcups have 50mm drivers and the memory foam that surrounds them is wrapped with a mesh fabric. This increases the breathability of the earcups, keeping one's ears cooler, but it does not fair well for sound isolation. I for one had no issues with this as I could hear my wife or kids when they needed to speak with me in my home office but still could hear game content without issue.

One of the features I really like about the Kaira Pro is the ability to adjust some of the settings with Xbox console as there is a dedicated app for this, and it is called 'Synapse App'. Being able to adjust, or even turn off, the lighting on the earcups and being able to adjust internal EQ settings from my console was impressive. The only other headset I can think of that has any form type of functionality is the Astro A50s. Not having to attach the headset to a PC is a quality of life improvement that I can totally get behind.

Now, I have a fairly big noggin', and even fellow Editor in Chief Adam Dileva reminds me of that fact when I review any headphones (*shakes fist*). The Kaira Pro was able to sit on my head comfortably for hours at a time. There is ample padding on the earcups as well as on the headband that straddled the top of my head. They felt somewhat loose at first but after giving my head a shake a few times I discovered that they were not going to fall off. I wear prescription glasses and I found that the memory foam was not bothersome on my glasses' arms and I rarely noticed any pressure.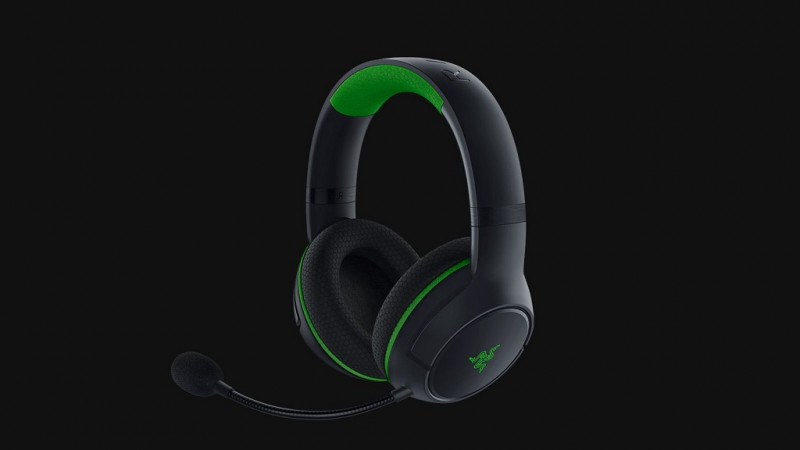 To review the headset, I played a few games. Destiny 2 recently released their new DLC, Beyond Light, and as a serious Destiny fan I found I was playing a lot of the game. I was also reviewing WRC 9 on the Series X and I also bought PGA Tour 2K21 on sale which I play to relax. I should note that the Kaira Pro supports Windows Sonic virtual surround sound for all games.

If there were one distinct way I could describe my time with the Kaira Pro headset, it would be that the headset was crisp sounding. The music found in Bungie's new DLC for Destiny 2 was great, from deep and impactful tracks to music that is calming and meant to be in the background. Razer's newest headset managed to put forth a good tonal balance, if not a bit bass heavy. Sound effects managed to remain as I have heard them in the past, including the fine details of footsteps on the ground, environmental effects, and NPCs chatting from all directions.

Given that I was reviewing WRC 9 on the Xbox Series X, I was excited to see what the Kaira Pro had to offer and I was not disappointed. I tend to play my racing games in the hood view. The sound coming through the 50mm drivers impressed me as gravel kicked up from the road, tires struggled to keep grip on various surfaces, and my co-driver's navigation was clear and concise. Switching to an inside the car view resulted in a very diverse sound stage, with outside sounds sound more muffled. You will notice different sounds, like the suspension struggling or the gravel hitting the bottom of the car sounding like it is right under you. I felt like the Kaira Pro did not miss a beat here.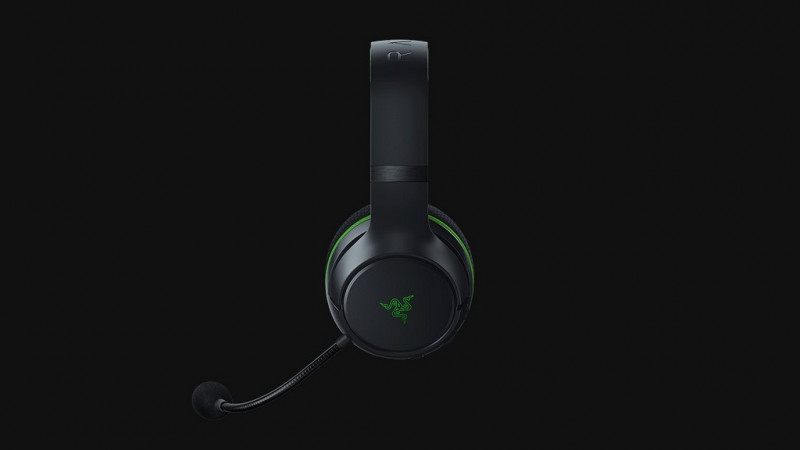 2K's PGA Tour 2K21 was on sale while I was testing the Kaira Pro, so I picked it up as I wanted something lighter. I have to say that I was pleasantly surprised with the Kaira Pro while playing this game as well. Small details like the wind blowing on a breezy day, the ball bouncing on the fairway to the distinct and different sound that each driver, iron or various wedges make when hitting the ball, you will notice it all with clarity and detail.

The use of Windows Sonic virtual surround sound was effective. There was directionality in all games that I played, from the crowd cheering when I passed by them in WRC 9, the sounds of battle in Destiny 2, to the sound of the wind blowing in various directions (subtle though) or the crowd celebrating a well placed chip onto the green in PGA Tour 2K21. The directionality is effective, but not overly distinct.

I played a lot of Destiny 2 online with my friends and when I asked them how I sounded, as I was reviewing a new headset, they all pointed out that I sounded like me. I was using the detachable boom microphone. They noted that my voice was normal, there was no tininess, and it sounded very clear. I was also impressed with how much sound it did not pick up too... aka, my kids yelling at each other. Sure, it picked their voices now and then, but it was less so then some other headsets I have reviewed, which seemed to pick up all the noises in my household.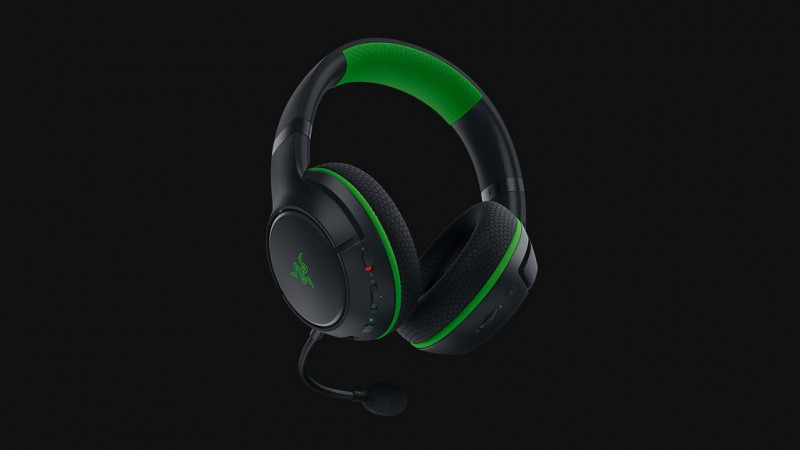 Razer states that the battery in the Kaira Pro will last for 20 hours between charges (15 if you have the Chroma RGB lighting on). I am happy to report that it lasts longer, as I engaged in some all-day gaming sessions with friends exploring the world of Europa in Destiny 2, and I did not find a need to charge them very often. I am of the opinion that you will get more then the estimated battery life when playing on console, and even longer with the Chroma RGB lighting turned off.

As I mentioned at the beginning of this review, Razer touts the Kaira Pro as a headset made for the Xbox gamer on the go. Why is this you ask? Well, using Bluetooth, the headset pairs to mobile devices, and any Xbox fan knows that you can play Xbox games via xCloud on non-apple mobile devices. Being able to use my OnePlus 7T along with the Kaira Pro headset was almost a perfect portable setup. Although you do not get the advantage of the Windows Sonic virtual surround sound, being able to play Xbox games on the go via xCloud and then back at home on an Xbox console, using the same headset for both, is quite convenient. Just a note though, that you'll burn through the battery power quicker then if gaming on the Xbox console due to the Bluetooth usage, and you may just want to turn off the Chroma RGB lighting when heading out into the public, not only to conserve battery power, but also so you don't stand out too much.

Although everything sounds fine and dandy, I did run into one problem that I took to the internet to research. Every so often I would get a varying amount of distortion (small to large) at times resulting in me turning the Kaira Pro off and then back on, reconnecting to the console. This would generally fix the problem. At first, I thought it was the headset's inability to handle deep bass or something else; however, it seems that this problem does not only occur with the Razer headset. Some internet sleuthing led me to both Reddit and an article on Windows Central that spoke about various headsets having connection issues with the Series X and Series S causing what I experienced. I am glad I am not the only one as other headsets from other manufacturers can have the same issue, so it seems that it might be on Microsoft's side.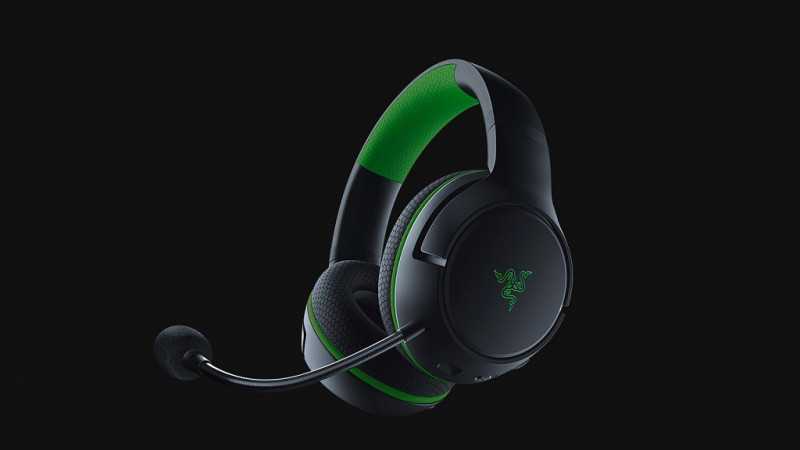 Overall, I think that the Kaira Pro headset is a good option for Xbox gamers, both at home or on the go. It's style and colour are Xbox centric, and the wireless approach is great, as it synchronizes directly with your console. Being able to play xCloud games with it via Bluetooth is an added bonus. The only issue I found I noted above and it does not seem to be specific to the Kaira Pro. I enjoyed my time with the headset, with solid sound, good battery life, a fantastic removable mic, and the overall weight is fairly light, you really cannot go wrong with it when looking for a new headset to game on your Xbox with.


*** Hey, it's Adam here, the other Editor-in-Chief for XBA. I had the chance to check out the non-pro version of the Kaira. My thoughts are very similar to everything stated above. As someone who doesn't have as big of a head as Kirby, I found the Razer Kaira to be just a little loose since it simply auto adjusts. There were a few times where I would bend down to grab a snack or drink and it would slip off the position on my head, but this also speaks to how light the headset is, as I've played with it for hours on end and never once did my head start to hurt or ears become sweaty.

As for the audio, I've been playing a lot of Call of Duty Cold War, and I can't even tell you how many kills I've gotten because I've been able to hear enemies' footsteps coming around the corner or nearby. Even with the verticality in some levels, I was able to hear footsteps very distinctly, allwoing me to get a few extra kills I wouldn't have with other headsets.

I do have to say, I rarely get a headset to review that has a good quality mic, but the Razer Kairahad my voice crystal clear in party chats and no one had any issues with the quality. I too had the odd distoriation issues listed above, but it seems as though that's more of a console issue than Razer directly; nothing a quick reset of the headset couldn't fix. Because of the direct connection to the Xbox itself, the Razer Kaira is now my goto headset when I want to quickly start playing and jump into a lobby with some friends.

OVERALL SCORE: 8 out of 10

**Razer provided us with retail units of the Kaira and Kaira Pro for review purposes**