Nacon RIG PRO 700 HX Gen 2 Review
by Adam Dileva








Audio Connection: Wireless USB A Adaptor Inline
Impedance: 32 ohms
Headphone Sensitivity: 111 dBSPL/V
Wireless: Yes – 30ft / 10m range. 2.4GHZ RF Wireless Base
Headphone Driver: 40mm
Ear Coupling: Around Ear
Headphone Frequency Response: 20 Hz – 20 kHz
Color: Black
3D Audio: Dolby Atmos
Mic Pick-up Pattern: Uni-directional
Microphone Frequency Response: 100 Hz – 10 kHz
Microphone Sensitivity: -45 dBV/Pa
Mic to Signal Ratio: >42 dB
Removable Mic: Yes – Noise Cancelling
Volume Control: On-Ear volume wheel
Weight: 241 g
Battery Life: 12 hours
Compatibility: Xbox One, Xbox Series X|S, Windows 10
Warranty: 1-Year Limited (US/Canada)

*Non-stock images and videos provided courtesy of 1000 Shutters Co.**

RIG PRO 700 HX Gen 2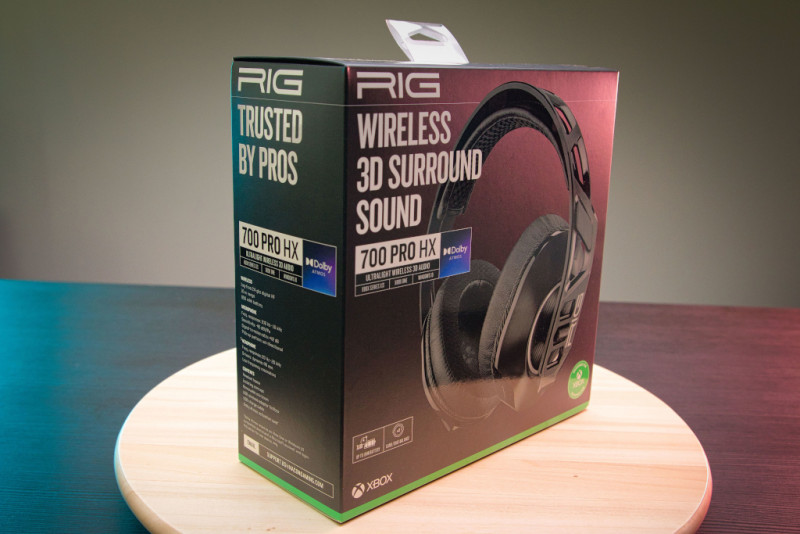 We recently reviewed the Nacon RIG 500 PRO HX Gen 2 headset and came away quite impressed with its light weight and Dolby Atmos support for an entry level price. I've actually been using it as my go-to headset because of how light it is on my head. While I didn't mind the wired nature of that model, some prefer to have wireless for obvious reasons. Enter the next step up; the Nacon RIG PRO 700 HX Gen 2.

The RIG PRO 700 HX Gen 2 is an updated version from its last iteration with many of the same qualities and features that the 500 Gen 2's have as well. Portions of this review will have content from my original RIG 500 PRO HX Gen 2 review as much of the product is basically unchanged aside from a few features when comparing the two models.

People choose gaming headsets for different reasons, be it features, price or audio. I put a big emphasis on comfort, as I'm a power user that generally games for hours a day, and if I'm not gaming I'm probably binge watching some Netflix or watching a movie. I also have a wife and child and tend to do most of my screen time at night, so a headset is a necessity for someone like me that can't use regular speakers when they are in bed trying to sleep. Because of my constant reviewing of games, I tend to choose a comfortable headset over others even if its audio or other features aren't as equal as my higher end headsets. This is why I've been using the RIG 500 PRO HX Gen 2's before delving into this pair of 700's.



So what's the main difference between the RIG 500 PRO HX Gen 2 and the RIG 700 PRO HX Gen 2 you ask? There's a few subtle differences but the major one being that the 700's are essentially the wireless version. My favorite feature about the 500's was that it only weighed 281g. It seems they've outdone themselves, as the RIG 700 PRO HX Gen 2 weighs even less, coming in at just 241 grams. So they are even lighter than ever, but there are a few tradeoffs which I'll delve into shortly.

The RIG 700 PRO HX Gen 2 offers an extremely lightweight wireless headset that offers zero lag, Dolby Atmos support and has many of the same great features the 500's utilize, like the self-adjusting headband and dual materials for the cups around your ears. This does come at a slight cost increase though, licensed for Xbox One and Series X|S for $119.99 USD. The general rule of thumb when it comes to headsets is that you're going to get what you pay for. This price point puts it in the mid-range tier of headsets, and we will be keeping that in mind when factoring its features and value.

The RIG 700 PRO HX Gen 2 is your standard black looking gaming headset with subtle RIG branding near the ear cups. Nothing too flashy and no unnecessary RGB lighting. The detachable mic is quite basic and has a small goose neck that allows you to maneuver it wherever to your liking. The right ear cup has a large "R" on it with all the volume controls and dials being on the back of the left cup.

While I don't factor in the unboxing experience in any way to my scoring and impressions, it's always cool to have a memorable unboxing if it's done in a sleek way you generally get with higher priced items. The packaging and unboxing is identical to the 500's, so don't expect much for the unboxing experience, as it's as bare bones as it gets. The outer box is quite slick and eye catching with its glossy pure black packaging, but open it up and the headset just sits in some recycled cardboard along with some papers and stickers. Not a knock against it in any way, just don't expect a premium unboxing experience.




These, and the RIG 500's, have a unique modular system where instead of a band that you adjust and move the cups, there's 3 notches that they can rest in, coupled with a self-adjusting floating band that sits on top of your head. The same comfortable material on the 500's is also on the 700's ear cushions. The major difference between these 700's and the 500's is that there's no steel headband, but a plastic one instead with the 700's. This I can only assume is to offset the weight of having the battery in the cans while still being lighter than the 500's overall. While I get the decision, it does appear to look cheaper than the 500's simply because of the plastic headband even though it's nearly double the price. Also, the interesting looking honeycomb design from the 500's earcups are gone resulting in the 700's not having an interesting aesthetic any longer.

As mentioned above, comfort is a very big checklist item that I prioritize when choosing what headsets to buy or use. Because I game for hours at a time most days, if it's too heavy or makes my ears sweat I just may pass on it and it's generally a deal breaker. Thankfully I never had this issue with the RIG PRO 700 HX Gen 2, and to the best of my knowledge, it is probably the lightest headset I've reviewed in quite a while, if not ever that also has as many features. Even after quite a lengthy Netflix binge my head never became sore, ears never sweat and I had no issues aside from some headset hair where the band rests. While it's only a few grams lighter than the 500's, it does feel lighter, especially when I detach the microphone. The headset only weighs 241 grams, just about a half pound, which for a headset that uses 40mm drivers, that's incredibly light.

The way the band is designed means you can't make any adjustments, but there's no need to as it simply stretches and fits the shape of your head without any effort. There are three separate notches where the ear cups connect to the bottom of the band for some slight adjustment, a really cool system I can't recall seeing in any other brands headset. The cups themselves are made from two different materials, a faux leather on the outside edge and a super soft foam for the inner part that actually rests against your ears. I really approve of this setup as full leather cups generally tend to make my ears quite hot and sweaty but I never had that issue here once, even after hours of continuous use. While I wasn't throwing the headset around, I was a little rougher than I would normally be just to see how it stood up to some slight abuse. For how thin and lightweight the headset is I was quite impressed with how resilient it was to bends and drops. The band can be twisted and pulled without worry of it snapping.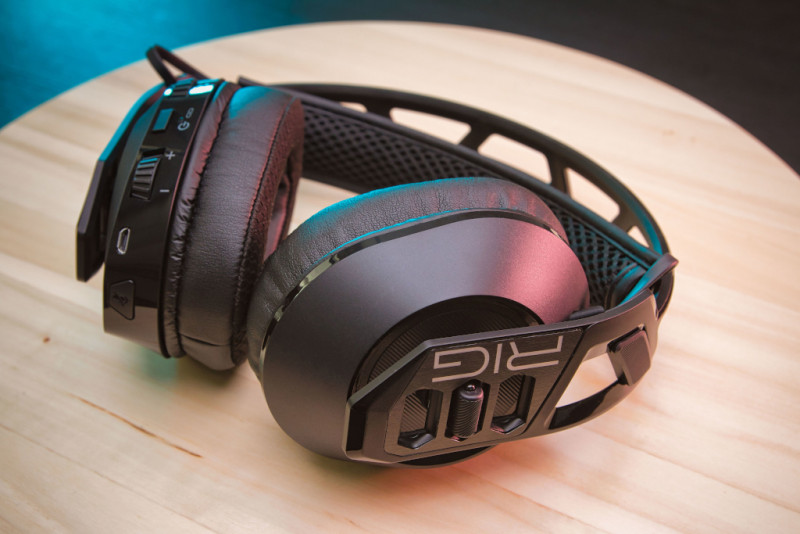 The closed back ear cups rest over your whole ear and are your standard oval shape but they don't swivel at all due to the auto adjusting headband style. I never encountered this to be an issue though as they fit my head perfect in the default position. There isn't much noise isolation though, even with the closed back style. While external sounds will get muffled a bit, I was able to still hear my daughter in the background playing her games or my wife calling me when she needed something. Obviously if I turned up the audio loud enough it helped, especially if I was focusing on my game, but I was a little surprised with the lack of outside noise isolation, possibly due to the foam ear cup choice.

As for the volume controls and audio balancing, everything you need is on the back of the left ear cup. The top dial is your game volume / party chat balance, then you have the power button, the volume dial, charging port and finally the mute button. I'm always in an Xbox party chat when I'm playing games, so having the audio adjustment dials at my fingertips is a necessity, as I hate when I have to do it through the dashboard and settings for headsets that don't offer these features built in.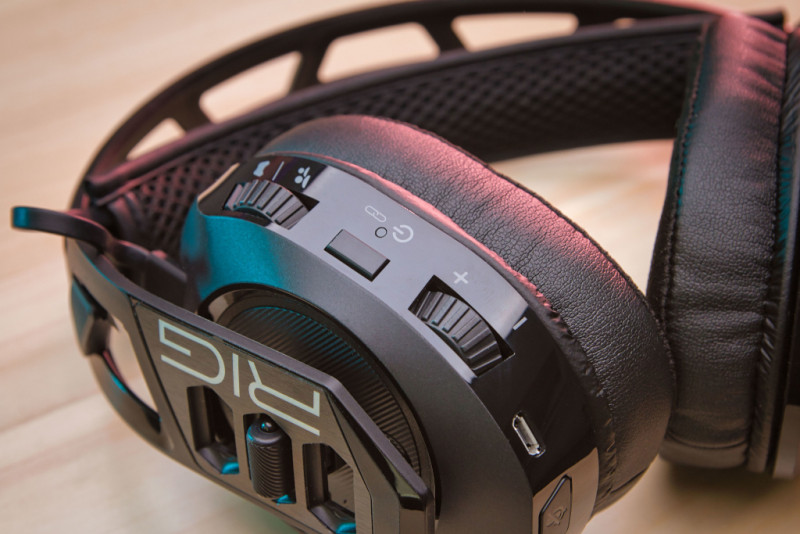 The biggest difference between the 500's and these is obviously that the RIG 700 PRO HX Gen 2's are wireless. While not direct wireless to the Xbox, it comes with a dongle that needs to be plugged into the Xbox, or a PC, to connect. The idea is that a dedicated dongle will prioritize the audio and give less wireless interference to controllers and other devices. How much truth there is to that claim I'm not sure, but I obviously wish it was a direct connection instead of using one of my Series X's USB ports. This offers 30ft / 10m range and I had no issues running to grab a snack from the fridge without any connection interruptions, but obviously everyone's setups will differ based on your walls and rooms. Rated for about 12 hours battery life, this seems about accurate, and while some headsets boast 20+ hours battery, they are also bigger and heavier batteries, so it's a slight tradeoff.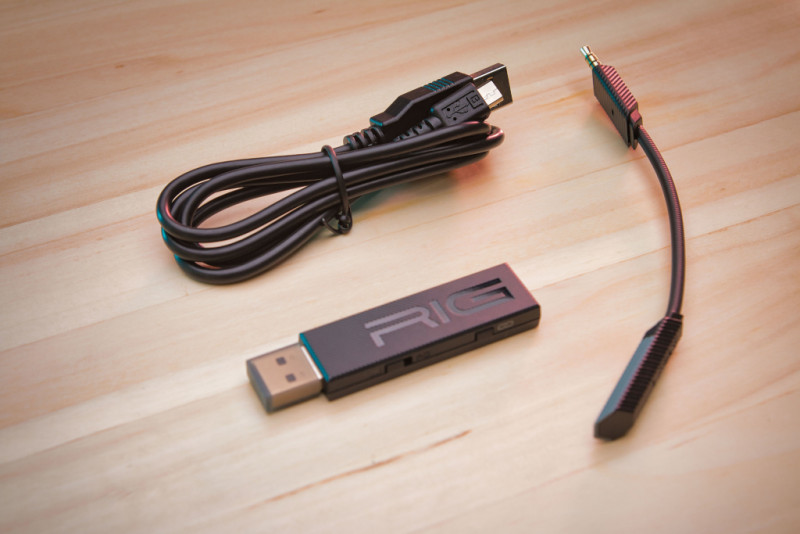 The dongle also has a small switch that you choose Xbox or PC based on what you're using the headset for. Having the switch in PC mode and plugged into the Xbox won't work and vice versa, so just double check if it's not working for some reason. Plugging it into PC mode only took a few seconds to setup and no drivers or software was needed to get it running on my desktop. The only downer that I found was that the headset charges via micro-USB, not USB-C like most new devices these days.

Your audio is generally going to be why you ultimately decide on one headset or another. A headset at this price range isn't meant to compete with others that cost five times as much, so again, I'm simply trying to keep in mind other headset audio around this same price point for its audio quality. The headset utilizes its 40mm drivers to deliver a very crisp soundstage, one that I tested with a ton of different game genres, movies and music. Explosions sounded loud, dialogue and music very clear and engine roars distinct. I actually quite enjoyed watching shows and my other media, as the dialogue sounded super clear and crisp.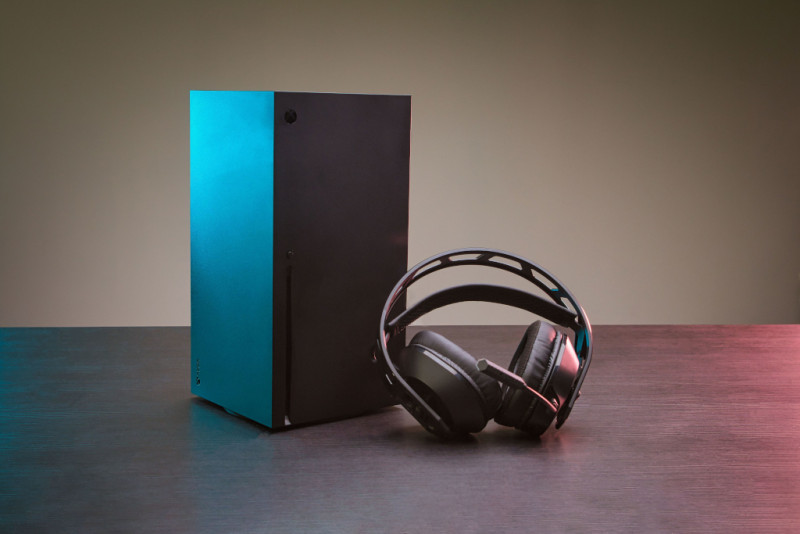 Even with the slightly smaller drivers compared to the 500's, the audio sounded near identical. There's very little distortion, even when I set the volume dial to maximum. My only real complaint, the same one I had with the 500's, is that it does lack a bit of 'oomph' with its bass. The bass is there but it doesn't sound or feel deep compared to a few other headsets I own. This is obviously a personal preference, as I enjoy super loud deep bass while others wish there was a bit more bite to its bass.

The RIG PRO 700 HX Gen 2 has a secret weapon though when it comes to audio; its inclusion of Dolby Atmos support. Basically, Dolby charges a $14.99 license fee to gain access to Dolby Atmos for Headphones on console, adding a whole new level of immersion when it comes to your soundscape. I don't want this to turn into a review about Dolby Atmos itself, but generally it's going to give you a much more rich and immersive sound, as it emulates true surround sound, even from above or below, not just on a horizontal plane around you. The easiest explanation to describe this is that if you heard a helicopter fly overhead with Dolby Atmos, it would actually sound as if its above you as it soared past. Pair Dolby Atmos with a supported headset like this and you'll have a completely new audio experience. The App is free on Xbox and also allows you to play with the equializer settings to fiune tune your soundstage however you prefer.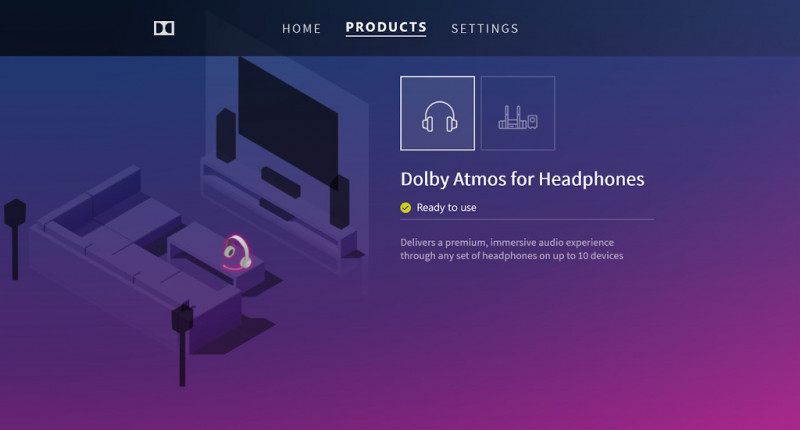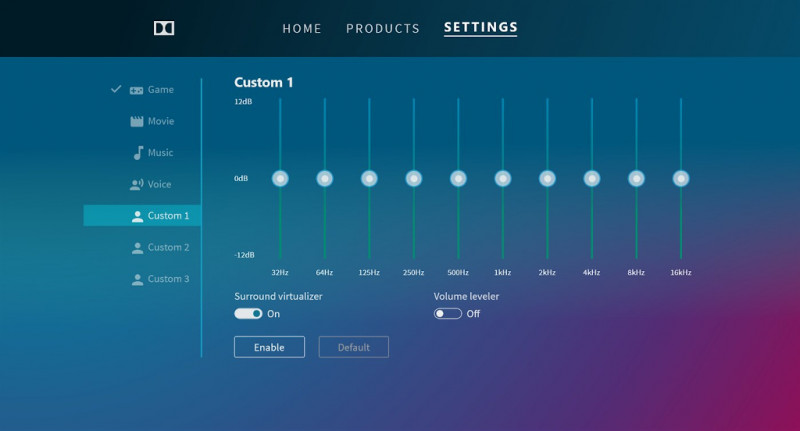 As for the microphone quality, I swapped to multiple headsets and asked which one sounded the most natural and clear to my friends in Party Chat. Every time they chose the RIG Pro 700 HX Gen 2 (or 500's) without me telling them which one I was using, mentioning that I sounded clear and natural, as if I was simply talking in front of them. The mic itself is detachable easily if you're not going to be talking to anyone, and while there's a dedicated mute button, I had the same problem that I did with the 500's; there's no way to easily tell if you're muted.

Hitting the mute button will give you one of two distinct beeps, but how you're supposed to know which beep means muted or unmuted, I'm not sure. There's no red light on the mic either, so it's a guessing game to tell if you're muted without simply unplugging it completely. What makes this even more of an odd design decision is that there's a voice that tells you that your battery level is high, medium or low when you power on the headset, or that it's being turned off, so I'm not sure why there couldn't be a simple voice added to say "muted" or "unmuted".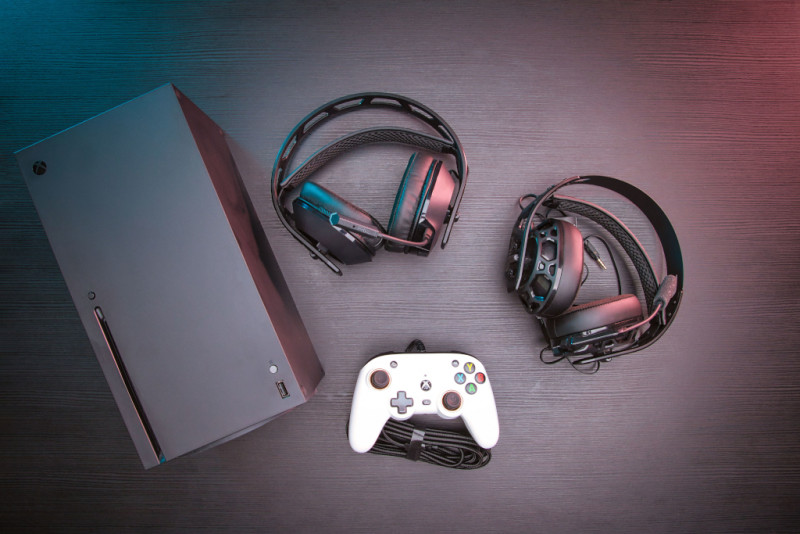 The RIG Pro 700 HX Gen 2 takes what made the original version a solid headset and slightly improves on it in minor ways. Now with the inclusion of Dolby Atmos and its super light weight, I find myself enjoying the headset even more so than the 500's simply because of its wireless nature. While the price jumps up nearly double from the 500's, the RIG Pro 700 HX Gen 2 is still an easy sell given the clear soundstage you get, Dolby Atmos support and its ultra-lightweight that I was able to use for hours without any fatigue.

**We were provided with the RIG Pro 700 HX Gen 2 and it was tested across numerous games, streaming apps and music on an Xbox Series X**



Overall: 8.5/ 10