Turtle Beach Recon Controller Review
by Kirby Yablonski








SPECIFICATIONS

USB-A Connection to Game Console or PC
Detachable 10ft / 3m cable with Type-C USB Connector (Type-A at console)
3.5mm audio port for stereo audio output & microphone input
0.66 lbs. / 300 grams
Compatible with Xbox Series X|S, Xbox One & Windows 10 PCs


I am not one to lie, when I hear or see 3rd party controllers for the Xbox console, both previous and current generation, I am always somewhat skeptical of what to expect. History has shown that a lot of them have been mediocre at best. Yes, there have been some that were pretty good, but yet, that is far and few between. When Turtle Beach announced that they were releasing a new controller for Xbox consoles, I was somewhat surprised and nervous, as I have enjoyed many of their headsets, but I didn't know what to expect with a controller. Well, after some time with the new Recon Controller, I have to say that I am kind of impressed, even though there was a glaring flaw I just couldn't ignore.

In the box you will find the controller, a 10-foot cable (yes, the controller is wired), instructions, and various other small documents. Oh, of course you get a Turtle Beach sticker too. It's not an exciting package to dig into, but hey, should it be? Regardless, you get everything you need in the box, it is as simple as that. We were sent the white Recon Controller to review, as it also comes in black. In a strange way I was happy with the color choice, as my plan is to take it with me, and my Xbox Series S, when I go on various trips. Yep, I am that guy who wants to make sure his controller colour matches the console colour ;-).

One of the first things I noticed when I picked it up was the weight. You can tell that it is a wired controller, as there are no batteries. It is not particularly heavy, which can make for some comfortable gaming sessions. Also of note is that Turtle Beach utilized what they describe as cool grip rubber on the controller's grips, which not only makes for a nice colour contrast, but also does feel pretty good to hold. Does it keep hands cooler, I dunno, but I didn't have any issues with the controller slipping out of my hands during some hot templerature summertime gaming.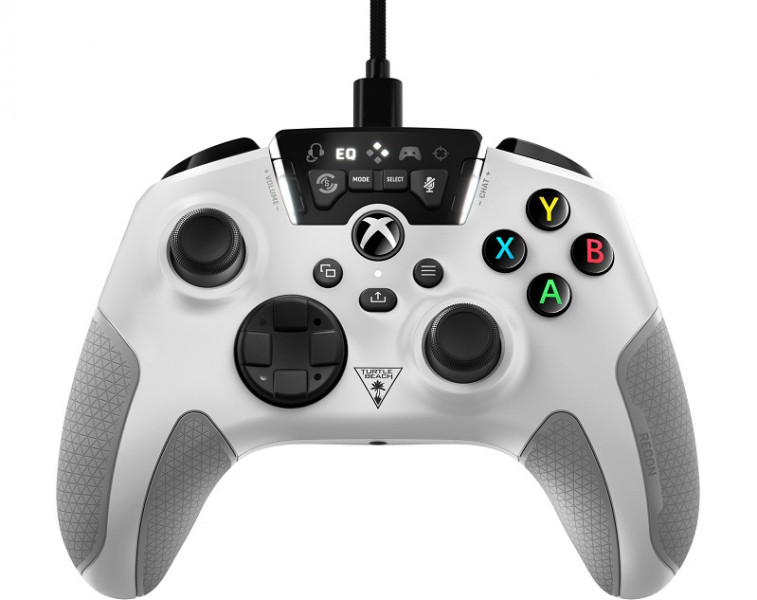 The analog sticks feel like standard Xbox controller sticks, which is a good thing as some 3rd party controllers try to do 'their own thing' with the sticks; however, the Recon Controller's sticks are pretty much indistinguishable from the regular 1st party controller. The D-Pad feels a bit more raised from the controller's body then a standard controller's D-Pad, but it still feels good. While other button placements are pretty much identical on the Recon Controller versus the standard Xbox controller (A,B,X,Y), the start, back and capture buttons are a little lower though, as is the home button, and this is to allow the cluster of buttons at the top that are the heart of the controller's special features.

The triggers and bumper buttons feel a bit different and they are textured. I think that the best way I can explain them is that they feed a bit wider. Those that are accustomed to either the regular Xbox controller or the Elite Series controllers will notice it, but won't be hampered by it, as they feel pretty good and in-game actions aren't affected. I use an Elite Series 2 controller for my Series X, and I didn't find any issues at all with the bumper and triggers when gaming on my Series S using the Recon controller. While I am at it, I might as well tell the same things for the A,B,X,Y buttons too, as they didn't stick, feel different, nor did they have any issues during gameplay as well.

Ok, let's talk about that series of buttons at the top of the face of the controller. My understanding is that this is Turtle Beach's first console controller, and to tell you the truth, I can't remember them ever making one. With that in mind, they have included a lot of audio controls, as well as some other features, into this controller to make it a special one. The headset allows for a 3.5mm jack to be plugged in, which allows you to use any wired headset with this plug. There is a Recon Headset that Turtle Beach released a couple of months ago, which can be seen as the matching headset for this controller; however, you can use any other wired headset as well. So, what do all these buttons do? Well, let us tell you.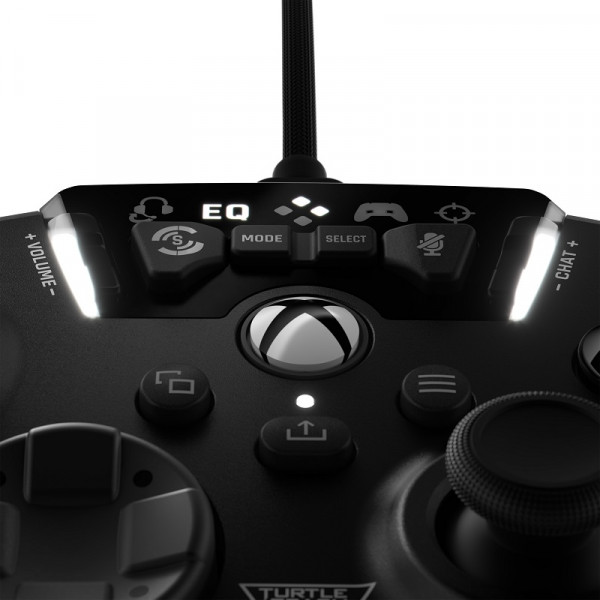 When looking at all the buttons crammed onto the controller for controlling various features for your headset, you almost feel overwhelmed at first; however, they are quite intuitive and easy to use. Being able to control in the in-game sound, game chat, and mute from the Recon Controller is just the beginning of what you can do. You can also adjust microphone monitoring too, and I appreciate this feature as not all mic monitoring works this easily and effectively, something which you can't say about some 3rd party headsets.

The Recon Controller also allows you to control pre-programmed EQ settings, which I believe is something that you could only do using wireless headsets. There are four settings that you can choose from including signature sound, bass boost, bass/treble boost, and vocal boost. Being able to shift into one of these four settings on the fly is a handy thing to have. I tended to stay with the signature sound setting, but as I went through each other one, just to test them out, I was happy to hear the differences of each one.

It would not be a Turtle Beach product if there wasn't their patented Superhuman Hearing included, and that mode is indeed found on this controller. As noted in past Turtle Beach headset reviews that I have written, this mode is really geared toward PvP gamers, especially first-person shooter fans. The mode uses some kind of pixie dust to enhance opponent's footsteps, or the sound of them reloading, in an effort to help the user get a more directional feel for where their foe may be. It does work, but I found that I missed the balance of all the other sounds, so use of this mode is dependent on what you may prefer when gaming.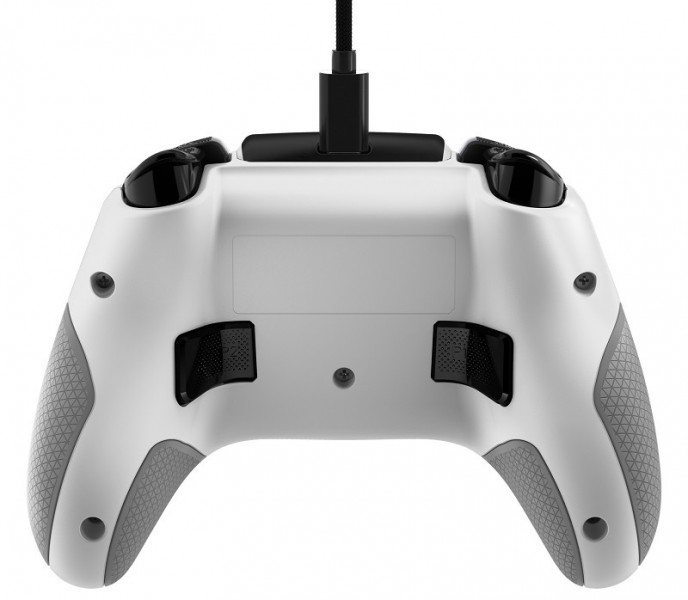 Finally, there are two paddle like buttons on the underside of the controller. These buttons have a couple of uses. The first and foremost is that you can assign button commands to these buttons, allowing you to use them instead of the face buttons on top. Yes, they are not the same type of paddles of the Elite Series of controllers, nor are they like other well-known third-party controllers (e.g. Evil Controllers, SCUF Controllers, etc.); however, they are actually well placed and effective. I found that unlike the Elite Series 2 controller I use, I didn't have to pay attention to accidently hitting either one, as they are not obtrusive, and they are very useful and intuitive to use. Being able to assign an in-game move like reload, melee, slide, or grenade without having to hit one of the face buttons on the controller can be the difference between a win or a loss.

The other notable feature of the underside buttons is a feature that Turtle Beach calls Pro-Aim assist. By utilizing this mode, and the underbelly buttons to adjust said mode, you essentially adjust the sensitivity of the right analog stick. Many might find this useful for driving games as well as shooter games. The latter would be in regard to what kind of weapon you may use, from a submachine gun, a high powered auto rifle, to a long range sniper rifle that demands the slightest of touch when aiming. Here the question remains: "Did I find a difference in the settings?". Although I tend to say yes, I am not one to use something like this often, if at all, when I play, but the fact that even something like this is included in the controller is cool.

I played a variety of games with my time using this controller, from Destiny 2, Subnautica, Raji: An Ancient Epic and Space Jam. The controller handled admirably in all games, and all situations, which really makes me a fan of it; however, there is one area that the controller really did falter, in my opinion, and that was the rumble feature. It was REALLY loud and actually sounded what I can best describe as cheap. It just didn't have the same sound as a regular controller, and it really stood out to the point where I squeezed the controller in an effort to dampen the sound. I was playing on my Series S in our family room one night and my wife was complaining to me about the noise, so much so she described it as annoying. I have no idea on why it sounded of "off" and made the racket it did. It was really bad during my gaming time with the controller, and it took away some of the 'awesomeness' of this product.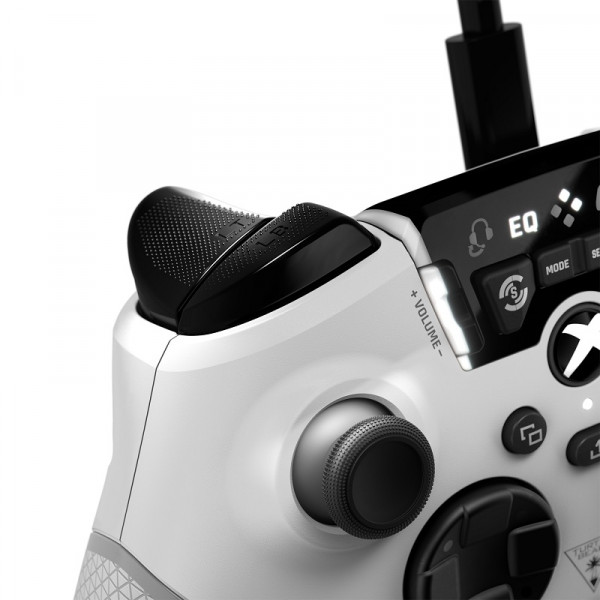 As I mentioned at the start of this review, I always tend to be skeptical of a 3rd party controller, but I can honestly say that Turtle Beach's Recon Controller has made me less of a doubter. Sure, I was far from impressed with the rumble feature, but the rest of the controller'sarray of features made up for it. From the EQ settings, individual profile assignments, the effective mic monitoring, the buttons on the underbelly and simplicity controlling the volume and gamechat, I was quite impressed with Turtle Beach's first attempt at a controller with so many things built in. Given the admission price ($59.99 USD) combined with all the features I have discussed here, you really can't go wrong with it, but you'll have decide if the tradeoff from wireless to a wired controller is something you want to do.



OVERALL SCORE: 8.7