Lawn Mowing Simulator Interview With Developers At Skyhook Games
by Adam Dileva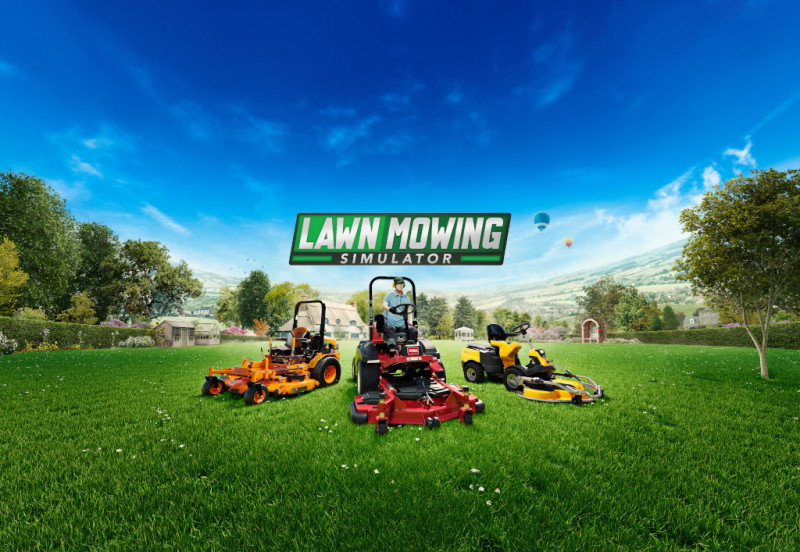 XboxAddict.com (XBA) Interview with Developers of Lawn Mowing Simulator

(XBA): Thank you for taking the time to do this interview for Lawn Mowing Simulator. For those that didn't get a chance to download the demo during the limited window could you give them a quick overview as to what it is and what makes Lawn Mowing Simulator so unique?

Thank you also! Lawn Mowing Simulator is the most realistic mowing simulator available - in LMS, you embark on your career as a lawncare professional, increasing your reputation as a quality lawn mower and growing your business and mower collection as you cut in more and more prestigious locations in the Great British countryside.

(XBA): Some said the day would never come where we would have a dedicated lawn mowing simulator, yet here we are. What do you have to say to those naysayers now that all of us dads finally get a game just for us?

Cheers to that! Lawn mowers are objectively fun - they're brilliant machines and mowing the lawn perfectly and efficiently really gives you that satisfaction of a job well done.



(XBA): So how did such an idea actually come to fruition? Did it initially start out as a joke and eventually decided to build a game around the concept? Did it start out more simple and arcade-like or was a simulator an early design decision?

It was always going to be a simulator. One of Skyhook's founders was in his local park one day, and saw someone on a mower cutting the verge. He thought to himself 'Wow, he must have to cut efficiently and to a high standard so he can do a good job and move onto his next location' - Lawn Mowing Simulator was born from there.

We're well aware that first reactions to LMS are sometimes humourous ones - but we've never considered the game to be a joke. Lawn mowers really are excellent, tuned pieces of machinery and we've tried to recreate the experience of using them well in a simulation game as best we possibly can.

(XBA): I'll be honest, like most I kind of laughed at the idea of a lawn mowing simulator but decided to download the demo when it was available for the short time. I came away quite impressed by many facets of its gameplay, from the business management aspects all the way to choosing the grass cutting height on my mower. It was actually quite a relaxing time playing the demo and made me seriously look forward to its launch. How has the general feedback been since players have gotten to experience a small section of the game?

That's completely fine! You'd be surprised at how many seemingly monotonous things can give you that hit of satisfaction when you do them really well. The feedback since we first had anyone play the game that wasn't working on it has been fantastic - we've got a really active Discord server (discord.gg/lawnmowingsim) that has been instrumental in the final stages of development - our players have really helped us make LMS what it is right now, and long may that continue.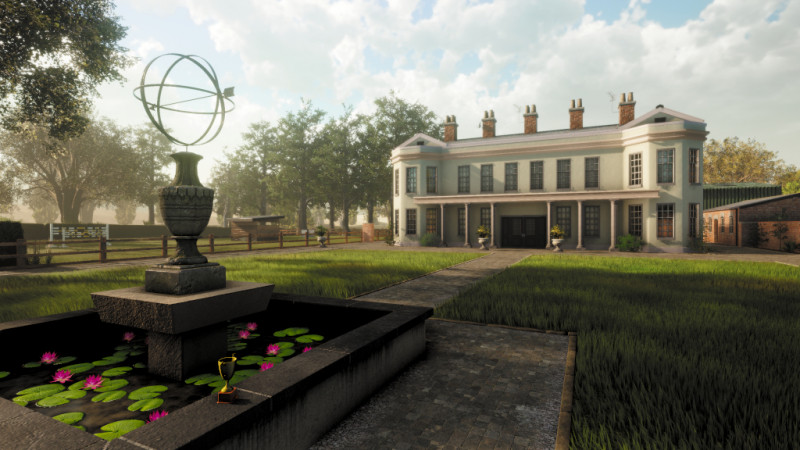 (XBA): You've been very vocal and engaging with fans via social media, which is awesome to see. Have PC players compared to Xbox requested different features and given varied feedback? Have any players given any great ideas that you actually didn't consider beforehand and want to implement in the future? My freebie idea is New Balance shoes or Socks and Sandals options to fully complete the dad look.

We hear dad vanity items quite a bit! It's been great to interact with players as much as possible and we've really enjoyed the opportunity. I would say that the biggest difference in what PC players request vs Xbox is in the graphics department - we completely get that long-term, PC players would love to have more granular control over as much graphically as possible.

Someone in the Discord suggested a voiceover from an older, wiser lawncare professional during the game's tutorial to help you begin your professional journey, and I really like that idea - maybe we'll be able to get that in in an update!

(XBA): Any interesting specifics you could give from the demo like how many mowers cut their first lawn, most chosen shirt color, how many blades of grass were cut or flowers destroyed?

Nothing to share right now, but we are excited to share infographics and such post-launch with data such as most-used mowers and total area of grass cut!




(XBA): Other than Career Mode, what other modes can we expect to see once Lawn Mowing Simulator launches that will keep players playing long term?

Lawn Mowing Simulator has three core modes - Career as you've mentioned, plus also Challenges and Free Mow. Challenges are specific standalone contracts with specific requirements that players must complete - and they get harder and harder as you go! Free Mow allows you to select any level and mower that you've unlocked in Career and has zero consequences - we really wanted a mode where players could play in their favourite level on their favourite mower whenever they wanted.

(XBA): Was there a reason to create Lawn Mowing Simulator strictly for next-gen on Xbox Series X and S? Does this mean we can expect 60/120fps options, 4K visuals, Ray Tracing or HDR?

Lawn Mowing Simulator runs at 60fps in 4K on Xbox Series X, which looks stunning - we're all really happy with how it looks and feels to play. We've got no concrete plans for Ray Tracing or HDR at the moment, but we'd love to implement these and many more graphical improvements over the coming months if we possibly can.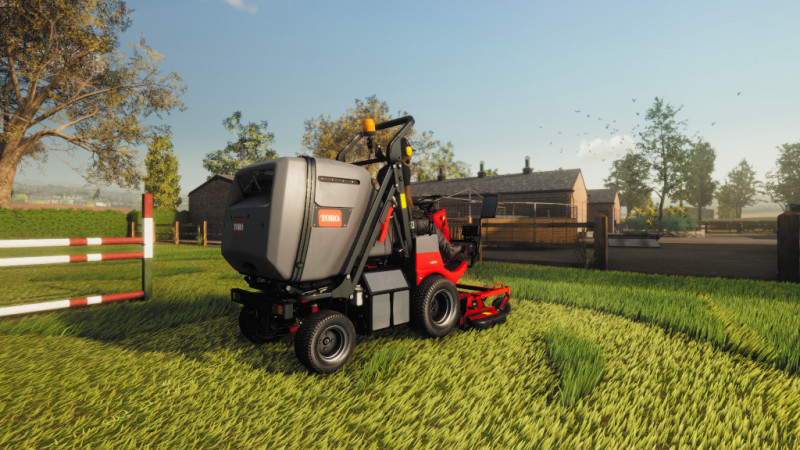 (XBA): How has development been on Xbox been compared to PC? Has there been any unique restrictions or challenges bringing it to console at all?

Developing for Xbox and PC simultaneously has been largely very similar. We've got some amazing and experienced programmers at Skyhook who have smashed it out the park and we're all thrilled to be able to bring Lawn Mowing Simulator to Xbox Series S & X.

(XBA): What are some of the biggest changes and improvements from the demo that players can expect to see once the August 10th launch lands?

We've been able to make loads of really meaningful quality of life improvements to Lawn Mowing Simulator, mainly thanks to the amazing feedback and community in our Discord server. This ranges from regular old bugs found by players, to ideas for improvements we've been able to do and even feedback from real-world lawncare professionals. Long may this continue - both ourselves as developers and the players all want the best game possible.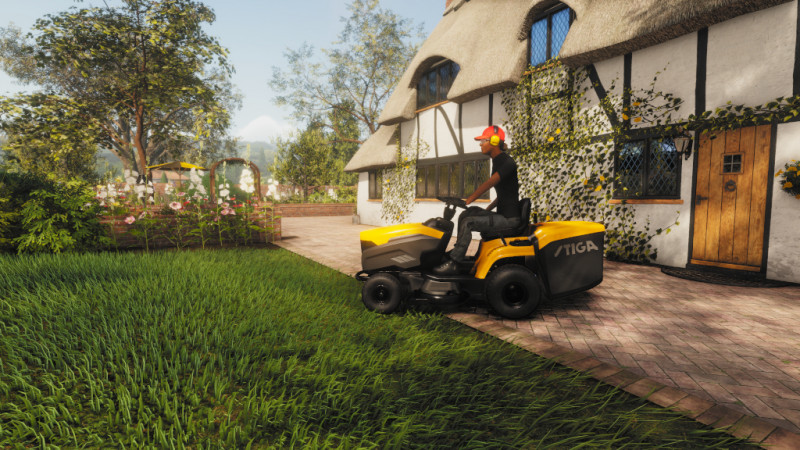 (XBA): Given that this is labelled as a simulator, you've of course announced that actual top brands are included in the game as well, from Toro, SCAG and STIGA. How did these brands get on board? Did they send actual schematics of the mowers or requested specific ones be put in the game?

Toro, SCAG and STIGA have all been fantastic in their support of the game, and really understand what we're trying to achieve. We've been working with them now for a long time and they've been great partners for us, providing advice and information along the way. It's been a fantastic collaborative effort so far and we're hoping to continue that for as long as possible.

(XBA): Any chance of Weed Eaters or Reel Mowers in future updates or DLC? Any other top brands we can expect to see in the future by chance?

Both of what you've asked have been mentioned often in our Discord - it's something we're taking a look at! We've got no concrete dates or announcements but we definitely understand the appeal and can see it working in Lawn Mowing Simulator.

In terms of other brands - we've got nothing to announce, but as a rule we would love as many real-world mowers in the game as we possibly can, and are extremely open to speaking with other manufacturers.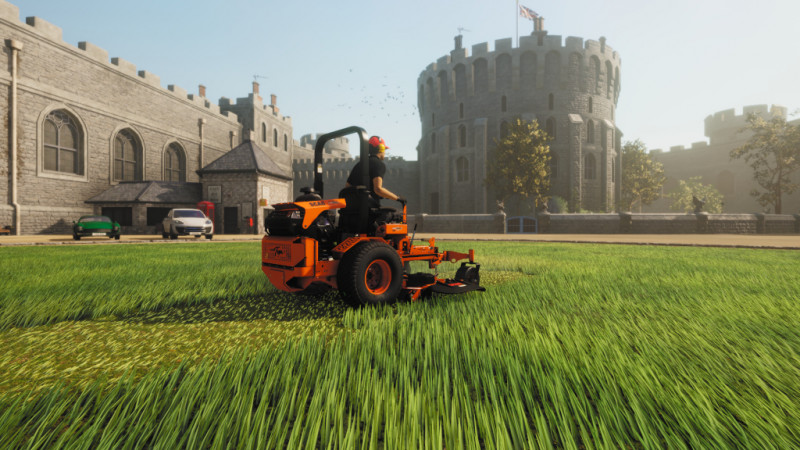 (XBA): Are there any DLC plans in the works that you're able to talk about at all? Can we expect new areas or countries to visit in the future? How's the roadmap looking for the next few months after launch?

Hopefully we can announce a DLC roadmap soon that will provide more information on how the first few months will look. We're currently working on improving the game with bug-fixing and quality of life improvements, whilst also working on new content.

(XBA): From a technical level, what engine is being used and what design decisions go into making each lawn layout? Has there been any discussion about a map editor at all for players to create their ideal and custom gardens?

Lawn Mowing Simulator was created in Unity. We're really happy with how far we've been able to push the visuals and gameplay in the engine, and it's worked really well for us. When we're designing a new level, we always put front and centre the player's experience - it all begins there. After that, we can work out how to make it as beautiful as possible and also address any technical challenges we may have in achieving the goal.

Level editors are something that periodically get requested on our Discord - it's something we'd love to be able to do, but is a big undertaking and isn't something we'd be able to do quickly!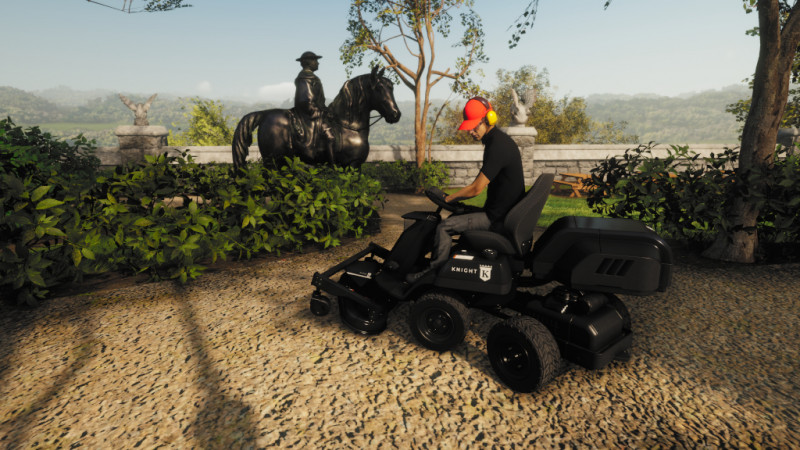 (XBA): Obviously being in a Covid world, this has changed many facets of how many people work. Has there been any other development hurdles aside from this obvious one that you didn't expect?

Skyhook has always had some 100% remote staff, even though our studio and base is in Liverpool. That's set us up well for remote working during COVID - we've managed to make the vast majority of this game completely remotely from our colleagues - and while we all miss the interaction with our workmates, we're really proud of how the game hasn't suffered as a result at all. Working across borders and timezones always brings its challenges, but it's also allowed us to have the best people possible working on the game, and assemble a fantastic team across multiple countries.

(XBA): Let's get serious for a minute. Are we going to see a lawn mowing eSport category in the future now? I mean, Farm Simulator eSports is absolutely fascinating to watch, and I could see myself sinking hours into watching some lawn mowing as well, especially speed runs.

I could totally see myself sinking hours into watching that too. It's something we'd love to support!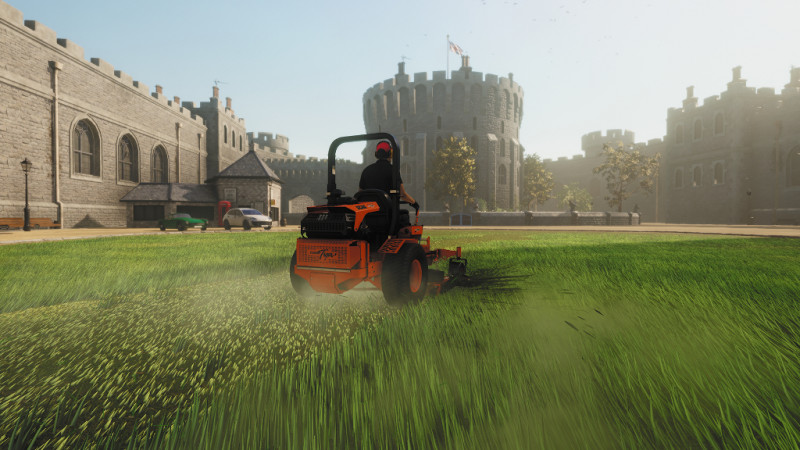 (XBA): Will the final release have striping in the game for those mowers that want to put an extra special touch on their lawns? What about buried rocks or toys hidden in the grass to avoid or move?

Yes and yes. Some mowers have roller attachments, meaning that you can take on contracts in Career Mode that require you to stripe the lawns you mow. We also have items such as toys and valuables that you can scout the mowing area for before you begin mowing and collect to avoid damaging your mower - you're rewarded for handing valuables you find back to the property owner in Career.

(XBA): I actually have a high-end steering wheel and pedals for my Xbox Series X. Will there be support for wheels at launch?

Wheel support has been a much-requested addition for Lawn Mowing Simulator, both on Xbox and PC. It's a larger technical challenge than you might initially imagine to integrate wheel support, but I'm really happy to say that yes, we will support some Logitech steering wheels on PC at launch, and we're continuing to work hard on Xbox implementation as soon as possible. We'd love to continue working on this to make the player experience as good as it can possibly be post-launch, too.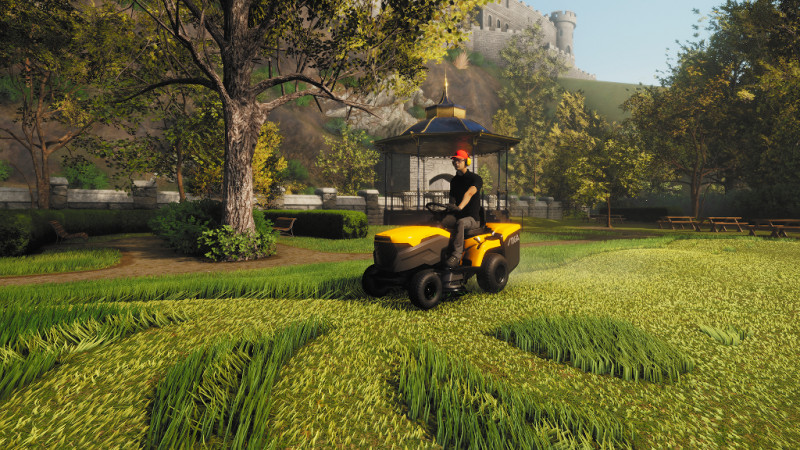 (XBA): What is the best lawn mower on the market today; The Rolls Royce of mowers that costs way more than it has any right to be?

The best mower is the one you've got!

(XBA): While I'm sure it's going to cater to a very niche audience, have you added any modes or features to try and sway maybe a casual player or someone on the fence about checking out Lawn Mowing Simulator? What are you most excited for mowers to experience?

On the face of things Lawn Mowing Simulator does look quite niche, however it actually taps into the sense of satisfaction everyone gets when they do a job well - that's something we all share. I've rarely felt more satisfied in a game than I still do after completing a contract in Lawn Mowing Sim. I'm really excited for players to spend some time in our locations - they're absolutely stunning and our artists have done a phenomenal job.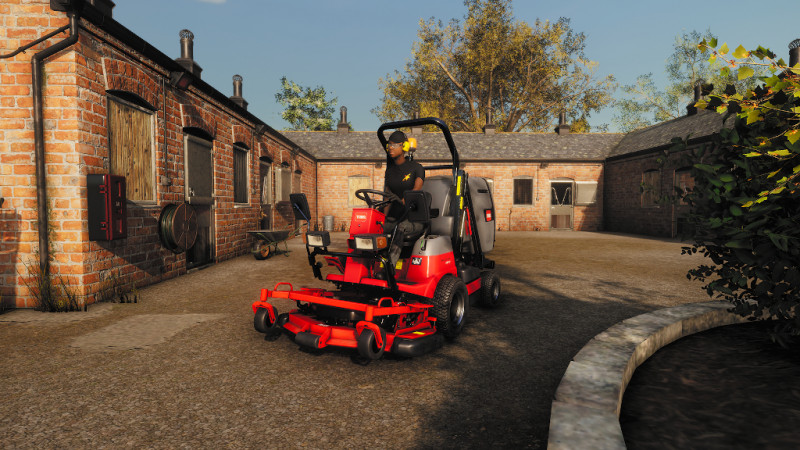 (XBA): Thank you again for your time and being able to answer our pressing lawn related questions. We're really looking forward to its launch, and as Hank Hill would say: "Why would anyone do drugs when they can just mow a lawn?".

Amen! One last big thanks to our Discord community, who have been amazing. If you want to get in on the action, please join the gang at discord.gg/lawnmowingsim. Thanks!


*Lawn Mowing Simulator launches on August 10, 2021 for PC and Xbox Series X|S. You can expect our full review at launch!*