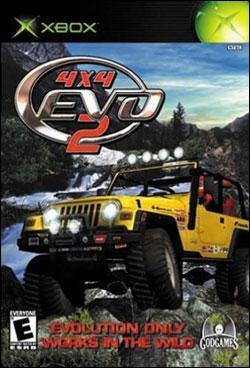 4x4 Evo 2
by Stephen Cameron

August 20, 2001
Game developer Terminal Reality and game publisher Take 2 are developing their first Xbox SUV and Truck simulation/racing game named 4x4 Evolution 2 which will put gamers in the driver's seat of "tricked out" real world SUV's allowing them to compete in wild off-road races. 4x4 EVO 2 is the sequel to it's highly successful first appearance on the Dreamcast that offered a groundbreaking, arcade-style, off-road simulation, the real evolution for SUV and Truck simulation/racing.



"4x4 EVO separated itself from the typical racing genre by being the only SUV simulation in the market with online multiplayer capabilities," said Mark Randel, president of Terminal Reality. "Just like the original game, 4x4 EVO 2 will feature a realistic physics engine and cutting edge graphics. In addition, new, licensed vehicles, exciting single player missions and tracks will add even more replayability to the game and solidify 4x4 EVO 2 as the ultimate off-road racing sim."



4x4 Evo proved to drive you crazy with gas-guzzling trucks once you hit the off-road terrain, but it didn't focus on the single player aspect as much as the sequel will by emphasizing exploration on a tradition track-based race you will be able to opt for. You can choose a vehicular career path and tweak your truck as your statistics improve based on the winnings from various races and challenges. The basic objective is to be paid by winning the race against 8 other vehicles, so make sure you have a fast one. Trucks include the Dodge Durango, the Chevrolet Silverado, the Toyota Tundra, the GMC Sierra, the Nissan Pathfinder, the Ford Expedition, the Mitsubishi Montero, the luxurious Lexus RX300, and 70+ more high horsepower trucks (that's a lot).



Once you've picked your truck, strap your seat belt before you recklessly tear it out through open fields spanning 32 mud-slashing courses set in locations ranging from the Grand Canyon in Arizona to the discovery of the lost Mayan City in Central America. The highly detailed "checkpoint to checkpoint" mission-based races may even pit you against obstacles such as animals or traffic to prevent you from completing the tasks needed before finishing first place. The game will supply you with shortcuts and other tricks to get past these obstacles. You'll find that the game will even use its advanced AI as an obstacle to provide you with a higher level of competition against computer controlled vehicles, which in turn enhances the fun factor. Your opponents will use the shortcuts before you, even try to set you off course, and take great pleasure in your demise.







alt="Thumbnail"
src="/screenshots/thumbnails/653.jpg" width=80 border=0>


alt="Thumbnail"
src="/screenshots/thumbnails/654.jpg" width=80 border=0>


alt="Thumbnail"
src="/screenshots/thumbnails/655.jpg" width=80 border=0>


alt="Thumbnail"
src="/screenshots/thumbnails/656.jpg" width=80 border=0>



Graphics-wise, the game should leave you in awe with its physics control system handling smooth surfaces and leaving your SUV scratch-less (if you're as good to your vehicle as your vehicle is to you, that is), taking full advantage of the custom made Xchip. Can you imagine 5,000 polygons per car? The engine lets you see the action from numerous camera angles, including cockpit, chase close, chase far, dash, television camera, sides, front, ground, sliding, and even blimp views. So beautiful is the terrain that it takes a liking to being your enemy. And if the graphics aren't enough in addition to the game-play, then connect your Dolby Digital 5.1 for the best sound. And I remind you that both the Advanced AV Pack and the HDTV AV Pack will support Dolby Digital out, so you don't really have an excuse.



For a game that improves upon its predecessor's fogged up graphics to including fog as a mere weather condition among rain and snow, 4x4 Evo 2 is already showing progress compared to the first and evidenced by these screenshots that Terminal Reality has provided us with. The game is expected to launch with the Xbox at November 8th, so if you're looking for something as innovative as racing games such as Crazy Taxi NEXT and Project Gotham will be, 4x4 Evo 2 should be at the top of your list.



Related Links

Terminal Reality

4x4 Evo II Gamespace

Xbox.com