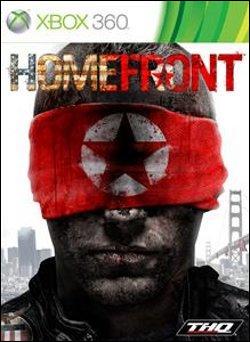 Homefront
by Ken Laffrenier

October 5, 2010

Ahhh...blurring the lines between real world events and video gaming entertainment....could there be a medium more rife with controversy (or confusion)? Is it possible that developers see simulations (following ''Tiger Woods' career or a racing style simulation) as the next step in the evolution of first person shooters (fps)? What began with offering up historical real world events is quickly being followed up with offerings of future, yet possible, world events!


Homefront pre-alpha multiplayer was recently showcased among various media in San Francisco, CA and xboxaddict.com was there to experience, what is sure to be, the next big name in fps's. THQ and Kaos Studios are no strangers to the fps genre; while some of their other offerings can be described as ambitious and entertaining, Homefront is clearly the culmination of years of experience mixed with true gaming passion.


This early, with so much time before we see the finished product it's not surprising that we were limited to 2 different maps but we did get the full 16 and 32 player experience. Cul-de-Sac offered 8 vs. 8 in a 'close quarters' (still lots of opportunity to get those running kills) suburbs surrounding, whereas Farm had us 16 vs. 16 and waist deep in 'open field' (don't worry there are still lots of sniper nests and structures to utilize) action. Both maps featured a 'grand control mode'....essentially both sides are tasked with securing objective points on the map but your game play environment will shift objective locations according to which side has the advantage.


I can go on and on about the graphics, sound, surroundings, etc., but let's face it, this game (while exceptional) still has many nuances to work out between now and its release date next spring. This isn't to say that there aren't any issues, in fact I would have assumed the title is near ready for release; outside of minor glitches Homefront is progressing beyond any past THQ or Kaos Studio offerings.


Homefront multiplayer offers all of the core components that we're used to but what really needs to be discussed is the new 'Battle Point' (BP) system. Battle points are a sort of in-game economy and are awarded when you kill enemies, capture objectives, mark an enemy with a drone and, it seems, with virtually any strategic effort on the part of you or your team. To be clear BP are not experience points, these points need to be spent within the match your on and offer an endless supply of strategic choices...what to spend on, when and why.


These points will allow you to purchase on the fly, drones, airstrikes, missile launchers, ammunition and vehicles including tanks and aircraft. BP escalate the intensity of each map as the round progresses because larger and larger offensive and defensive options become available creating a real crescendo effect to each map. When you are killed (and you will be taken down...) the purchase of different load-outs become available; using BP you can spawn into the match and reenter as infantry, into a team members vehicle or into a vehicle of your own (no more running to a vehicle only to watch your teammate drive it into a barrage of projectiles). All of this allows you to get into the action quickly and really works to ramp up the pace of the game.


In regards to some of the weaponry and vehicles we were able to utilize I'm going to focus on the drones as they are the newest additions to the genre. I personally saw 3 different drones: a tracked r/c machinegun mounted unit that is very effective against infantry and 2 helicopter drones....one a recon drone and the other a mini-missile firing nightmare that can take on almost anything. All of the drones are relatively easy to control and the load-outs are relevant to their size. An interesting point of note is that it can be easy to forget that your player is defenseless and exposed while your having fun skittering up alleys or raining down missiles.


The full scale of the game itself remains a bit of a mystery as more and more information is released almost weekly. But what we know so far is that the multiplayer delivers on the promise of "epic vehicular, drone and aircraft combat", and that the Greater Korean Republic, under the leadership of Korea's Kim Jong-un promises a truly unique (and welcome) addition to the fps genre.


In a few weeks xboxaddict.com will feature a preview of the single player campaign for Homefront but I want to leave you, the reader, with a quote of the final comments the media received during this event...."you have only experienced a portion of the different aspects...there are many more innovations to come".