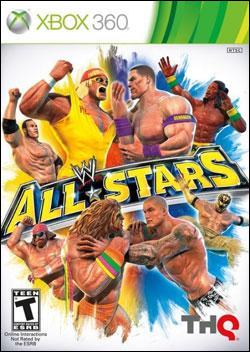 WWE All-Stars
by Matt Paligaru

February 28, 2011

Along with a few other members of the gaming media, XBA were one of the fortunate few invited to attend the WWE All Stars Preview launch. The game, the first wrestling effort out of THQ San Diego (formerly Midway Studios) was announced midway (no pun intended) through last year, and reunited Sal DiVita with World Wrestling Entertainment for the first time in 15 years (the last time being WWF Wrestlemania: The Arcade Game.) DiVita and his design team are no strangers to wrestling games, having designed the first TNA Wrestling game in 2008.


Based on the footage released thus far, the game was going to be nothing like the Smackdown vs. Raw series. Rather than a depth-rich simulation game where you could entrench yourself into the WWE Universe, this appeared to be an over-the-top, arcade style title with overdone, muscular characters of yesterday battling the characters of today for wrestling supremacy. From details released so far, we were told there would be 30 characters (15 from the past, 15 from the present) and a few different gameplay modes. Videos also seemed to imply there would be an immense amount of strike and grappling juggling, lending concerns to how playable the game would be. Also against this game was the fact that THQ's last effort outside of their comfort zone (Legends of Wrestlemania) was a venerable disaster. An extremely limited game with a conforming moveset, bad controls and a less than homely nostalgic feel. Needless to say, there were a few of us weary of what was awaiting at this preview.


Stepping into THQ's motion capture warehouse on a chilly Wednesday afternoon, we were greeted by Sal DiVita and shown what THQ's acquisition had output for gamers come March 29th.


As previously mentioned, WWE All Stars will not be your typical wrestling game. There will be no storylines to build toward a payoff at a Pay Per View, or Story creation modes. This is your standard "What You See is What You Get" game. You pick your wrestlers, ready yourself and go. There are 4 different flight classes, all with their own movesets and special abilities. The "Acrobat" high-flyers, for example, can do things like fly off an opponent's chest onto the turnbuckles, and soar through the air with relative ease. "Brawlers" have the ability to charge up their fists and release bone-crushing punches and bounce opponents off the mat like rubber balls. "Big Men" can key up powerful chain-intensive grapples which will make you cringe, and "Grapplers" can wear their opponents down with their tenacious, fast-paced and technical style. Calling the action are Jerry the King Lawler and the returning Jim Ross, who makes his return in a play by play capacity for the first time in over a year. Announcing you into the ring? None other than WWE Hall of Famer Howard Finkel. While classes and the roster (for the most part) have been released, gameplay mechanics for the most part have been kept behind locked doors, and for the first time, we're able to discuss these with you now.


There are two types of grapples (weak and strong) that can lead to striking combos, or move chains. The ragdoll physics exhibited in earlier videos have been toned down immensely to give the game a more playable feel, and to make matches more competitive. As you pull off these baseline moves (and taunts of course,) the player HUD will display two growing meters: One will allow you pull off an "Extreme" move which is akin to a wrestler's signature move. Bret Hart, for example, will pull off some of the moves he used to do to begin to close out his matches, like the russian leg sweep and backbreaker, and Kofi Kingston will perform the boom drop. The other will build toward a finisher. A Finishing move is considered to basically represent the end of the match, and therefore, it will take more than simply grabbing momentum of the match for a few minutes and hitting your opponent with a weapon a couple of times like Smackdown vs. Raw. A superstar's life meter will be represented in 4 colors (Green, Yellow, Orange and Red) and your special meters will rise as you fight on. Pick your spots carefully though. A missed attempt at an extreme or finishing move will result in a decrease of your meters, and you will have to work toward getting there again.


When you start, you will only have access to a certain segment of the roster, and will have to work toward unlocking the rest, to a total of 30 selectable superstars. Through screenshots released, certain rosters have been pieced together, however, one question remained - Where was the Undertaker? He was not shown on any screenshots, nor has he appeared in any promotional materials. Fans of the deadman should be relieved that the Undertaker is prominently featured in the game and just as imposing as he always has been. As Sal DiVita himself put it - "How could you release a WWE game without the Undertaker?" The roster is an ecclectic mix of yesterday's superstars with today's and features such legends as Curt Hennig, Bret Hart and The Rock. All of today's big names are included as well, including Rey Mysterio, Randy Orton and John Cena. All wrestlers also come with different attire types, from simple palette swaps to complete gimmick and era swaps. THQ has already acknowledged there WILL be downloadable content (already beating Legends of Wrestlemania in that regard) and have announced 5 wrestlers already, including Cody and Dusty Rhodes, and Ted DiBiase Sr. and Jr. An extremely intuitive Create a Wrestler mode is available as well, with you able to make some very high detail superstars ready to take on the best the WWE has to offer. One previously unseen created wrestler THQ showed off (gameplay videos are available with their Abe Lincoln character) was an orc that looked like it stepped out of World of Warcraft and into the WWE.


The arcade feel of this game is resonated through very simple controls with and mini-games you must play in different scenarios (like getting out of a cage, for example.) This game is very easy to pick up, and the game is targetted to allow anybody to pick the game up and play it without having to worry about complicated reversal scenarios and hard-to-follow gameplay mechanics. This is the wrestling game you can teach your little brother to play without spending an entire afternoon covering off grapple types alone. Players can fight for weapons and kick out of pins by mashing the sticks, and use the entire environment around them to do damage to their opponents. For the first time in wrestling game history, you can springboard your wrestler off pieces of the environment you could not before (including the sides of the cages) to knock your opponent into next week. Contrary to rumors of the past, this IS still a wrestling game. WWF Wrestlemania: The Arcade Game was more of a fighting game with wrestlers, where you basically beat down your opponent and pinning was a formality to end the round. You must still get a standard 3 count on your opponent to win, and must pull off a bevy of wrestling moves to get there. Unlike Wrestlemania, no wrestlers have bowling pins, razor blades or bats fall out of them when hit, and there are no 60 hit combos or electric hand buzzers. This game was put together by a dedicated staff of lifelong wrestling fans whom, while creating a very exaggerated experience still wanted to remain true to the sport at heart.


There are little things that frustrated wrestling gamers will also appreciate that have been included in this game for the first time. If you select a cage match, for example, you must actually compete in it. No longer can two players sprint to either end and race their way to victory. The game will recognize how much energy a superstar has left to determine whether or not his opponent can get out of the cage. It's not worth trying unless you've worn your opponent down at least half way. Reversals also do not occur with such relative ease as with the Smackdown vs. Raw franchise. Playing the computer on the hardest difficulty means you will be able to have a realistic matchup rather than one where you can only running moves because every grapple is reversed. These mechanics have been fine tuned such with the gamer and a reasonably competitive match in mind. With the ability for 4 simultaneous players as well, this game has some great party game aspects to it, and something that will be great to leave on in the background for friends to pick up and play as they pass by.


There are no shortage of gameplay modes either. In addition to exhibition style regular matches, cage matches and a series of Extreme Rules matches, there are a few more gameplay modes not previously discussed in detail. The Path of Champions mode allows you to play 3 different 10-match scenarios (Legends, Current and Tag Team) toward supremacy over that section, and the Fantasy Warfare mode, which might be the runaway hit of this game. The mode is 15 different scenarios pitting 1 legend against 1 current superstar in a hypothetical scenario based on their gimmick. Steve Austin, for example, takes on CM Punk in a match asking who leads the better lifestyle? Steve Austin's beer drinking, fun loving, profanity laced lifestyle, or CM Punk's Straight Edge lifestyle of no drinking, tobacco and veganism? All scenarios are prefaced by a video package by WWE's Voiceover artist, giving you a perfect lead into the match itself. The videos are so well done that you forget they spliced unrelated footage (in this match's case footage recorded 10 years apart) together to make it relevant. One can only imagine the hundreds of thankless hours that went into this task, and hopefully it will not be for naught. Hopefully with roster expansions and DLC, there will be more fantasy warfare scenarios to speak of too. This mode is too cool not to appreciate.


Overall, this game offers a very complete package of presentation. The graphics are gorgeous, rich with color and full of detail. It is so well done it rivals every wrestling game in history. Obviously, this is not meant to rival the look of the more realistic games, so expect every wrestler to look like Chris Masters circa. 2005. Sounds, commentary and music are very crisp and flow well into the type of game this is. The control scheme, as mentioned is very easy to get into and very responsive, and judging by the way this hooked even non-wrestling game fans into playing it, it would be safe to say there is an element of fun that will appeal to everybody.


Be aware - Sal DiVita left us that afternoon saying that we hadn't seen everything yet. DiVita, known for including surprises in his games left us no further details, but one thing is for sure - WWE All Stars will be a fun romp through the last 30 years of wrestling, and with a crew of wrestling fans standing behind this product, it will be a treat for wrestling fans both young and old. All Stars slams onto gaming shelves on March 29th, the weekend before Wrestlemania, and is bound to make a permanent mark on the face of wrestling games.