Preview of Halo: Combat Evolved Anniversary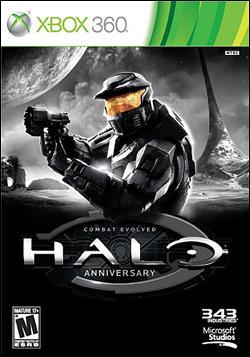 Halo: Combat Evolved Anniversary
by Brent Roberts

August 10, 2011

You are the last of your kind: Bred for combat, built for war. You're the master of any weapon, pilot of any vehicle, and fear no enemy. There it is... Halo. A decade since its original launch, Master Chief is back, and better than ever. Halo Combat Evolved marked a point in history where video games would never be the same, and now, it's back. Brought to us by the people at 343 Studios and Microsoft Game Studios this is the original story brought to life like we have never seen before. Did you miss me?


Halo Combat Evolved Anniversary retells the story after the fall of Reach and brings such an overwhelming sense of enjoyment as we are introduced to the man himself, Master Chief. For those few who have yet to experience Halo Combat Evolved the story takes place on a ringed planetary weapon which is ultimately dubbed, Halo. The Covenant is hot on your heels and it's up to you Master Chief to stop the covenant at any and all costs. Failure is not an option and nothing will stand in your way from defeating the covenant and unlocking the secrets to this strange and mysterious planet of Halo.


Since its original release we have seen monumental leaps and bounds in video game technology and we here at XboxAddict could not be happier with the resurrection of this iconic title. There are some amazing new innovations but the one that will stand out the most are the updated graphics. Originally when Halo launched it was at the forefront of graphics technology, but now, things have accelerated faster and farther than ever thought possible. In Halo Combat Evolved Anniversary we are treated to not only one but multiple graphics engines running simultaneously providing every jaw dropping moment in superior clarity and quality. The beautiful thing about running multiple graphics engines on this title at once is that for those who prefer a more "traditional" Halo experience, you can opt to switch and revert back to the classic Halo graphics that we all grew up with, all with the push of one button. Your eyes will be overwhelmed at the difference between then and now, and one thing is for sure, Halo Combat Evolved has never looked better.


Some of the other new innovations in Halo Combat Evolved Anniversary are the inclusion of the monitors that we got to experience in Halo 3. Originally these were not included Halo C.E. however, now they are and their job is to provide you with some history of the planet and how things came to be. In Halo 3 these monitors were a bunch of scrolling text and shifting computer screens, but now they are short videos that when you unlock all of them will not only provide you massive amounts of information on the past, but the future and details regarding the upcoming title Halo 4. You will finally be able to see how the past became the present and how the future is up to you to shape. This is one history lesson you won't want to miss.


Originally Halo C.E. was the definitive first person shooter experience, however, in this new remake, we are granted the option of not only 16 player multiplayer, but now we have two player campaign co-op. The multiplayer graphics are still based off the Halo Reach engine so get ready for massive detail across every aspect of Halo Combat Evolved Anniversary's new multiplayer. There are tons of new innovations as well such as now you can unlock new achievements, and complete some brand new combat challenges. Bottom line, this is how Halo Combat Evolved should have been and thankfully the people at 343 Studios have provided us with just that.


With all of these new innovations and more packaged into this game one thing that stood out for us was the price. Halo Combat Evolved Anniversary will NOT be priced at full retail, instead it will be cheaper. Yes that's right, not only do you get to relive the classic moments that made all of us smile for days and months on end, but now you can experience all of this for a very low $39.99. Releasing this November it's time to bring the series back to what we all know and love. Brace yourself Reclaimer for your return to Halo.


Cortana: Scanning...just dust and echoes. We're all that's left... We did what we had to do - for Earth. An entire Covenant armada obliterated, and the Flood... We had no choice. Halo, it's finished.


Master Chief: No, I think we're just getting started.