Preview of Saints Row: The Third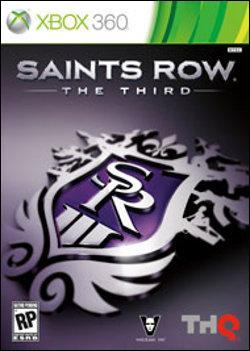 Saints Row: The Third
by Ken Laffrenier

October 20, 2011

There is a quickly developing axiom among video game journalists; when Danny Bilson invites you to an event, not only do you attend, but you arrive with no preconceived ideas and you come prepared for anything.


Danny Bilson is the Executive Vice President of THQ's Core Games and recently xboxaddict was invited out to Hollywood, California to attend a 'Saints Row: The Third' event. Now I've witnessed Danny throw out a detailed script, and I've witnessed the excitement and passion he has for the titles he's been able to work with. But when I heard Danny state "I have no concerns about taste, I have no concerns about morals...it's all about fun!" during his opening presentation, I knew we were in for a whole other level of enjoyment.


Let me put this is in the proper context before we move on. The previous Saints Row games gently pushed the envelope of nonsensical humor and from some of the videos and screenshots currently available there is concern of how far Saints Row: The Third is going to go; however Danny was reassuring by stating simply that everything 'is presented tongue in cheek'.


In the hours we were able to enjoy with the keys to Steelport I can say unequivocally that it is clear that everything has been built on new technology from the ground up. This is not the Saints Row of old but rather a cleaner, brasher and in every way, a more enjoyable title that refuses to take itself seriously.


First up, the game features an absurd amount of customization options, from the weapons you choose to carry to the style of vehicle and clothing in your gang; you will have no problems making your own individual mark on the locals.


The game features 3 different modes of play. The campaign and coop modes take you through the main story, with the coop mode being the most impressive as you and your counterpart are able to traverse and create mayhem, on your own, throughout the massive city. When you're ready to take on one of the challenges or complete a mission your partner will be asked if they are ready before moving away from their task at hand. Not necessarily a new mode of play but it was certainly a welcome addition to the game.


The last mode is what's called Whored (hoard) mode. This delightful escape has you facing off against waves of off the wall characters. Don't expect simple zombies here, although they are present, but you are more apt to be facing an onslaught of 15 foot tall prostitutes with machine guns while you are armed only with a devilishly sharp scythe like weapon. Don't worry though the attacks from little batteries and question marks armed with automatic weapons will help to put your mind at ease. Essentially, what I've been able to figure out about the Whored mode is that the developers took the most off the wall references and turned them into mindless carnage for the sole purpose of our enjoyment.


The game features everything you expect from a Saints Row game and more (and even some things you have never imagined). Forget about the idea of running through the streets kicking, punching and otherwise maiming everyone you see now there are twists: shot to the groin, check...powerslam to the sidewalk, check.....push someone down, jump on their back and ride them like a skateboard, check! Best of all the surrounding onlookers will actually applaud your creativity.


There are a seemingly endless number of weapons and vehicles available. The Mollusk launcher fires an octopus looking creature that attaches to the heads of your victim and causes them to take your side in whatever dispute you may be involved in, there are the standard machine guns, pistols and shotguns but nothing works for close combat quite like the giant purple dildo attached to the working end of a baseball bat.


The vehicles range from the expected cars and trucks to planes and helicopters and even a state of the art harrier jet along you to seamless shift from jet to hovering all while raining down destruction. The most unique vehicle is an obvious creation of Professor Genki. This small truck has a sort of cannon attached that allows you to suck up random pedestrians and then fire them off into enemies, into vehicles, into crowds or simply into a wall. However when things get really tough simply walk into the cannon and fire yourself to safety (your equipped with a parachute, naturally).


There is a lot going on in this title and a lot going on in your mind as your explore the huge city. In the almost 5 hours we were able to play through we completed 23 story missions which was less than 30% of the game and we only accomplished this much as we played in coop mode on the casual setting. In talking with others and the development crew, it is abundantly clear we have just scratched the surface of the craziness this game is offering.


The game is scheduled for a November 15 release and I for one am very eager to see how far this title is going to push the envelope, but in the meantime I encourage THQ or some other production company to find a film crew and find a series of psychologists willing to spend some time listening to the dreams of the writers of Saints Row: The Third. The thousands of hours of footage would serve well on most cable networks and would undoubtedly answer some lingering questions.